Bernese Mountain Dog Corgi Mix Facts
3 Reasons Why You Shouldn't Get a Corgi Bernese Mountain Dog Mix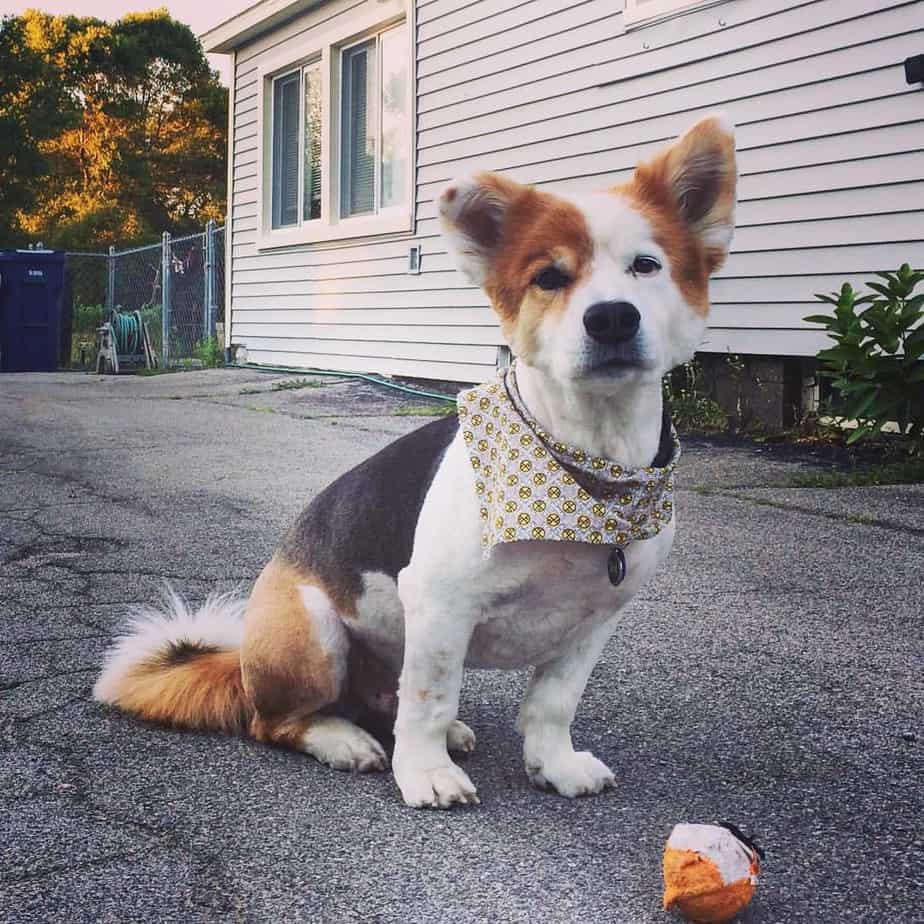 The parent breeds of Bernese Mountain Dog Corgi Mix puppies are known, shedders. So, their offspring have an increased possibility of a high amount of shedding as well. This situation could discourage some potential owners due to the effort required in cleaning after these pups.
Although cross-breeding usually diminishes the chances of contracting fatal diseases, the parent breeds of the Bernese Mountain Dog crossed with Corgi are initially prone to illnesses. Your pup may have an increased risk of developing diseases than other mixed breeds.
Below are some of the possible disease you may encounter in this breed. There will be a more in-depth discussion for the illness in the health section.
Cutaneous Asthenia
Epilepsy
Degenerative Myelopathy
Progressive Retinal Atrophy
Portosystemic Shunt
Corgi pups and Bernese Mountain Dog puppies, taken individually, have high-energy levels and exercise needs. When a breeder crosses these breeds, the resulting generation is likely to have the same disposition too. For people with a hectic schedule, their above average exercise needs may be inconvenient.
Other Bernese Mountain Dog Mixes
Not sure the Corgi Bernese Mountain Dog is the perfect pup for you? Check out our blog post with pictures and facts on 30+ different types of Bernese Mountain Dog mix breeds.
Doing a a ton of research? Check out the most comprehensive breed reviews on the top Bernese Mountain Dog mixes, includes info on health, temperament, price, food, exercise grooming and more.
Please also check out our research on different Corgi mixed breeds. My personal favorite is the Corgi Husky mix because they are so cute, but do your research and check out the mixes below.
3 Reasons Why You Should Get a Bernese Mountain Dog Mixed with Corgi Puppy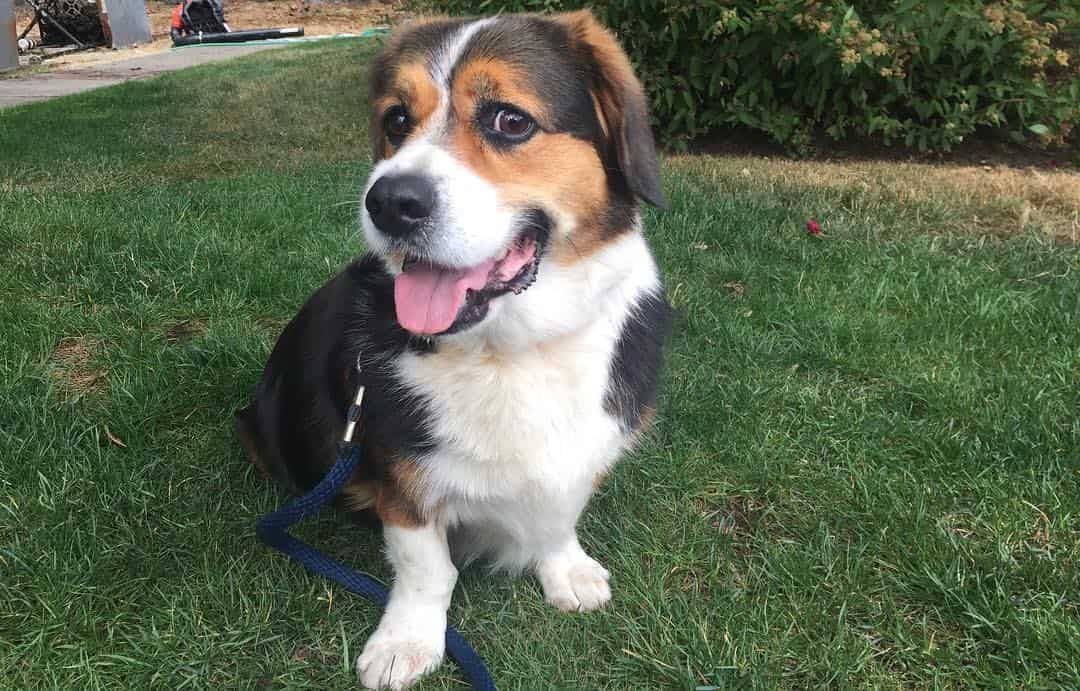 Considering this breed's parental generation, your Corgi Bernese Mountain Dog mix puppy is intelligent and easy to train. You should get your treats ready for them because they will surely honor your requests. Finding joy in their obedience will not be difficult when you choose to adopt this breed.
If you are looking for a pet which is affectionate to a family, the Bernese Mountain Dog mixed with Corgi suits that description. Instead of getting along with one member of the family, this breed tends to get close to the whole clan.
You can also designate the Corgi Bernese Mountain Dog mix puppy as a reliable watchdog. It has a heightened sense of anything unusual in the surroundings. When you have this pup at home, you can worry less about intruders and other suspicious activities in the neighborhood.
Appearance, Personality, and Traits of a Bernese Mountain Dog Mixed with Corgi Puppy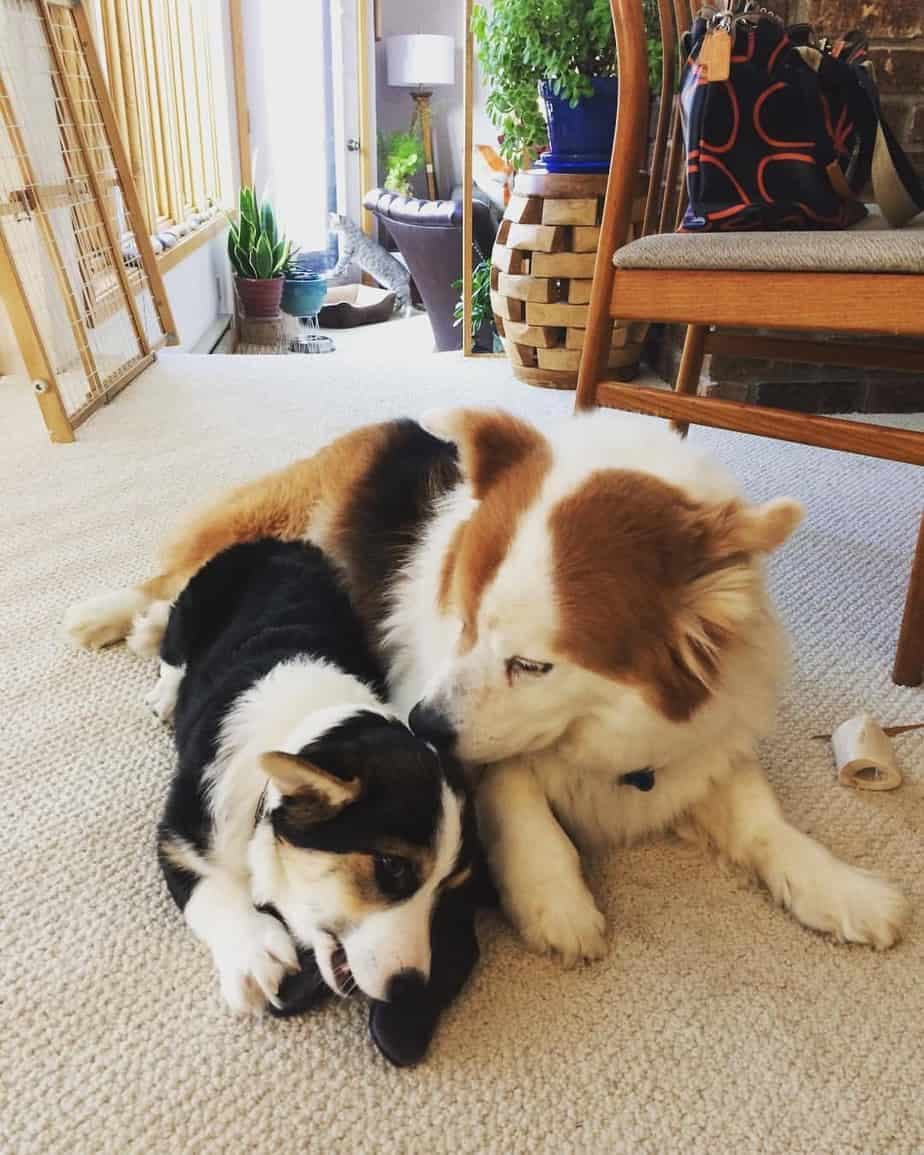 | | |
| --- | --- |
| Weight | 30 lbs to 100 lbs |
| Height | 10 inches to 1 foot tall at the shoulder |
| Coat Type | Short and straight, Long and wavy, curly |
| Coat Color | combination of white, black, and different shades of brown and red |
| Amount of Shedding | Moderate to heavy shedding |
| Temperament | Affectionate with family, intelligent, alert, wary about strangers, high prey drive, moderately to highly sensitive |
Generally, Corgi dogs are smaller than Bernese Mountain Dog ones. Bernese Mountain Dog Mixed with Corgi puppies weigh from 30 lbs to 100 lbs, depending on the ratio of the parent breeds and the pup's nutritional status. Their height ranges from 10 inches to 1 foot at the shoulder.
You can expect a variety of coat types and colors from the Corgi crossed with Bernese Mountain Dog puppies. For the colors of the puppy's coat, the combination is white, black, red, and brown is popular and loved by many owners. For the coat types, the most common among them is the short and straight type. All coat types have a high tendency of shedding, particularly during fall and spring seasons.
Cornese puppies can tolerate the cold weather more than the hot weather. Knowing this disposition, you can determine if your home will be conducive to their growth and comfort.
Due to various environmental and genetic factors, a puppy's temperament may vary immensely. Most of the breeders and rescue centers today conduct temperament testing in dogs. As a future owner, you must know that this testing comprises these items during evaluation.
Level of aggression
Prey Drive
Friendliness
Protectiveness
Confidence
The Corgi breed has two types – Cardigan Welsch and Pembroke Welsch ones. When your mixed pup comes from the Pembroke origin, it tends to be more sociable. Cornese pups have a naturally friendly attitude, especially with family members who feed and bathe them.
The Bernese Mountain Dog Corgi pups have a high level of prey drive. This trait pertains to the innate desire to chase other animals or things passing by them. You should keep an extra eye on their surroundings to prevent them from running off-course or running away from you. You may opt to separate them from your smaller pets at home, like hamsters, cats, and small dogs. This trait could also affect their focus during training.
Bernese Mountain Dog Mixed with Corgi Puppies For Sale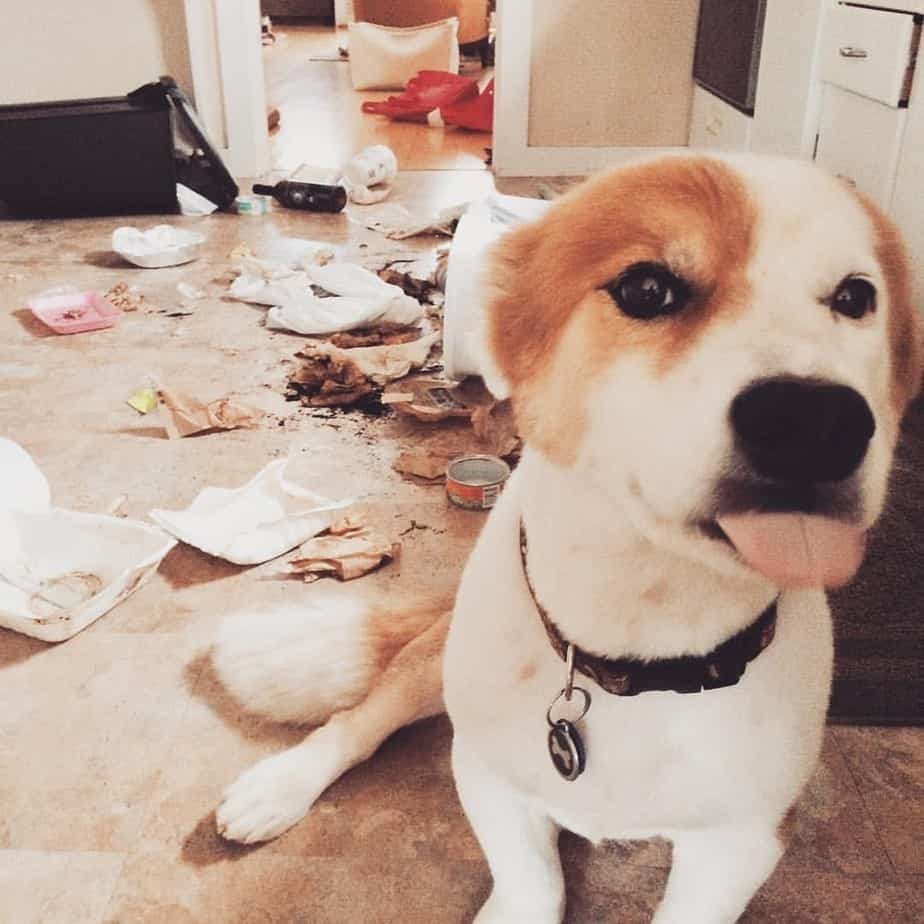 There are three ways to acquire this mixed puppy.
Backyard Breeders
Pet Stores
Rescue Shelters
Professional Breeders
Among the three options, I highly advise buying from professional breeders. These people take good care of the dogs and prevent inbreeding to guarantee minimal health problems. Reliable breeders can provide you with results of genetic testing for the parent dogs and offspring, as well as records of vaccination and other pertinent documents.
Depending on the living conditions and genetic mixing, the number of litter produced by the parent generation is unpredictable and ranges from two to 12 puppies. The monetary value of the Corgi Bernese Mountain Dog Mix puppies usually amounts to $500 to $5,000. The coat color and type, size of the pup, and the breeder's reliability affect the price of selling these puppies.
However, before buying from professional breeders, you can also consider visiting your local shelters to check if there is an available Corgi mixed with Bernese Mountain Dog puppy and if you can adopt it. There are also rescue-centers that are breed-specific and non-profit.
Grooming Your Bernese Mountain Dog Corgi Mix Puppies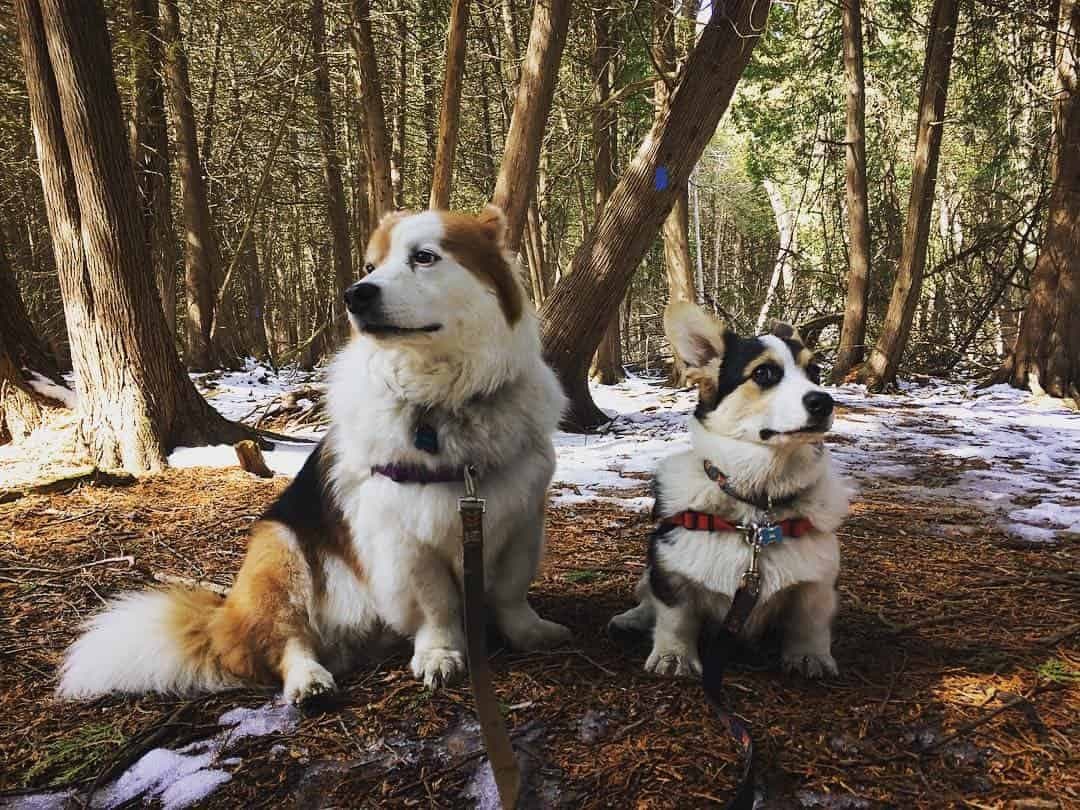 Bernese Mountain Dog Corgi Mix puppies that resemble their Corgi parents more are longer than taller pups. This mixed puppy has a relatively easier grooming needs than other mixed puppies, primarily because of their short and fluffy coats.
Here is a list of the tools and equipment you will need for grooming this pup:
Metal, Medium-toothed Comb
Pin Brush
Cotton Ball
Nail Clipper
You will need less than 10 minutes in a day to finish combing the coat of your pup with a metal, medium-toothed comb. While doing this grooming step, you should note irritation, redness, and bald spots on the pup's coat. If your dog has a collar, remove it when brushing the coat, and do not leave out the neck area unkempt.
As heavy shedders with double coats, Cornese puppies tend to shed their undercoat once a year. A pin brush will be helpful in managing the shedding process. Also, dog bathing is a must to facilitate better and comfortable shedding.
Part of the grooming process is checking for wax buildup in the ears and signs of an ear infection. You can clean their ears with a cotton ball and a dog-specific ear solution. You should never use a cotton swab for their ears.
If you do not have this much time in your hands, you should schedule appointments with trustworthy groomers around your neighborhood. It is crucial to maintain the pup's appearance and detect possible visual and internal deformities.
Bernese Mountain Dog Corgi Mix Puppies Health Problems
The parental generation of the Bernese Mountain Dog Corgi Mix is known for being prone to illnesses. Although cross-breeding broadens the gene pool, the offspring of these parent breeds can still acquire serious health conditions.
These are some serious health problems you may encounter when raising a Bernese Mountain Dog Corgi Mix puppy. Cutaneous Asthenia is the disease of connective tissue in the skin. It is also called Ehlers-Danlos syndrome. In this condition, the pup's connective tissues may be loose and stretchy. When it affects the blood vessels, there could be blood blisters and excessive bruising.
Another condition is epilepsy, a neurological condition that can be inherited from the parent generation. It may show as unusual behaviors like staggering, frantic running, falling down, or losing consciousness.
Degenerative Myelopathy, often misdiagnosed as disk disease, is a progressive degeneration of the supportive tissue and nervous tissue of the spinal cord. It may cause muscle weakness, rear leg lameness, and paralysis.
Progressive Retinal Atrophy is a familial disease that affects the retina by gradual deterioration. Night-blindness is one of the manifestations of this disease. In its early stage, pups could have a limited vision.
The portosystemic shunt is an abnormality where the blood vessels bypass or avoids the liver. This condition results in toxin accumulation and may manifest as lack of appetite, hypoglycemia, gastrointestinal issues, and stunted growth.
You can have a better grasp of your pup's health and a healthier sense of peace by looking at the results of genetic testing and consulting a veterinarian frequently. By knowing the possible serious health issues of this mixed pup, you can be more watchful when your pup manifests some warning signs related to these possible conditions.
Bernese Mountain Dog Crossed with Corgi Puppies Food Requirements
The amount of food you will give will depend on the puppy's age, size, metabolism, and level of activity. The Corgi origin of this mixed pup will incline your pup to eat and may influence it to over-eat. You must take precautions to prevent over-eating. I advise feeding your puppy high-quality dry food divided into two meals, instead of letting a massive amount of food sit out on the food bowl.
If you are unsure about the dog's diet or if you see signs of malnutrition, it is best to consult with a breeder or a veterinarian.
Your dog's nutrition needs the right balance of several nutrient groups that will provide their well-being. That's why it's extremely important to choose their food from the best dry dog food, for instance, Wellness Core Dog Food, Dog For Dog Food, or Nutra Thrive dog food supplement. There are also some brands that you should keep off of their food bowls, such as the worst dry dog food. If you own a puppy, scan through the best puppy food brands, and for gray-coated grandpa doggos chose something from the best senior dry dog food list.
Dogs pass on the genes to their little ones, and thus they can develop a different taste for food, which is why you can experiment with products as these best dry dog food for small dogs or best large breed dry dog food. All changes in nutrition should be made after discussing it with your vet.
Corgi Crossed with Bernese Mountain Dog Puppy Exercise Requirements
Corgi Crossed with Bernese Mountain Dog puppies are high-energy dogs. This classification means that you should provide them with lots of mental and physical stimulation. Younger pups require more exercises than the older ones.
I recommend the following activities for your Corgi Crossed with Bernese Mountain Dog puppy:
Running
Race-walking
Fetching a Frisbee or tennis ball
Swimming
Food-dispensing toys are excellent for mental stimulation. These toys will also fend the boredom and quench the pup's playfulness.
Corgi Mixed with Bernese Mountain Dog Puppy Training
Corgi Mixed with Bernese Mountain Dog puppies is easy to train and intelligent creatures. Additionally, they want to please their families, so you will see the eagerness when training them.
Here are some prompts that you can use for your Cornese pup:
During training, it is possible to encounter mischief and fluctuations in concentration. A way to prevent this situation is keeping the sessions short. Doing this technique, you will have the pup's undivided attention for a certain amount of time.
In training your puppy, there is the concept of crate training. A crate is a place for resting and minimal disruption. You should provide the best ventilation and enough beddings for the crate.
Crate training will help your Corgi mixed with Bernese Mountain Dog puppy to become more relaxed when traveling. It will also prevent the development of separation anxiety.
Bernese Mountain Dog Corgi Mix Puppies And Families
Bernese Mountain Dog Corgi Mix Puppies are family-friendly. They have an admirable rapport with children. However, you should be aware of their herding instincts that may lead them to nip your child's ankles or feet. When your puppy is near children, it is best that you will be there to supervise the interaction.
Because they can be aggressive towards strangers, early socialization should be initiated. This step will allow the puppy to be more accommodating to strangers or family friends.
References:
Kagawa, Yumiko, et al. "Localized Pulmonary Histiocytic Sarcomas in Pembroke Welsh Corgi." Journal of Veterinary Medical Science, vol. 77, no. 12, 4 July 2015, pp. 1659–1661., doi:10.1292/jvms.15-0284.
Thaiwong, T., et al. "Gain-of-Function Mutation in PTPN11 in Histiocytic Sarcomas of Bernese Mountain Dogs." Veterinary and Comparative Oncology, vol. 16, no. 2, 20 Sept. 2017, pp. 220–228., doi:10.1111/vco.12357.
Guenter, Bernd. The Bernese Mountain Dog: a Dog of Destiny. Doral Pub., 2004.
Anderson, David. The Complete Guide to Corgis. The Author, 2018.