Rottweiler Corgi Mix Facts
The Corgi Rottweiler mix is the cross between the well-known breeds, Rottweiler and Corgi. This crossbreed also called Rottgi, fuses the adorable physique of Corgis and the independence of Rottweilers.  This particular mix loves to be around people and guards their homes well.
The genetic differences and other variances of the Corgi and Rottweiler affect the offspring, but the crossbreed pup often tends to acquire superior traits.
3 Reasons Why You Shouldn't Get a Corgi Rottweiler Mix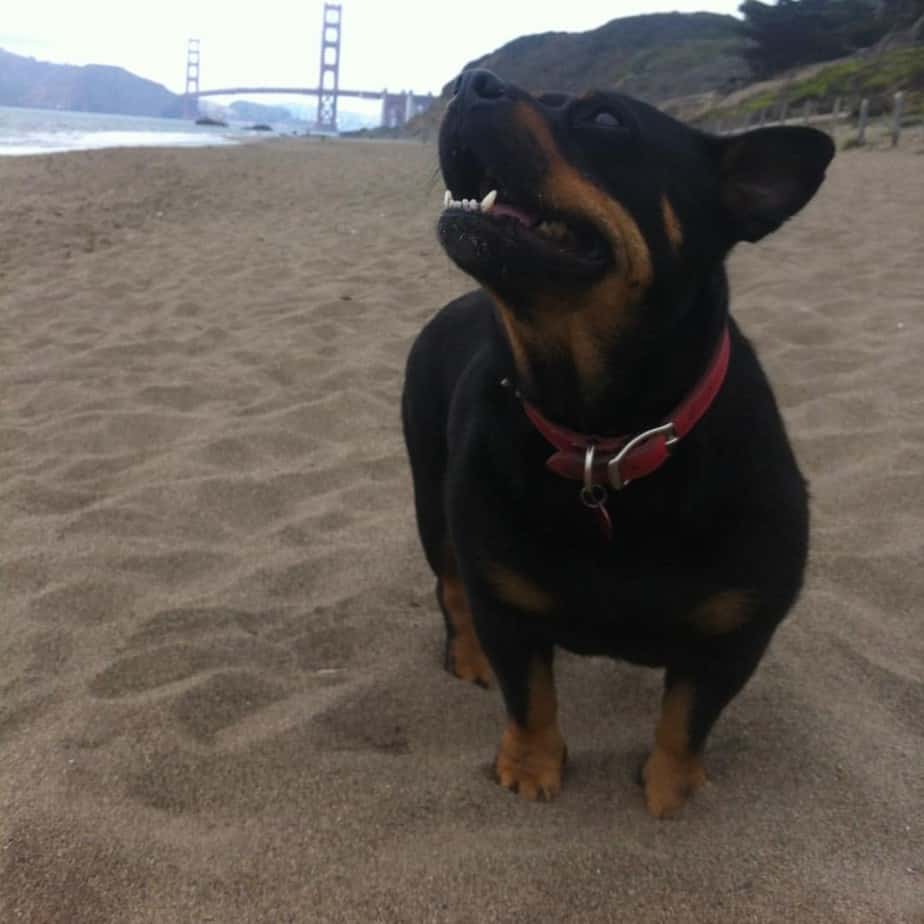 It may be prone to health issues. The Rottweiler Corgi mix dogs could suffer from structural defects as they age. The health issues that you should take note are included in the health section of this article.
It takes a lot of time to exhaust its high energy. This trait is not a disadvantage to all owners, particularly to athletic people. It may be a disadvantage to people who leave the house often and people who prefer staying at home. This mix can become unruly and more mischievous when it is unstimulated and bored.
It tends to become too independent. This trait can negatively affect the training process of this mixed breed. The dog could become disobedient at times.
3 Reasons Why You Should Get a Corgi Crossed with Rottweiler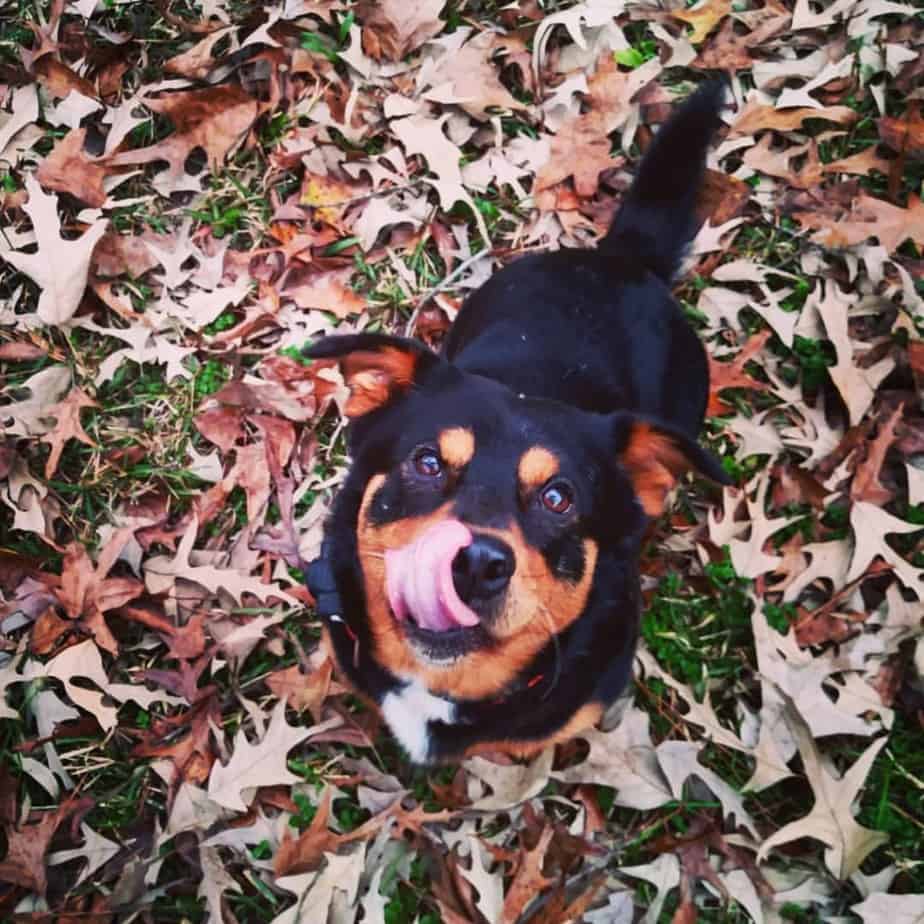 It is an amazing companion. Both of its parent breeds enjoy the presence of human beings. It has an innate loyalty and friendliness for all the members of the family.
It does not require an intense grooming regimen. You will only need to allow a few hours per week to assure that its coat is protected against matting.
It has a gentle and affectionate temperament. These traits attract new owners since they make the dogs pleasant to live with.
Other Corgi & Rottweiler Mixes
Picking the breed of dog that aligns with your lifestyle is extremely important. Every year tens of thousands of dogs are put up for adoption because the owner didn't do their research.
Not sure the Rottweiler Corgi aligns with your lifestyle? Consider adopting one of 50+ popular Corgi mix or Rottweiler mix.
My personal favorites are the Husky Corgi or the Corgi Bernese Mountain Dog because they are so cute, but do your research and check out the mixes below.
Corgi Mixes
Appearance, Personality, and Traits of a Corgi Rottweiler Mix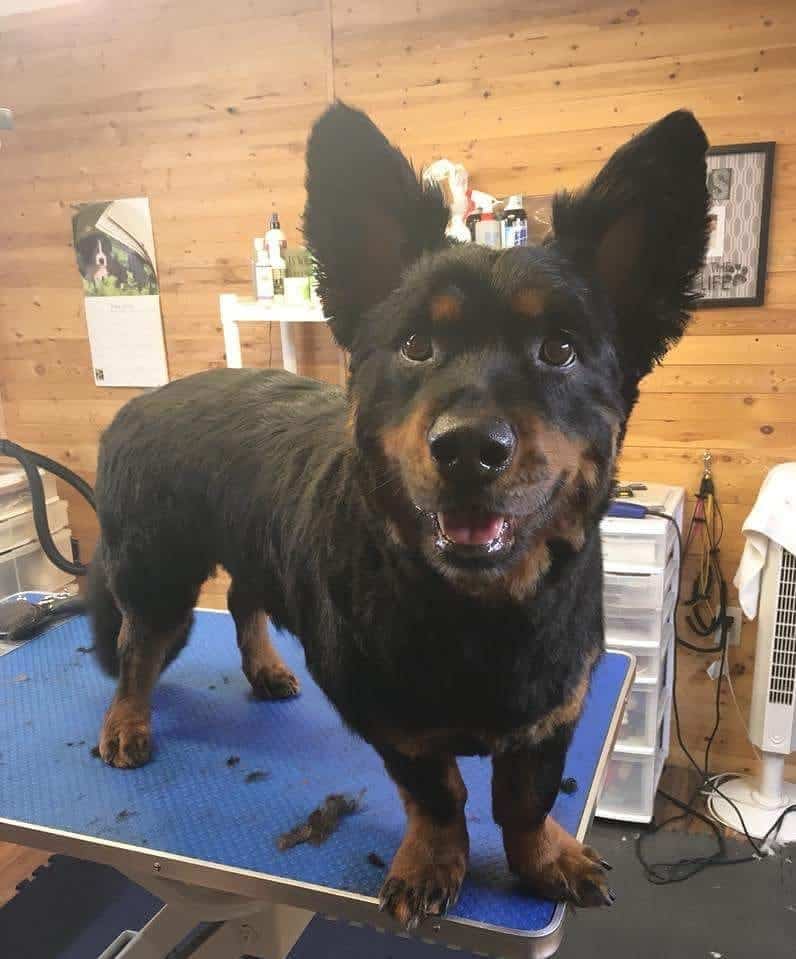 | | |
| --- | --- |
| Weight | 22 to 135 lbs |
| Height | 10 to 27 inches at the shoulder |
| Size | Small to large |
| Coat Type | Coarse and medium-length |
| Coat Color | Can be a combination of black, sable, fawn, tan, and red |
| Amount of Shedding | Light to medium |
| Eyes | Black or brown |
| Nose | Black |
| Ears | Floppy |
| Temperament | Loving, Independent, Intelligent, Alert |
| Life Expectancy | 8 to 14 years |
| Hypoallergenic | Maybe |
| Kid Friendly | Maybe |
| New Owners Friendly | Yes |
| Breed Recognition | No record |
The weight of the Corgi mixed with Rottweiler puppies may vary from 22 to 135 pounds. The height of the Corgi mixed with Rottweiler puppies is from 10 to 27 inches.
The Rottweiler mixed with Corgi puppies will possess a double coat with medium-length. It has a weather-resistant and waterproof quality. The colors of their coat can be a mixture of black, sable, fawn, tan, and red.
The combination of Corgi with Rottweiler helps balance the aggression of the Rottweiler parent breed. This could be the reason for the gentle and affectionate nature of the mixed pup.
You would notice that their legs are short than the average length. This trait does not deter and hinder the Corgi mixed with Rottweiler's enthusiasm and high energy levels. This pup is playful and fun to be around.
It also has the yearning for people's affection and company. This trait may predispose the dog to develop separation anxiety. You can help prevent the development of separation anxiety through early socialization and adequate obedience training. Overall, the Corgi Rottweiler dogs are a wonderful companion with the right amount of guarding abilities.
It may also receive some herding instincts passed down from the Corgi lineage. Its relations with children and small animals need to be supervised.
Corgi Mixed with Rottweiler Puppies for Sale
Acquiring the sweet and friendly Corgi mixed with Rottweiler dogs could be tricky for new owners. One of the ways to get a legitimate pup is avoiding pet stores. The pups in pet stores are often reared in a restrictive and sub-optimal environment. The only advantage of pet stores is its accessibility, but the quality of the crossbreeds is not guaranteed.
I advise that you allot a time period for gathering pertinent information from reliable sources about trustworthy breeders, particularly those near your homes. A sign of trustworthiness is the transparency to the breeding ground. They often allow personal visits in their quarters, where inbreeding is prevented. Another sign for professionalism is the accountability to the health status of the parent breeds and the offspring.
Buying crossbreeds online is extremely discouraged as well. This method of acquiring puppies often leads to uncertainty in the breeding process and payment procedures.
The Corgi Rottweiler Mix dogs have no currently available list of reliable breeders. Here is a list of verified breeders for the Rottweiler and Corgi breeds:
Gaitway's Pembroke Welsh Corgi Club of Greater St. Louis in St. Louis, MO
Pembroke Welsh Corgi Club of America, Inc.
Curig Corgis in Edmonton, AB
Castell Corgis in Parma, ID
Wind Dial Corgis in Oswego, KS
Darkstarr Rottweilers in Newberry, FL
SilverHill Rottweilers in Kenly, NC
Rottweiler Puppies in Sparta, NJ
Vladen-Starke Rottweilers in Fernandina Beach, FL
You can also find charitable centers that allow adoption. The members of these amazing temporary shelters care for the dogs like their own pets. These are better places to acquire new dogs than buying online or purchasing in pet stores. Below is a list of rescue centers to check out:
West Star Ranch in Pahrump, NV
East Coast Corgi Rescue in Washington, DC
Queen's Best Stumpy Dog Rescue in North Hollywood, CA
AZ Corgi Rescue in Peoria, AZ
Corgi Connection of Kansas in KS
Gulfstream Guardian Angels Rottweiler Rescue in North and South FL
Rising Star Rottweiler Rescue in Lake Worth, FL
R.E.A.L Rottweiler Rescue in Polk, OH
Grooming Your Rottweiler Mixed with Corgi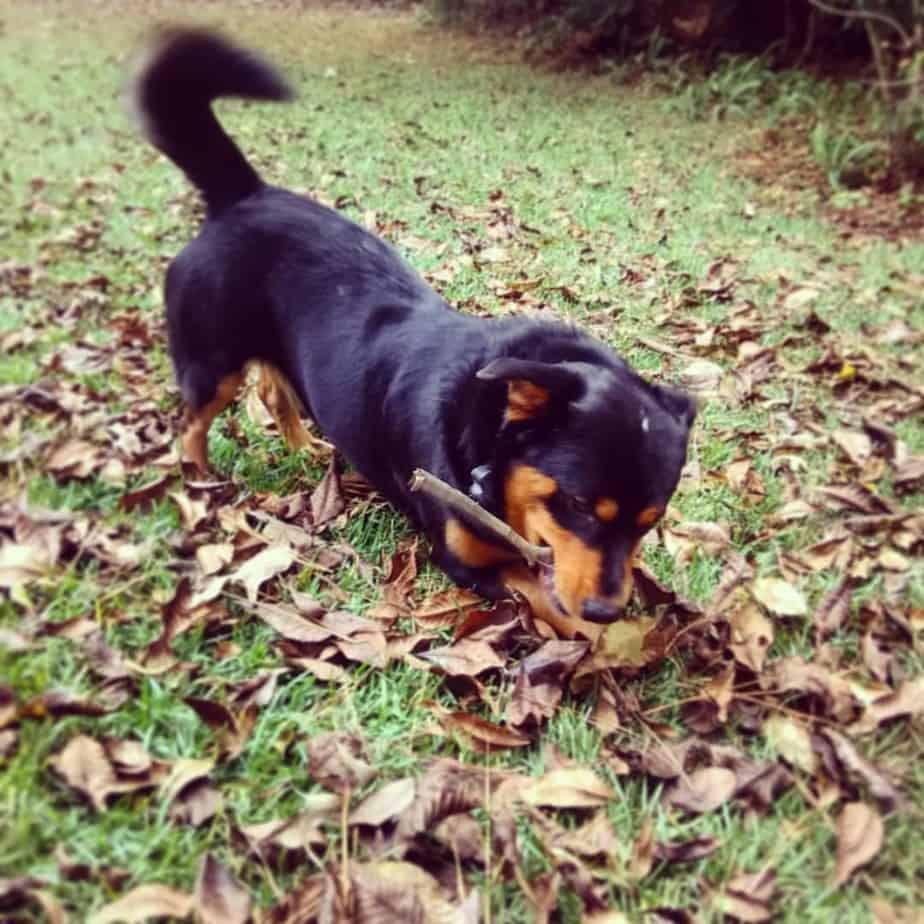 The Rottweiler crossed with Corgi dogs needs little to moderate grooming routine. Their coats shed lightly most of the time despite their length.
The highlight of grooming is combing or brushing the coat once or twice each week. A way to prevent the mess on the area while grooming is lathering the coat of the Rottweiler Corgis. It is important to expose all the areas of the coat, especially if the dog's collar is restricting your view.
An overlooked aspect of grooming is the psychological effect on the dogs. The owner must be receptive to the dog's level of comfort and familiarity with the grooming process. Helping the Corgi mixed with Rottweiler dogs to be familiar with the feeling of the comb or brush will also improve the dog's relationship with the owner. The process will involve switching from hand combing to utilizing a real slicker brush or metal comb. This may take a few weeks, so patience will be a crucial element.
An important function of grooming is looking out for deformities, irritation, redness, and bald spots on the pup's coat. The slicker brush has some advantages over a pin brush. It enables the owner to smoothen the dense layers of the Rottweiler Corgis' medium-length double coats. This ability results in an efficient and visually appealing appearance. The slicker brush can also help the dog relax since it can massage the dog's skin. The calm disposition of the dog aids in an easier and more fun grooming activity.
It is a myth that dogs need a daily bath. The dog needs to be cleaned when it has visible dirty spots or it gives off an unpleasant scent. You should opt to utilize grooming formulations with neutral pH components.
Daily activities cause the dog to scamper and play around. These activities contribute to the debris and dirt in the minute parts of the Rottweiler Corgis.  An important part is the dog's eyes. You should do a regular visual check on its eyes, checking for swelling, eye discharge, foreign bodies, or redness. After the visual check, you can use eye wipes to clean the eyes. You should avoid wiping the eyeball and avoid applying excess pressure around the eyes. There are also dog eye rinse formulations available as eye drops for less invasive eye care.
An integral part of managing your dog is regularly checking for potential signs of malnourishment and defects. You may also ask for the help of groomers in maintaining the appearance of the pup.
Corgi Rottweiler Mix Health Problems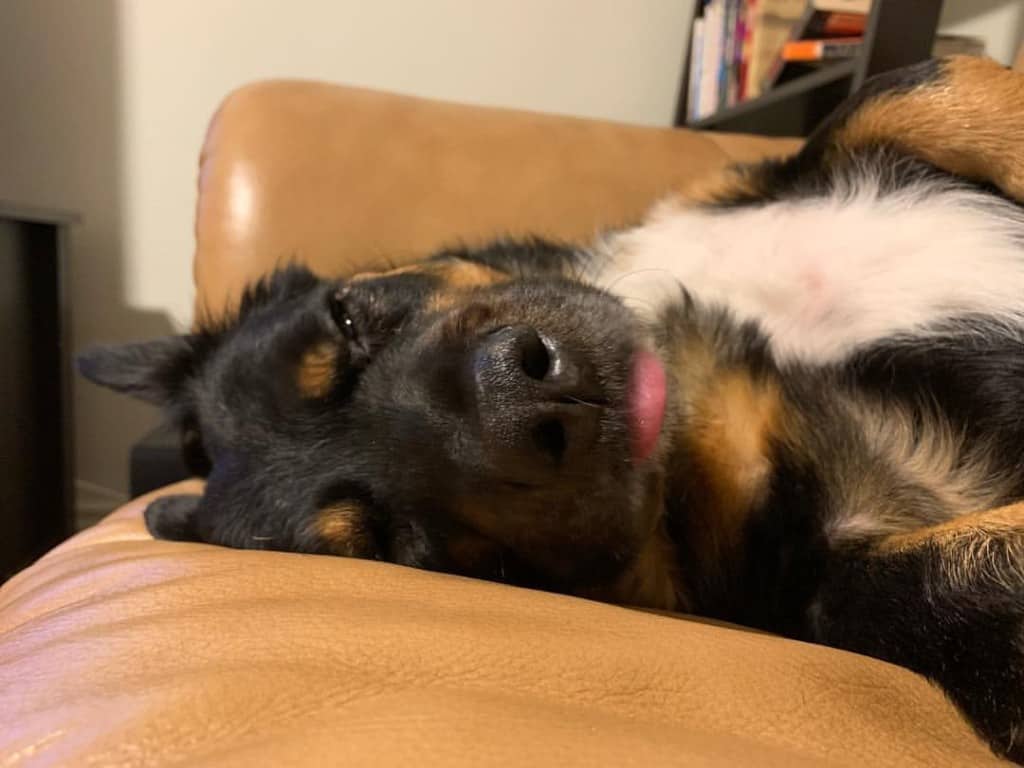 The Rottweiler crossed with Corgi dog is expected to live until 8 to 12 years. The deterioration of a dog's health is dependent on a lot of factors aside from the genetic make-up. There are environmental factors that should be considered.
The Rottweiler Corgis can be prone to serious and fatal health issues. The health issues of one parent breed may be expressed more than the other. You will find below the list of some of the common health issues seen in a cross between a Rottweiler and a Corgi:
Hip and elbow dysplasia: This common deterioration is a result of the unique configuration of its legs. Dysplasia may cause swelling of the joints at a young age and other inflammatory manifestations.
Obesity: The Corgi parent breed has a liking to consuming more food than the required caloric intake. This behavior should be discouraged and managed as it predisposes the dog to a variety of diseases, such as cancer, joint illnesses, and back pain.
Intervertebral disc disease: It is another structural condition that will cause severe pain and potential paralysis.
Degenerative myelopathy: This distressing disorder triggers the immobility of the hind legs.
Von Willebrand disease: This worrisome disease causes a hefty amount of blood loss. This is caused by some genetic mutation.
Your puppies might also need primary prevention against disease. I advise that you avail this beneficial method to avoid serious infections. Measles, rabies, and DHPP vaccine combination are some of the suggested vaccines. You should be more observant of your pet, particularly for symptoms concerning its health. A comprehensive and insightful view of the Corgi mixed with Rottweiler's risk factors and health status is provided by the genetic testing outcomes. Another way to assure the optimal health of this crossbreed is consulting with reliable veterinarians.
Corgi Mixed with Rottweiler Food Requirements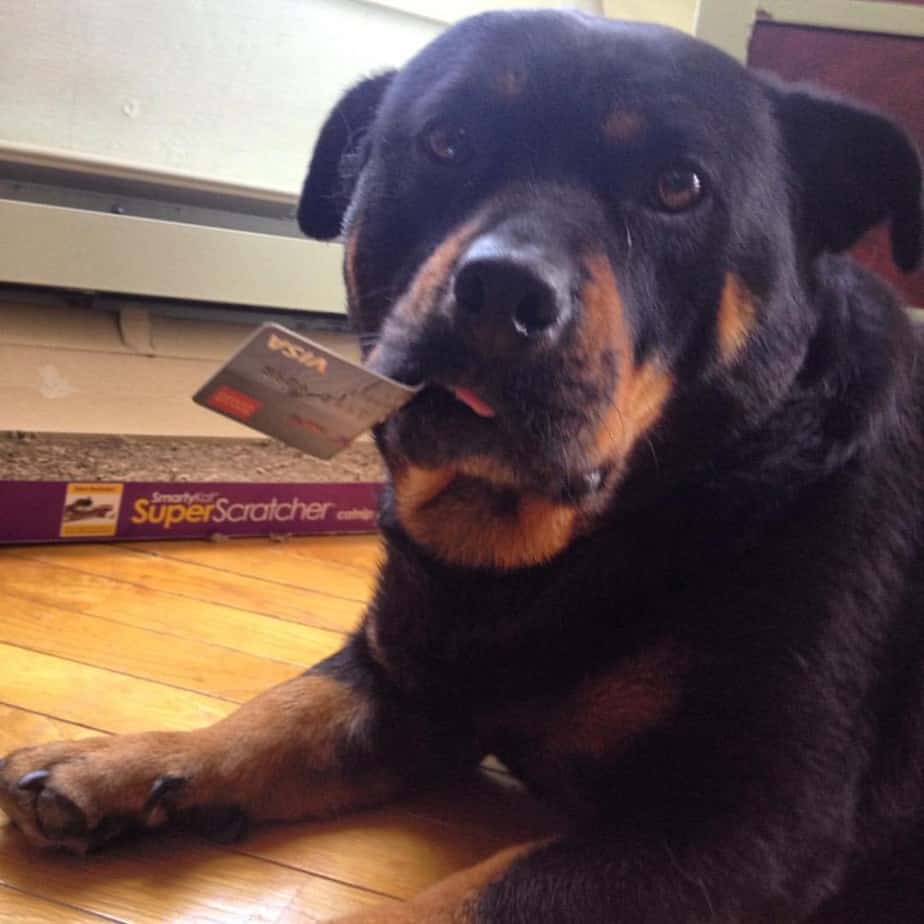 The nutritional status of the Corgi mixed with Rottweiler dogs helps them get through the day. It is a major factor in the determinant of the overall health condition.
The dog will need an adequate quantity of food based on its size, weight, metabolism, age, and level of physical activity. The wide-ranging acceptable total food requirement for an adult Rottweiler Corgi mix dog ranges from 1/2 cup to 1 cups of high-quality kibbles, divided into two separate meal times per day.
This crossbreed requires big chunks of protein and fat sources. Aside from these macronutrients, you should find food sources rich in essential minerals. The common and most important minerals for the proper development of puppies are phosphorus and calcium. These minerals are needed for the growth of bones and the immune system.
Giving dry food to the dog will aid in maintaining the strength and general quality of the dog's dental health. Below is a list of the endorsed dry food for the Rottweiler crossed with Corgi dogs.
Fromm Puppy Gold Formula: This dog formulation does not contain possible allergy-inducing food products like wheat, soy, or corn. It is suitable for developing healthy puppies, as it contains the proper calcium to phosphorus ratio for the young ones. It also contains DHA-rich salmon oil to enhance the development of the brain and the eyes.
Orijen Original: This formulation is appropriate for adults. It takes pride in having 80% meat and 20% vegetables, fruits, and other organic products as the components. It is truly oriented to owners who want to raise their dogs through a low-carbohydrate and organic way.
Nature's Variety Instinct Raw Boost Chicken Meal Formula: This dry food includes a variety of meat such as turkey and chicken in different forms. It has an added taste attributable to the freeze-dried raw pieces included. It has healthy fatty acids for the nourishment of the dog's coat and skin. It also has probiotics for better digestion.
Wellness CORE Grain Free Original Formula: This well-known food has 34% protein content, made up of pure turkey and chicken. It does not contain meat by-products. It has components responsible for helping the development of the dog's joints. It also has a fish formula variety, suitable for some crossbreed with a different preference in meat.
Hill's Science Diet Active Longevity Small Bites Dry Dog Food: Dogs aged seven years old and above are the target population of this formulation. It contains no artificial flavors and has natural ingredients like barley, rice, and chicken. It makes digestion easier. A supplemental ingredient is the Omega-6 fatty acids which help moisturize the coat and improve the luster of the dog's skin.
Rachael Ray Nutrish Just 6 Limited Ingredient Natural Dry Dog Food: The six ingredients included in this dog food formulation are ground rice, beef pulp, lamb meal, chicken meal, chicken fat, and brown rice. It is an organic formulation, without artificial preservatives.
This crossbreed can have a tendency to overfeed, especially when they are left unattended. The hands-on test and eye test are simple tests to determine the risk of obesity and overeating. You will do some maneuvers to feel for the dog's ribs. If you cannot feel the ribs when you apply pressure, the dog is more likely overweight or obese already.
It is suggested to get some health know-how from a veterinarian. You can clarify some misconceptions during the consultation as well.
Your dog's health and well-rounded nutrition is what you should strive for daily. You can achieve this by making sure their bowl is full of the best food you could find. Vigorous whelps should get food that suits their needs, so check out the best puppy food brands. Food for older furry sweethearts needs to contain below-average calories and adequate protein levels, which you can find at the best senior dry dog food brands.
When the meal time comes, give them only the best dry dog food, such as Wellness Core Dog Food, Dog For Dog Food, or Nutra Thrive dog food supplement. Please avoid giving them the worst dry dog food as it's low in quality and barely has some nutritional value.
Your pal takes the genes from two parents, so you can try your luck with best dry dog food for small dogs or best large breed dry dog food. A regular checkup with your vet can help you make the smartest decision.
Rottweiler Crossed with Corgi Exercise Requirements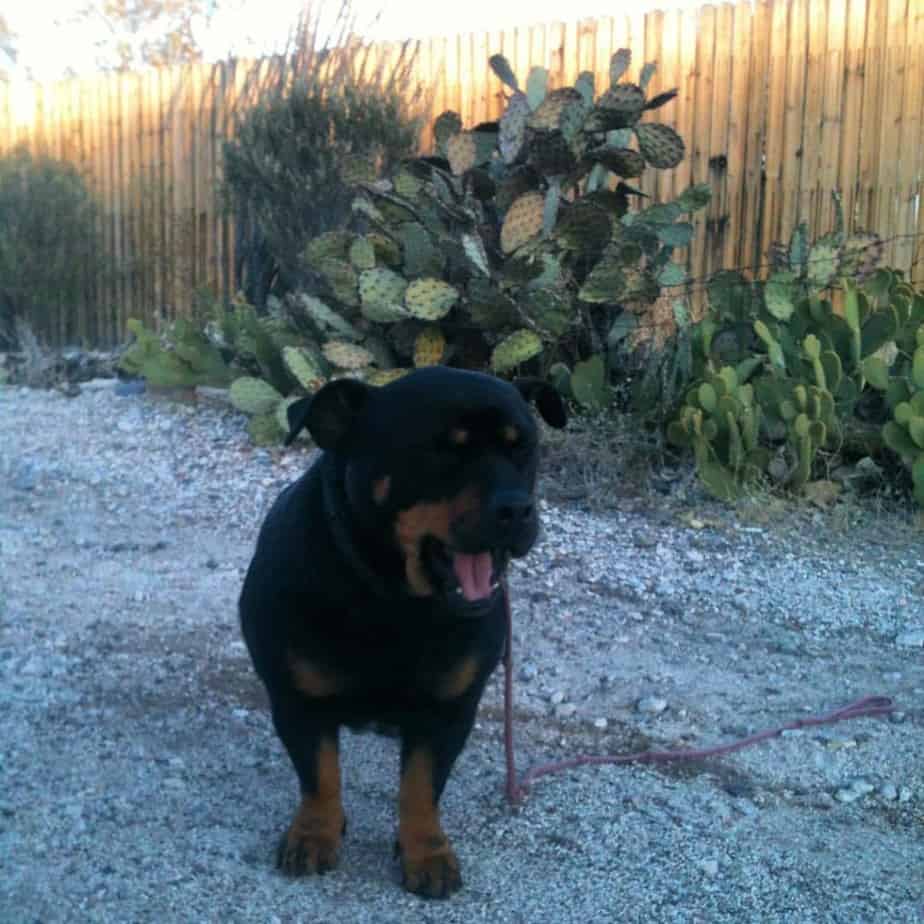 The Rottweiler crossed with Corgi dogs requires a high intensity of physical activities. The activities must last for at least 45 minutes.
Proper caring for this high energy dog involves enough mixture of mental and physical stimulation. Hiking and fetching are some of the suitable activities for the Rottweiler crossed with Corgi dogs.
The Rottweiler is known to have a strong bite, twice as much as a human's bite strength. This mixed breed would be inclined to chew. This pup may enjoy the Pacific Pups Products XL Dog Rope Toys which have 100% cotton. You will also support the Pacific Pups rescue organization when you buy their products.
When the weather is unfavorable, it would be better to stay with the dog inside the house for exercise. You can purchase the Frisco Dog Exercise Pen with Step-Through Door with sturdy metal wire. This great buy can also be placed outside the house and secured by metal anchors. It has an easily accessible doorway with double lock features. You also have the option to expand the play area by connecting two pens using the snap hooks.
The Pickle Pocket is a fun, durable, and cute toy for tough chewers. It can engage the puppy and reduce the need for extensive physical activity. The canine will have enough mind games with this toy as it licks the crumbs of food and treats in the grooves of the pickle. You can also use this in the water because it can stay afloat.
Rottweiler Corgi Mix Training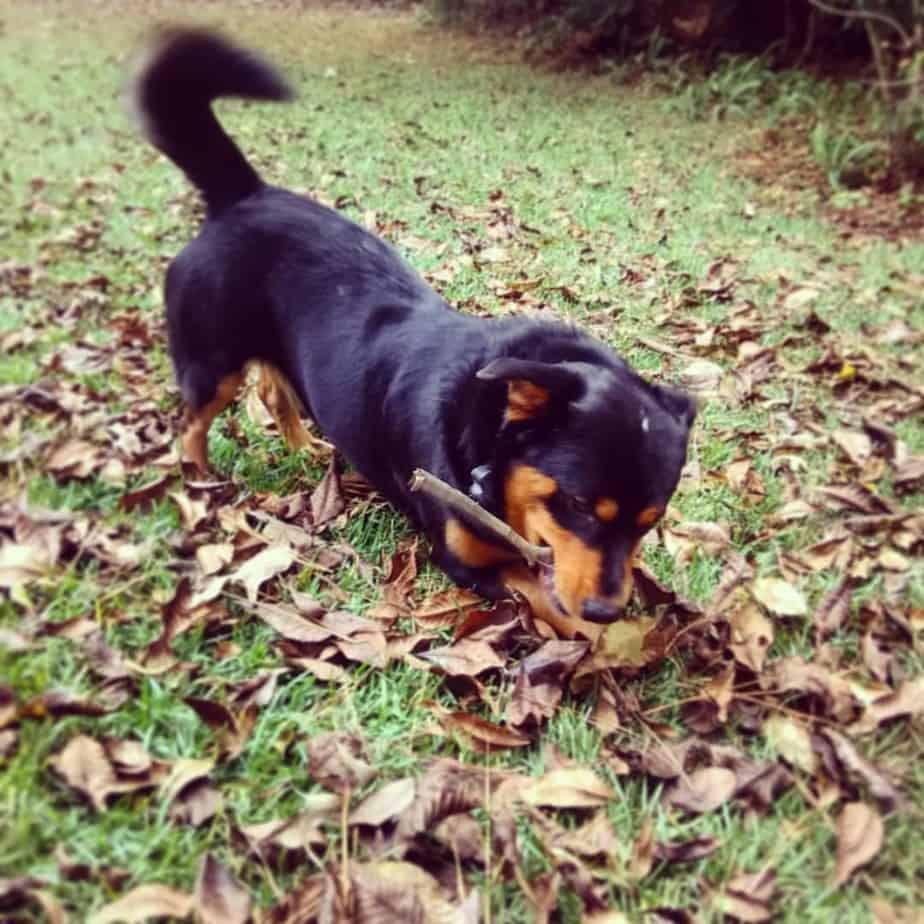 The Corgi crossed with Rottweiler dogs can be trained efficiently. It should be noted that they could be stubborn at times. I encourage training early in the dog's life to help achieve its peak behavior. Here are some tips on training the Rottweiler Corgis:
Positive Rewards-based System: This method of training mainly involves the use of treats and positive gestures to encourage positive behaviors. It helps to cultivate a motivational environment for learning and avoids discomfort. Other ways to implement this are gentle words of praise and belly rubs.
Leash Breaking: This is the responsibility of an owner with a Corgi-related dog breed. It is the process of teaching the dog how to walk respectfully. It involves gentleness and guiding the dog with patience when it resists.
Corgi Mixed with Rottweiler and Families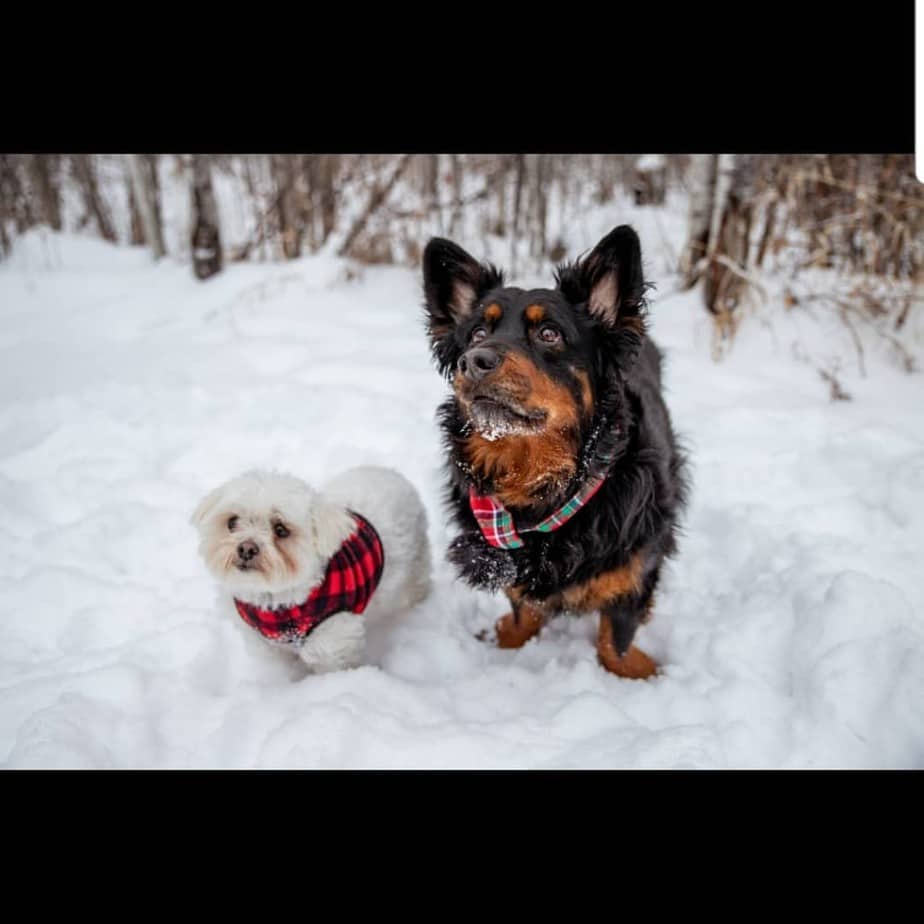 Some families would shy away from this mix because of the possible health conditions. Besides that, the Corgi Rottweiler mix dogs are good family companions. These pups make fantastic pets as the Corgi breed tames the aggression of the Rottweiler breed. Sometimes, they can exhibit herding instincts. Special attention should be directed during most of the dog's interaction with small children and other small animals. It is important to teach the children to avoid provoking the dog in a harmful or threatening way, particularly during periods of sleep and meal.
Corgi mixed with Rottweiler pups does not like being alone for a long time. They often crave attention from people around them. You could set some arrangements to have someone watch over your dog if you are planning to be away for a trip.
Early socialization, one component of the training, will have a crucial role in the adaptability and flexibility in terms of interactions. This process will allow the puppy to grow into a fearless and confident adult. This process will help the dog become comfortable and discerning with new people and other dogs. This ultimately improves their potential in becoming therapy and service dogs.
You may initiate the process as early as 2 1/2 weeks of the pup's life. The initial process involves handling the puppy each day for a certain period of time. The next stage happens from four weeks of age to 16 weeks of the puppy's life. There will be an additional stimulus in this stage. You will help the dog become familiar with various types of animals, scents, people, and landscapes.
References:
Morita, Tomoya, et al. "Pulmonary Hypertension Due to Unclassified Interstitial Lung Disease in a Pembroke Welsh Corgi." Journal of Veterinary Medical Science, vol. 80, no. 6, 23 Apr. 2018, pp. 939–944., doi:10.1292/jvms.17-0716.
Cheyuo, Cletus, et al. "Growing Skull Fracture: Case Report after Rottweiler Bite and Review of the Literature." Journal of Neurology & Neurophysiology, vol. 09, no. 02, 10 Apr. 2018, doi:10.4172/2155-9562.1000461.
Harper, Deborah S. The Pembroke Welsh Corgi. Howell Book House, 1999.
Rendell, Ruth. The Rottweiler. Anchor Canada, 2013.