Corgi German Shepherd Mix Breed Facts
Corgi German Shepherd Mix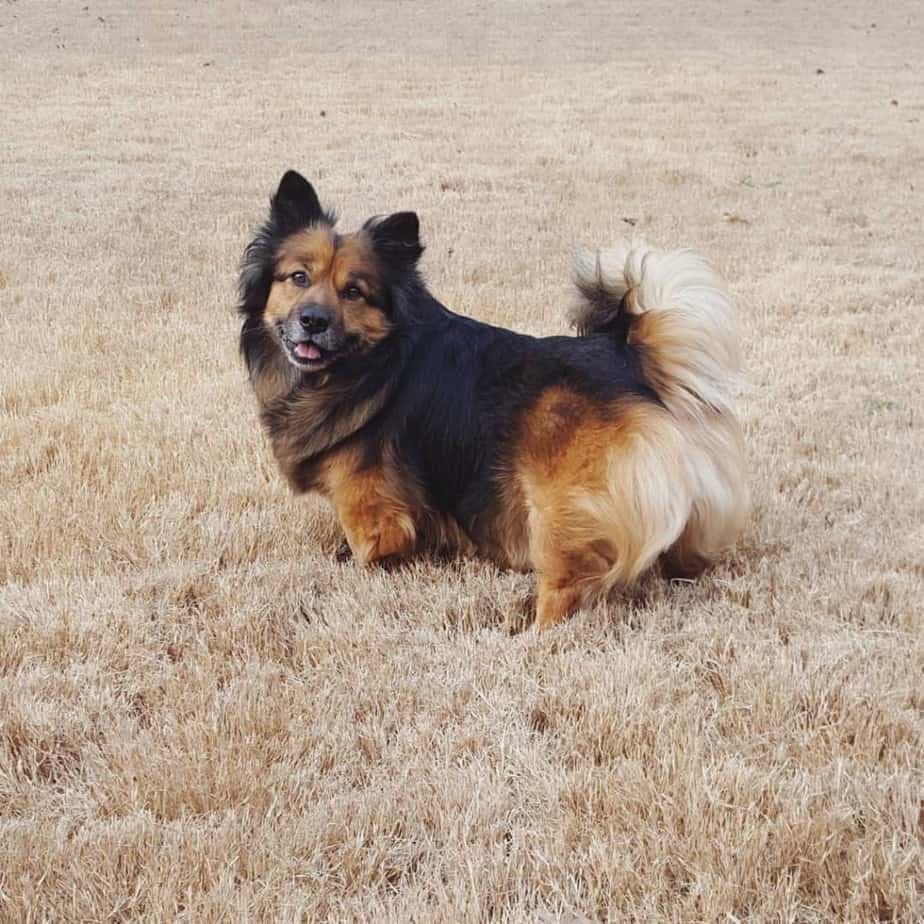 The Corgi German Shepherd mix is the result of breeding a Corgi with a German Shepherd. Also known in some quarters as the Corman Shepherd, it's a popular crossbreed because it takes the best traits from the parent breeds. For instance, this hybrid is intelligent and have high energy levels, two key traits it inherited from the Corgi and German Shepherd. Both breeds were originally bred for herding and working alongside humans. In this particular mix, its inherent intelligence translates to easily learning new skills during housetraining, obedience training, and even socialization classes.
The two parent breeds might be so different, both in terms of physical structures and temperament, but their hybrid offspring carries the best of their genes.
3 Reasons Why You Shouldn't Get a Corgi German Shepherd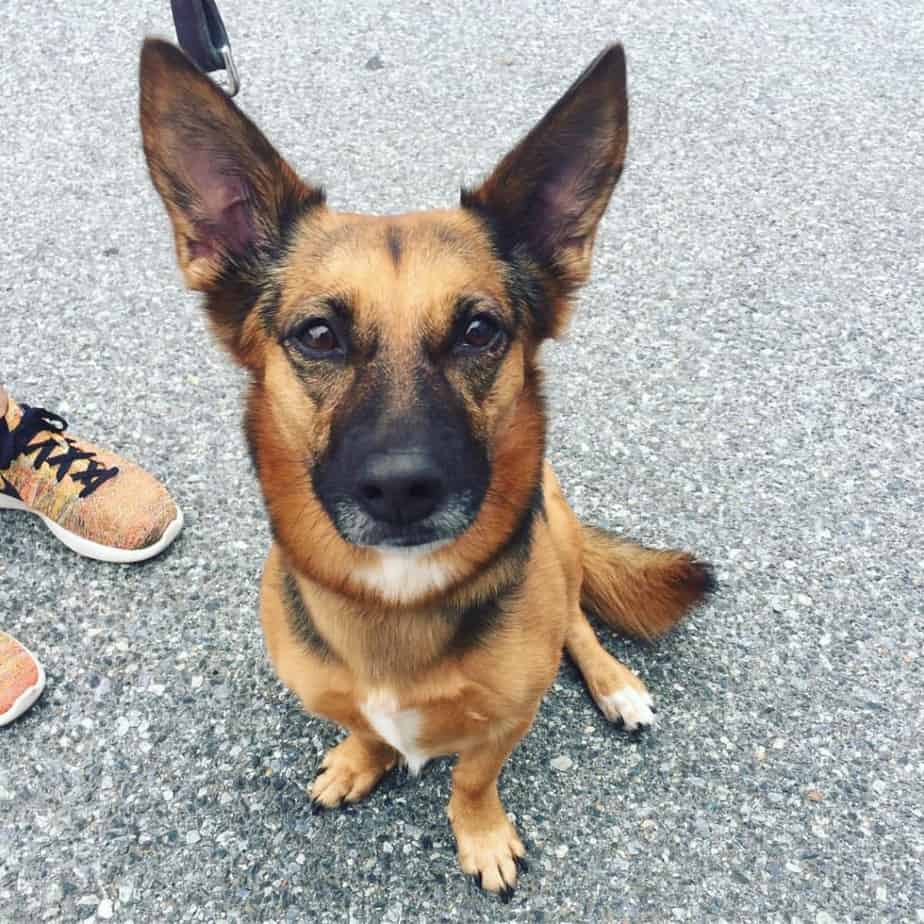 It's possessive and territorial. This crossbreed can become very protective of its human and scarily territorial around other animals and people they don't know. This could lead to animals fighting or biting another person it perceives to be a threat to its family, property, or territory.
It can cause massive destruction when bored. This dog's intelligence also means it has to be nurtured and stimulated. Bad things happen when it's bored. It can easily rip apart newspapers and furniture, chew shoes and electric cords and become a general terror.
Has the tendency to bark excessively. This particular trait comes down to the parent breeds being used as herders and work animals. Cormans have a loud and intimidating bark, and this dog has a tendency to become a compulsive barker, especially if it's bored or left alone for too long
Other Corgi & German Shepherd Mixes
Picking the breed of dog that aligns with your lifestyle is extremely important. Every year tens of thousands of dogs are put up for adoption because the owner didn't do their research.
Not sure the German Shepherd Corgi aligns with your lifestyle? Consider adopting one of 50+ popular Corgi mix breeds or German Shepherd mixes.
My personal favorites are the Corgi Husky or the Bernese Mountain Dog Corgi mix because they are so cute, but do your research and check out the mixes below.
Corgi Mixes
German Shepherd Mixes
Alpha Paw has conducted the most in-depth research into the most popular German Shepherd Mixes in America:
3 Reasons Why You Should Get a German Shepherd Corgi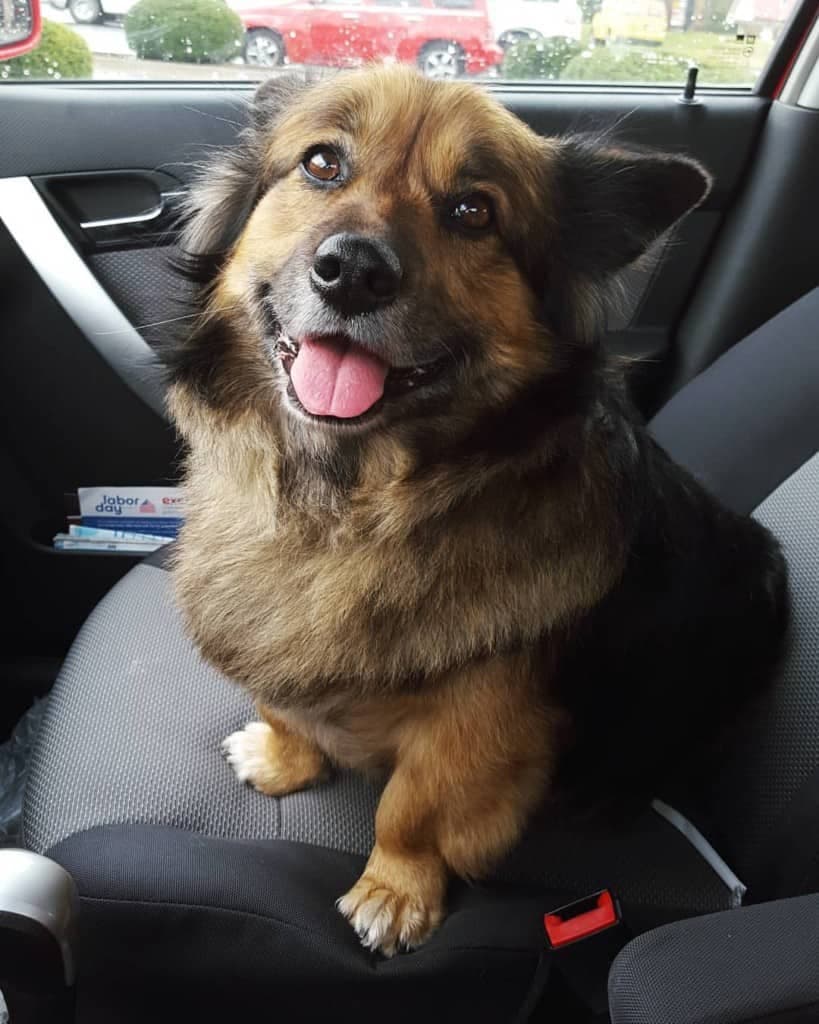 They're great watchdogs. A German Shepherd Corgi mix is alert and very protective of its owners. It is very observant and always has a natural wariness around strangers.
Needs very little grooming. There's a good chance that you're a busy individual with a lot of things scheduled every day. This dog needing very little in the way of grooming will certainly be one less thing to worry about. You just need 10 minutes three times a week to brush its hair.
They're amazing companions. This hybrid can fall under the description of being a "velcro" dog, or a pet that is never far from its owner. The Corman Shepherd is very affectionate, sweet, and loving. They're also easy to please and determined to make their human happy.
Appearance, Personality, and Traits of a Corgi German Shepherd Mix
| | |
| --- | --- |
| Weight | 25 to 65 lbs |
| Height | 12 to 15 inches at shoulders |
| Size | Small |
| Coat Type | Dense double-coat; short to medium length |
| Coat Color | Gold with brown, white, and black markings. The coat could also be a combination of the breed parents' markings |
| Amount of Shedding | Moderate to heavy |
| Eyes | Dark; almond shaped |
| Nose | Dark |
| Ears | Erect |
| Temperament | Intelligent, lively, active |
| Life Expectancy | 10 to 15 years |
| Hypoallergenic | No |
| Kid Friendly | Yes |
| New Owner Friendly | No |
| Breed Recognition | No |
The Corgi German Shepherd mix is a wonderful family dog or companion. It has a very affectionate, bubbly, friendly, and high spirited personality. It's energetic but can remain calm when the situation calls for it. It's a loyal companion who's also very loving and protective towards children.
While they enjoy playing with the members of the family, the Corgi's herding instinct could manifest and cause your Corman Shepherd to nip at the heels of its young playmates so they'll go where it wants. This instinct can also cause it to try and control its owner.
Your German Shepherd Corgi mix can sometimes become wary and aggressive towards strangers and other pets they don't know. You should nip this in the bud as soon as you can. Early socialization and training can transform your pet into one who gets along with others.
This cross is a people-oriented dog who enjoys playing and cuddling with its beloved humans. However, it will become bored and depressed if left alone for hours. This could result in destructive behavior, like chewed furniture and shredded carpets.
German Shepherd Corgi Mix Puppies for Sale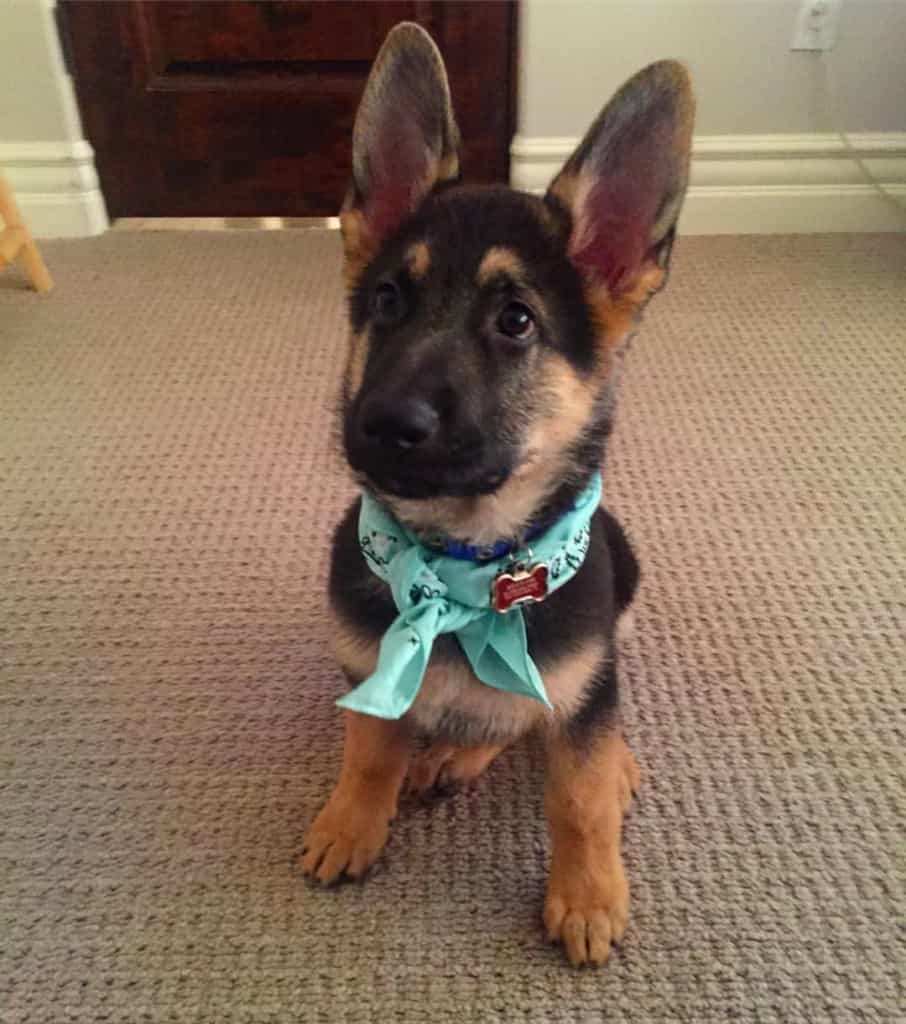 Its adorable looks and personality make the German Shepherd Corgi mix a popular choice for a pet. What dog owners should remember is that while this hybrid inherited the best of the parent breeds, it also received its fair share of weaknesses.
Mixed breeds are generally healthier than its purebred parents, but it still leaves them susceptible to some of the diseases that commonly afflict the original dogs. You can avoid this by being careful when you look for German Shepherd Corgi mix puppies that are for sale.
Never buy a puppy or dog from an online ad or a pet store as they're likely to have come from puppy mills. These companies conduct large scale breeding of dogs, and some even specialize in mixed breeds. Unfortunately, the health of the parent dogs and their offsprings are often not a consideration.
It's better if you look for a small scale, local breeder who is open to visitors checking out their operation and kennels. A reputable breeder will allow prospective owners the chance to see the living conditions of their dogs. Check that the facility is clean and is spacious enough for the animals to play and socialize.
This type of breeders also test their stock for genetic health issues and are willing to share the results with you. Ask for the health records of the parents and puppies. They should also show that they're concerned about you – whether you have the right attitude, home, skills, and resources for taking care of a dog.
Here's a list of breeders to start off your search:
You can also check out sites like www.petfinder.com and www.adoptapet.com.
Another option is to check rescue groups or your local shelter for any Corgi German Shepherd mix that might need a new family and home. Here are some rescue groups to contact:
AZ Corgi Rescue (Peoria, AZ)
Charlotte Cocker Rescue of NC (Kannapolis, NC)
Corgi Rescue of Arizona (Glendale, AZ)
St. Anthony's Canine Rescue & Corgi Matchmaker (Lomita, CA)
West Star Ranch (Pahrump, NV)
Grooming Your Corgi Mixed With German Shepherd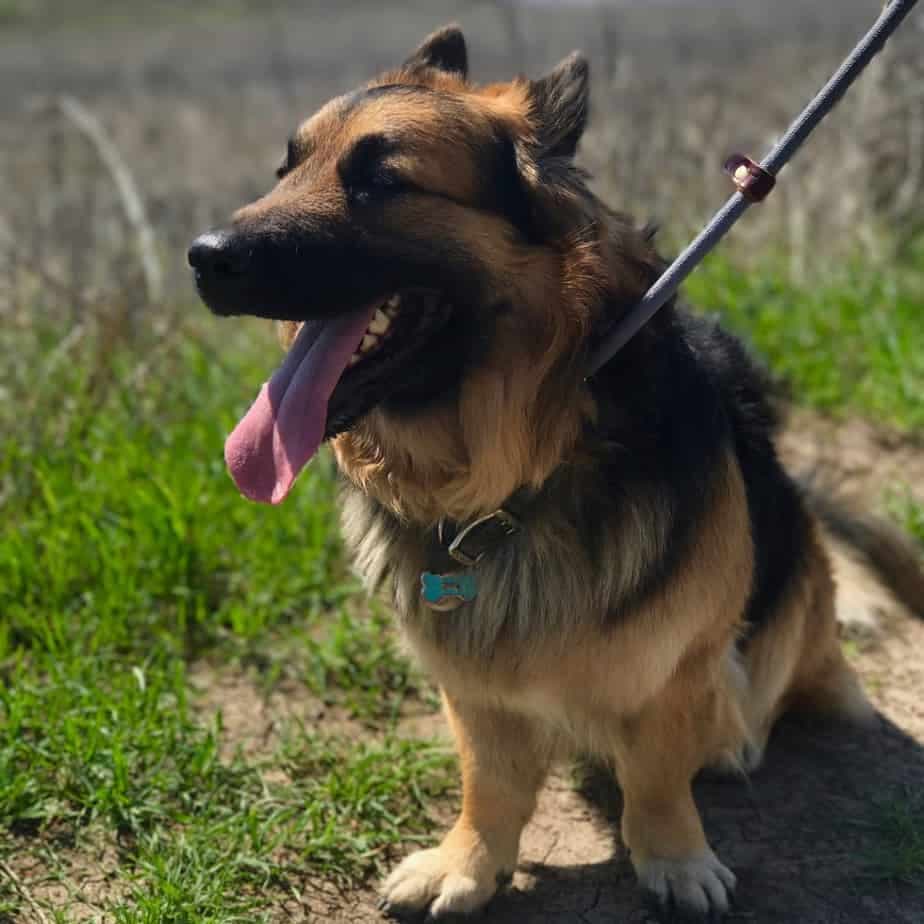 A Corgi mixed with a German Shepherd is typically a low-maintenance pet. You don't need to spend hours grooming them. Brushing its short coat for 10 minutes twice a week is enough to keep the hair sleek and mat-free. But this could become more frequent if your hybrid dog inherited the Corgi's tendency to shed.
It's also possible to give your Corgi Shepherd mix a bath three to four times a year. Frequent bathing is actually harmful to them as it strips essential oils from its skin.
The ears of the Corman Shepherd should be cleaned every two weeks. Its nails should be clipped once a month. However, brushing its teeth should be done daily even if you're giving it kibbles and dental chews.
German Shepherd Mixed with Corgi Health Problems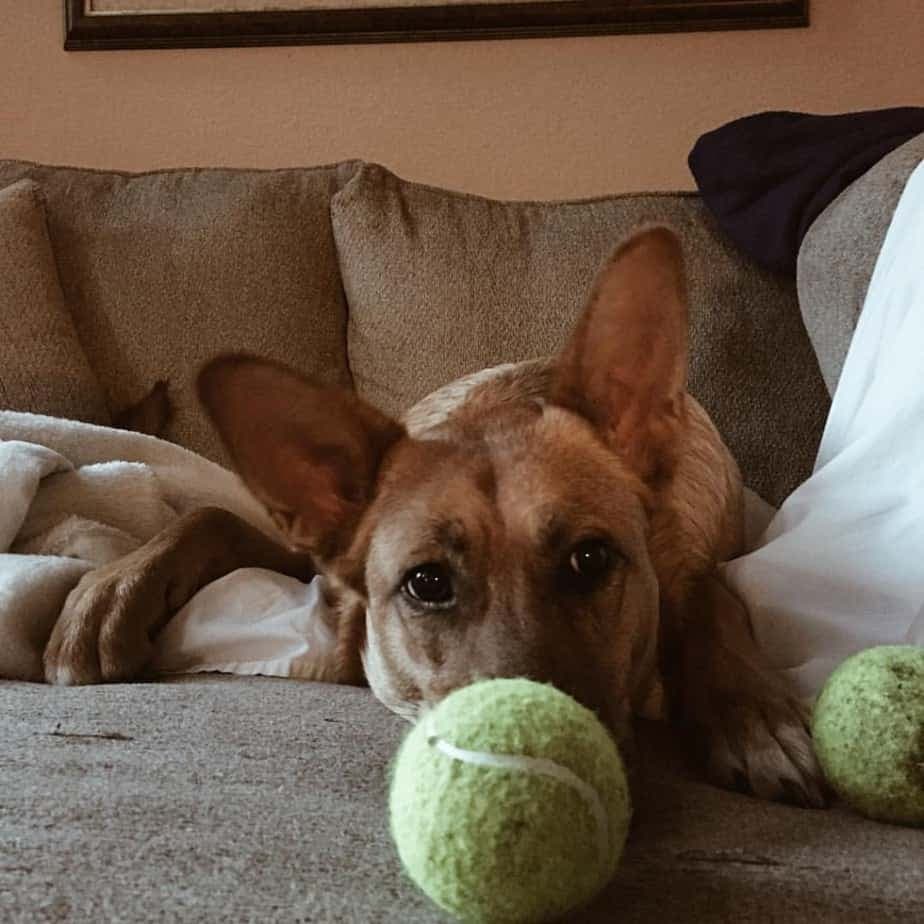 A German Shepherd mixed with Corgi is generally healthy, but some have shown to be vulnerable to the diseases that usually afflict German Shepherds and Corgis, like:
Back Problems: Corgi's are prone to dwarfism. If your dog inherits it, it could cause spinal problems or a slipped disc. The latter is a condition wherein the disks in the spine pop out, resulting in excruciating pain in the back and legs.
Bloat: This breed is quite notorious for it. This is something owners should watch out for as it can easily progress to gastric dilatation-volvulus, a life-threatening condition.
Eye Problems: Cataracts, glaucoma, and other eye problems can be prevented by choosing a dog food that's high in omega-3 fatty acids.
Joint Dysplasia: A lot of Corman Shepherd puppies have this condition. It causes the dog's elbow to pop in and out of the joints, resulting in pain.
Obesity is another problem that owners should watch out for, especially since it increases the risk of cancer, back pains, and joint problems.
Corgi Crossed with German Shepherd Food Requirements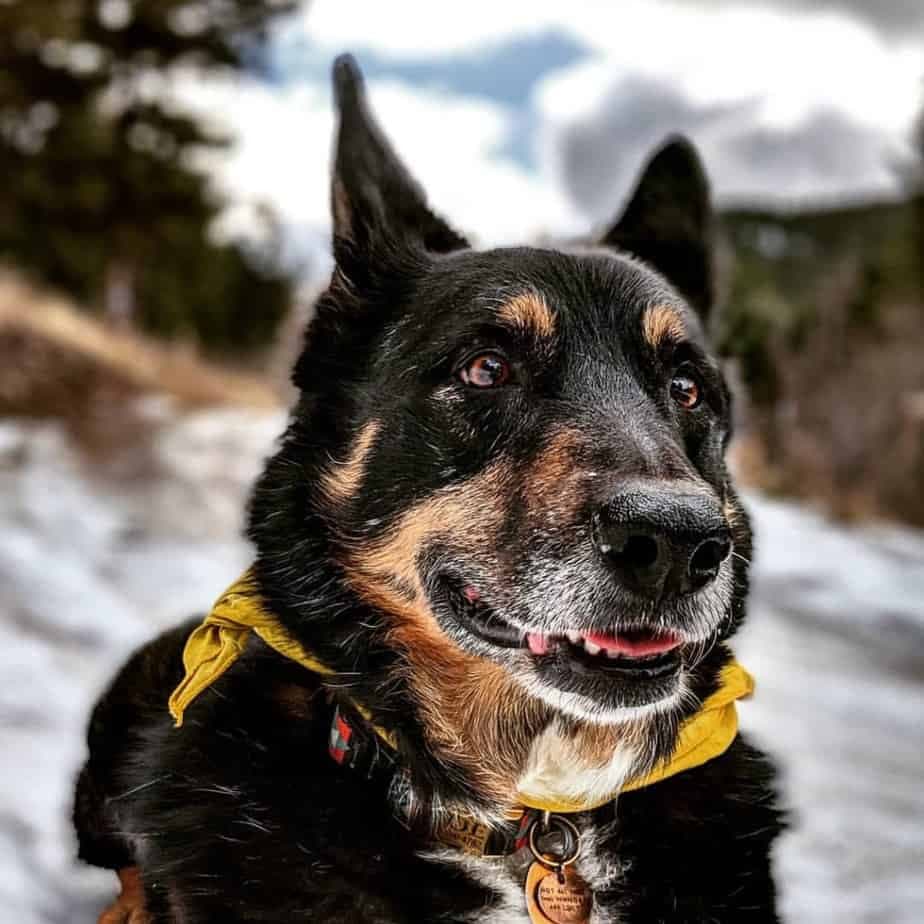 The right kind of food will have a huge impact on your dog's life, so make sure you give the best and healthiest dog food to your dog. The amount of dog food you need will depend on the breed and size of the animal. For a Corgi crossed with a German Shepherd, two to three cups of good quality dry dog a day is ideal. It's crucial that you feed your dog at least three times a day. Since this mixed breed is prone to bloating, the small servings should reduce the formation of gas in its stomach.
Your Corgi German Shepherd mix comes with a large appetite so portion control is necessary, otherwise, your dog will become obese. You should also avoid giving this dog a lot of treats since it gains weight fast. Stick to snacks with low calories if you really want to give your pet a healthy treat.
Owners should also choose a dog food that has chondroitin or glucosamine, or both. These nutrients can help prevent hip dysplasia. Some Cormans also develop allergies so it's best to avoid feeding them allergenic grains, and proteins like chicken and beef.
Luckily for you, the market is flooded with high-quality dog food. You just need to make a good selection. Here are some suggestions:
Just 6 Nutrish: These products contain rich proteins that include seafood, beef, and chicken, and lamb. The latter is a better choice for your pet. What's more, Nutrish products do not contain corn, soy, and wheat. This will help reduce the risk of your dog developing allergies.
Blue LifeFood: This company specializes in all-natural dog food. They also incorporate DHA in their ingredients to help with brain growth and mobility.
SmartBlend Food: A product of Purina One, it offers a rich and delicious diet for your canine companion. Every ingredient used in its dog food carries the needed nutritional function. It also contains botanical oils and glucosamine to boost brain growth and build strong joints.
Purina Beyond Grain-Free Adult Canned Dog Food: Crafted by the company's in-house nutritionists, this is an ideal choice for a German Shepherd mixed breed. Its main ingredients are chicken, real beef, and salmon meat. The protein overload is necessary to build and maintain your dog's muscles. This dog dish is also gluten and grain free. The company only used all-natural ingredients with vitamins and minerals added.
Blue Buffalo Wilderness High Protein: This is the best pick for a Corgi German Shepherd mix suffering from food allergies. It's made from nutritious and delicious, protein-packed bison, halibut, rabbit, venison, and quail. The dog food's composition is said to be 34% protein, with only 15% fat. It's also mixed with anti-oxidant infused kibble called LifeSource Bits. These bits also contain vitamins and minerals that help with the development of the joints and enhances longevity.

Your dog is part of your family, and you want what's best for them. Their health and happiness come from good nutrition, so it's vital to take care of what your pooch eats every day. In the worst dry dog food, you'll find some products that you shouldn't be purchasing for your hairy companion. Instead, opt for best dry dog food, that includes Wellness Core Dog Food, Dog For Dog Food, or Nutra Thrive dog food supplement. Puppies need food that is full of vitamins and minerals, which you may find in best puppy food brands, and the older, gray-coated sweeties deserve to get the best senior dry dog food.
Don't forget that your little furry one has the genes of their fabulous parents, so skim through the best dry dog food for small dogs or best large breed dry dog food, perhaps it turns out to be a perfect choice. Consult with the vet once you decide to change the pup's diet.
German Shepherd And Corgi Exercise Requirements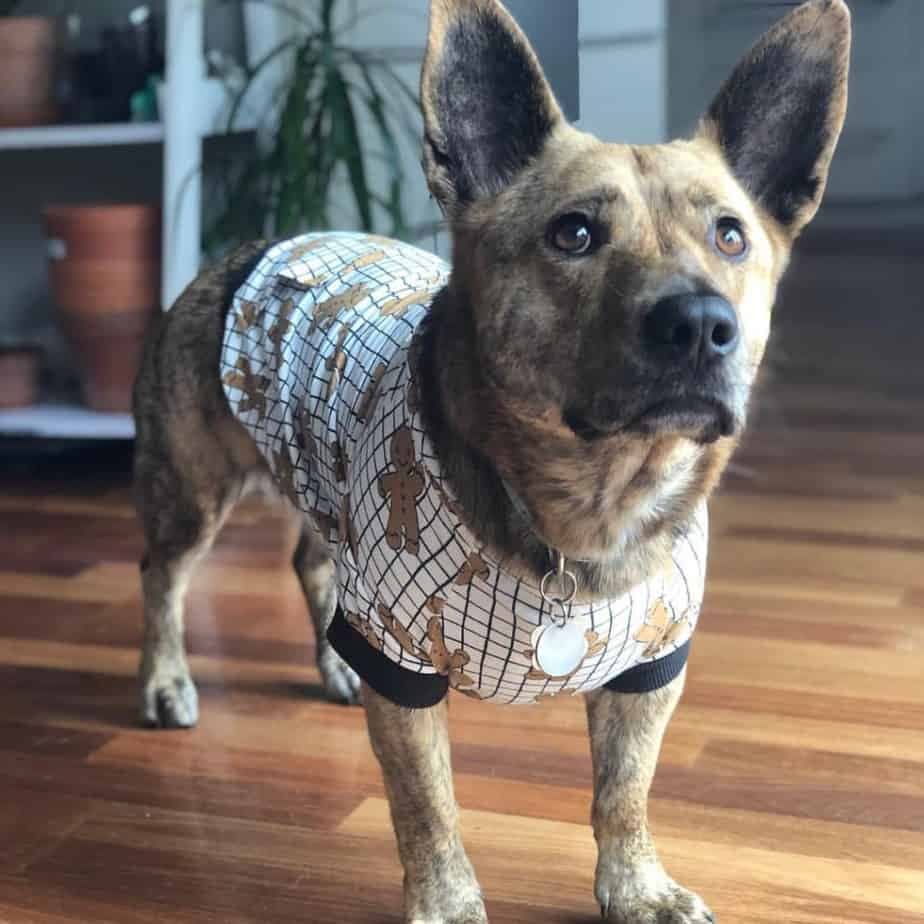 As the offspring of two active dogs, a German Shepherd Corgi mix will also need regular exercise. Make sure you allot a minimum of one hour to walking your dog to ensure it's healthy. It will also be happy running or brisk walking around the park or leisurely strolling about the neighborhood. Other games your dog will love is playing fetch, catching a frisbee or hide and seek (hide a toy in your yard and have your pet look for it). You can even create a small obstacle for your pet if your yard is large enough.
You'll also have to keep your Corman mentally active. This dog also needs to exercise its brain to prevent boredom or depression from setting in. Try to plan activities that will stimulate both its mind and body, like ball games outdoors or squeaky toys and puzzles.
Here are some suggestions on toys or puzzles you can get:
Omega Paw Tricky Treat Ball: This is a great treat ball for active and tenacious dogs like a Corgi German Shepherd mix. The puzzle is designed so that treats fall out when they do roll it around. This treat ball is made from soft and flexible vinyl so it won't hurt your dog. It's a distinct shape and soft texture makes it easy to pick up, carry and even shake. What's more, it's durable and quiet.
Kong ClassicDog Toy: Millions of dog owners love this toy. It's great for teething puppies and can keep a dog busy for hours as it tries to get at the treats inside. You can fill them with kibbles, peanut butter, or whatever treats you want. The Kong is strong and can survive your dog. It can be used to play fetch and also bounces and rolls, capturing your mutt's attention effortlessly.
Ifetch Interactive Ball Launcher: This gadget will keep your pet happy for hours. The toy launches a ball and will repeat the action once your dog brings it back and drops it inside the machine. Not only does it make your Corman run around to fetch, but it also teaches them to return it. The iFetch comes in a variety of launch settings and models to fit different sized dogs.
Because of the amount of activity needed to keep this dog happy, you'll need ample space. Living in an apartment or a house without a yard will not be good for the Corman Shepherd.
Corgi And German Shepherd Mix Training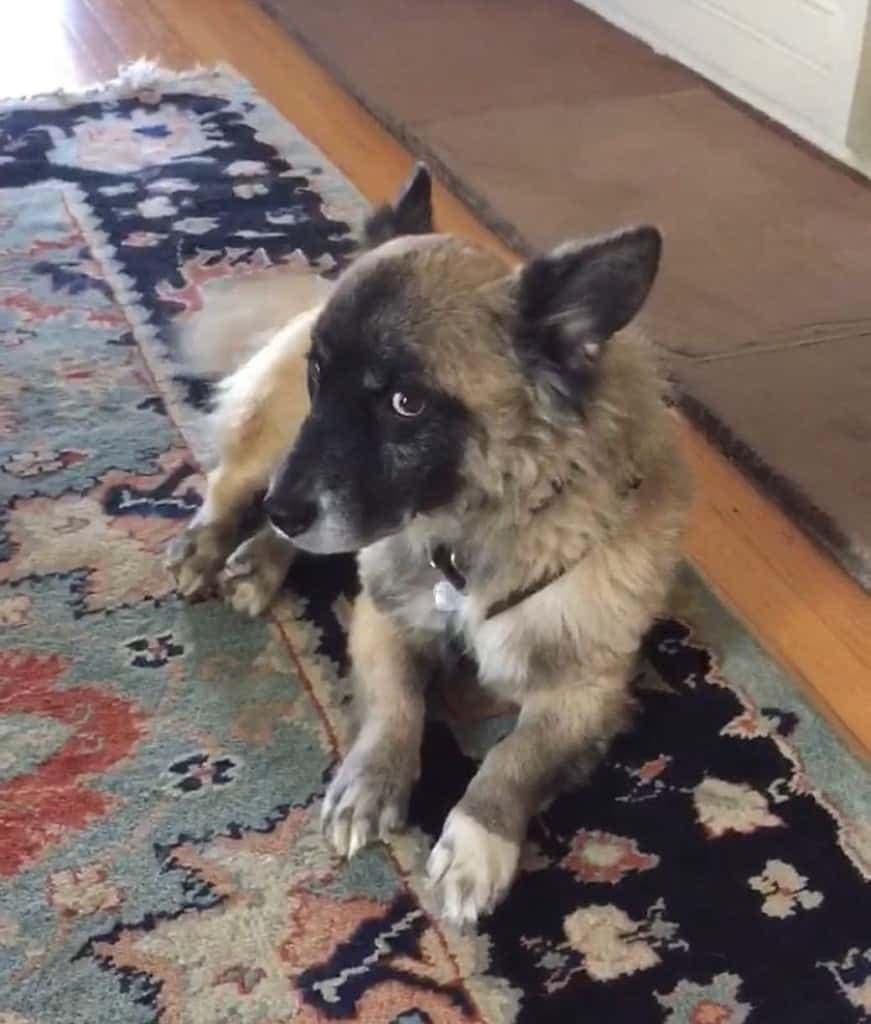 As with any hybrid dog, the Corman Shepherd will manifest traits from both parent breeds. Its inherent intelligence means it will learn easily during training. However, it also has a stubborn and sensitive streak so it doesn't react well to harsh treatment. You'll have to step up and become the pack leader that this dog needs. This way, you'll be able to shape your dog into the affectionate, calm, and loving pet that it can be.
Your Corman Shepherd will exhibit two traits inherited from its parents – the German Shepherd's eagerness to learn and the Corgi's preferences for food treats. Using this enticement will help motivate your dog to learn what it needs to.
Don't wait until your Corgi German Shepherd is a year old before starting training. Start them early; an eight-week-old puppy can be taught simple commands.
Here are some tips to make training your dog easier:
Decide on the rules it needs to follow. Make sure you're clear on what your dog can or cannot do. For example, is it allowed on the bed or couch? Can it go anywhere in the house? Settling this early means there's less confusion for you and your pet.
Set up a space for your dog. Your pet will need its own space. It shouldn't be used by another pet or family member. You can even designate a crate as the dog's private space. Giving your pet a "room" of its own is an essential tool for housetraining.
Teach it to come. The first command your dog should learn is how to come to you. This will establish and reinforce your status as his alpha. Go down to its level and use your dog's name to call it to you. Give it lots of positive reinforcement when it comes.
Reward good behavior. Use positive reinforcement to reward your pet. Heap lots of love and praise on your pet and give it treats or toys. Let your dog know it's doing something right.
German Shepherd Corgi Mix And Families
There's no denying that a German Shepherd Corgi mix is a great dog to have. The question to consider now is whether it's a good fit for your specific family.
This dog can be a good family pet. It's loving, affectionate, sweet, loyal, and protective. You're assured that there's always someone looking out for your family. But this dog also has special needs that not every owner can meet.
A Corgi German Shepherd mix is perfect for someone physically active and who loves jogging or brisk walking in the morning. You won't have the option of being a couch potato with this dog since you'll need to exercise it, rain or shine. Busy people who can't commit to a daily jog, walk or visit a park shouldn't take on the Corman as a pet.
Families with large yards or who regularly access open spaces are also ideal. The Corman is also better off with a family that has older children. While this dog is good with children, it's energy and enthusiasm could lead to herding or jumping up. Young children are not strong enough to withstand its exuberance and could be injured.
The Corgi German Shepherd mix is an adorable companion for active individuals and families who love the outdoors. Taking care of this dog is relatively easy, as long as you make the time to exercise and groom them. Just make sure you have the right information about them and the skills, patience, and love needed to raise them properly.
References:
Oyake, Kanae, et al. "Changes in Respiratory Function in Pembroke Welsh Corgi Dogs with Degenerative Myelopathy." Journal of Veterinary Medical Science, vol. 78, no. 8, 24 Apr. 2016, pp. 1323–1327., doi:10.1292/jvms.15-0521.
Biasato, I., et al. "Unusual Combination of Multiple Vascular Anomalies in a German Shepherd Puppy with Megaoesophagus." Anatomia, Histologia, Embryologia, vol. 46, no. 2, 3 Jan. 2017, pp. 216–219., doi:10.1111/ahe.12260.
Harper, Deborah S. Pembroke Welsh Corgi: An Owners Guide to a Happy, Healthy Pet. Howell, 1999.
Coile, D. Caroline. German Shepherds for Dummies. Hungry Minds, 2003.
Compare Pet Insurance