Australian Shepherd Bernese Mountain Dog Mix Facts
There are many beautiful mix-breeds today, but the Bernese Mountain Dog – Australian Shepherd Mix is one of the top choices for families. Bernese Mountain dogs have excellent protection and working instincts, while Australian Shepherds have strong herding backgrounds. Mix breeds don't usually have a single set of personality types, and their attributes heavily depend on the dominating genes. When you're thinking of getting a Bernese Mountain Dog – Australian Shepherd Mix, consider the individual personality of each breed.
3 Reasons Why You Shouldn't Get a Bernese Mountain Dog Australian Shepherd Mix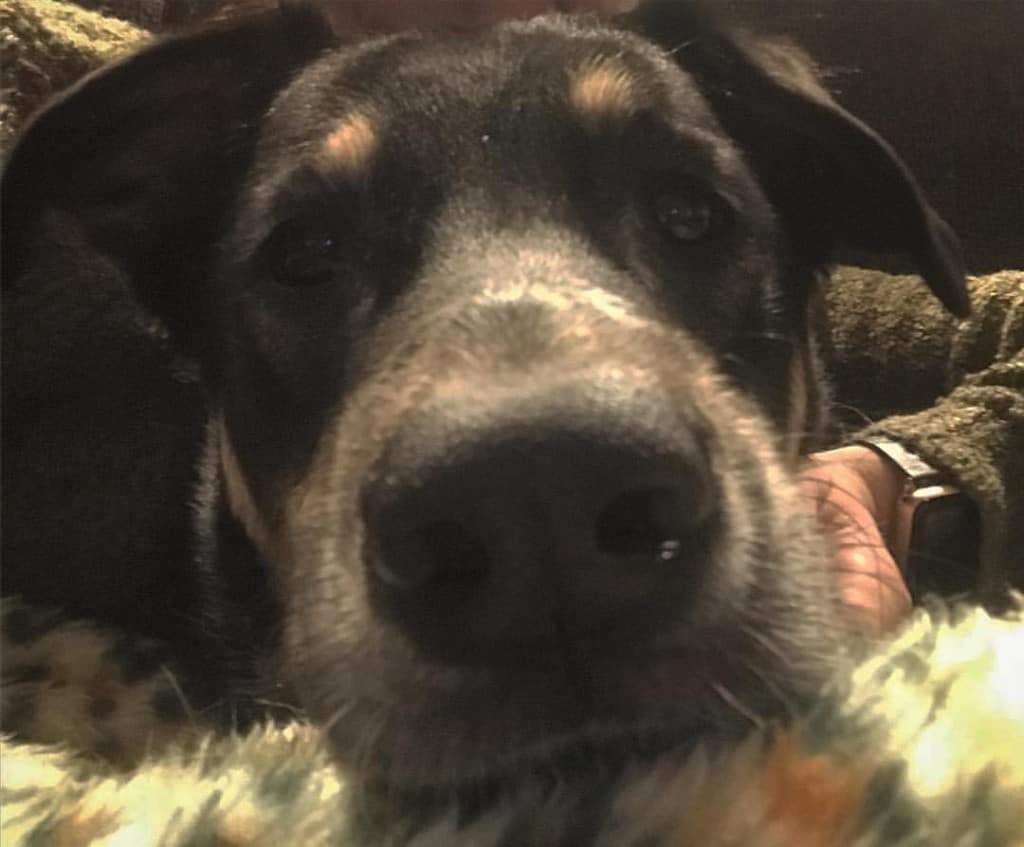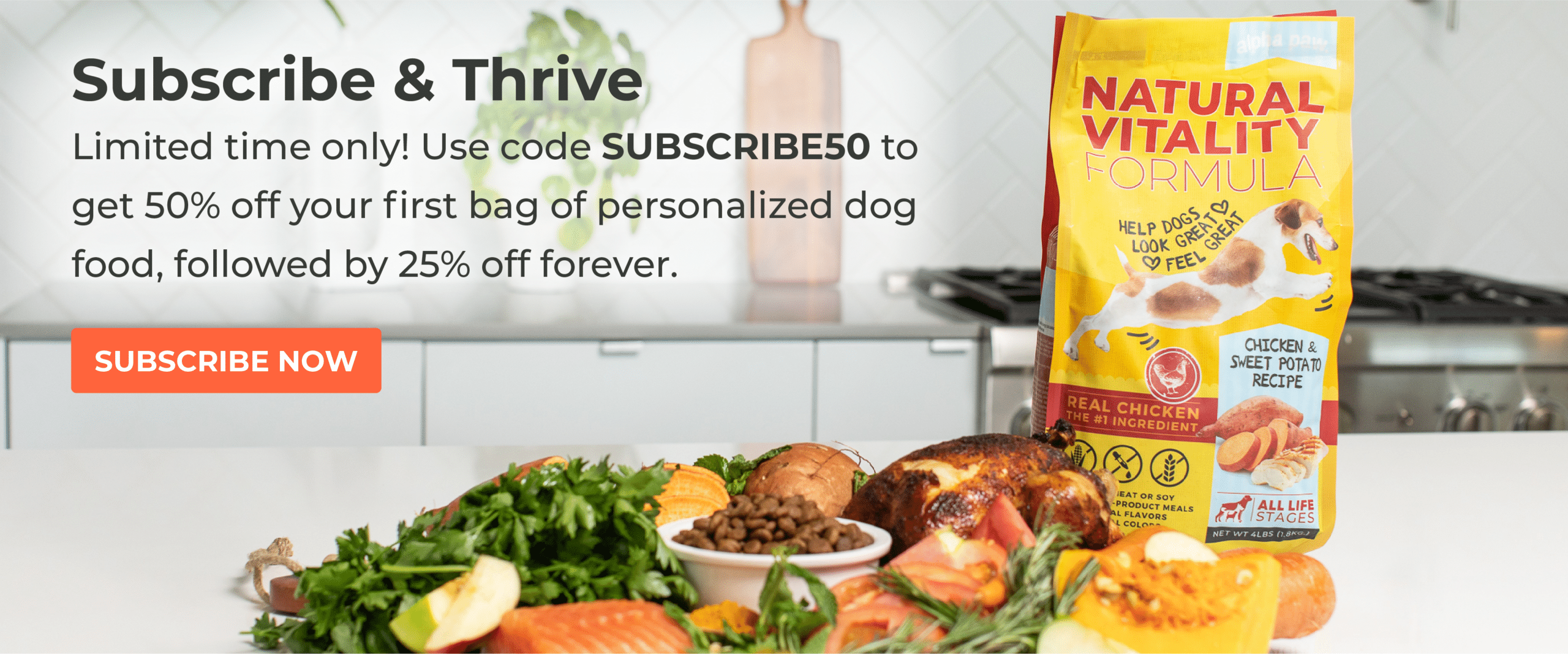 Before we go to why you should get this breed, let's talk about why you shouldn't. There is a lot of pro's and con's with this breed, and it really boils down with what kind of personality you're looking for. With that being said, let's look at this breed through three different aspects: Size, Activity Level, and Maintenance Requirements.
Size – This breed leans more to the bigger side, considering how Bernese Mountain Dogs and Australian Shepherds by themselves are massive dogs. If you want a small to medium size dog, then this breed isn't for you. You'll need a lot of big space and area for the dog to run and play around.
Activity Level – This breed is the opposite of relaxed and mellow, and they are more on the hyper and active side. If you think you won't be able to keep up with this breed's active lifestyle, then it might not be for you. As beautiful and promising the breed looks, you don't want either of you suffering. Dogs who don't receive the proper energy they need to start developing destructive behaviors, explaining why some dog owners have chewed up furniture and clothes.
Maintenance – Like many most dogs, this breed requires proper maintenance. You need to regular grooming in order to keep its beautiful coat untangled and not knotted.
More Bernese Mountain Dog Mixes
Not sure the Australian Shepherd Bernese Mountain Dog is the perfect pup for you? Check out our dog-breeds post with pictures and facts on 30+ different types of Bernese Mountain Dog mixes.
Smart pet owners do their research. Check out the most comprehensive breed reviews on the top Bernese Mountain Dog mixes, includes info on health, temperament, price, food, exercise grooming and more.
Other Australian Shepherd Mixes
Have your heart set on an Australian Shepherd mix? Check out the top Australian Shepherd mixes in America:
3 Reasons Why You Should Get a Bernese Mountain Dog Australian Shepherd Mix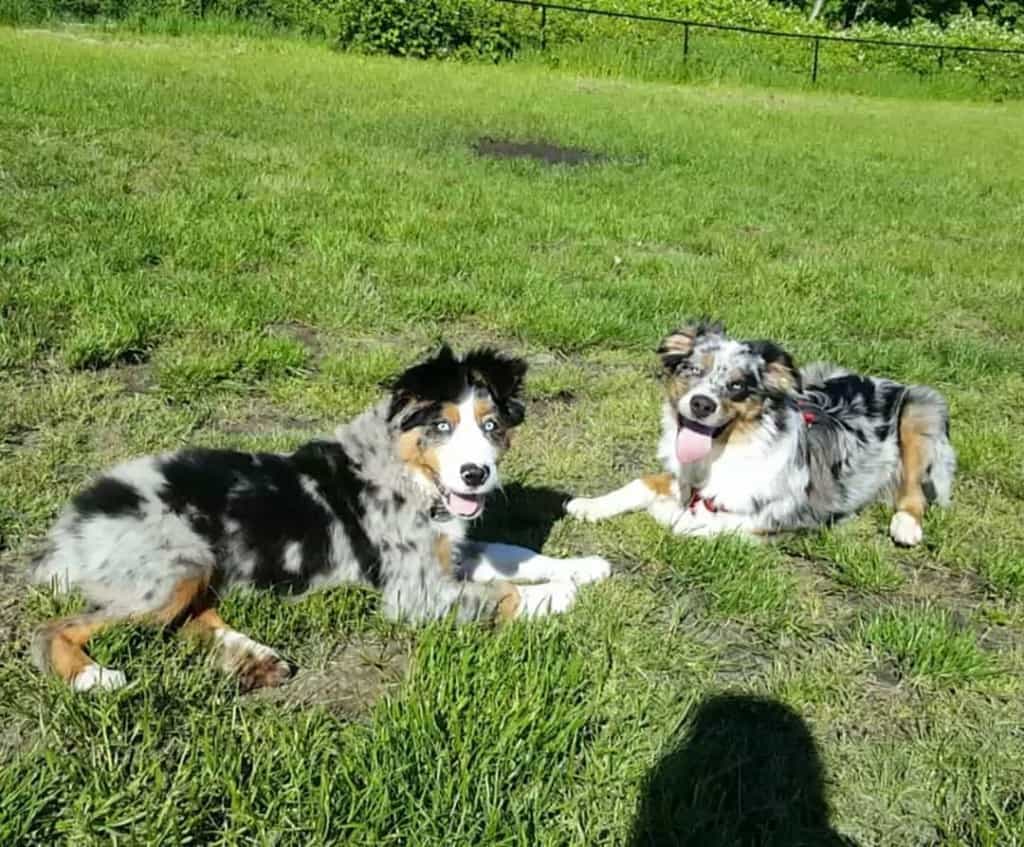 This breed is highly lovable, and it's not surprising why people choose to get a dog like this than others. The Bernese Mountain Dog Australian Shepherd Mix has a lot of great personality traits and features which you would want.
Affectionate and always seeking your companion. They always want you by their side, and if you enjoy the company of a good friend around then you'll enjoy being with this dog.
Protective and Efficient. Since they began as working dogs, you can imagine how good they are at herding animals and protecting them from danger.
Great for families who have an active lifestyle. Active big dogs like this breed need constant attention, stimulation, activity which is why you need to be able to provide these activities.
Appearance, Personality, and Traits of a Bernese Mountain Dog Australian Shepherd Mix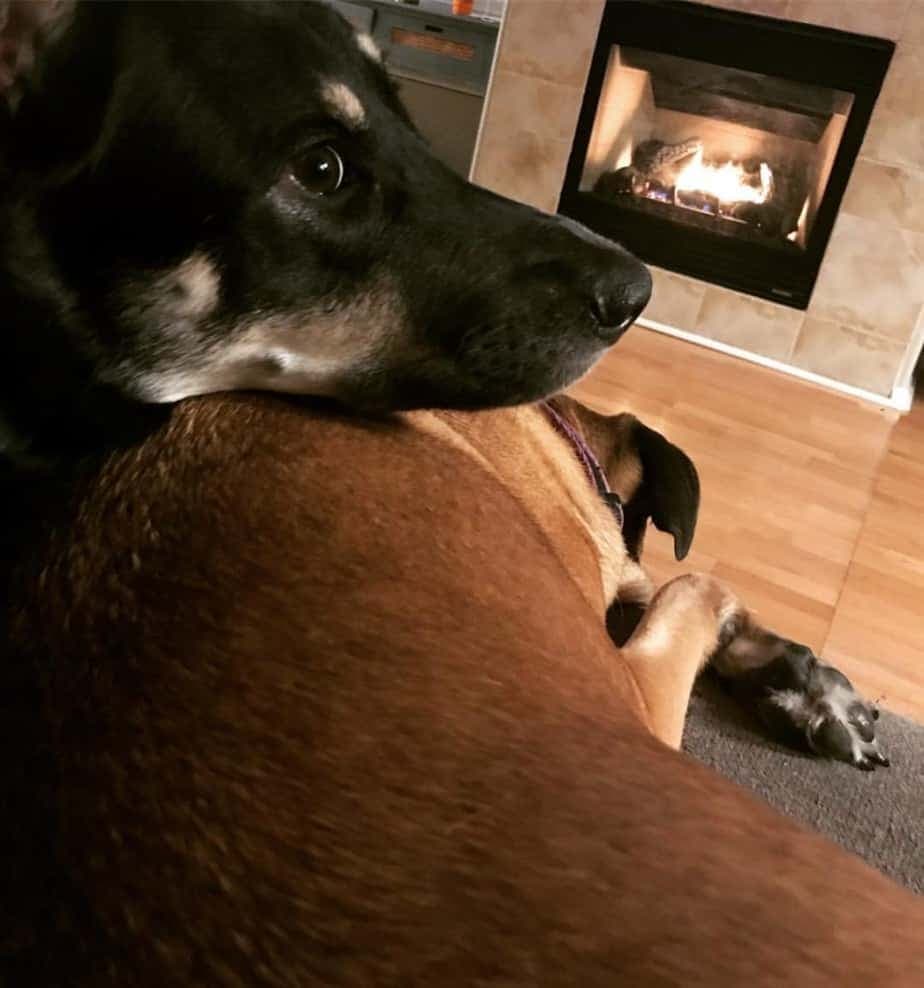 You might be wondering what kind of personality your puppy might take on. There are many possibilities, and they can either have more features of one breed than the other. Regardless, here's some background of the essential traits of Australian Shepherds and Bernese Mountain Dog.

Australian Shepherd
First, let's settle the fact that Australian Shepherds didn't come from Australia. The breed has a complicated past, and its lineage can't be identified with certainty. The breed has gone through various name changes, among the popular ones are "Pastor Dog" or "Spanish Shepherd." Many believe that Australian Shepherds originated from a region in Spain, and they were primarily used for herding. The breed was valued for its ability to protect the herd from predators, having great guarding instincts.
Through many years, Australian Shepherds have been known for the following traits:
Highly energetic and needs a great deal of physical and mental stimulation – perfect for active families.
Gentle-natured and non-aggressive – this requires early socialization with strangers
Highly intelligent and independent;
Runs at a reasonable speed, and have high energy and endurance levels;
Bernese Mountain Dog
Unlike Australian Shepherds, the lineage of Bernese Mountain Dogs is easy to trace. They come from Switzerland and are a valuable asset in driving cows to and from mountain pastures. Bernese mountain dogs are powerful considering how they're often used to pull milk carts, and they're also well-known for being great guard dogs.
Here are some of the favorite traits of Bernese Mountain Dogs:
Gentle-natured and non-aggressive – sometimes they are overly shy which is why they need to learn how to socialize during their puppy stages.
Highly obedient but can also be hardheaded many times.
Steady-tempered and easy going – perfect for families with small children.
Strives in places with cold weather – their thick black coat means hot climates is an instant no.
Personality Traits and Features of Bernese Mountain Dog Australian Shepherd Mix
Weight
Male: 30 – 40 kg

Female: 26 – 36 kg

Height
Male: 58 – 64 cm

Female: 52 – 60 cm

Coat Type
Long and silky, double coated
Coat Color
Combination of white, brown, black, and tan
Amount of Shedding
Heavy shedding
Temperament
Affectionate, Intelligent, Faithful, Loyal, and Protective
The two breeds don't exactly have the same personality type, but together they make the right combination. You can expect a lovely temperament, and they're pretty good natured. Both breeds exhibit the same trait of being unable to socialize around strangers, and you can fix during their puppy years. Another important feature you need to know is that they are highly energetic, and you need constant physical activity.
Bernese Mountain Dog Australian Shepherd Mix Puppies for Sale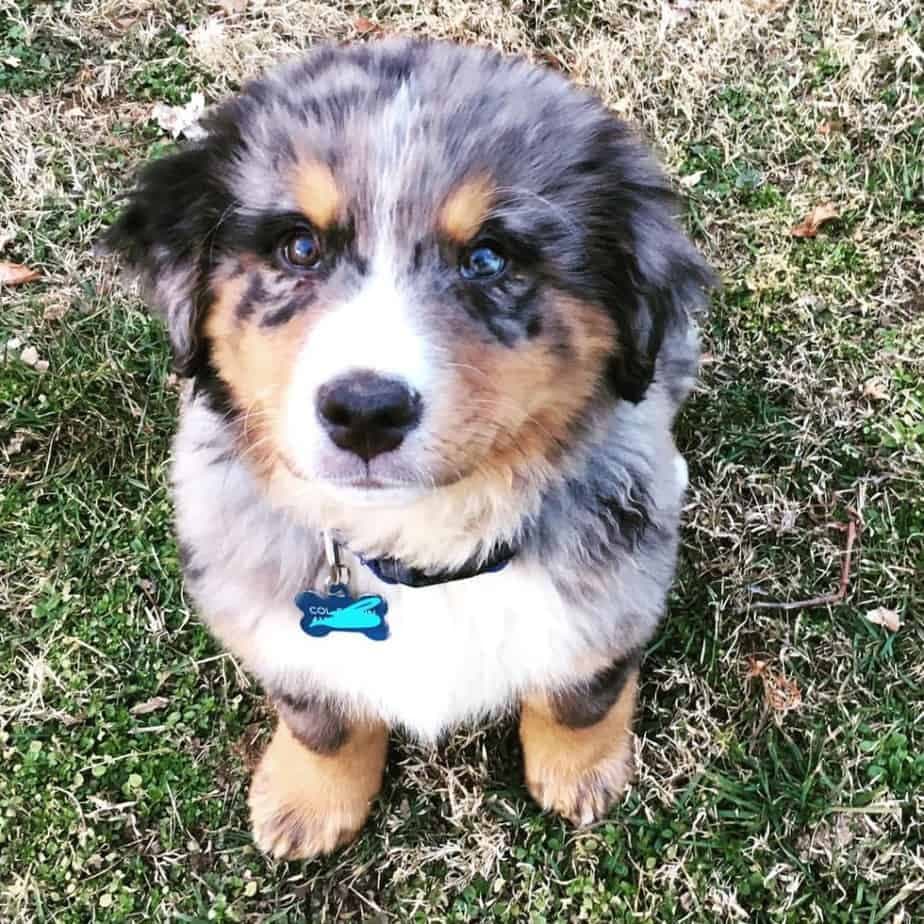 Getting your Bernese Mountain Dog Australian Shepherd Mix as puppies can help you avoid any complications, and here's why:
You Get a Health Guarantee from the Breeder
It's equally essential for you to know where the puppies came from so that they can guarantee their fitness. Getting a mix breed, especially from a stranger, beyond its puppy years may be hard to determine its right breed and health condition. If you don't consider the breeder at all, you'll be left with a guessing game — another important thing about getting your puppies from a reliable breeder if you have legal documents evidencing your puppies' health.
Eliminate potential Hazards or Reduce them
Getting your dog as puppies gives you more time to be aware and educated of what kind of health maintenance your puppy needs. You're there throughout the journey of your puppy, and you can watch over it as it grows to adulthood.
Grooming your Bernese Mountain Dog and Australian Shepherd Mix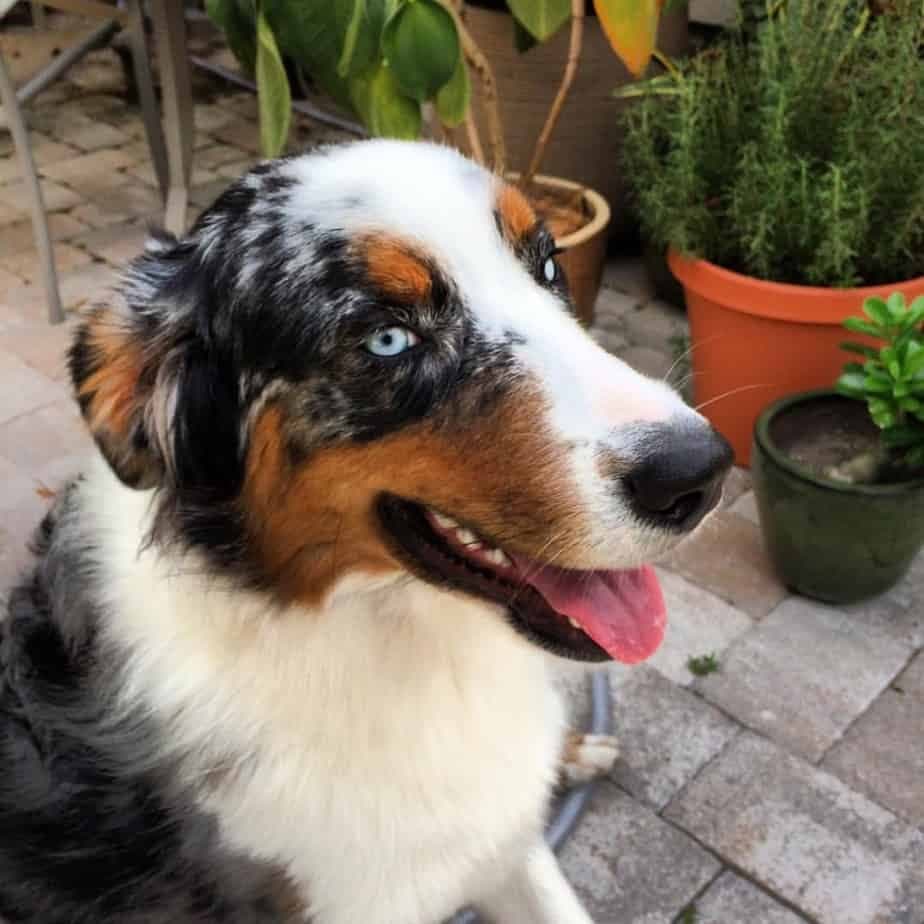 Both Bernese Mountain Dog and Australian Shepherd are very hairy dogs. They have incredibly long hair, and they shed like crazy especially during shedding season. This means that you can expect a lot of shedding, and a lot of contaminated clothes. Managing this isn't hard, and here's what you can do:
Brush them every day or at least a few times a week – this prevents their fur from clumping and getting knotted from each other.
Give them regular baths – their hair is long, and keeping them unwashed encourages germ and bacteria build up.
Use anti-tick shampoo's and products – since their fur is so long, you won't be able to tell if they have tiny ticks running around their hair.
Trim the hairs on their paw, so they don't step on it and trim their nails regularly.
Finally, invest in a good vacuum to help you clean up loose furs flying around.
Grooming big breeds, especially with long hair can be very troublesome. You can opt to send them to a groomer, but make sure that the groomers know what they're doing. Most importantly, the groomers should at least know how to handle the temperament of your dog.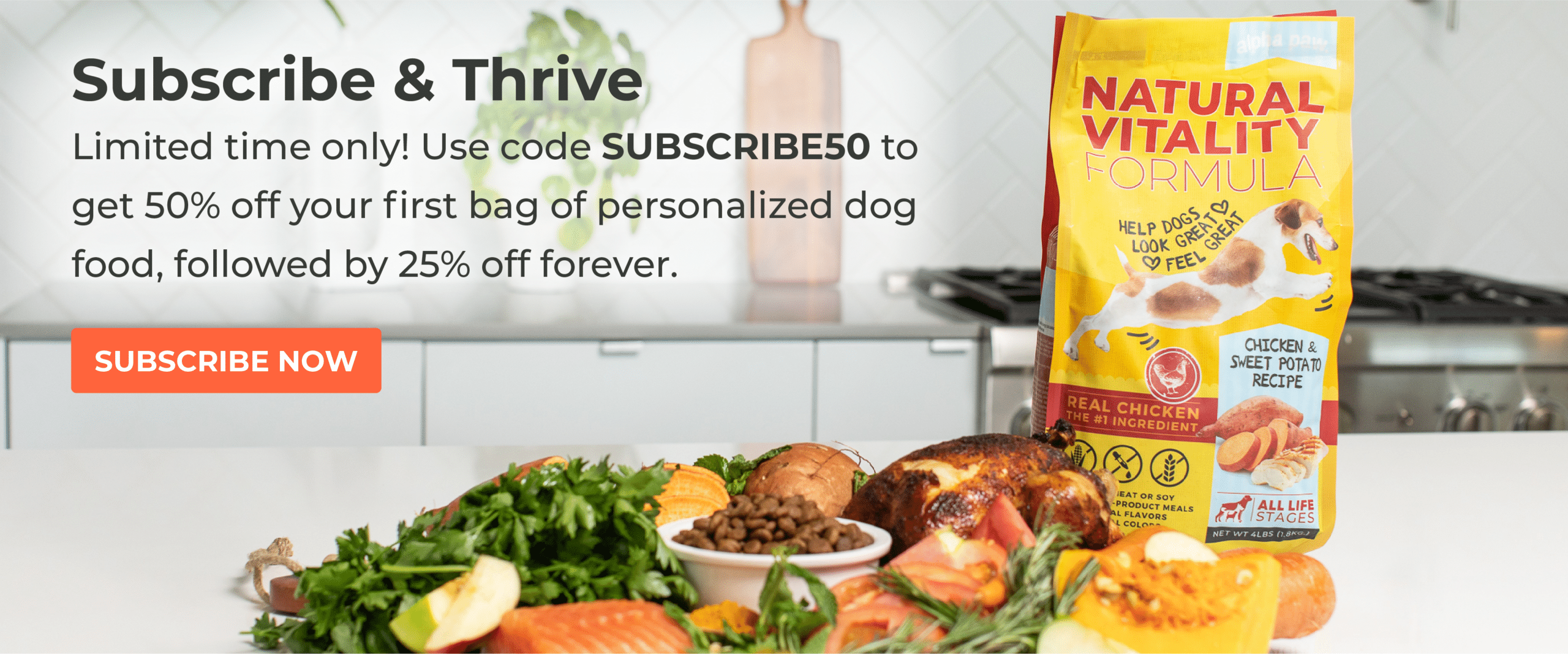 Bernese Mountain Dog and Australian Shepherd Mix Health Problems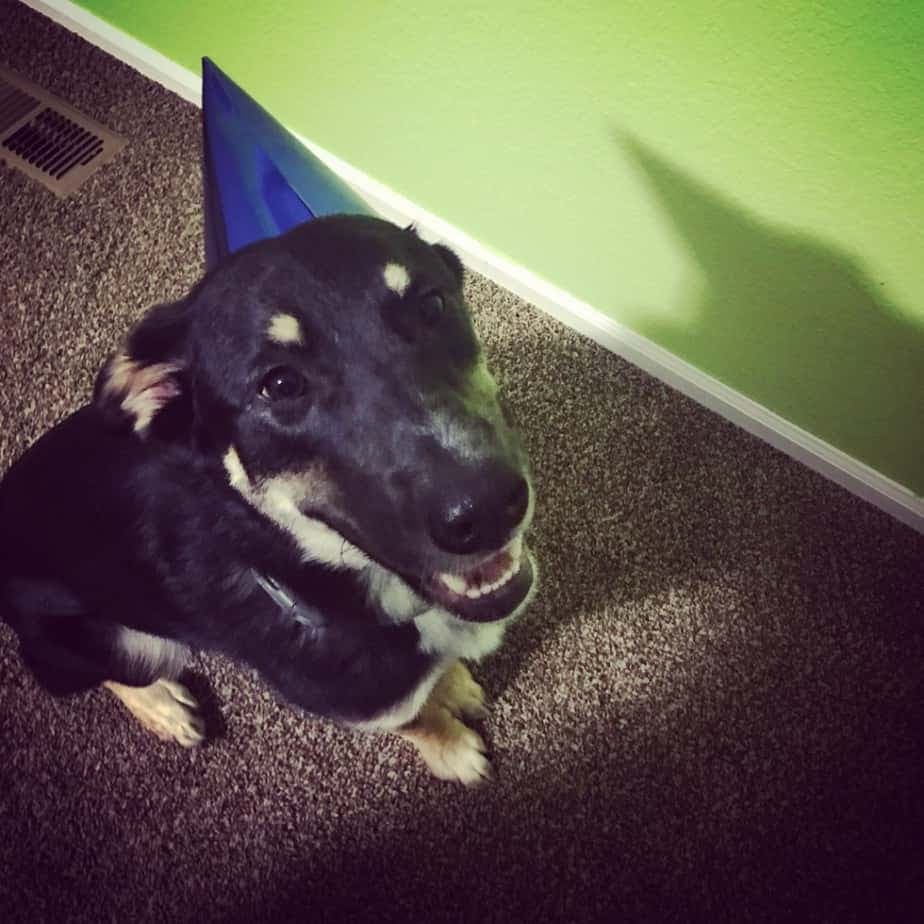 All dogs require some health maintenance, and as dog owners, we don't want them getting sick. Most importantly, all dogs have the propensity of developing some genetic health problems as they age. Mix breed dogs are no exception, and often they are more susceptible to some issues than others. It can be attributed to the fact that they are running on more than one gene, in addition to the usual complications their breed usually faces.
Some of the common health problems which Bernese Mountain Dog and Australian Shepherd Mix are often prone to are the following:
Joint dysplasia – this is one of the most common ailments for big breed dogs. Some signs can manifest even while the dog is still young, and here are some symptoms you need to watch out for:

Decreased activity or problems with standing quickly;
Inability to run, jump, or climb stairs properly;
Discomfort in the hip area.

Eye problems – left untreated, eye problems can leave your dog blind. There are different reasons for your dog to have difficulty, but all of them can be treated and prevented. Here are some common symptoms:

Crusty eyes and increase in mucus build up in the eye;
Red-eye;
White formation on the iris.

Allergies – this can be treated quickly, and some of the common causes involve the food and environment of the dog. This needs to be addressed immediately before it becomes severe. Here's what you need to watch out for:

Itching all over the skin or in an isolated area – in some instances, the hair in the area fall off;
Constant coughing, sneezing or wheezing – this can lead to respiratory systems in the future.
Bernese Mountain Dog and Australian Shepherd Mix Food Requirements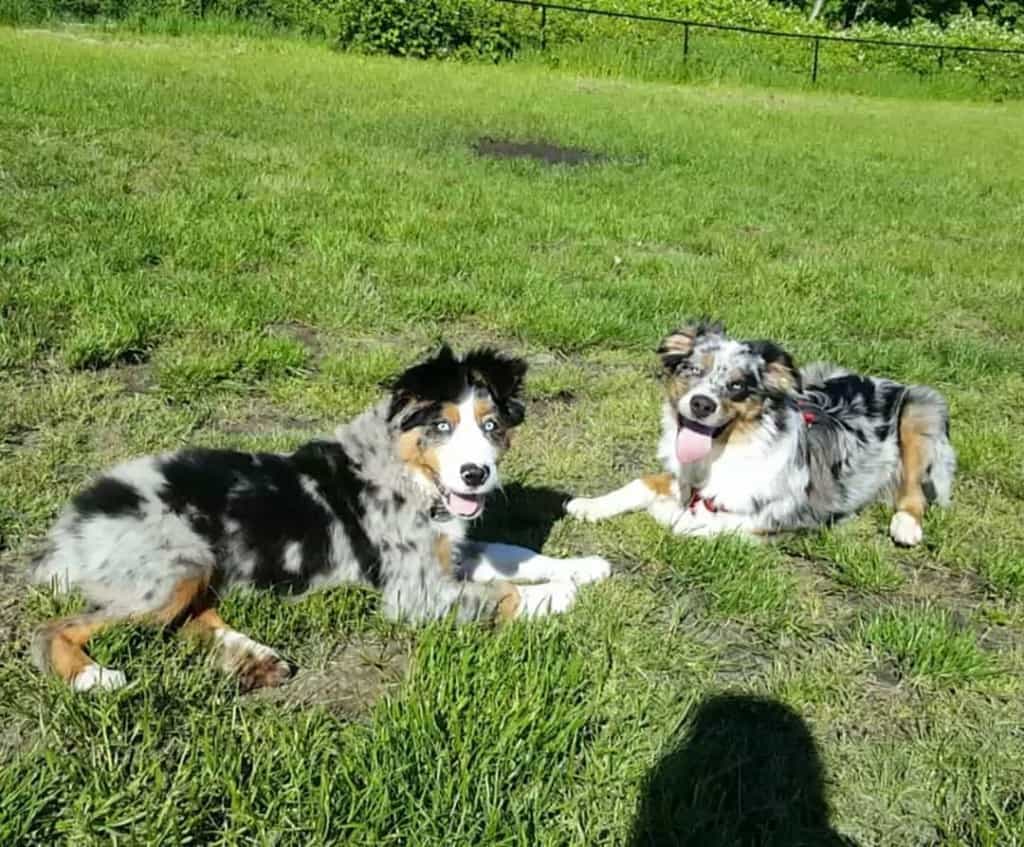 Feeding your dog can sometimes feel like rocket science. Not all diet works for the same breed of dog, and many of them have dietary requirements. For a breed like this one, you need to consider getting them fish oil and glucosamine and chondroitin supplements or a diet which promotes these. Since the breed is prone to joint dysplasia, targeting a diet that can reduce this risk is very helpful.
You also need to be mindful about the amount of food you give them. This breed is huge, but that doesn't mean you should provide them with a lot of food. If there's one thing you shouldn't do, its overfeeding them since it might encourage other health problems to manifest, besides joint dysplasia.
If you aren't sure with where to begin, start your dogs with a raw food diet. A raw diet consists of uncooked meat, vegetables, and bones, and it's one of the most natural and healthiest ways to feed your dog. Here are some well-known benefits the raw diet can help with:
Healthier Teeth and Gums – Gnawing on actual bones prevents plaque build-up. Moreover, munching on bones are a good source of calcium.
Lean and Strong Body Build – A raw diet ensures that your dog's body stays lean and robust, especially since your dog consumes more protein. Having a lean body boosts your dog's immune system and lower blood pressure.
Less Likely to Develop Cancer – Processed dog food has a lot of preservatives and unknown ingredients. Often the ingredients are mixed with too many toxins, which end up being hazardous to your dog's health.
There are a few ways to promote your dog's health, from endless love to their nutrition. Give your dog a lot of affection but also make sure that only the top-quality food ends up in their bowls. While you should always opt for the best dry dog food brands as well as Wellness Core Dog Food, Dog For Dog Food, or Nutra Thrive dog food supplement, don't let the worst dry dog food wind up on your shelves. If you're looking for the best food brand for your puppy, you might find some ideas in best puppy food brands. Older canines usually require the pet food made specifically for them, so take a look at best senior dry dog food brands.
The genes they inherited from their parents can have a lot of influence on their personality and taste. Don't hesitate to try best dry dog food for small dogs or best large breed dry dog food, your hairy companion might end up loving it. Of course, it's always advisable to check with your vet if you should change the diet of your pooch.
Bernese Mountain Dog and Australian Shepherd Mix Exercise Requirements
Before your dog gets tired, you need to tire yourself out first. Bernese Mountain Dogs and Australian Shepherd Mix are energetic and hyper dogs, especially since they're both working dogs. Giving them proper exercise inhibits their propensity to be destructive. Getting them to exercise is pretty straightforward:
Take them to long walks or hikes to keep their energy levels stable – the mix as higher energy levels than most, so be prepared for a very long walk and hike.
Set play dates with other dogs who have the same energy levels – this is a good way not to tire yourself out. However, be on the lookout for any aggressive behavior.
Give them toys to play with, not just physically but mentally.
Bernese Mountain Dog and Australian Shepherd Mix Training
This type of mix breed is brilliant and very easy to train. However, training can become hard at times since this mix breed combination can also be very stubborn. You need to start the training while they are still puppies, so they know to listen to you. Keep in mind the following tips in training them:
Have a strong and firm hand and establish dominance – you need to assert yourself and show them they need to listen.
Give them positive reinforcements – you want to be assertive, but at the same time, you want to give them positive reinforcements to reward their good behavior. Dogs respond better with positivity like praises, treats, and pets.
Give mental and physical challenges – the breed is highly intelligent, and you need to stimulate their minds as well. Doing this helps you train them better in the future.
Socialize them with other dogs and people – this breed is pretty shy around strangers, and it's better to expose them around others at a young age.
Bernese Mountain Dog and Australian Shepherd Mix and Families
This type of breed is perfect for any active family. A family who enjoys the great outdoors, playing games, and hiking around. You won't have any problems when it comes to this type of breed and children, because these dogs are very good natured. They have a good temperament despite being active and protect and guard your children as any parent would.
This type of dog is perfect for a family with a lot of children, considering how this mix loves attention. The mix is a perfect companion for children who want a constant playmate in their life.
References:
Ricketts, Sally L., et al. "A Novel Locus on Canine Chromosome 13 Is Associated with Cataract in the Australian Shepherd Breed of Domestic Dog." Mammalian Genome, vol. 26, no. 5-6, 19 Apr. 2015, pp. 257–263., doi:10.1007/s00335-015-9562-2.
Thaiwong, T., et al. "Gain-of-Function Mutation in PTPN11 in Histiocytic Sarcomas of Bernese Mountain Dogs." Veterinary and Comparative Oncology, vol. 16, no. 2, 20 Sept. 2017, pp. 220–228., doi:10.1111/vco.12357.
Coile, D. Caroline. Australian Shepherds. Barrons, 2009.
Guenter, Bernd. The Bernese Mountain Dog: a Dog of Destiny. Doral Pub., 2004.
Compare Pet Insurance