Double Dapple Dachshund: Double Trouble
Double Dapple Dachshund–Risky and Beautiful
Credit: tequila_and_whisky
Double Dapple Doxies are a rare and attractive variant of the Dachshund, with white markings on the fur and a specific coat pattern that resembles that of a Collie. Though the double dapple trait looks beautiful, it sparks controversy among some breed experts.
Many researchers point out the potential health problems with these dogs and warn about irresponsible breeding practices. Double Dapple Dachshunds are forbidden in most European countries, but they are still recognized by the American Kennel Club.
It is unclear if and how this particular trait affects the health and lifespan of the pups, but there are reports of many issues that occur with Doxies that have double dapple features.
What is a Double Dapple?
Dapple refers to huge splashes of intricate patterns on the coat of a Dachshund, but it can also be just one white spot decorating the body. This particular characteristic is highly desirable. Doxies are not on the list of the top 10 world's most expensive dog breeds to own, but with appealing dapple coloring, they can get pretty close.
There are no guarantees that the puppies will inherit this trait from the parent, so some breeders mate two Dapple Dachshunds to ensure that their offspring gets the desired feature. This can cause many potential problems for the litter.
Hereditary illnesses are the main concern because it seems that they may affect Double Dapples more. Most breeding associations and kennel clubs in Europe oppose the idea of breeding these pooches and refuse to recognize the trait as the breed standard.
What Does the Double Dapple Doxie Look Like?
Credit: tequila_and_whisky
You can spot a Dachshund a mile away because of their elongated body and short legs. This funny characteristic earned them the Sausage Dog nickname, and it describes their appearance perfectly. They were one of the great inspirations of Picasso in the past. You find lots of amusing info on this breed in Dachshund facts.
They all have long muzzles and floppy ears that frame the face. The eyes are oval, and the paws are paddle-shaped while the tails are straight and long. These deep-chested pooches have a scissor bite and a sharp sense of smell.
When it comes to size, Doxies can be:
Standard dogs can weigh up to 32 lbs while Miniature should not go over 11 lbs. The height goes from 6 inches for Mini Doxies to 11 inches for full-sized pups.
The coat comes in three different types, so your Dachshund's fur can be:
Long and silky
Short and smooth
Wiry
Both Standard and Mini pups can have all coat type variations.
The color palette is broad, and Sausage Dogs come in many shades from black to cream. The markings are allowed, specifically brindle, sable, piebald, boar, and dapple.
Dapple is the most sought after marking because it makes the pooches look adorable and attractive. It is crucial to stress that double dapple does not refer to the appearance of the dog, but to the fact that both parents have the dapple gene.
The most common features of Double Dapples are the white markings on the body and splashes of different colors on the non-white parts. The eyes can be blue, especially if the head and neck are white. The nose is often in the shade of isabella, again matching the color of the head.
Weight

Standard Dachshund: 16–32 lbs
Miniature Dachshund: 9–11 lbs

Height

Standard: 8–11 inches
Miniature: 5–6 inches

Coat type
Coat color

Black
Brown
Red
Cream
Isabella
Sable
Brindle
Pied

Shedding
Moderate
Eyes
Nose
Ears
Floppy
Temperament
Active and friendly
Life expectancy
12–16 years
Hypoallergenic
No
Kid-friendly
Yes (for children over five)
New owner friendly
No
Breed recognition
Yes (American Kennel Club in 1885)
How To Spot a Double Dapple Wiener?
Identifying these pups can be quite difficult because even the Double Dapple Dachshunds may show none of the traits of the parents. Sometimes, the double dapple litter is produced unknowingly.
Things become clearer when we tap into genetics. If both parents have the dominant dapple gene (or the merle gene), the possibility of passing it to the offspring is greater. The recessive non-merle gene may win the battle in the genetic pool if it meets the same gene from the other parent. In that case, the Double Dapple Doxie will not have any of the traits characteristic of the variation.
The probability of receiving two dapple genes is around 25%, but this does not refer to the entire litter. Brothers and sisters can look different, but if some of the puppies do look like Double Dapples, it's easier to identify the issue.
It is important to mention that even if they don't have the visual characteristics, these pooches can be prone to hereditary health problems of the variation.
Double Dapple Doxie's Temper
All Dachshunds are strong-willed and stubborn, and your Double Dapple baby will not be any different. Sausage Dogs are intelligent and affectionate, but they tend to be opinionated and challenging to train.
Since they were developed as hunting dogs in Germany, Doxies are also curious and active. They like to chase, explore, and sniff around on their own. Another potentially concerning trait is that they are loud and expressive, so don't be surprised if your pooch turns out to be a heavy barker.
Dachshunds are also extremely loyal and people-oriented, and with adequate training, they will be wonderful pets. The trick is to focus on and develop the mellower parts of their feisty personality. This is best achieved through understanding and positive reinforcement.
Although they have been hunters for a long time, Sausage Dogs are excellent watch dogs and companions as well. This implies that they are devoted to humans, and if you manage to establish a trusting relationship, there is nothing these brave pooches won't do for you.
Training Tips for Dachshunds with Double Dappling
Regardless of their predisposition, all dogs will develop their behavioral patterns during training. It's a vital part of raising a well-behaved, integrated dog.
With the reputation of being willful, Double Dapple Doxies will require some extra work. It is wise to start with training from an early age because it will give the best results. An efficient training consists of:
Teaching commands and rules
Socialization
Rules and Commands
Dogs need to have boundaries and understand limitations. It is not just about making your life easier. It's about keeping them safe. Basic commands like No and Stop will prevent them from getting into trouble or hurting themselves, especially in urban areas with a lot of traffic.
In the case of Dachshunds, the best way to train your puppy is to use positive reinforcement techniques. They flatter their intelligence and give them a sense of accomplishment. When you start working with your pooch, make sure to:
Establish a reward system. Every time your baby does something right, give them a treat, a gift, or a pat. If they misbehave, you should punish them, but don't go overboard because it will be counterproductive.
Use the best training collars. This helpful aid is effective yet humane and gives excellent results. Just don't forget that they won't work if you don't actively engage in the training process.
For further assistance, go through the five mistakes to avoid when training a dog.
Socialization
All dogs, Doxies included, are pack animals. They will never feel safe if they are not integrated. Socialization is crucial in bringing up a happy puppy.
The first thing to do is to assume the role of the pack leader. This will allow you to have better control over your pup's behavior and resolve any potential disputes and issues with other pooches.
Other important aspects of the process are:
Mingling with other dogs. Your pooch needs to play with other canines as often as possible to develop courage and trust.
Meeting other people. Unless you like loud barking, teach your Double Dapple Doxie not to be too wary of strangers.
Visiting new places. This is another way to work on the trust and the sense of ease, even in unfamiliar surroundings.
Double Dapple Dachshund Health Problems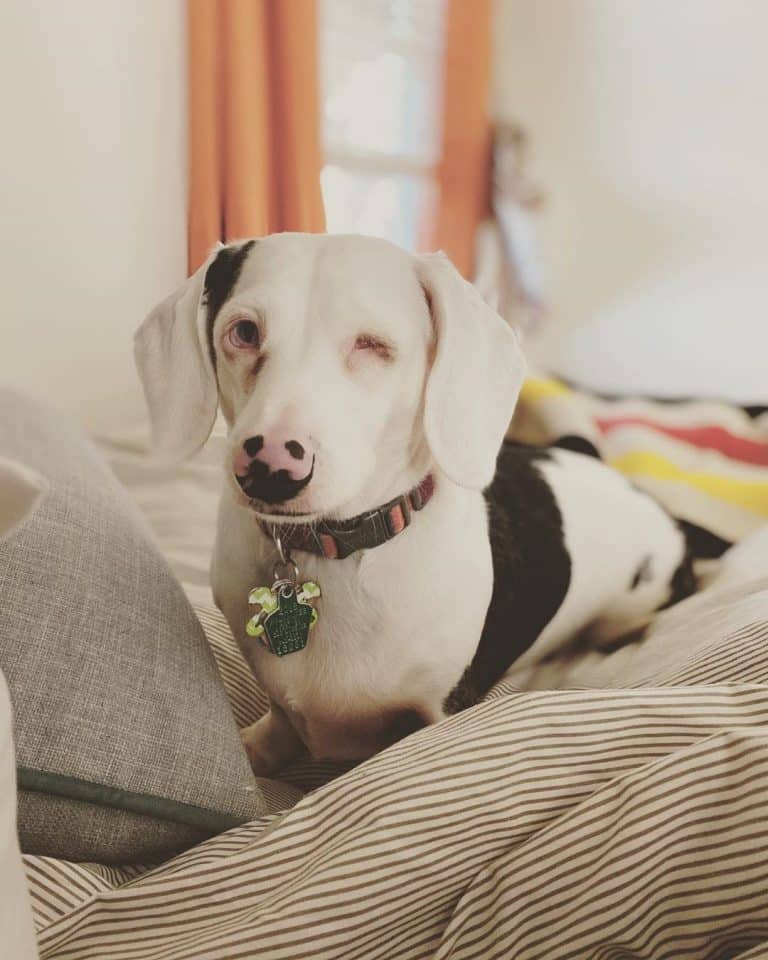 Credit: pidgeplease
Doxies are resilient dogs with a solid life expectancy of up to 16 years. For reasons unclear, the double dapple gene tends to bring down both the lifespan and the overall health of the pooch.
The biggest concerns among the breed specialists are the conformation issues, which refer to the appearance and structure. These may include a series of congenital disabilities such as:
Missing, malformed, or abnormally small eyes
Defective or missing ears
When it comes to other health issues, Double Dapples seem to be prone to blindness and deafness more than other Dachshunds. The lack of pigmentation in the blue eye Dachshunds implies that regular eye examination is mandatory. Both issues are not lethal, but they can prevent your pooch from leading a fulfilled life.
Stillborns are also more frequent if both parents have the merle gene. That is one of the main reasons why many Kennel clubs frown upon breeding the Double Dapple puppies.
Having a Double Dapple can mean double trouble because they will also be prone to other illnesses that are characteristic of Doxies. One of the most common issues is back problems because of the elongated spine. That is why you should try to prevent your Sausage Dog from jumping as much as possible and take good care of these beauties.
Obesity is another area of concern, so don't let your baby overeat. As they get older and become less active, try switching to best senior dry dog food. It should help with controlling their weight.
You can check out other potential risks in the list below. It's always useful to remember 10 tips on keeping your dog healthy.
Major concerns
Minor concerns
Occasional tests

Intervertebral Disc Disease
Hip Dysplasia
Bloat
Progressive Retinal Atrophy

Deafness
Epilepsy
Diabetes
Cushing's Disease

Eye examination
Physical examination
Hearing tests
Blood tests
X-rays
Sausage Dog Menu Favorites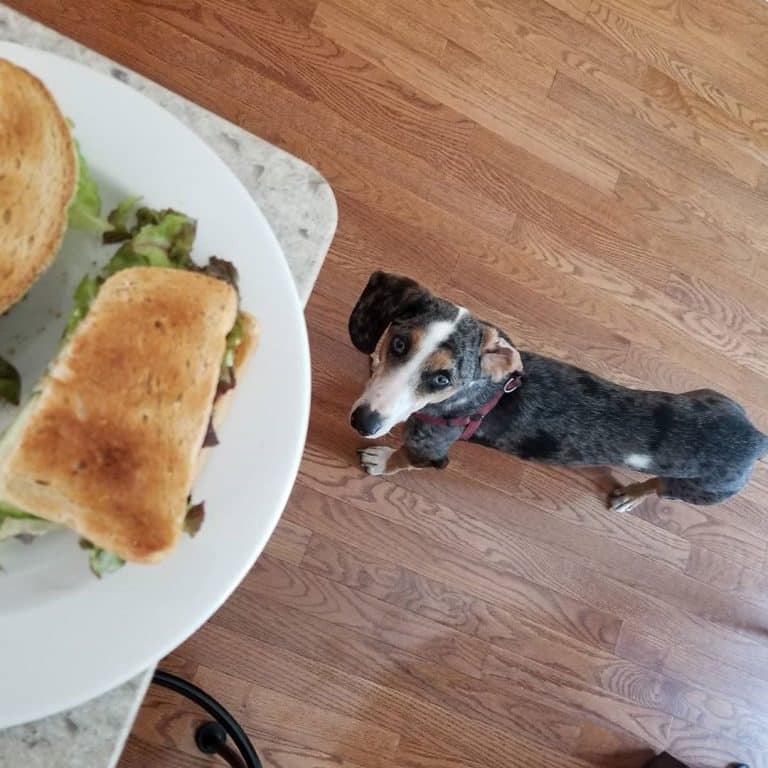 Credit: henrythewiener
Dachshunds should eat up to one cup of the best dry dog food for small dogs per day. With more possible health risks, you should avoid the worst dry dog food because it can only cause additional problems. Puppies should get food that's tailored specifically for their need, which you may find among the best puppy food brands on the market.
Double Dapple Doxies can suffer from gastrointestinal discomfort. The best way to solve the issue is by splitting the portion into two or three meals. When it comes to sweets, make sure you avoid the worst dog treat brands. The chances are that your baby will love them (who doesn't like some junk food), but those sweets can make your pooch severely overweight.
If you are not sure what to serve to your furry friend, try any of the following:
They are all high-quality, and most dogs find them delicious. It may be good to make a home-cooked meal for your Sausage Dog from time to time or add the best canned dog food to the mix. It will keep the menu versatile.
Double Dapple Exercise Routine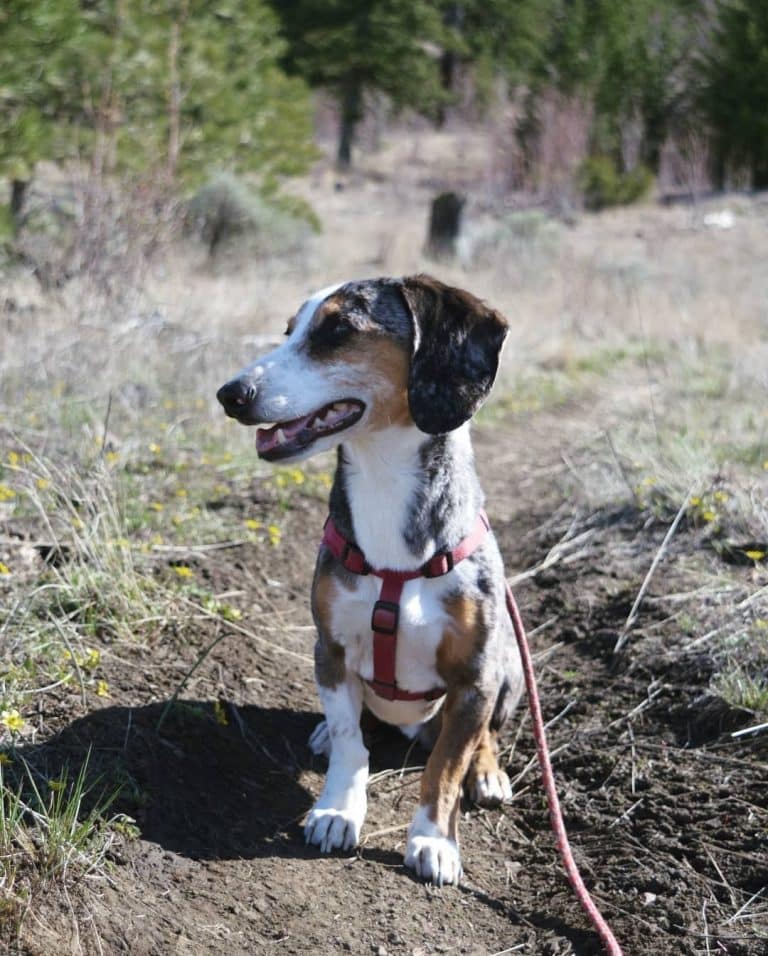 Credit: henrythewiener
With their hunting background, Doxies are active and energetic dogs. They love to be outside, and if you are indoorsy, avoid this breed. Even the Miniature Dachshunds expect two or three walks per day.
Sausage Dogs need some off-the-leash time to sniff around and satisfy their natural curiosity. Regular visits to the park are welcome, and so is playtime with other pups. Don't hesitate to take your furry friend on a trip to the nearby forest because they thrive in the wild and will appreciate it a lot.
With Dachshunds being highly intelligent, mental challenges are a good idea. Since you can practice tricks inside, it is an excellent activity for rainy days when you can't spend a lot of time outside. Interactive toys are great because they will keep your pup entertained even when you are not around.
| | | |
| --- | --- | --- |
| Activity level | Recommended miles/week | Activity minutes/day |
| High | 7 miles | 60 minutes |
Grooming Your Double Dapple
The grooming routine will depend on the type of fur your pooch has. For short-coated Doxies, a weekly brush will do the trick. Long-haired and wiry pooches will need more attention because you will have to use a deshedder at least once a month. Stripping the coat should be done two times a year to keep it healthy and prevent matting.
It is essential to clean their ears and clip their nails regularly. Ear infections are quite common, so get some doggy wet wipes and make it a habit. If you are not sure how to clip their nails, we suggest you take a trip to the doggy beauty spa every once in a while.
The teeth deserve special attention, so make sure to brush them regularly. The gums are equally important, so introduce any of the top 10 best dog dental chews to keep them healthy.
Check out our suggestions for the best dog grooming tips, and provide your pooch with the proper care they deserve.
Brushing frequency
Brushes for Dachshunds
Weekly

Pin brush
Slicker brush
Nail clippers
Deshedder
Double Dapple Doxies and Families
Sausage Dogs can be a lovely addition to your family. They are loyal, friendly, and low-maintenance. If you make an effort to train and socialize them from puppyhood, they should be calm and joyful. Lack of socialization can lead to developing separation anxiety.
One of their best traits is adaptability. They respond well to all climates and can be happy in both houses and apartments. They don't need a yard if you take them out often, and they can get along with other pets if you put an effort into socializing them on time.
You should wait until your children are at least five before getting a Doxie or any other dog. Small kids have a hard time accepting that dogs are not toys, so they can hurt them, especially if you get the Mini Weenie.
Our top three reasons in favor of the Doxie are:
Loyalty to people
Intelligence and character
Adaptability
Our top three reasons against the Doxie (specifically the Double Dapple) are:
Potential health concerns
Preventing irresponsible breeding
Stubbornness
Beautiful Dachshund Mixed Breeds
Sausage Dogs mix well with other breeds and produce some of the cutest hybrids in the world. If you are not obsessing over purebred dogs, check out these fantastic pooches.
References It is always better to adopt than to buy, particularly if the puppies are a product of irresponsible and profit-oriented breeding. Check out some of the best dog breeds to adopt and find the puppy of your dreams.
Claire, Roxanne St. Dachshund through the Snow. South Street Publishing, 2019.
Brown, Nathan P., et al. "Development of a Canine Rigid Body Musculoskeletal Computer Model to Evaluate Gait." Frontiers in Bioengineering and Biotechnology, vol. 8, Nov. 2020, doi:10.3389/fbioe.2020.00150.