Picasso and Dachshunds: A Love Story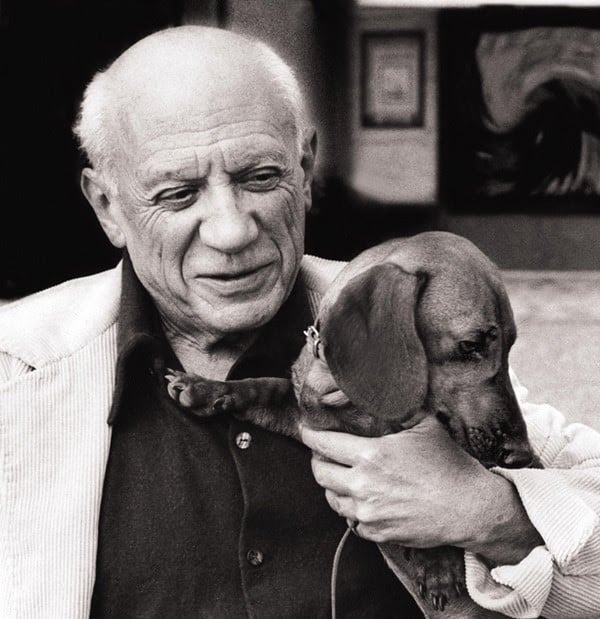 Image source: ilovethedog
It seems that a Dachshund pops up everywhere you look around the world of art. Famous Wiener Dogs have, for decades, captured the hearts and canvases of some of the world's most renowned artists. David Hockney had Stanley and Boodgie, Andy Warhol never showed up anywhere without his Archie, while Bennett Miller featured dozens of Sausage Dogs in his work Dachshund UN.
Although many have cared for and found inspiration in Dachshunds, few artists have forged such a strong bond with a Weenie as Spanish painter Pablo Picasso with a dog named Lump.
During the little rascal's (Lump means rascal in German) seven-year stay at Picasso's Villa la Californie in Cannes, France, the Dachshund went from an ordinary puppy to a true icon of art, becoming the Spanish painter's furry muse and quite possibly the only animal Picasso ever felt close to.
The Dachshund: A Smooth Operator
Dachshunds are an old breed of hounds developed by German huntsmen centuries ago. Each of their features was carefully designed to make them trustworthy hunting companions.
Thanks to their sausage-like bodies—which earned them the nickname Wiener or Sausage Dogs—they could slip into underground tunnels to flush out badgers with ease, while their long muzzles gave them an exceptional sense of scent.
Seeing them excel at their job, hunters decided they could breed the Dachshund to fit different diameters of holes in the ground. That led to the creation of three varieties of the breed: Standard, Miniature, and Rabbit Dachshund. To this day, this type of curious and courageous canine is still widely bred in those three sizes.
Variations of the fur came later. The original smooth-haired variety was and still is considered a true hound, while the wire-haired and long-haired were probably the result of mixing the Dachshund with other breeds to inspire a more mellow nature. We can assume that this was done to turn these otherwise determined hunters into more family-friendly pets.
Dachshunds have grown so popular over time that it's no wonder they rank high among the best dog breeds to adopt and inspire numerous memes around the web that celebrate both their intelligence and hilariousness.
To learn more about this bold, adorable, and intelligent dog breed, hop over to our ultimate Dachshund guide or go over these 10 facts you should know about them.
It All Began With Picasso's Dachshund Sketch
Image source: Pinterest
The story of the Dachshund at la Californie begins in the spring of 1957 during the visit of Lump's owner and Picasso's friend, American photographer David Douglas Duncan, to the Spanish artist's Cannes villa.
Being a Dachshund means always speaking your mind, so it didn't take Lump much time to let it be known that he liked the spacious, three-story Mediterranean villa better than his old apartment.
Not that he didn't like living with Duncan, but Lump never got accustomed to the photographer's nomadic lifestyle and his jealous Afghan Hound, who treated Lump as if he was a plaything. Dachshunds are proud pooches and don't like to be treated as toys, but Lump knew he had no chance at winning against a dog three times his size.
Lump saw that he would finally get the treatment he deserved at Picasso's the moment the painter offered him a seat at the table.
To honor his furry guest, Picasso took a porcelain plate and decorated it with a quick drawing of Lump's elongated figure. He then gave the plate to Duncan to thank him for letting Lump stay at his house.
From then on, Lump lived the Dachshund dream. The airy house allowed him to wander off at any time, sniffing around and exploring numerous chambers, doing all the things a curious Wiener Dog is meant to do.
What entranced the Spanish master was probably the dog's confident disposition and the way all Doxies claim their right to the world around them.
Although he wasn't the only pet Picasso kept at the time—the painter also had a Boxer Yan and a goat named Esmeralda—this attitude granted him royal treatment.
The Dachshund's Place in Picasso's Home
In a book he dedicated to the relationship between Picasso and Lump, Duncan described their bond as a "love affair."
What Picasso likely fell in love with was the Wiener Dog's sense of self-worth, something only an artist of his stature could understand and appreciate.
Picasso was often described as self-centered, and the Dachshund's unwillingness to bend to anyone's will must've left a strong impression on him—the painter probably saw a bit of himself in Lump.
According to his first owner's account, this Weenie wasn't always prideful and untouchable; Lump was fond of cuddling, too, and Picasso didn't seem able to resist the dog's cuteness. Numerous photos show the artist carrying Lump in his arms, petting his shiny, smooth fur and even feeding him by hand.
After he was given the liberty to roam freely around the house, unburdened by expectations to become an obedient dog—Dachshunds aren't exactly crazy about obedience training—Lump soon started managing the entire household.
Dachshunds are known as a breed that's tough to housebreak, but it is likely that Picasso never even tried to train Lump. He was more interested in freeing Lump's true Dachshund nature.
Instead, the Doxie asserted his dominance over the household and Picasso's other two pets, the goat and the Boxer.
Duncan says that, although Picasso was fond of these and many other animals throughout his life, he never felt so close to a pet as he did with Lump.
It seems that this was another thing Lump and Picasso had in common. While Dachshunds are known as one-person dogs, Picasso appears to have been a one-animal person who couldn't place his trust in any animal other than Lump.
Picasso's Dachshund Print and Las Meninas
Soon, Lump's elongated body started to slip into Picasso's art.
The Dachshund did not only appear in the master's art pieces: the little troublemaker went as far as to eat one of his works!
The six-year friendship between the two gave birth to numerous works of art and anecdotes in which Lump played some role.
One time, as the painter tried to win the dog over, he carved a rabbit out of sugar-impregnated cardboard.
It was probably the combination of a chewable gift and the Sausage Dog's strong hunting instincts that made Lump eat the cardboard, leaving art historians forever wondering about the paper rabbit's value.
Luckily, works of art that feature this little prankster have survived. Today, there are around 50 Picasso paintings and drawings that have immortalized Lump in one form or the other.
Dog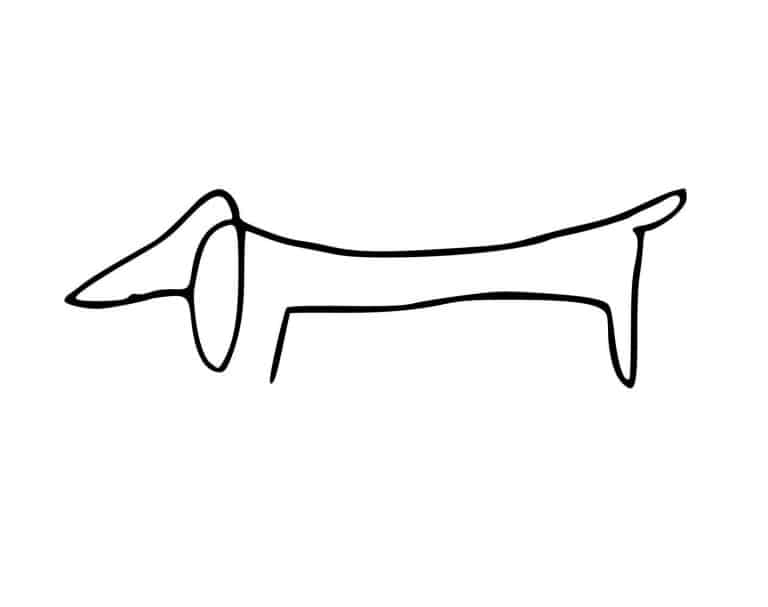 Image source: Pinterest
The Spanish painter depicted Lump in one of his famous series of sketches featuring different animals. Drawn in a single, quick move, this simple illustration features Lump's elongated silhouette and Picasso's famous signature.
Although uncomplicated, the Dog sketch seems to capture the very essence of Picasso's relationship with Lump and the pooch's nonchalant composure, while the painter's light touch seems to reflect the gentle nature of his relationship with the canine.
Las Meninas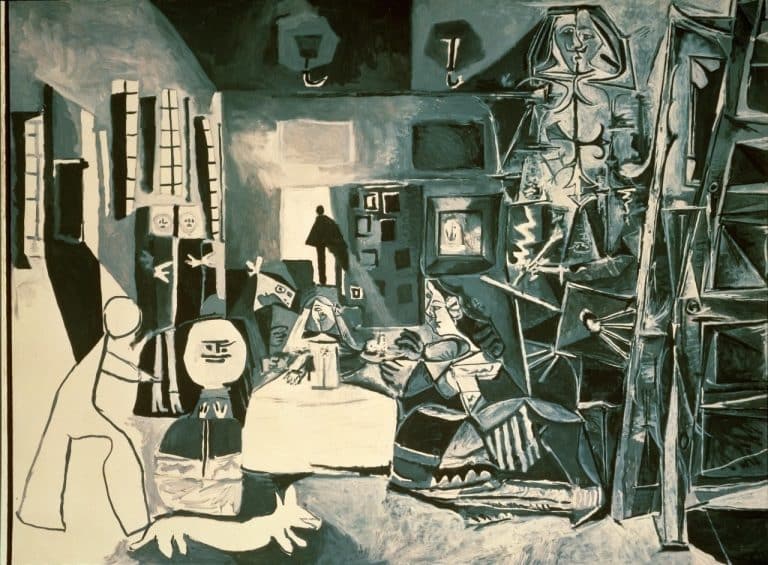 Image source: lorenzocafebar
Las Meninas by Diego Velazquez is quite possibly one of the most studied and mysterious masterpieces in the history of art. It is revered to the point that artists have, throughout the decades, painted or sculpted their own works, using Las Meninas as inspiration.
Picasso was no exception. In 1957, the year he met Lump, Picasso took it upon himself to reinvent the famous work in his style, doing a series of as many as 58 paintings. The Wiener Dog appears in 15 of them.
In the 1656 original work, an enormous canvas depicting Princess Margaret Theresa of Spain, the heiress to the throne, is depicted as surrounded by, among others, her maids, a bodyguard, a chaperone, and a dog. The painting's solemn atmosphere is rounded off with a Spanish Mastiff in the front, lying about, seemingly bored.
In Picasso's Cubist versions, the regal hound is replaced by the clumsy Dachshund with four stubby legs and a pair of pointy ears. After Duncan's Afghan Hound, this was another victory for Lump over a much bigger canine.
Duncan believed that the little pup being preserved in Picasso's Las Meninas forever was "the darndest, and most moving, part of the whole story."
The Dachshund's Final Chapter in Picasso's Biography
During the photographer's visit to Picasso in 1964, Duncan learned that Lump had gotten ill. Picasso informed him that the dog was no longer in his custody and was instead given to a veterinarian who was supposed to care for him.
Upon visiting the vet, Duncan was told that Lump had developed a severe spinal condition that has paralyzed his hind legs. He even claimed that there was no going back and that he had stopped feeding Lump as he didn't think the dog could survive.
It seemed that the man who had taken care of Lump for seven years simply gave up on him.
Dachshunds are prone to a number of conditions affecting the health of their backs due to their stretched-out spines.
The lump was quite possibly struck by the most notorious among the likely back issues seen in Dachshunds—intervertebral disk disease, or IVDD.
The crippling condition affects as many as 19-24% of all Dachshunds and is significantly more common in them than in any other breed.
Fortunately, his first—and last—owner decided to take a chance and took the dog to Stuttgart, Germany, for a second opinion. Thanks to the treatment and care Lump received from then on, the little Hot Dog lived another nine years.
After that, Lump never saw Picasso again.
Roughly a decade later, in an odd turn of events, the Dachshund that became one of the art's dearest icons died on March 29th, 1973, only ten days before Picasso.
The Legacy of Picasso Dachshund Art
Although their relationship did not have a proper closure, its influence on popular culture continues to live on.
The sketch inspired by Lump became one of the most popular Picasso's works and can be found in various forms in pop art.
For some, the silhouette of a proud, stubby dog has become an aesthetic expression, while for others, it's a way to honor the relationship with their beloved Weenies.
From jewelry to wall prints and tattoos, you can see Lump's sausage-like outline everywhere!
Convinced to Adopt a Wiener Dog Already?
There could indeed be only one Picasso and only one Lump, but that's no reason for you not to make a Dachshund—or a Dachshund cross—happy by giving them a home. Who knows, maybe you just happen to find one that matches your character like Lump matched Picasso's.
Check out these adorable Doxie mixes and see if you can resist those bright eyes!

Picasso and Dachshunds FAQ:
1. Did Pablo Picasso own Dachshunds?
No, there is no historical evidence to suggest that Pablo Picasso, the renowned artist, owned Dachshunds. Picasso was known to have a variety of pets, including dogs, but there is no specific record of Dachshunds in his possession.
2. Are there artworks by Picasso featuring Dachshunds?
While Picasso's extensive body of work includes various animals as subjects, there is no prominent representation of Dachshunds in his paintings or sculptures. His art often featured abstract and cubist interpretations of animals and other subjects.
3. Do Dachshunds have a connection to art or popular culture, like Picasso's work?
Dachshunds have become iconic in pop culture and art for their distinctive appearance. While not directly associated with Picasso, their unique long body and short legs have inspired various artistic interpretations and appearances in popular media.
4. Are there any famous artists who depicted Dachshunds in their work?
Yes, several artists have chosen Dachshunds as subjects in their artwork. Their distinctive and charming appearance has been featured in paintings, sculptures, and illustrations by various artists, showcasing the breed's popularity in the art world.
5. Can Dachshunds be considered artistic or creative pets?
Dachshunds are known for their playful and curious nature, making them delightful companions. While not inherently artistic, their unique appearance and lively personalities may inspire creativity and affection in their owners.
References:
Duncan, David Douglas. Picasso and Lump: a Dachshunds Odyssey. Benteli, 2006.
Duncan, David Douglas., and Pablo Picasso. Lump: the Dog Who Ate a Picasso. Thames and Hudson, 2008.
Unger, Miles. Picasso and the Painting That Shocked the World. Simon & Schuster Paperbacks, 2019.