Dachshund Beagle Mix Facts
Beagle Dachshunds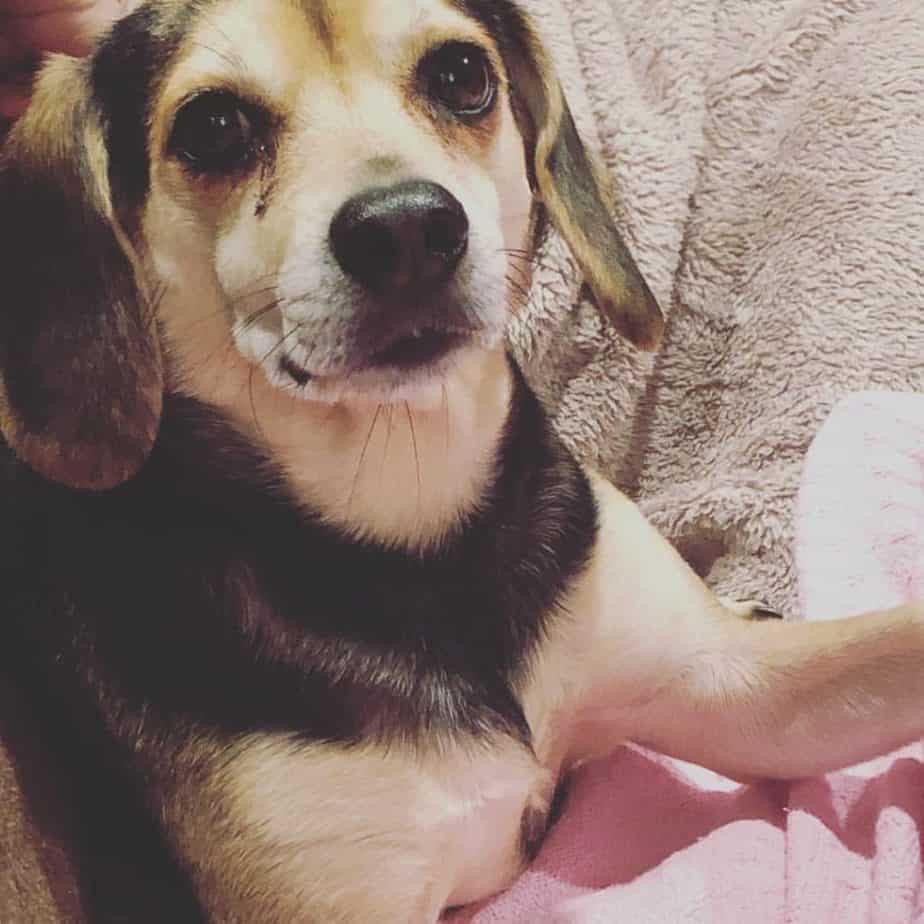 The Beagle Dachshund is a cross between two very active and intelligent breeds, the Beagle and the Dachshund. Like other mixed breeds, this mix also has other captivating names that are easy to say and remember – Doxle, Doxie, Beaschund, Beweenie or Beagle/Wiener. Doxle is the one name that is recognized by the American Canine Hybrid Club.
Let us find out more about this exciting mix.
3 Reasons Why You Shouldn't Get a Dachshund Beagle Mix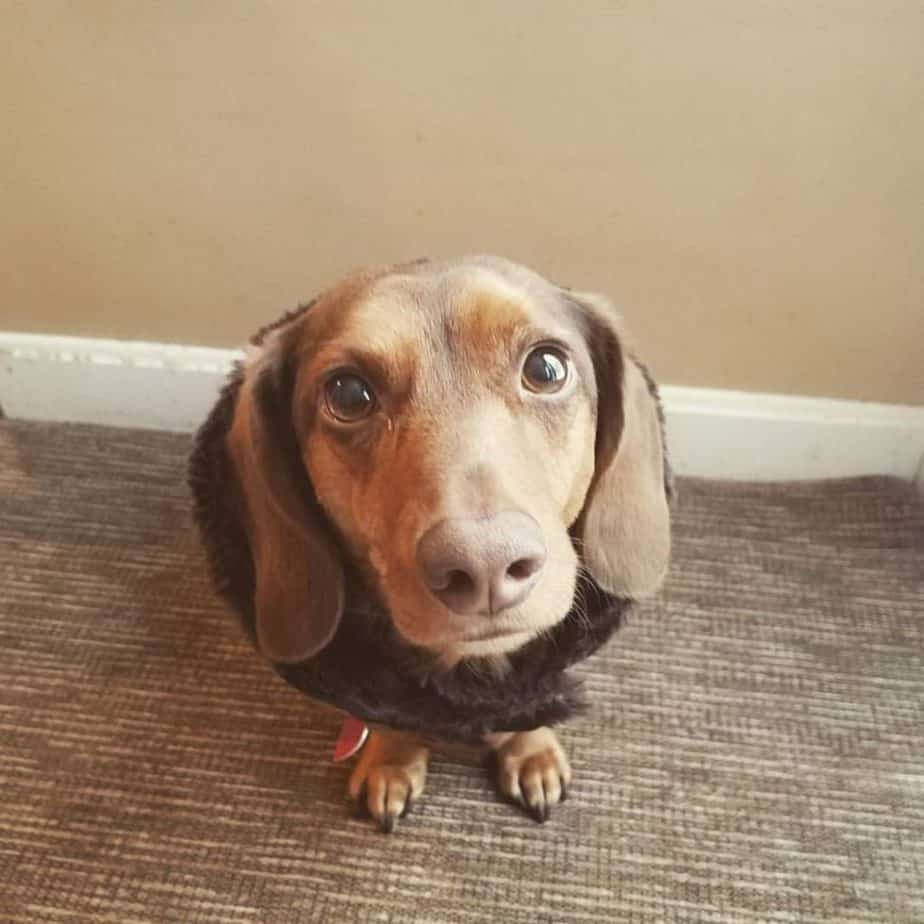 They are known to be perennial chewers, but you can tire them out with play sessions and regular walks to prevent this nasty habit from forming. Grannick's Bitter Apple Taste Deterrent Dog Spray with Dabber effectively discourages fur biting and hair chewing, fabric/furniture licking and chewing. It is non-toxic and an effective deterrent to chewing.
They dig! They may be small, but they sure know how to dig, something that they inherited from the Dachshund parent. So if you have a big lawn and a garden, be prepared! Training them from a young age might benefit you, but again they would still have the penchant for digging. NaturVet Pet Organics No Dig! Lawn & Yard Spray for Dogs will help you train your dog not to dig. It is an all-natural spray formulated from herbal and plant compounds with added essential oils, so it has no harmful effects on your dog.
They bite, and this is most probably because the Dachshund parent is a hunting dog so biting runs in the blood. The Dachshund Beagle combination may bite because of fear or separation anxiety, and sometimes, aggression. Again, proper training while young is essential to thwart this aggressive behavior. Calmz Anxiety Relief System for Dogs effectively soothes away your dog's anxiety with its natural and drug-free formula. The vest fits your dog comfortably and keeps device over specific acupressure targets. Once you activate, its vibration works to stimulate pressure points. It even plays classical music proven to be therapeutic, perfect for reducing stress.
3 Reasons Why You Should Get a Dachshund Beagle Cross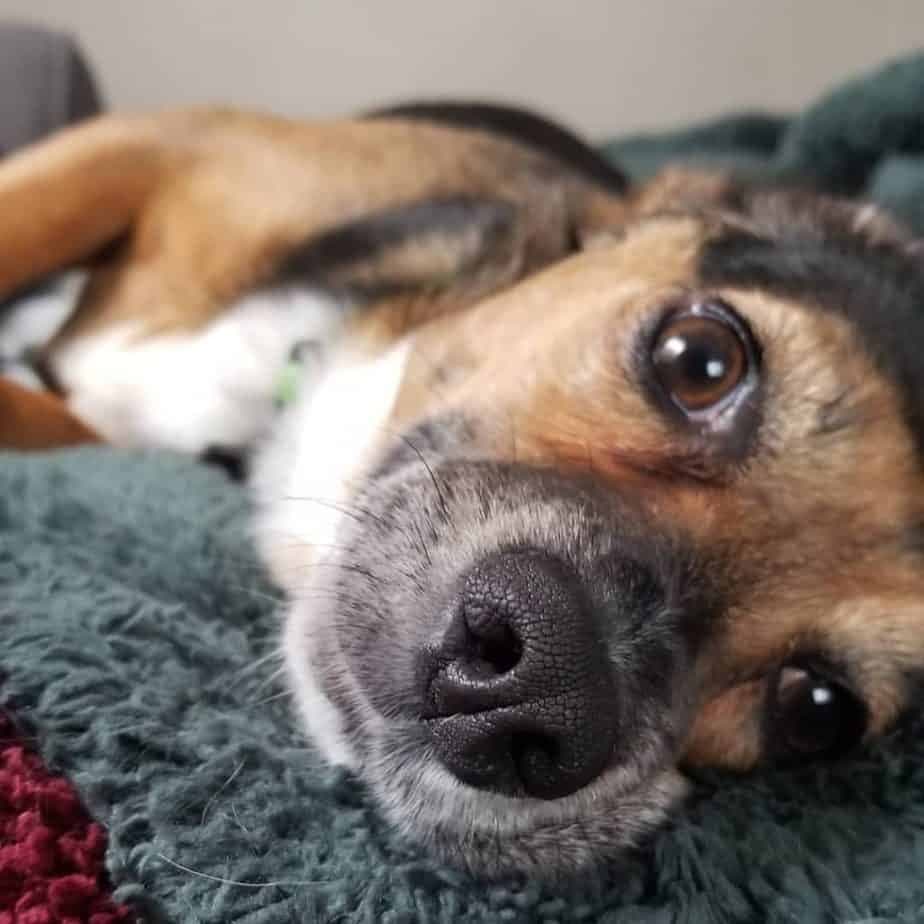 A wonderful pet – The right obedience and socialization training will and approach The Beagle Dachshund mix is thought to be an ideal companion for a dog because of its sweet, gentle, and playful side. And here's one fact about Dachshunds—even Picasso was amazed by these adorable pooches and he found them inspiring!
An excellent watchdog – Because of its intellectual curiosity, this cross is the perfect candidate for an excellent watchdog. They are very loyal dogs who are, to a certain extent, protective of their family.
A low-maintenance pet – It only requires minimal grooming needs. Brushing of hair and teeth can be done once a week, and bathing only once a month or when necessary.
Appearance, Personality, and Traits of a Dachshund Beagle Combination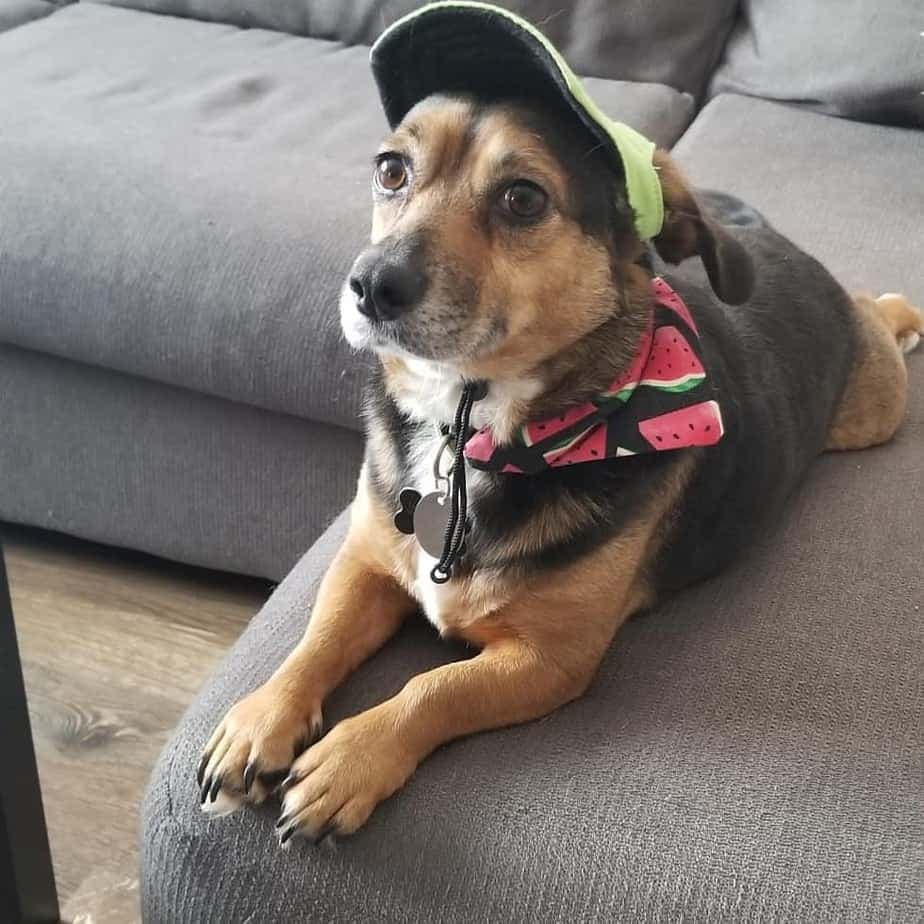 A Beagle Dachshund mix has the long, muscular body of a Dachshund and the straight, square muzzle of a Beagle. Most pups may inherit the base color of the Dachshund and the spots of a Beagle.
Being a product of the union between two hounds, the Beagle Dachshund will have the perennial element of a watchdog. This means that any unusual smell or sound or even a stranger passing by will arouse their suspicion for a potential threat.
Nevertheless, its intelligence and bubbly personality will surely captivate the heart.
| | |
| --- | --- |
| Weight | 18-30 lbs |
| Height | 9-11 inches |
| Size | Small to Medium |
| Coat Type | Normal to Dense |
| Coat Color | Black, Brown, White, Chocolate, Golden |
| Coat Length | Short to Medium |
| Coat Texture | Straight, Fine, Wiry, Harsh |
| Amount of Shedding | Average |
| Eyes | Brown |
| Nose | Black |
| Ears | Long and Floppy |
| Temperament | Friendly, Affectionate, Playful |
| Life Expectancy | 12 to 14 years |
| Hypoallergenic | No |
| Kid Friendly | Yes |
| New Owner Friendly | Yes |
| Breed Recognition | ACHC, IDCR, DDKC, DRA, DBR |
With the advent of designer dogs, many people are now finding it hard to choose which dog would be best to bring home. Crossing two entirely different dog breeds result in either a windfall or a disaster. In the Dachshund Beagle Mix's case, it can go either good or bad. This hybrid would often run into a behavioral pattern that can turn out really bad if not corrected promptly.
Dachshund Beagle Puppies For Sale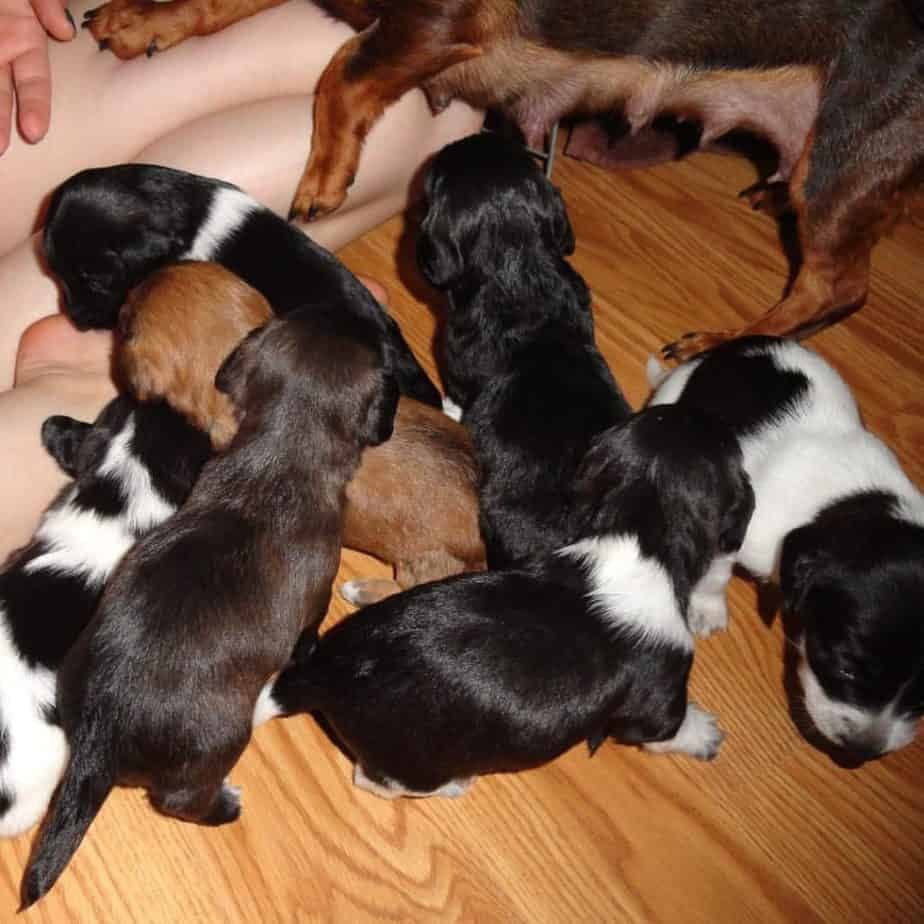 It is essential to gain knowledge, not just about the Beagle Dachshund pup, but also about the breeder and the living conditions of the dog before you purchase one. Make arrangements with the breeder to see the puppy first and inspect their kennels. Check records if your potential pet is up-to-date with its vaccination shots and wormer. A reputable breeder should provide a 30-day health guarantee.
Visit https://marketplace.akc.org/puppies/dachshund for a listing of possible Dachshund and Beagle Cross breeders.
We listed some to start your search:
Kennel Name: Seven Oaks Farms in Starkville, MS 39759
Breeder Name: Steve & Kim Parrott
Kennel Name: Heather Ridge Kennels
aka Walk The Line Kennels in Lyles, TN 37098
Breeder Name: Dominique Nave
http://tnpuppies.com / (931) 996-3987
Kennel Name: Royalworth Kennel in Inverness, FL 34452
Breeder Name: Paige Horne
https://RoyalworthKennel.com / (352) 464-8063
Kennel Name: Cantrell Pups in Vienna, IL 62995
Breeder Name: Joanne Cantrell
http://www.cantrellpups.com / (618) 771-6414
Kennel Name: Kurzbeinig Kennel in Rocheport, MO 65279
Breeder Name: Terri Lyddon/ (573) 698-2218
Another way to acquire a delightful Beagle Dachshund Mix is through adoption. Check this out https://puppyfinder.com/doxle-dogs-for-adoption for information.
Grooming Your Beagle Dachshund Mix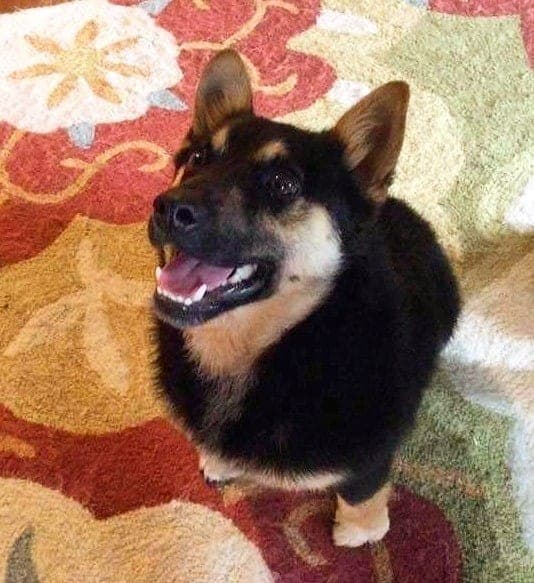 The Beagle Dachshund combination will only require very minimal care in terms of grooming. They are very small in size; you don't need to travel to a grooming salon for easy care. Follow the best grooming tips to take good care of these beauties.
You can bathe them only as needed, but no more than once a week to keep the coat's natural oils and prevent their skin from getting dry. You can utilize wipes or a damp cloth to wipe any smudges of dirt.
They don't shed a lot, and their coat would necessitate brushing around three times a week.
Trimming the nails and checking for mites and wax build up on the ears regularly are equally important. Also, remember to brush their teeth once a week and if needs must, take them to the vet for dental cleanings. Good dental hygiene will help strengthen their teeth.
As always, regular health visits to the vet is a significant way to ensure your pet stays healthy and happy.
Here are some products to make every grooming session as pleasurable one:
PetAg Fresh 'N Clean Scented Dog Shampoo is an all-natural, plant-based and soap-free cleanser that effectively washes off dirt and grime. It also has special conditioners, vitamin E, and aloe vera juice that coats dog's hair fibers and locks moisture. The refreshing, sweet floral scent will stay on for up to two weeks, so your dog's odor is under control.
Conair Five-piece Starter Grooming Kit is a complete set of ergonomically designed grooming tools for maximum comfort. It includes a nail clipper, small pin brush, slicker brush, and boar bristle brush in a canvas bag. With a heart-shaped plush squeaky toy you can reward your dog with after a successful grooming session, what more can you ask?
Epi-Otic Advanced is a non-irritating solution effective in removing wax and debris and drying the ear canal. It has an anti-adhesive glycotechnology formula that prevents microbial build-up. It also uses a patented anti-odor technology that eliminates the terrible smell.
Nylabone Advanced Oral Care Line is a peanut-flavored dog toothpaste for a yummy fresh breath and healthy teeth and gums. It features Denta-CTM, clinically proven and tested to reduce plaque. With an angled neck for easy reach and soft, nylon bristles that clean between teeth.
Beagle Dachshund Cross Health Problems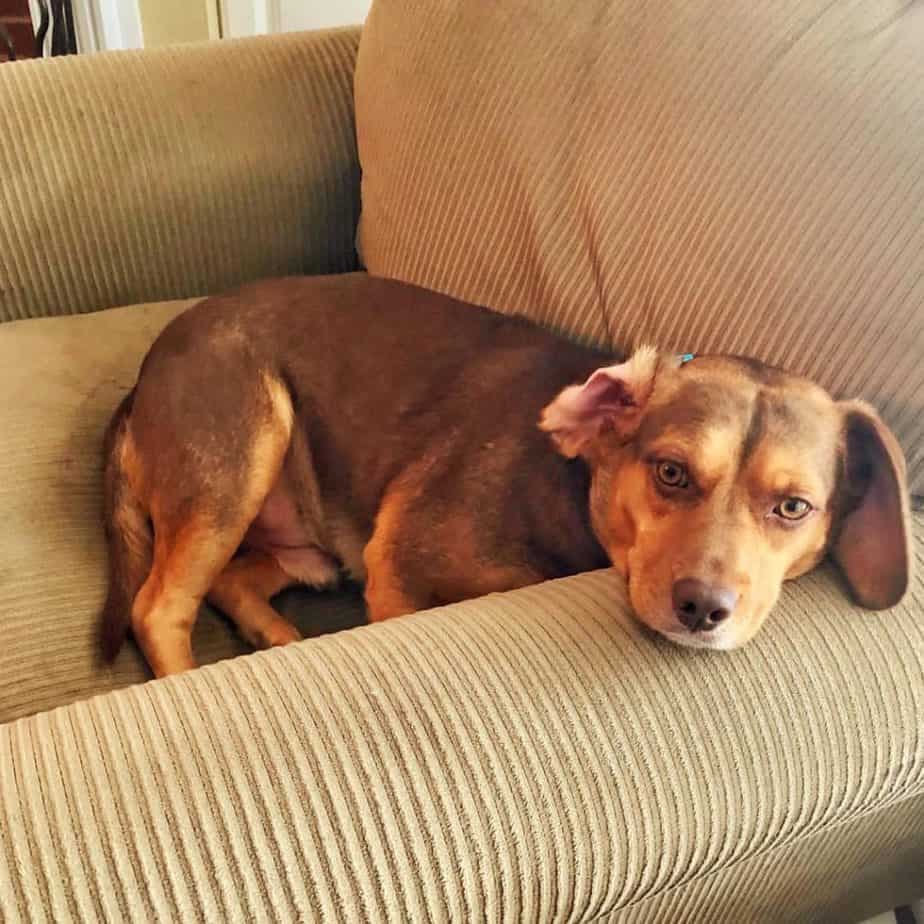 When it comes to health concerns, the Beagle and Dachshund combination has got the best and the worst of its purebred parent s.
Following are some of the diseases that a Beagle Dachshund mix might encounter:
Major concerns
Patellar Luxation – or kneecap dislocation occurs when the dog's kneecap (patella) has dislocated from the groove of the thigh bone (femur).
Symptoms include occasional skipping, hindlimb lameness, abnormal and prolonged hindlimb movement, etc.
Intervertebral Disc Disease is considered the most serious back problem and musculoskeletal condition that affects a Beagle Daschund Mix. The discs between the vertebrae of the dog's spinal column bulges or bursts into the spinal cord space. Symptoms include hunched back showing tense muscles, reduced activity level, decreased appetite, loss of bladder control/bowel control, etc. IVDD can shorten the lifespan of your pooch. In case you notice any symptoms, pay a visit to your vet immediately!
Hip Dysplasia is a common dog disease that causes the malformation of the hip joints. Symptoms include decreased activity, difficulty rising, reluctance to run or jump, etc.
Bloat – The stomach is filled with gas so it bloats and this puts too much pressure on the diaphragm, making your dog's stomach twist. Symptoms include the enlarged stomach, labored breathing, weak pulse, paleness, excessive drooling, and vomiting.
Minor Concerns
Deafness – Complete or partial loss of dog's hearing may be congenital but typically affects senior dogs.
Epilepsy – is characterized by recurring seizures, may be mild, sporadic, or severe.
Skin issues– In case you notice any skin problems, check with your vet if you should change your pooch's nutrition.
Occasional Diagnoses
Ear Infection – is the inflammation of the dog's middle ear (Otitis Media) or inner ear (Otitis Interna). Symptoms include shaking or tilting of the head, pawing affected ear, altered sense of balance, etc.
Eye Problems tend to worsen quickly, so it is vital to consult with a Veterinarian regarding your dog's ear concerns. The most common eye problems affecting dogs are Cherry eye, Dry eye, Pink Eye or Conjunctivitis, Corneal wounds, Glaucoma, Cataracts, Entropion, and Progressive Retinal Atrophy.
It is essential to recognize the symptoms that your Beagle Dachshund Cross is showing so that you will know when and how to act appropriately. You need to take proper care of your hairy child so that they grow healthy and strong!
Beagle Dachshund Combination Food Requirements
A Beagle Dachshund Cross with a relatively small built will require about 1 1/2 to 2 cups of nutritious best dry dog food for small dogs. Bigger Doxie Beagles will need about 2 to 2 1/2 cups of best large breed dry dog food. They have a higher metabolism compared to larger dogs, so they're in constant need to refuel. You may want to split meals into three servings given at an interval.
You should not encourage your dog to eat generously as this hybrid tends to go overweight. Although this condition can be tackled, with a combination of exercise and high-quality food boosters such as Nutra Thrive dog food supplement, it's better to steer clear from worst dry dog food as they can make your pooch gain weight.
Topping our list of fantastic dog foods are:
Wellness Core Dog Food (for puppies) is packed with super beneficial ingredients – Protein from deboned chicken, chicken meal, and salmon meal; DHA to improve brain functions and eyesight; Omega fatty acids from salmon oil promote better heart health and smoother skin; Probiotics and plenty of fiber for easier digestion; and antioxidants from fruits and vegetables like spinach, carrots, and tomatoes.
Dog For Dog Food (for adults) is formulated with proteins from chicken and rice. This gluten-free energy food is highly-digestible with no added sugar and salt to keep your dog's tummy from bloating and retaining excessive water.
Nutro Senior Dog Food is deliciously made with real chicken, whole brown rice and oatmeal. Older dogs also face some challenges as aging humans do like memory loss, mobility issues, and food sensitivity. This recipe is formulated with antioxidants, omega-3 fatty acids for healthier skin, ALA and DHA for optimum brain health, and glucosamine and chondroitin from natural sources for stronger joints.
And what better way to make each meal a pleasant one? Check out these products:
Outward Hound Fun Feeder Interactive Dog Bowl – Add an element of fun to your dog's every bite with this Fun Feeder. It features ridges and mazes to effectively lengthen chow time and avoid over-eating and prevent bloat and obesity.
Pioneer Pet Ceramic Drinking Fountain Raindrop Design – An enticing way to hydrate your dog (and naturally boost their health!) is the Pioneer Pet Ceramic Drinking Fountain. It works by continually circulating 60 ounces of filtered water, so drinking water has never been this fun and appealing for your dog. The raindrop design complements any modern decor, and the ceramic bowl made from durable material is dishwasher safe.
BarksBar Original Pet Feeding Mat is designed to keep the dog's food and water from your floors. The pattern keeps bowls from moving and sliding around while food is chowed down. The raised outer lip keeps spills contained on the mat. It is made from human-grade material, BPA-free, non-toxic and non-allergenic silicone.
Check out some more best dry dog food brands before deciding what's the right one for your pup. For more variety in their diet, you can always add the best canned dog food on the market.
Age also plays a role when choosing the perfect food, so if you're a proud Beagle Weenie puppy owner, these best puppy food brands should be your go-to. Of course, older furry gentlemen and ladies have slightly different food requirements. If that's your case, focus on these best senior dry dog food brands to make sure your elderly friend gets all the necessary nutrients.
Beagle Dachshund Exercise Requirements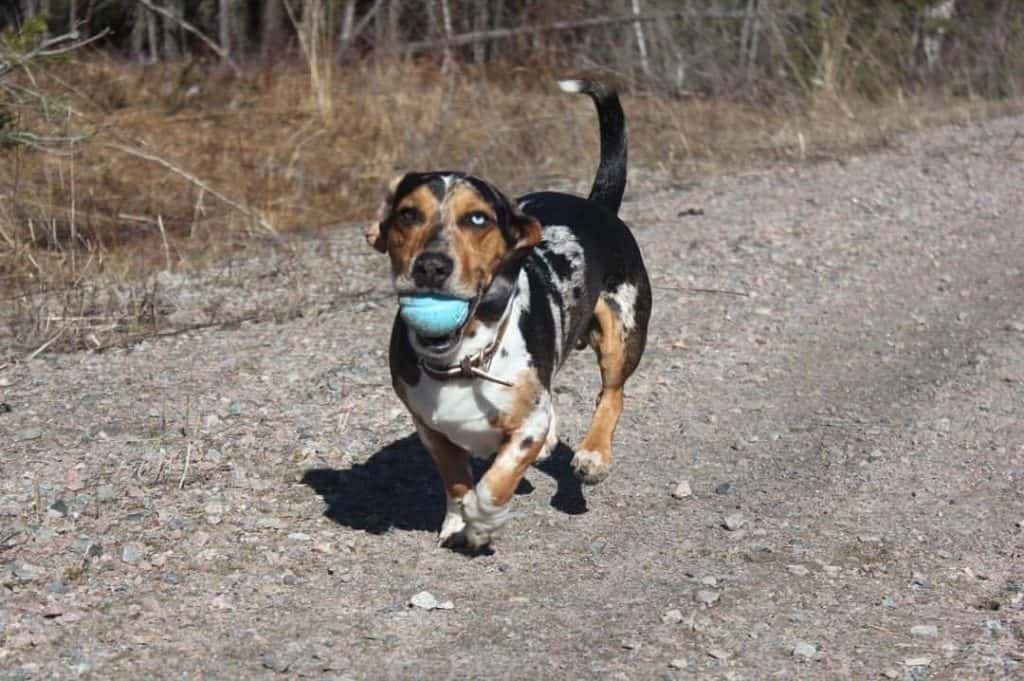 Exercising your Dachshund Beagle Cross at least twice a day for a total of about 35 minutes should satisfy its daily exercise or activity requirement. To achieve this, experts recommend daily walks to the park or in the woods and play either at home or in the backyard. The activity should be kept at a minimum level, and mileage should be limited to 3.5 to 4 miles per week.
Here are some products you can bring along when you're on the go:
Lixit Thirsty Dog Portable Water Bottle and Bowl are handy when going to the park or when camping and hiking. You wouldn't have to search for a water bowl when your dog gets super thirsty. It has a flip-down bowl for faster and easier pouring. This convenient bottle features a wide-brimmed mouth for easy cleaning and an adjustable carrying strap.
Cool Pup Insect Shield Dog Neck Gaiter is made from a lightweight and breathable material that feels cool when wet and with UPF40 protection from the sun's UV rays. It's treated with Insect Shield's proprietary permethrin that is tightly woven to the fabric to protect your precious pal from mosquitoes, fleas, ticks, biting flies, and the dangerous diseases they can potentially carry. It is both safe for pets and people.
Dachshund Beagle Mix Training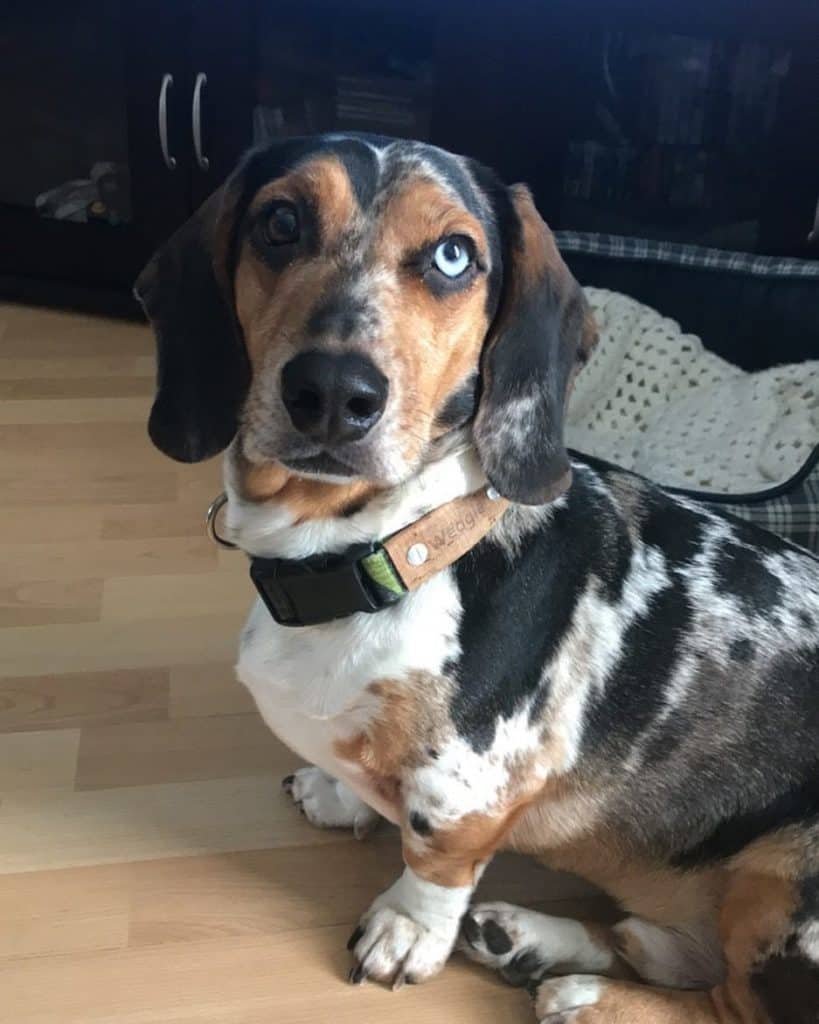 In general, training your pets as early as possible will merit good results. Your beagle dachshund mix is no different. The earlier you start with training and begin to implement good conduct and thwart bad habits, the better and more improved behavior he will acquire.
The challenge is that the beagle dachshund cross may be intelligent, but it is stubborn – your little furball may be adept at learning tricks and commands but may not be game to show off.
A sure-fire way to help you in training your dog is by giving them treats, toys, or gifts, and turn every training session into an enjoyable bonding experience. Avoid 5 mistakes in dog training that lots of dog owners tend to make.
Here are some products paw-rfect for training and rewarding:
For Training
The PetSafe Pet Loo Portable Indoor & Outdoor Dog Potty is your portable backyard in a box. Ideal and convenient for apartments or when you can't bring your pet out. The top layer feels like real grass under your dog's paws for comfy potty training and experience. The slightly angled base quickly drains and collects urine into a removable bin for effortless clean-up.
Four Paws Cotton Web Training Dog Lead is made from heavy-duty 100% cotton that features a swivel clip to allow full range motion, so your pet does not get all tangled up. Training leads do not guarantee an obedient pal who will follow every command, but they come in handy for helping you with the training basics! The Four Paw training lead is specially designed for a range of uses including obedience training, walking, and general exercise.
Puss and Pooch Vibration and Static Remote Training Dog Collar – This wireless collar makes every training session simple and easy for you and your pet. You will find this a perfect solution for pesky pup behaviors like chewing, licking, barking, and chasing. This electronic collar features four settings—static shock, beep, light, and vibration—that are proven safe and humane for bark control and remote training.
For Rewarding
Merrick Power Bites are soft and chewy, all-natural treats packed with protein. With real deboned beef and added nutrition from fresh fruits and vegetables, your dog will surely love every kibble.
KONG Stuff'N Easy Treat Bacon & Cheese Recipe – Reward your pal with this delectable, trans-fat free and highly-digestible treat anytime. With a built-in nozzle that's easy to use, tilt and press directly onto your pup's mouth. You can also fill up or freeze inside KONG rubber toy with this delectable treat for mentally-stimulating challenges and extended playtime.
KONG Classic helps to satisfy your pal's instinctual needs with a unique and all-natural rubber formula that is extra durable. It gives an erratic bounce that is not only perfect for playtime but also works to fulfill a dog's need for praise and reward.
Dachshund Beagle Cross and Families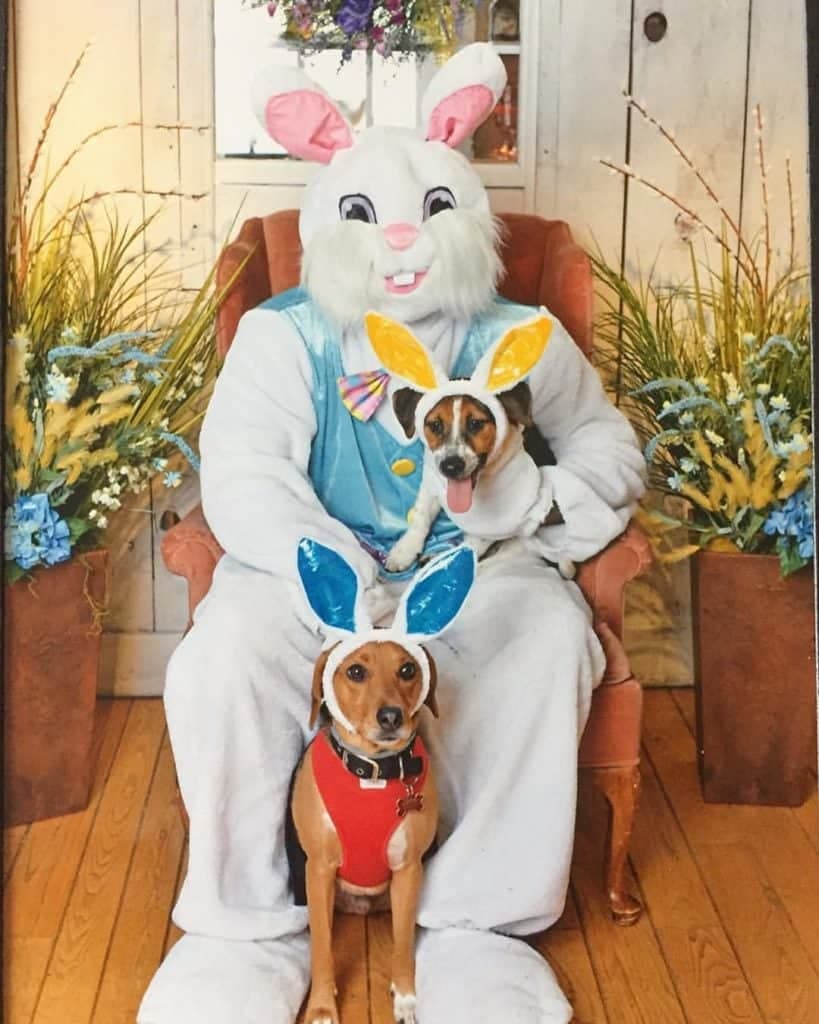 The whole family will surely love a well-rounded dog; make sure you give him the right kind of training and socialization armed with a lot of patience and perseverance. Your Beagle Dachshund lovely Mix can make an adorable pet and a wonderful watchdog. They can also thrive whether in small or big spaces.
In the table below, you will find lots of adorable Dachshund mixes.
References:
Patel, Shitalkumar, et al. "Identification of Appropriate QTc Formula in Beagle Dogs for Nonclinical Safety Assessment." Regulatory Toxicology and Pharmacology, vol. 89, 25 July 2017, pp. 118–124., doi:10.1016/j.yrtph.2017.07.026.
Izzati, U.z., et al. "Immunohistochemical Profile of Ameloblastic Carcinoma Arising from an Amyloid-Producing Odontogenic Tumour in a Miniature Dachshund." Journal of Comparative Pathology, vol. 166, 3 Dec. 2019, pp. 54–58., doi:10.1016/j.jcpa.2018.10.182.
Schwartz, Ingrid. Dachshund. Kennel Club Books, 2009.
Beagle. Kennel Club Books, 2010.
https://en.wikipedia.org/wiki/Dachshund
https://en.wikipedia.org/wiki/Beagle