Cairn Terrier Dachshund Mix: An Exotic Name for a Chill Doggo
The Cairn Terrier Dachshund Mix: Get to Know the Ballsy Doxie Cairn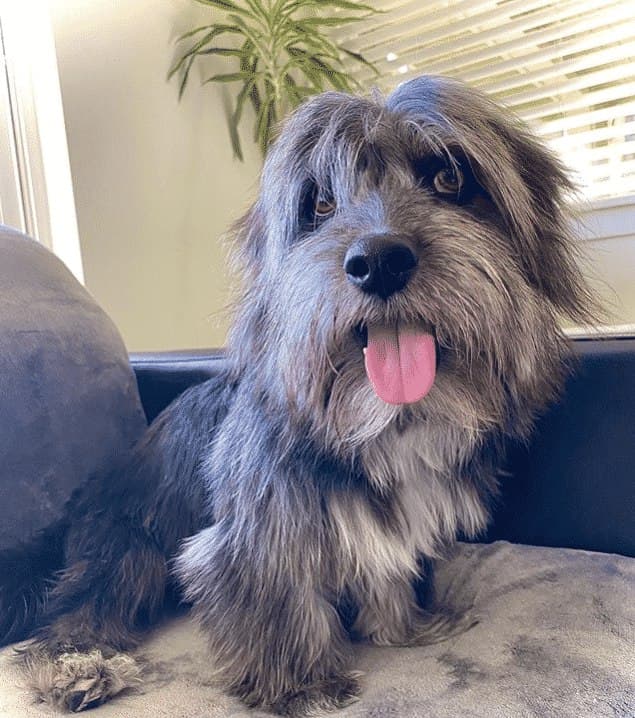 Credit: odie_hachi_rescuedogs
If you've always wanted a doggo you can goof around with and be sure they will guard you with their life, look no further. You will find all that and much more in the Doxie Cairn!
This compact fellow is so fun and loving that they are a delight to have around, but they are far from your regular lap dog! It is easy to be fooled by their adorable fuzzy face and their short, petite body, but trust us that they are so ballsy that the likes of a Great Dane would not dare step on their feisty feet.
We've put down all the details on this pocket-sized fireball whose devotion and funky personality go way beyond their tiny frame. If you want to read up on this relatively new hybrid, take a look at our in-depth guide and see if the Cairn Dachshund mix is an ideal pup for you!
Three Traits That Might Put You off the Cairn Terrier Dachshund Mix
We know that not all breeds are a perfect match for every owner, so we want to make sure you know all the highs as well as all the lows of every pup we tell you about. This is what the Doxie Cairn is like on their worst days:
They need to be supervised. Whether you have other pets in your home, like a hamster or a parrot, or you let your dog wander freely in your backyard, you will have to keep an eye on this gent. This pooch has a keen prey drive, so they'll hunt any small animals they lay their eyes on. They will also dig their way out of your yard if you're not paying attention to what they are up to.
They are unrelentingly dogged. Oh, yes, we've put it right. Both of this pup's parent breeds are notoriously bullheaded, so this is a trait that is bound to come to the fore in your pooch, too. There's no way around it, and all you can do to try to bend their temper to your will is to start training them as early as possible.
This little fellow has little patience for your little ones. In case you have a toddler or a small child that cannot understand why they shouldn't tug the doggo's ears, you may want to get a tamer breed that will gladly put up with your kid's curiosity and painful displays of affection.
Three Traits That Will Make Adopting the Doxie Cairn the Best Decision of Your Life
If you've come to realize you can live with all the flaws we've mentioned above, we're proud of you! Here are some of the many characteristics that will make you love every day with your new furry friend:
They will be the family jester. This goggie is so goofy and full of energy that the whole family will have a ball playing with them. There's also no need to worry that your bashes will ever be dull again — just make sure your pooch gets an invite. They will be the life of the party and keep your guests in high spirits throughout the night.
They will live to protect you. They are excellent guard dogs. If these pups sense something threatening to their humans, they will get right into the knight-in-shining-armor mode and bark the threat away!
They will adapt to your living arrangements. Owing to their small size and moderate activity needs, this pooch can live in an apartment without a problem, provided you take them out every day. They will also enjoy roaming around in a house with a yard, and they will be perfectly happy living in the country, too.
The Cairn Terrier Dachshund Temperament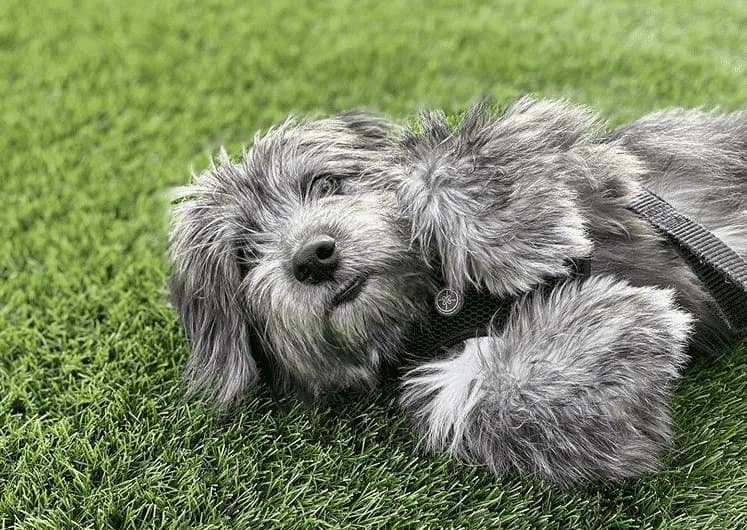 Credit: odie_hachi_rescuedogs
One of the most prominent traits of Doxie Cairns is their liveliness. They have boundless energy and will spend their days searching for prey or something/someone to play with. That makes them excellent entertainers — not only are they a joy to watch, but this pooch is sure to get you on your feet and goof along.
They are also highly protective of their owners, which is in their nature. They will guard their humans and, at times, even be aggressive to strangers they don't like (and here are more superb guard dog breeds). That doesn't make them obedient, though, as they are notoriously stubborn — this is one of the dominant traits of their parent breeds and one of the essential Dachshund facts to be aware of! They will resolutely dig in their heels and not give in until they've had it their way!
And did we mention they are possibly the boldest breed out there? What they lack in stature, they certainly make up for in audacity. They have a striking death-or-glory attitude and often think they are a match for much larger canine opponents. Don't be surprised to see your pooch in a clinch (or play) with a German Shepherd, for example. You'll see that your feisty fellow will give the Shep quite a workout until they wear the big dog out and take the win!
Cairn Dachshunds are quite crafty and will find a way to get out of your yard, so make sure that it is well fenced. These gents are also excellent diggers, so make sure the posts go deep.
Is the Dachshund Cairn Terrier a Good Family Pet?
Doxie Cairns are playful, friendly, and moderately active. They can live in both a house and an apartment, and they don't require much fuss in terms of grooming. That means that they fit in with almost any owner and a variety of families easily. They are incredible pets for:
Singles who have busy schedules
Couples who are looking for a pet to spoil
Teenagers who need to learn how to take care of a pet on their own
Active seniors
Large families
The only exception is families with small children or toddlers. Dachshund varieties are usually somewhat snappy and don't tolerate kids fussing with their ears, eyes, tails, or hair. They are known to get defensive and even aggressive.
If your babies are still too young to learn not to mess with their Doxie Cairn, you may want to pass on this breed for the time being. Here are the 10 dog breeds that are perfect for families with small children instead.
Physical Attributes of the Doxie Cairn
The Cairn Terrier Dachshund is a small but muscular dog. People are often tricked by their miniature stature and wrongly assume they are vulnerable and frail. That can't be farther from the truth. These doggies also have broad chests and small jaws with prominent teeth — the traits that make them exquisite hunters.
The Doxie Cairn's feet are large, with pronounced pads and thick nails. Their legs are short yet surprisingly strong. They generally turn out taller than the Dachshund and larger than the Cairn Terrier. If the pup is a Mini Dachshund Cairn Terrier mix, they will turn out shorter than most specimens of this cross.
As with other mixed puppies, you will find ample color combinations in this variety. They could be unicolored, but they are usually bi-colored dapple or brindle. The most common solid-colored Doxie Cairn is the Blonde Cairn Terrier Dachshund. Their coat is typically long and wiry, but short and smooth hair is also quite common.
| | |
| --- | --- |
| Weight | 16–32 pounds |
| Height | 9–16 inches |
| Size | Small |
| Coat type | Smooth or wiry; medium density |
| Coat color | Black, chocolate, cream, tan, red, dapple |
| Shedding | Low to moderate |
| Eyes | Brown |
| Nose | Black |
| Ears | Erect or flopped |
| Temperament | Feisty, energetic, clever, stubborn, fearless, playful, loyal |
| Life expectancy | 12–15 |
| Hypoallergenic | No |
| Kid-friendly | No |
| New owner friendly | Yes |
| Breed recognition | |
The Doxie Cairn's Dietary Requirements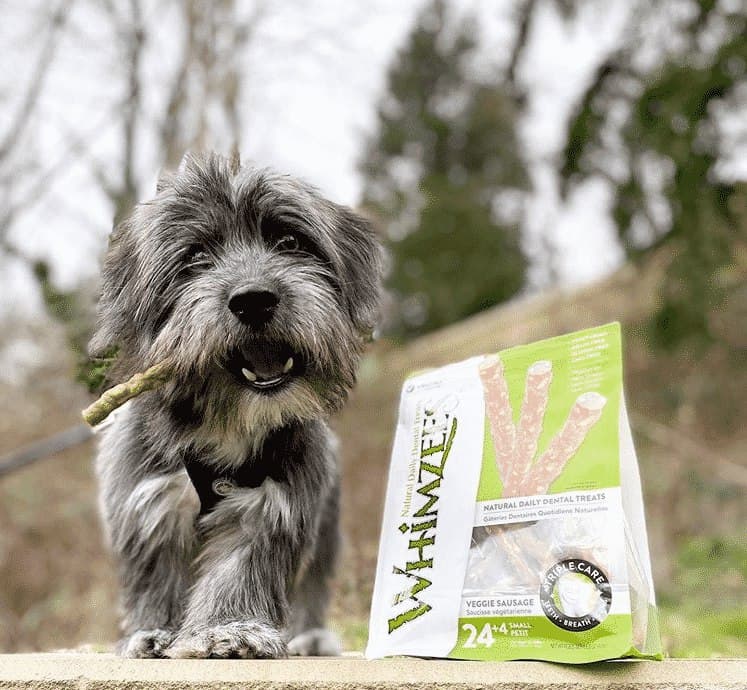 Credit: odie_hachi_rescuedogs
The Dachshund Cairn Terrier is an active and energetic breed, especially considering their petite frame. They spend most of their day sniffing around the house or digging up the yard, and you are more likely to catch them trying to snap butterflies than lounging on the sofa.
Such an active lifestyle needs a diet to match. Make sure you only get premium-quality food for your pup to ensure they get their nutritional needs met. Their meals must be rich in protein and also have a high fiber content. Proteins will give the doggo a boost in energy, while the fibers will keep them full until the time comes for their next meal. This pooch will gladly devour two to three cups of food a day, so you should divide that into two equally wholesome meals.
Here are some of our suggestions for quality foods to get you started:
In case you are interested in learning more about how to tell high-quality dog food from that which is sub-par (and if you want to get more tips on dog food in general), take a look at our posts on:
Best senior dry dog food
Best dry dog food brands for pugs
The Cairn Dachshund Mix Grooming Requirements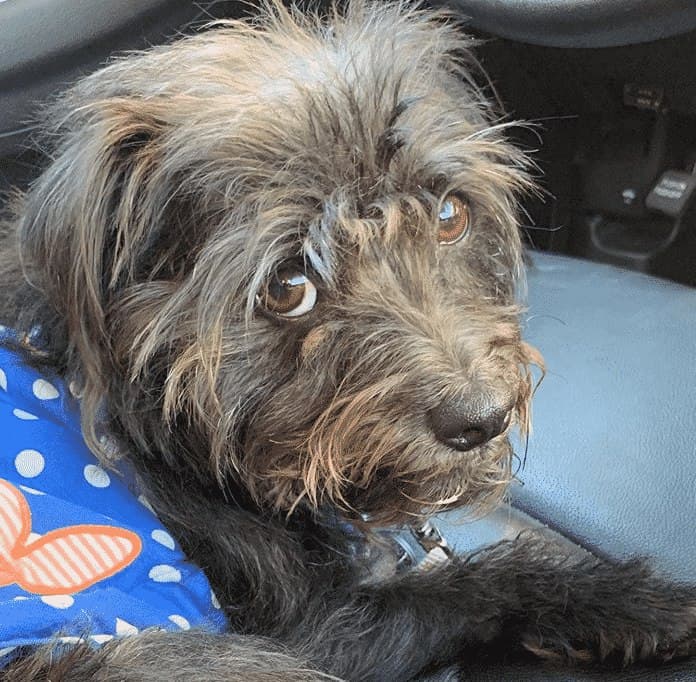 Credit: missmollyservicedog
The Cairn Dachshund is an easy-maintenance dog. They are mild shedders, with increased seasonal hair fall-out. That is why they need only weekly brushing and manual stripping once or twice a year. Stripping will get rid of the dead hairs from their coats and allow it to renew itself, especially in the wiry variety.
This pooch has prominent teeth that need to be cared for three times a week. Show them some extra love by giving your dog one of these top 10 best dog dental chews. Make sure to clip the pup's nails regularly and give them a bath only when they get too dirty digging to wander around the house.
To take proper care of your Dachshund mixed doggo, you'll need to get some basic equipment, such as a comb, a clipper, grooming scissors, and a stripping knife. If you think that's a lot, take a look at the top 10 world's most expensive dog breeds to own and check out how much work they are.
Brushing frequency
Brushes for the Cairn Dachshund Mix
Weekly

Pin brush
Clipper
Comb
Stripping knife
Nail clippers
The Cairn Terrier Dachshund Mix Exercise Regime
Doxie Cairns are lively and energetic doggies, but they don't require much activity. Giving them an hour of moderate exercise every day will be just fine. Owing to their small stature, they get tired rather quickly, so you may get away with taking them out twice a day if that's what works for you.
Apart from roaming around in the yard or going for a stroll in the park, they enjoy playing with their humans. Some of their favorite games are:
Fetch
Tug-of-War
Catch
Jump-the-Obstacle
Hide-and-Seek
Keep in mind that this pup is quite the trickster. When you take them out to the park or any other open, public place, it's best you keep them on a leash. Otherwise, they might wander off chasing after a cat or some other prey. Being as mulish as they are, they will likely disobey your command to come back if the target is too tempting to pass out on (and it almost always is).
In case your pup develops some musculoskeletal issues, such as IVDD or Elbow Dysplasia, you should tone down their exercise. Make the walks shorter and stop them from climbing up and down the stairs as they might overexert their delicate backs. You also shouldn't let them jump on and off furniture and potentially strain their back or elbows. Consider getting a PawRamp to make their mounting the couch easier and safer.
| | | |
| --- | --- | --- |
| Activity level | Recommended miles/day | Activity minutes/day |
| Moderate to high | 9 | 60 |
Training the Cairn Terrier Dachshund Mix Puppies
Unfortunately, these puppies are not easy to train. They inherit a dominant pigheadedness from their parents. The best way to fight that character streak is with early housebreaking and obedience training. Here are the best ways to train your puppy.
Keep in mind that you will need a well of patience and persistence, and a generous hand when it comes to treats, gifts, and praise-patting. Positive reinforcement and yummy snacks should do the trick in time. Here are the best dog treat brands that you can use and some of the worst dog treat brands to pass. To keep your dog from becoming obese, learn how to tell the difference between healthy dog treats vs. natural dog treats.
The Common Health Concerns of the Doxie Cairn
Although Cairn Dachshunds are usually healthy, they could inherit some of the dominant illnesses from their mom and dad. Here are the most common ones and how to recognize them:
Apart from these concerns, your goggie may inherit some of the skin conditions or other back problems from their Doxie parent, as well as a propensity to seizures.
Regular checkups are essential if you want to make sure your puppy stays healthy. Read more about the essential care tips for dog owners.
Major concerns
Minor concerns
Occasional tests

Elbow Dysplasia
Progressive Retinal Atrophy
Cataracts
Legg-Calve-Perthes Disease
Mitral Valve Dysplasia
Intervertebral Disc Disease (IVDD)

Glaucoma
Diabetes Portosystemic Shunt
Cryptorchidism
Atopy
Retained Testicle
Separation Anxiety

Eye examination
Physical examination
Radiographs
Blood tests
X-Rays
Electrocardiogram
Urinalysis
Biochemical profile tests
Allergy testing
Skin scrape
Abdominal Ultrasound
A Word on the Parent Breeds
As is the case with many other crossbred dog varieties, not much is known about the origin of the Doxie Cairn. They share their most distinguishing traits with their parents, both of which are among the best dog breeds to adopt.
The Cairn Terrier
The Cairn Terriers is possibly the Terrier variety with the longest tradition. They originated in Scotland and were bred to hunt small game, such as rats, that hide in cairns (stone piles). The American Kennel Club recognized them in 1913.
These pups are small, shaggy, and lively. They have an innate need for walks and will exhibit problematic behavior when that need is not met. Excess energy will cause them to bark too much, become restless, and even destructive. Taking them out to the park or letting them have a free romp in the yard solves that problem.
Here are some Cairn Terrier facts in case you want to learn more about this sprightly, fluffy breed.
The Dachshund
Dachshunds come from Germany and are known around the world as Sausage Dogs or Wieners. What many people don't know is that their name actually means "the badger dog" in German. That is because these sausages were bred to chase badgers out of their dens.
To do their job successfully, Doxies were bred to have short legs and thin, long torsos. That enabled them to get inside their prey's lairs, and their paddled feet made it easy to dig their way in there. They have a keen sense of smell and inquisitive nature, both of which were instrumental for their role.
Doxies are independent thinkers and do not train easily. Although they used to hunt in the countryside, now they are one of the best city dog breeds and don't mind living in small apartments.
Did you know that Dachshunds are so lovable, that even celebrities like Picasso adored them? They also hold the 11th spot on the American Kennel Club's Most Popular Dog Breeds list. This reputable organization recognized them as a breed way back in 1885. Here are additional 10 facts you should know about Dachshunds.
Looking for Another Dachshund Cross? We've Got Doxie Mixes Galore!
Here at TheDogDigest, we know that there isn't a lot of reliable information on crossbred dogs online. That's why we strive to give you comprehensive and trustworthy guides on all mixed breeds known to man.
If you like Dachshunds, learn all about them in our Dachshund breed guide and have a blast with some of the funniest Dachshund memes we could find. Check out every single one of the Doxie mixes we've written about below!
References
Petersen-Jones, S.M., J. Forcier, and A.L. Mentzer. "Ocular Melanosis in the Cairn Terrier: Clinical Description and Investigation of Mode of Inheritance." Vet Ophthalmology, 2007.
Seymour, Alex. Dachshunds: the Owners Guide from Puppy to Old Age: Choosing, Caring for, Grooming, Health, Training, and Understanding Your Standard or Miniature Dachshund Dog. CWP Publishing, 2016.
Compare Pet Insurance