Dachshund Skin Problems
Source: thedoxieworld
Doxies have that independent, I-run-my-own-show kind of attitude. They are stubborn little beasties who like to show off to their other dog friends. This means they can't be seen wearing the last season's outfit and need to have their coat ready for every event.
Unfortunately, Dachshund pups are susceptible to skin issues, but also, more often than not, back issues as well. In the case of skin ailments, Doxie owners need to take extra measures to find their causes and the perfect treatment method. The first step is to check if your Doxie's diet meets their nutritional needs and to properly care for them.
These adorable sausage dogs will rely on your help to protect them from any danger that comes their way. Your pup's skin and coat are the reflections of their health condition. If you want to take the best care of your Doxie, this article will provide you with all the valuable information on Dachshund skin diseases.
The Alpha Paw team is not affiliated with any dog product company. We are not here to recommend products for skin treatment, but to give you information on all you need to know about Dachshund's skin problems. Our mission is to help both you and your pooch!
Cause for Skin Ailments
Who's the culprit behind your pup's itching? Here you'll find the list of the most common underlying causes for Dachshund skin problems. Let's dive in.
Food Allergies
Food allergies can make themselves visible on your pooch's skin. If they are the underlying cause of itching and scratching, you should change your Dachshund's diet. There are several options for dog owners:
You can prepare food for your little sausage. There is one huge advantage in preparing food for dogs—you choose the ingredients that your pup consumes. The owners who opt for this method of feeding need to learn about dogs' nutrition. Their food should contain lots of different nutrients for a well-balanced diet. The lack of some nutrients can be harmful to your pets.
You can buy commercial dog food. Before putting a dog food product in your shopping cart, go through the ingredient list. In case your little one suffers from food allergies, you need to check if the formula contains some harmful ingredients. Check out our article on best dog food for dogs with allergies for more information.
You can give your dog prescription food that your vet recommended. Your dog's vet usually has all the information related to your dog's health condition. You can always rely on their advice and sleep tight knowing that your dog's in safe hands.
The owners usually think that the root of the allergy stems from grain, corn, or wheat. Apart from these three, you'd be surprised to know that dog allergies most often come from real meat. Your pup can be intolerant to:
Pork
Eggs
Fish
Dairy products
Chicken
Pork
Beef
Rabbit
Environmental irritants
A dachshund is a short dog whose body is close to the ground. As cute and adorable as they are, your little hot dog is more prone to picking up a skin issue than taller dogs.
The grass hides many potential dachshund fans who would like to meet their idol. At least there is someone who loves their barking concerts, but in this case, you need to act like a bodyguard. Their most avid fans are ticks, fleas, and mites.
Ticks can't jump on your dog, but they can get attached to their coat if your Doxie brushes past their area. These egg-shaped insects are dangerous as they can transmit infections or Lyme disease. We advise you to take your dog to the vet to take the tick out! Don't try to do it yourself as you could fail in removing the whole insect.
Fleas want to settle on your pet's body and make a home for themselves there. They can make your furry buddy extremely rattled and uneasy, as well as cause many severe problems to your poor canine. Allergic reactions are the most common consequences of flea settlements. When these jumping insects feel like going for a walk, they can as easily jump on you, too. The best solution in flea-combat is to spray your dog before the flea season starts.
Mites can make your pup uncomfortable. These parasites can cause itchiness and hair loss. To eliminate these pests, you need to find effective treatments. Consult with your vet to see which product would be appropriate for your pooch.
Pay special attention to your Doxie's ears—it's under these floppy flops that you can find different types of fleas, ticks, or mites hiding. Itchy ears are one of the first signs of an uninvited guest.
Genetics
Genetics is also one of the factors that can influence skin disorders. Your pup can inherit a predisposition to allergies and other skin issues from their parents. We advise you to gather as much information as possible about your pooch's parents so that you can be alert and prepared.
Poor Nutrition
Poor nutrition can lead to skin diseases. The Dachshund's diet must include all the nutrients that their body needs to be healthy and strong. Protein and vitamins promote healthy skin, haircoat development, and overall good health. If your pup doesn't get adequate nutrition, it will reflect on their looks! Doxie's diet should contain healthy fatty acids that protect their haircoat from becoming dull, dry, or brittle.
Grooming products
Shampoos and grooming products can be harmful to your canine's skin. The wrong shampoo can cause a lot of problems for your pup's coat. Make sure you find all-natural dog shampoos for a Doxie and don't use human hair shampoos. Use pin or bristle brushes to groom your dog.
Most Typical Skin Problems in Dachshunds
Yeast infection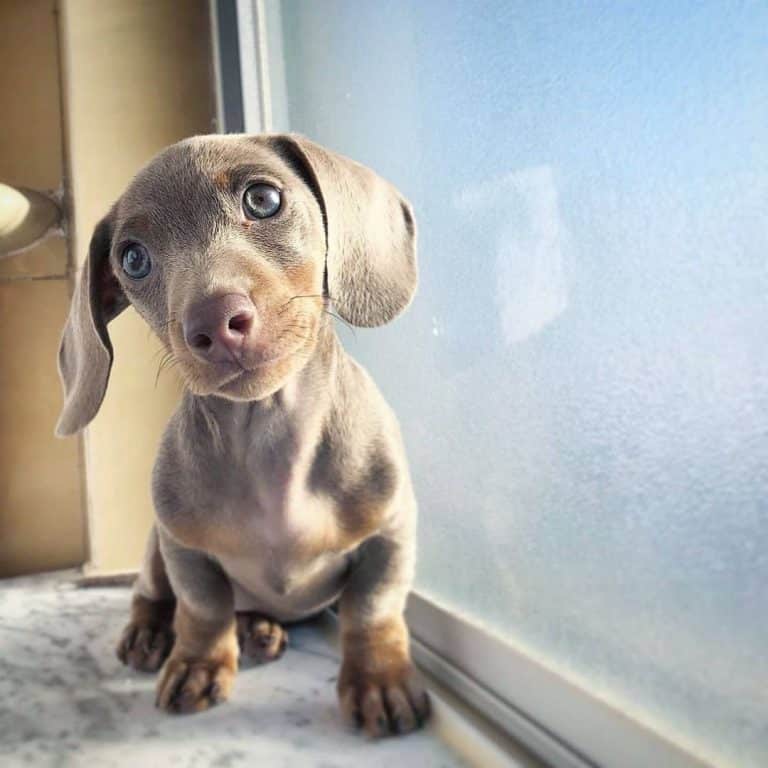 Source: nzymes
A Malasezzia pachydermatis organism causes yeast infection. In case you see your dog scratching their ear continuously or chewing their paws, that means he could be suffering from yeast infection. This infection usually settles the inside of the ear, on the belly, under the toes, or necks. More severe symptoms of yeast infection are:
Hair loss
Greasy coat
Crusty skin
Color changes in discharge
Luckily, this organism is easy to diagnose and treat. Once you find the underlying problem, you can start with the treatment. In the beginning, you can try to remove it by topical therapies which include shampoos, sprays, creams, and rinses. In case topical therapies don't help, you'll need to switch to oral medications.
Dogs who take meds need to be monitored through blood tests. Don't give your dogs any treatment before consulting with your vet first.
Dermatitis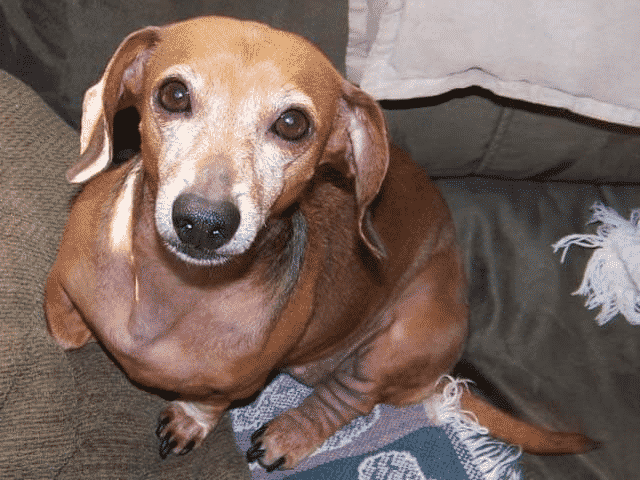 Source: dermvet
Dermatitis is a reaction to scratching and itchiness caused by allergies or even grooming products. You will detect dermatitis by an ill-looking rash. You can treat dermatitis, but the most effective solution is to keep your pup away from the allergen.
Folliculitis
Bacterial folliculitis is a skin infection that results in scabs on the dog's body. In case you own a short-haired Dachshund, you'll be able to spot folliculitis easily as this infection appears on the dog's body surface. Wire-haired and long-haired Dachshunds need to be groomed regularly. As we like to say—better safe than sorry. Symptoms that your beloved Doxie may have in case of folliculitis are:
Dull coat
Scaly skin
Shedding
Pay a visit to your vet before starting the treatment. In most cases, this bacterial infection involves using antibacterial shampoos and ointments. If this doesn't help, you need to replace them with oral antibiotics.
Scabies
Scabies is another skin ailment that's caused by mites. It's one of the conditions that provoke itching the most. You'll recognize it by little red spots on Doxie's elbows, hocks, or ears. Symptoms are usually:
Hair loss
Redness
Crusty skin surface
Contact your veterinarian as soon as you suspect this condition. Dachshunds like to show off, and they will certainly not appreciate baldness.
Seborrhea
This skin disorder is a lot similar to dandruff. The most noticeable symptoms are itchiness and yellow-brown greasy scales on the skin. Yikes! You can notice it on your dog's coat, and they can also leave traces on places where your pup sits or lies. It is difficult to identify the cause of this disorder, and so the treatment can vary. You can always start with fatty acid supplements and antiseborrheic shampoos or sprays. If they don't help, your vet will most likely prescribe antibiotics.
Ringworm (Fungus Infection)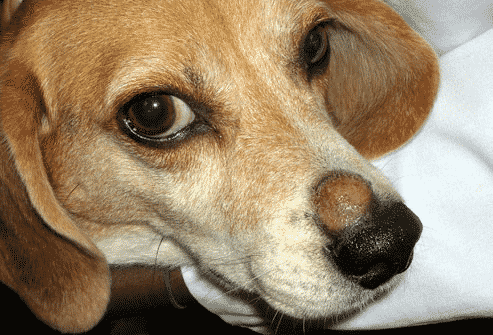 Source: md health
Despite what its name suggests, it's not the worms that attack your Doxie. Ringworm is a rash caused by some of these three fungal infections:
Your pup can get this skin problem by touching an infected animal or an object. You'll notice a circular shape that is highly noticeable. This is not an extremely dangerous disorder, but you need to see your vet in case you think your dog got infected. The most common symptoms are:
Hair loss
Dry coat
Scabby skin
Brittle claws
Itching is rarely a symptom of ringworm.
Best Skin Products for Dachshund
Here are a few top-notch skin products tailored to address the unique needs of Dachshunds, ensuring optimal skin health and a lustrous coat.
Proudly made in the USA.
This daily supplement supports your pal's immune system, joints, and overall health.
Adds an irresistible, juicy salmon flavor to your dog's daily meals.
Made with 100% premium wild Alaskan salmon oil.
Safe for dogs of all ages, breeds, and sizes.
Contains all-natural ingredients like omega-3 fatty acids for dogs with skin sensitivity.
The gentle, pet-friendly formula comes in a tasty soft treat that's easy to administer.
The chewables aim to bolster the canine immune system, offering relief from symptoms like itching, excessive biting, and frequent paw licking.
A tasty solution for managing your dog's seasonal allergies effectively.
Proudly made in the USA.
Gentle soothing helps promote a healthy skin and coat free of flaky, dry, or overly oily skin that
Fast acting works fast with powerful ingredients that help shed dry skin and hydrate your pet's ski
Vet-recommended this paraben, dye, and soap-free pet shampoo has gentle cleansers and is made witho
Formulated for dogs specifically formulated for dogs, this ph-balanced shampoo is unlike human sham
Application: this product is intended for topical use only. read directions carefully before applyin
How to Prevent Dachshund Skin Problems?
The possibility of getting a skin disease in dogs is lower if you take proper care of them. There are several things that you can do to protect them from skin ailments.
Bathe them only when necessary. Your Doxie doesn't need bathing more than once a month. And remember, wash them from their necks down. Don't shower their heads. Water can get into not so easily accessible places—such as their ears—that you cannot dry off later. The moisture that accumulates in these places is a source of bacteria and infections. Use a damp washcloth to wash their head.
In case they get dirty before the bathing time comes, you can try putting them in the tub and just rinsing the dirt off without rubbing shampoos or soaps in their coat. Don't bathe them with shampoo too often. It washes away the natural oils and changes the pH-level of the skin.
Groom your pooch regularly. Regular check-ups of your pooch's skin will save you a lot of trouble. Careful grooming of your Doxie can help you notice an issue before it escalates. This is essential, especially in case you own a long-haired Doxie. Darkness and mystery prevail in their skin.
Don't let them sniff around a lot. Dachshunds are intelligent and curious little pups. They come to know this world by sniffing around, a lot! Make sure you pay attention to what they are smelling around, especially if you're taking your mini-dog outside. If they sniff feces of other animals who have an infection, they can easily get infected themselves.
In the dog care tips for the new owner's list, you'll find that your doxie should visit their vet regularly. If your beloved pup starts showing signs of unusual behavior, or you notice changes in their coat, take them to the veterinarian immediately.
Make sure that your Doxie's nutrition contains significant amounts of Omega 3 and Omega 6 fatty acids. These acids promote and maintain their healthy skin and coat, and their sources are usually fish products. Check the ingredient list on their dog food to see if they contain them. The acids are also useful in case your dog has dry skin! Below you'll find the product that could make perfect nutrition for your canine.
Well-Balanced Nutrition Helps in the Combat against Dachshund Skin Problems
There are lots of high-quality products out there that can help you improve your pet's diet. We selected one for you to use it as your guide compass. Let's See What We Have Learnt
Skin issues can cause significant problems and agonies to your Doxie. The best solution is to take preventive measures against skin diseases. Regular grooming and paying attention to your canine's behavior can be helpful in this combat. In case the ailments break out, we advise the owners to consult their vet before taking the next step.
Nutrition is vital for Doxie's health. Always look for products that contain high-quality ingredients, among which are the Omega 3 and 6 fatty acids.
If you need more ideas to find high-quality food for your pooch, check out our list of the best dry dog food for small dogs and see if any of these can be your dog's food of choice. Make sure you avoid the worst dry dog food on the market! If you're looking for canned food, we advise you to take a peek at the best-canned dog food.
Check out These Pups
If you're a Doxie fan but are having second thoughts on whether they're the right dog for you, worry not. In the table below, you'll find some gorgeous Doxie mixes. Take a look, maybe you'll find your perfect match!

(FAQs) about Dachshund skin problems:
What are common skin problems in Dachshunds?
Common skin problems in Dachshunds include allergies, dermatitis, fungal infections, and issues related to their unique coat structure, such as intervertebral disc disease.
What causes skin allergies in Dachshunds?
Dachshunds can develop skin allergies due to various factors, including food allergies, environmental allergens (pollen, dust mites), or contact allergies (from certain fabrics or grooming products).
How can I identify if my Dachshund has a skin problem?
Signs of skin problems in Dachshunds may include itching, redness, flakiness, hair loss, sores, or changes in coat condition. Regularly inspecting your dog's skin during grooming can help detect issues early.
Are Dachshunds prone to specific skin conditions?
Dachshunds are prone to skin conditions like intervertebral disc disease, which can affect the skin due to their long body structure. They may also be susceptible to allergies and fungal infections.
Can diet affect Dachshund's skin health?
Yes, diet plays a crucial role in Dachshund's skin health. Food allergies can contribute to skin problems, so providing a balanced and high-quality diet suitable for your dog's needs is essential.
How can I prevent skin problems in my Dachshund?
Preventive measures include regular grooming, using hypoallergenic grooming products, providing a healthy diet, and addressing potential environmental triggers. Regular vet check-ups can help catch issues early.
What should I do if my Dachshund has itchy skin?
If your Dachshund has itchy skin, consult with a veterinarian to determine the cause. Itching can be a sign of allergies, parasites, or dermatitis, and the appropriate treatment will depend on the underlying issue.
Can Dachshunds get sunburned?
Yes, Dachshunds, especially those with short coats, are susceptible to sunburn. It's advisable to protect them from prolonged sun exposure, particularly in hot climates, using pet-safe sunscreens or clothing.
Are there specific shampoos for Dachshunds with skin problems?
Your veterinarian may recommend specific shampoos or grooming products based on the type of skin problem your Dachshund is experiencing. Hypoallergenic and medicated shampoos are common recommendations.
When should I seek veterinary help for my Dachshund's skin problems?
If you notice persistent or worsening skin issues, it's crucial to seek veterinary help promptly. Skin problems can indicate underlying health issues, and early intervention can prevent further complications.
References
Sime, Tara A., et al. "Parvoviral Myocarditis in a 5-Week-Old Dachshund." Journal of Veterinary Emergency and Critical Care, vol. 25, no. 6, 2015, pp. 765–769., doi:10.1111/vec.12347.
Hoppendale, George, and Asia Moore. Miniature Dachshund, a Purebred German Hound Dog: Miniature Dachshund Dog Complete Owners Manual. IMB Publishing, 2015.