Dog owners are always looking for the best products for their pets. There are a lot of them out there when it comes to dog shampoos. Just browse online and you'll find hundreds of options to sort through. If you really want quality though, there is a short list of top-ten products that really fit the bill. Here is the list of top 10 best dog shampoos for 2019.
Cloud Star Corporation Buddy Wash
This is another highly cost-effective but sensitive-skin option for dogs. It is an all-natural mix that helps to ease many different skin conditions. It also can protect the skin from future problems. In the formula is Vitamin E and coconut oil for added skin protection. It also has herbal extracts that cleanse gently.
Pet Care Dog Shampoo and Conditioner
This is another dual-shampoo/conditioner product. Its water-based formula combines brown kelp, citrus extracts and coconut oil to create a product good for any rashes or irritations. Like a lot of the other top 10 this one is soap-free and efficient at calming any angry outbreaks. It also can break down oil and mud on a pet's fur and skin. It has special agents via the conditioner that make fur manageable, healthy and shiny.
Oster Oatmeal Naturals
Any product with oatmeal is good for the skin. Oatmeal can ease acne, dryness, itchiness and any type of irritation in humans and for pets. Oster uses it as its main ingredient so it's perfect for any skin problems. It also has added vitamin B5 that helps to protect the skin from any other reactions to irritants. There are no dyes, alcohol or phosphates in this product. It also has a great mango-peach scent to it.
Fresh n' Clean Scented Dog Shampoo
The Fresh n' Clean brand is a top on in the market. Dog-owners love it because it's effective, affordable and safe. One of the best things about this product is its long-lasting fresh scent. Plus, it has a special anti-static agent that helps to manage fur. It's great for removing dust and grease from fur. Plus, it can protect your dog's skin too. It is safe enough to use for dirt deeply embedded in fur, but effective enough to keep pets smelling good for weeks.
Lovely Fresh Dog Shampoo
This is another shampoo made with oatmeal. That gives it some powerful skin-agents. It has a moisturizing effect on pets that still is able to cleanse thoroughly and completely. It also can protect fur and skin from any types of irritants. This one comes with no odors to contend with so if you like a clean but scent-free dog, this is perfect.
Earthbath All-Natural Shampoo
This is another popular brand of pet shampoo that has entered the market in the past few years. It has a completely natural formula and it is efficient with cleansing. It also is soap-free, which helps the skin from drying out or becoming irritated. It's totally safe and completely bio-degradable. This is another brand that comes in a wide variety. You can pick what mix is best for your pet because every option is gentle, safe and effective.
Tropiclean Oatmeal Medicated Pet Shampoo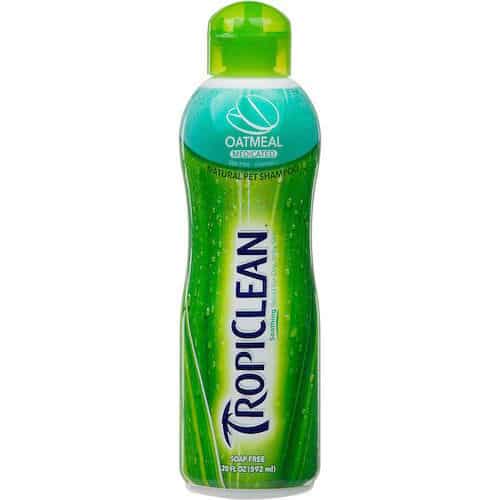 This is another dog shampoo that takes its main ingredient from oatmeal. Again- that offers a lot of service to pets with rashes or irritations on their skin. This one is cost-efficient and still offers a lot in return. It can smooth the skin and the fur easily. Its makeup is detergent-free and soap-free. The size of the bottle is generous too so it should last you a while as you keep your pet clean.
Synergy Labs Veterinary Formula Clinical Care Anti-parasitic and Anti-seborrheic Medicated Shampoo
The entire Synergy Labs line is highly effective and specially medicated. It's created for pets with problem skin and helps to protect them. Namely if your pet has had any skin parasites, rashes, allergic reactions or excessive dryness, this is a great product. It can sooth skin that is enflamed but still clean effectively. There are no dyes or soaps in the formula to further irritate.
Wahl 4-in-1 Shampoo
This is a top product for dogs with allergies, rashes or any type of sensitive-need skin. It is completely natural and uses a base of plant-extracts. Added to the formula is aloe, lemon, oatmeal and coconut. All are great at maintaining a healthy coat and skin underneath. It also is PEG-80 free. It comes in a variety also: oatmeal, flea and tick, lavender chamomile, odor-free, puppy formula and shed-control.
Omega Pet Dog Shampoo

This is the #1 shampoo product largely due to how effective it is at cleaning, how safe it is and its lasting scent. It's all natural and bio-degradable. Despite being natural, it also is highly effective. In fact, after just one use you likely will see improvement in your dog's skin. It also is a conditioner so your pet's fur will be smooth and soft too. The organic and natural mix is definitely one of the top shampoos you will find in the market today.