Boxer German Shepherd Mix Facts
A mixed breed like the Boxer German Shepherd has different requirements than its purebred parents. This guide will better understand what this breed is, how to care for it daily correctly and what to expect when it comes to behavior and temperament. With this guide, your pup will become a happy, healthy and lovable dog.
German Shepherd Boxer Mix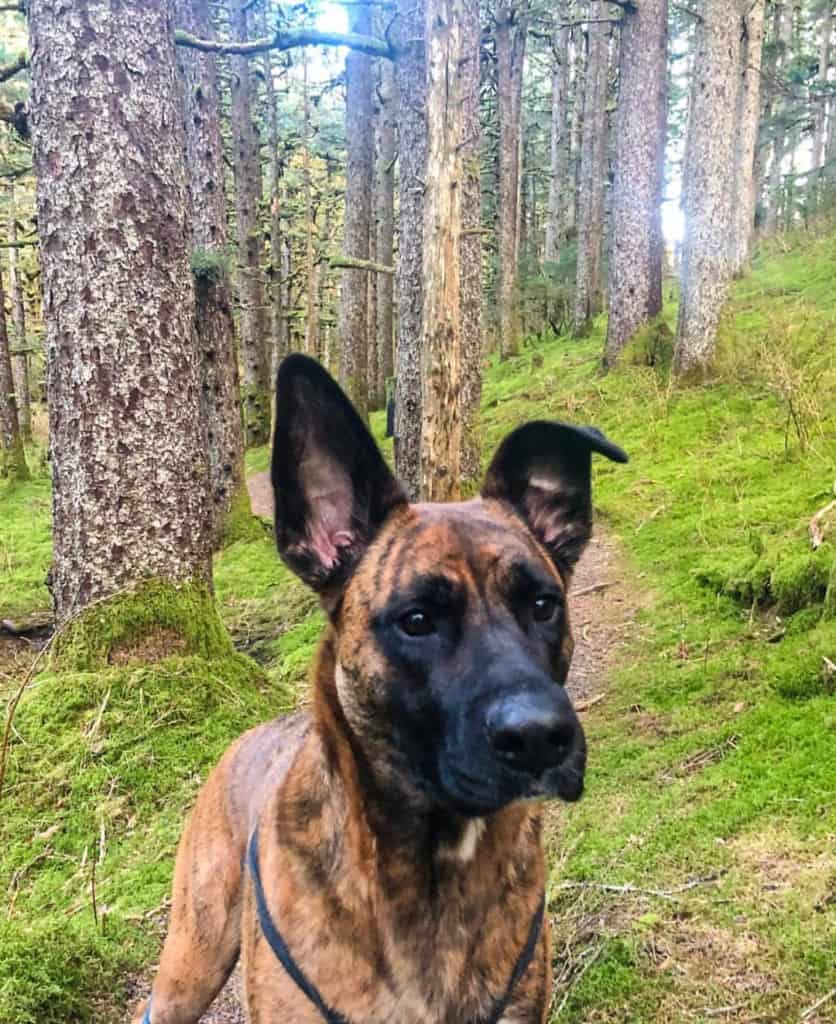 The German Shepherd Boxer is a mixed breed dog. It was bred by combining the genes of two renowned dog breeds in the world: a purebred German Shepherd and a purebred Boxer. These parent breeds are active, loyal, fun-loving and smart dogs which love to be around people.
Considering the characteristics and temperament of the parent breeds, your Boxer German Shepherd mix could be trained to become a service dog or a guard dog.
The German Shepherd breed is one of the most popular and intelligent dog breeds. It hailed from Germany and was trained to herd cattle. The breed is known for its wit and loyalty, and because of these, it has become a notable part of most police forces around the world. German Shepherd dogs are also employed in the military, in sniffing out bombs and enemies and in fighting insurgents in the battlefield.
Meanwhile, the Boxer is a heavily-built dog bred mainly for hunting. It is also from Germany and is known for its true nature. Despite its tough exterior, Boxers are very lovable and will seldom start any fights. It is also brilliant and is also used as service dogs, guard dogs, and police dogs.
With this fantastic combination, your Boxer German Shepherd puppy could grow up to become a police dog, service dog or a guard dog. As long as you provide the best nutrition, care, and support, your dog will grow up to be happy, obedient and contented pet.
3 Reasons Why You Shouldn't Get a German Shepherd Boxer Mix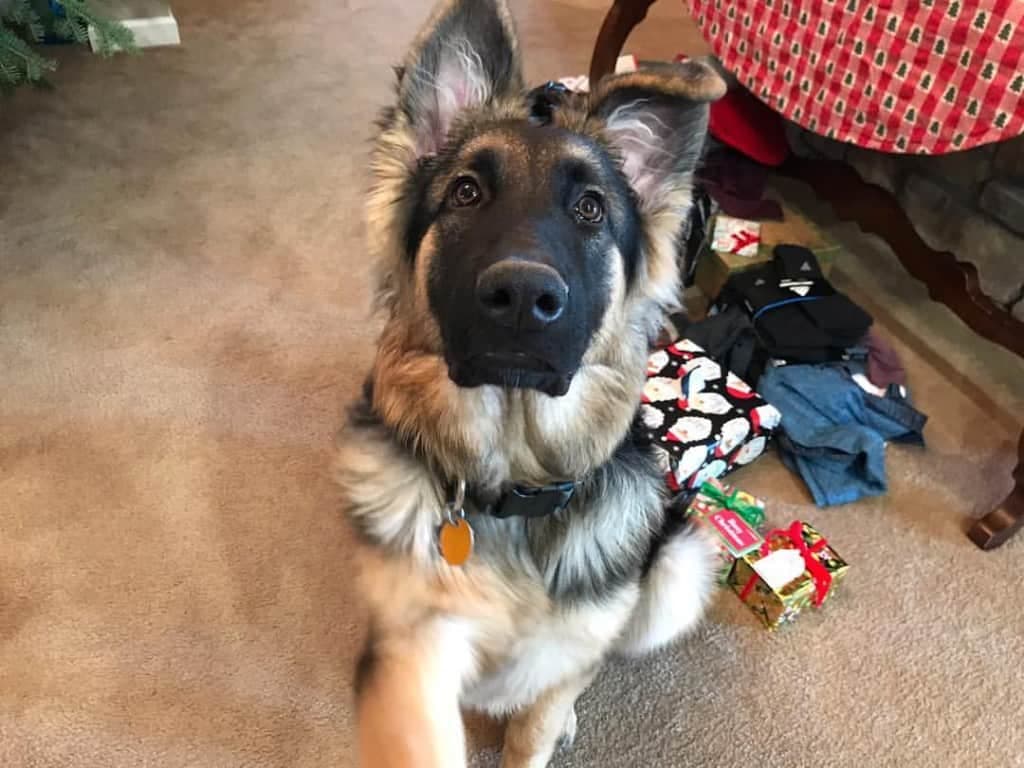 1. This Mixed Breed Needs Constant Mental And Physical StimulationThis dog hails from two tough and very intelligent breeds so you can't overlook training. And training has to be both physical training and mental stimulation. From hours of walking and playing to the use of special techniques for discipline and performing new tricks, you have to have time for your dog. If you can't commit to these, then you are not fit to own a German Shepherd Boxed mix.
2. This Mixed Breed Dog Needs A Lot Of Room
This dog needs a lot of room to move around, play and stay active. If you live in a small apartment or a dormitory, then this is not a good dog for you. Both dogs are muscular and built to run and move. These dogs deserve to play in a large area like a yard, playground or park.
3. This Dog Needs An Active Owner
If you don't like too much physical activity or you don't have time for it, then you must not get a Boxer German Shepherd mix. As the owner, you will be personally responsible for the care of your dog especially exercising and playing with your pet. Nothing develops a bond better with a dog that plays.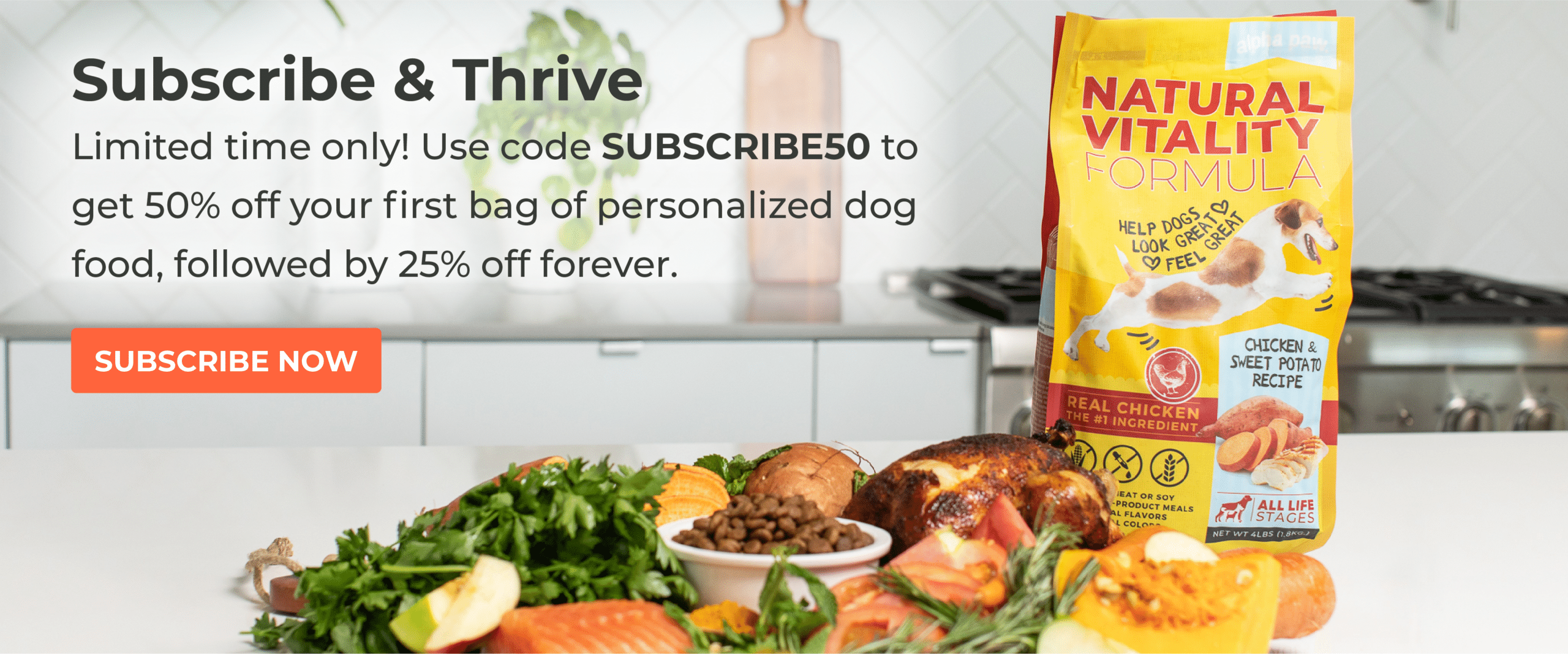 3 Reasons Why You Should Get a Boxer Mixed with German Shepherd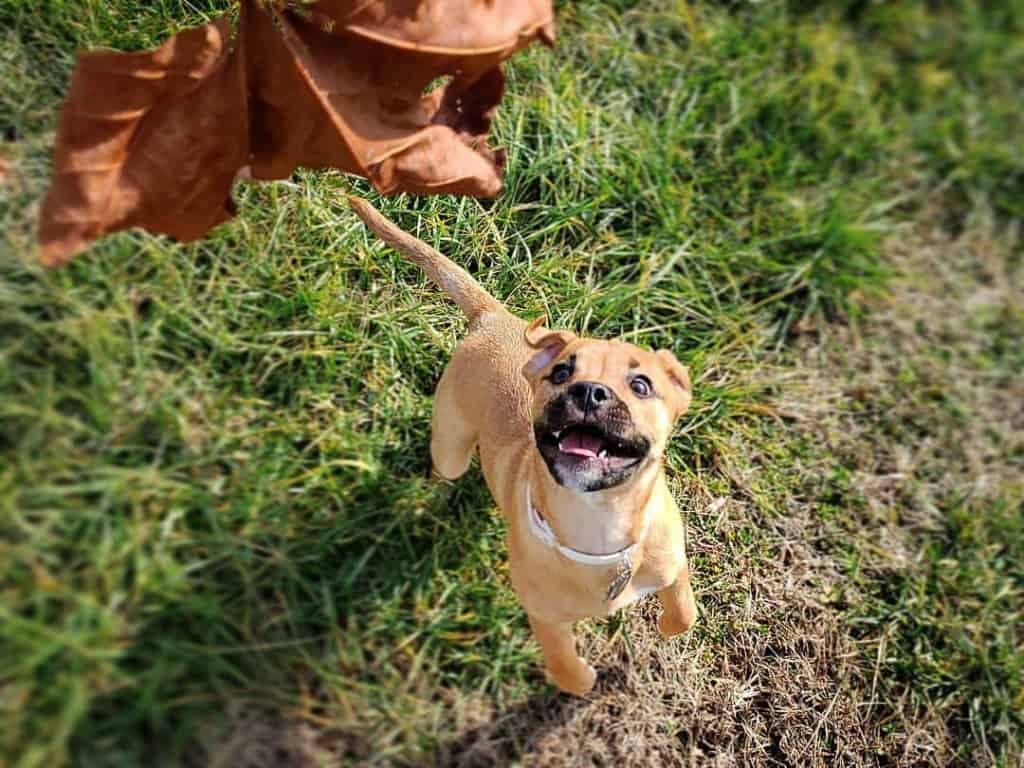 This Mixed Breed Dog Is Very Smart
Coming from two very intelligent dog breeds, your Boxer German Shepherd will be a brilliant and observant dog. You will be amazed that this dog can sense your feelings. Some pet owners say that their dog understands when they're upset or when they need help.
This Mixed Breed Dog Is Very Loyal
Both the German Shepherd and the Boxer are true to their masters and therefore will never leave them no matter what. They will guide their masters and will protect them. This mixed breed dog will protect your family and your property with its life.
This Mixed Breed Dog Will Keep You Active
It's time to live an active life when you take home a German Shepherd Boxed mix dog. This will beg you to go out and will know the time of day when you take him out for a walk or play. It can run with you as you jog or ride your bike. It can walk for miles with you, and you can take it camping, fishing or do all sorts of fun, physical activities.
Other German Shepherd & Boxer Mixes
Choosing the dog breed that aligns with your lifestyle is the most important decision you can make. Every year tens of thousands of dogs are abandoned or put up for adoption because the owner was irresponsible and didn't do their research before choosing a dog that isn't a great for their lifestyle.
Not sure the Boxer German Shepherd aligns with your lifestyle? Consider adopting one of 50+ popular German Shepherd mixes or Boxer mixes.
Alpha Paw has conducted the most in-depth research into the most popular German Shepherd Mixes in America:
Appearance, Personality, and Traits of a Boxer German Shepherd Mix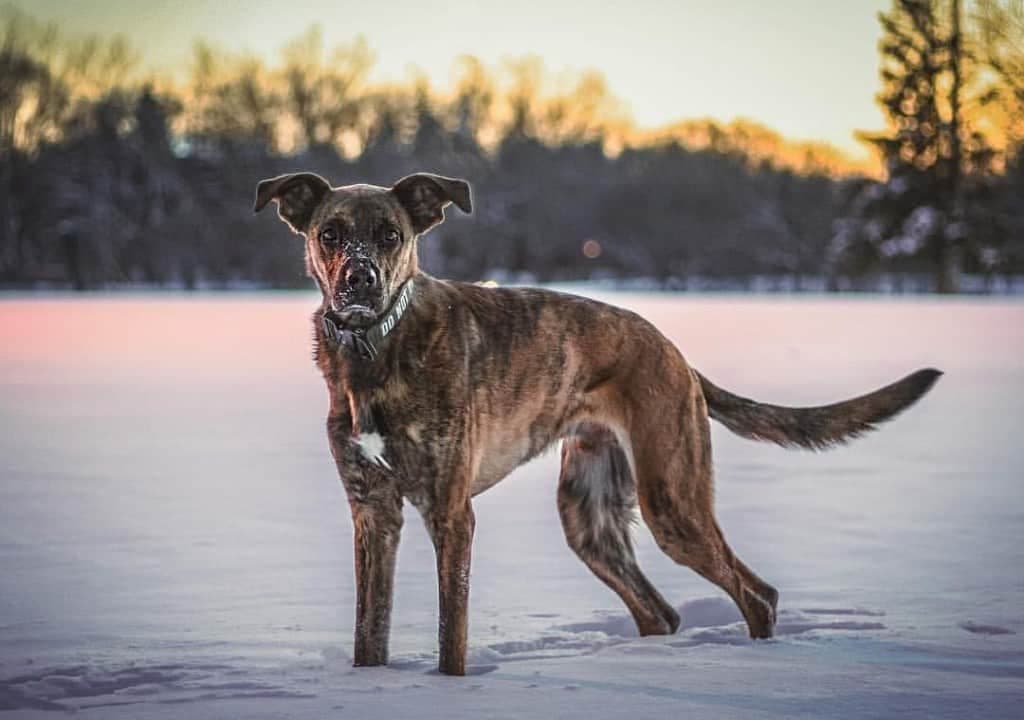 | | |
| --- | --- |
| Weight | 65 to 95 pounds |
| Height | 25 inches or more |
| Size | Medium to large-sized dog |
| Coat Type | Medium to long coat |
| Coat Color | Mixed colors |
| Amount of Shedding | |
| Eyes | Round |
| Nose | Short or long |
| Ears | Floppy |
| Temperament | Behaved, loving, active |
| Life Expectancy | Up to 15 years |
| Hypoallergenic | No |
| Kids Friendly | Yes |
| New Owners Friendly | Yes |
| Breed Recognition | Dog Registry of America, Inc. (DRA) |
You can tell what your German Shepherd Boxer mix puppy will look like by looking at its parents. The German Shepherd and the Boxer are both medium to large-sized dogs; therefore you can expect your dog to be this size when it becomes mature.
The height of your mixed breed dog will be around 25 inches or more while its weight may be from 65 to 95 pounds when it has fully grown.
Your dog will have a solid and robust form and will have features that it could inherit from its dominant parent
When it comes to coat color, your Boxer mixed with German Shepherd dog can be light brown, dark brown, grey or tawny brown with a black face. The color combinations will depend on the color of its parents, but most dogs will have the dark face and white patches of a Boxer.
All Boxer German Shepherd mix dogs will have floppy ears because this is a dominant trait of a Boxer. The shape of the muzzle may be short like a Boxer or slender like a German Shepherd or a combination of both.
The following dog organizations and dog breed registries recognize the Boxer mixed with German Shepherd dog breed:
Dog Registry of America, Inc. (DRA)
German Shepherd Mixed with Boxer Puppies for Sale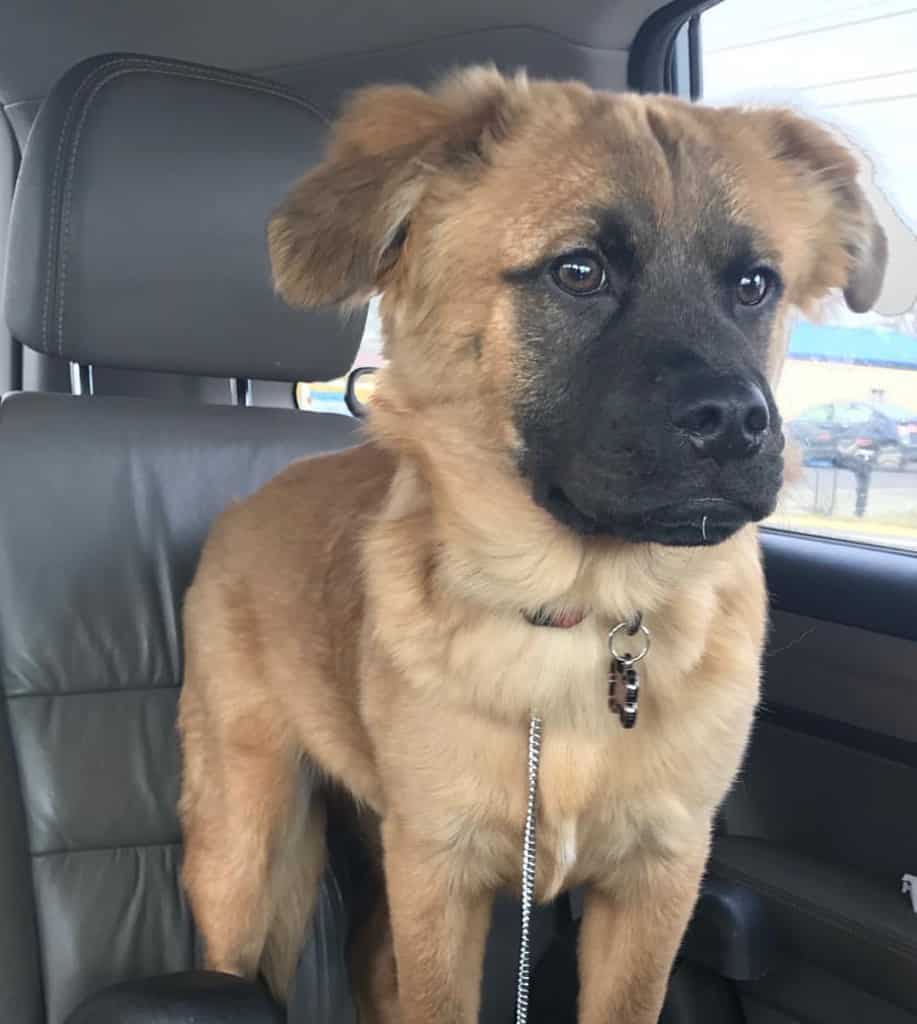 Photo Credit courtesy of https://instagram.com/heythereitsben_jamin
At the first thought of owning a German Shepherd Boxer puppy, you probably tried looking at ads for breeders online. What's vital about looking for a breeder is that you should trust only one with good standing. The Pet Professional Guild will be able to assist you in looking for a reputable breeder in your area.
Once you find a reputable breeder, talk to him about the health and the condition of both parent breeds of the dog that you wish to take home. You should be able to check the health clearances of both parent dogs. The breeder should show proof that the parents were crossed to make a German Shepherd Boxer mix dog or pup.
The following are sites that are found to have ads for German Shepherd mixed with Boxer pups or dogs.
PuppyFind.com (International)
NextDayPets.com (International)
Adopt-a-Pet.com (United States)
Petfinder.com (United States and Canada)
Green Field Puppies (United States)
Although it seems to be easier to find a German Shepherd Boxer mix from a breeder, you must still check your local shelter for one. The American Society for the Prevention of Cruelty to Animals (ASPCA) is against the purchase of puppies and dogs online and recommends adopting dogs from the shelter instead.
Grooming Your German Shepherd Crossed with Boxer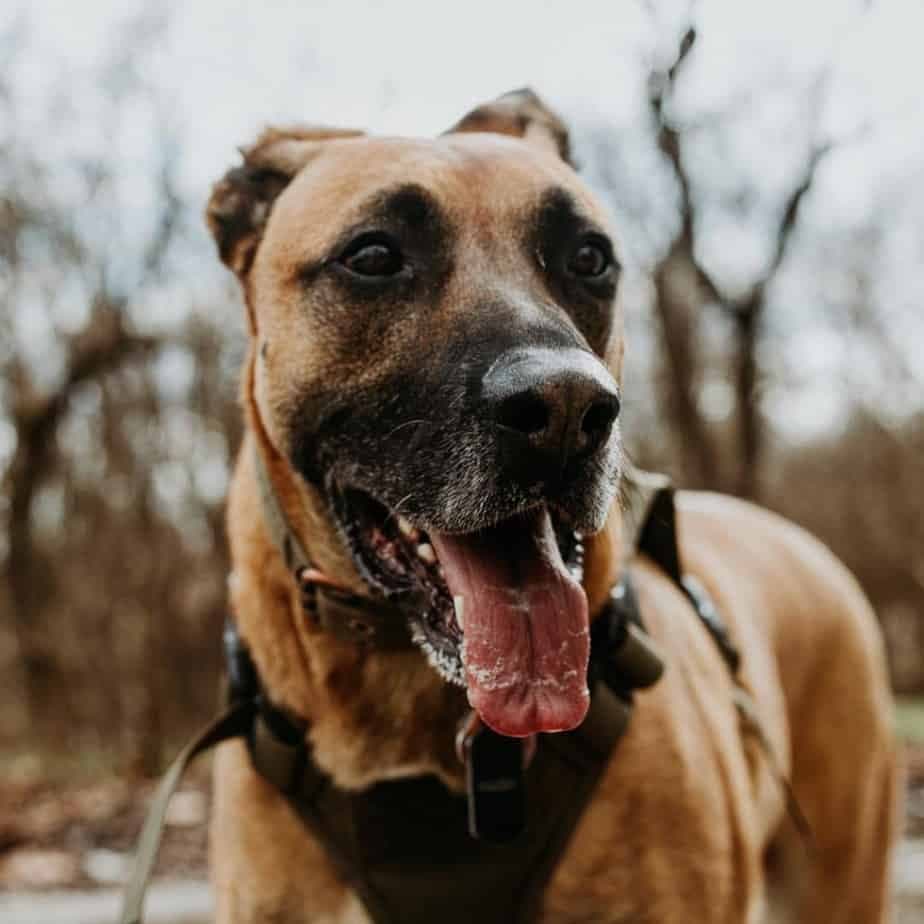 A German Shepherd Boxer mix needs weekly grooming to remove tangles and to keep its coat clean and shiny. If your dog has inherited the German Shepherd's moderately long coat, then it needs grooming around several times a week. Use a natural brush with a firm handle to brush your dog's coat.
These two parent dogs shed moderately so expect that your Boxer crossed with a German Shepherd to shed during warmer seasons. Invest in a durable vacuum cleaner to remove fur that will accumulate on your carpet, sofa and car seat.
Although bathing is necessary to keep your dog clean, it should only be done when needed. Frequent bathing can cause drying of his skin, and this can lead to severe itching and irritation.
German Shepherd Boxer mixed breeds will love the water and will naturally love to swim and play fetch in the water. Immediately after your dog comes home, give him a bath to remove dirt and chlorine especially if it swims in a pool.
Earthbath All Natural Pet Shampoo
If your dog has sensitive skin and coat, the best shampoo is Earthbath All Natural Pet Shampoo. This formula is made from oatmeal and Aloe Vera which soothes itchy skin and will also work perfectly for natural skin. It will remove dirt and smelly odor with its pH neutral and soap-free formulation.
Paws & Pals Natural Dog Shampoo and Conditioner
Another shampoo that will work wonders for sensitive skin and allergy-prone skin is the Paws & Pals Natural Dog Shampoo and Conditioner. It has an organic, non-toxic and vegan formula that will clean skin and will give your pet's coat a deep clean. This shampoo contains jojoba oil, aloe and coconut oil that will moisturize skin deeply.
Fresh 'n Clean Scented Shampoo
You can keep dirt away and remove smelly pet odors with the Fresh n' Clean Scented Shampoo. It will soothe skin and prevent tangles with its anti-static agents. It contains Aloe Vera gel that will also keep your dog's skin healthy and free from irritation.
The paws and nails of your German Shepherd Boxer mix need regular checks and should also be maintained very well. Invest in a good nail clipping tool or have your dog's nails clipped by a groomer.
German Shepherd Boxer Health Problems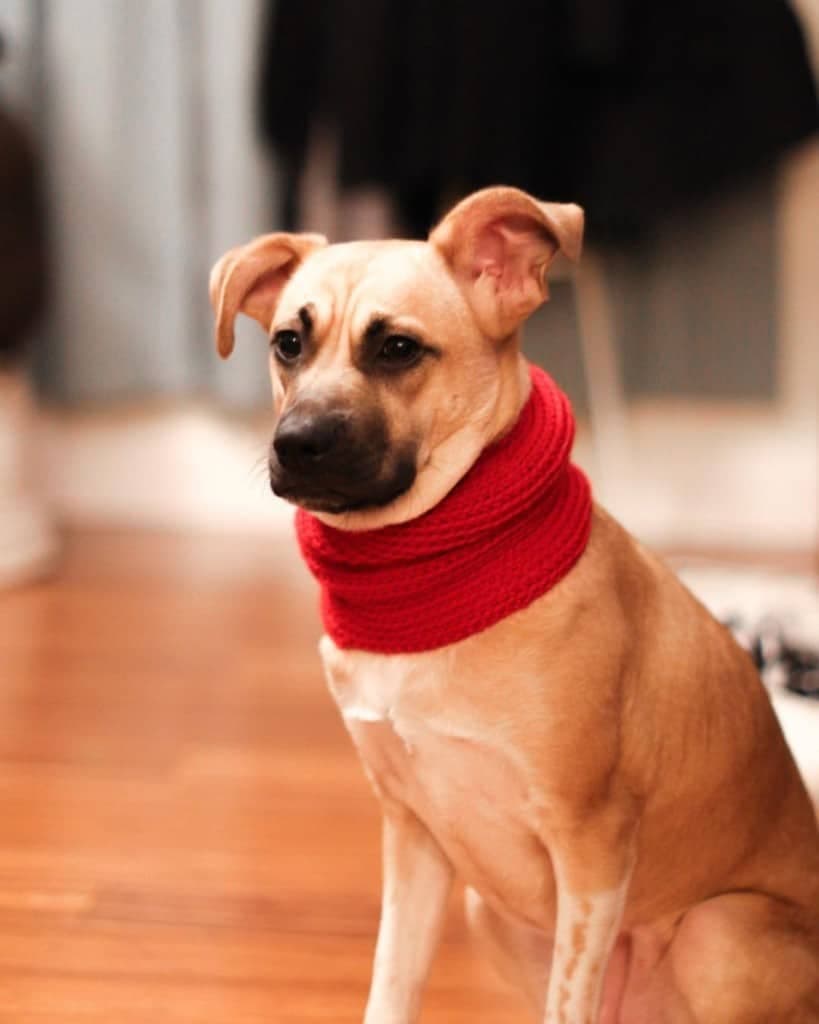 The Boxer German Shepherd mix could inherit the health issues of its parent breeds. Both the Boxer and German Shepherd are ideally healthy but may suffer from a few health issues due to poor nutrition, lack of exercise, obesity and when any medical condition is overlooked.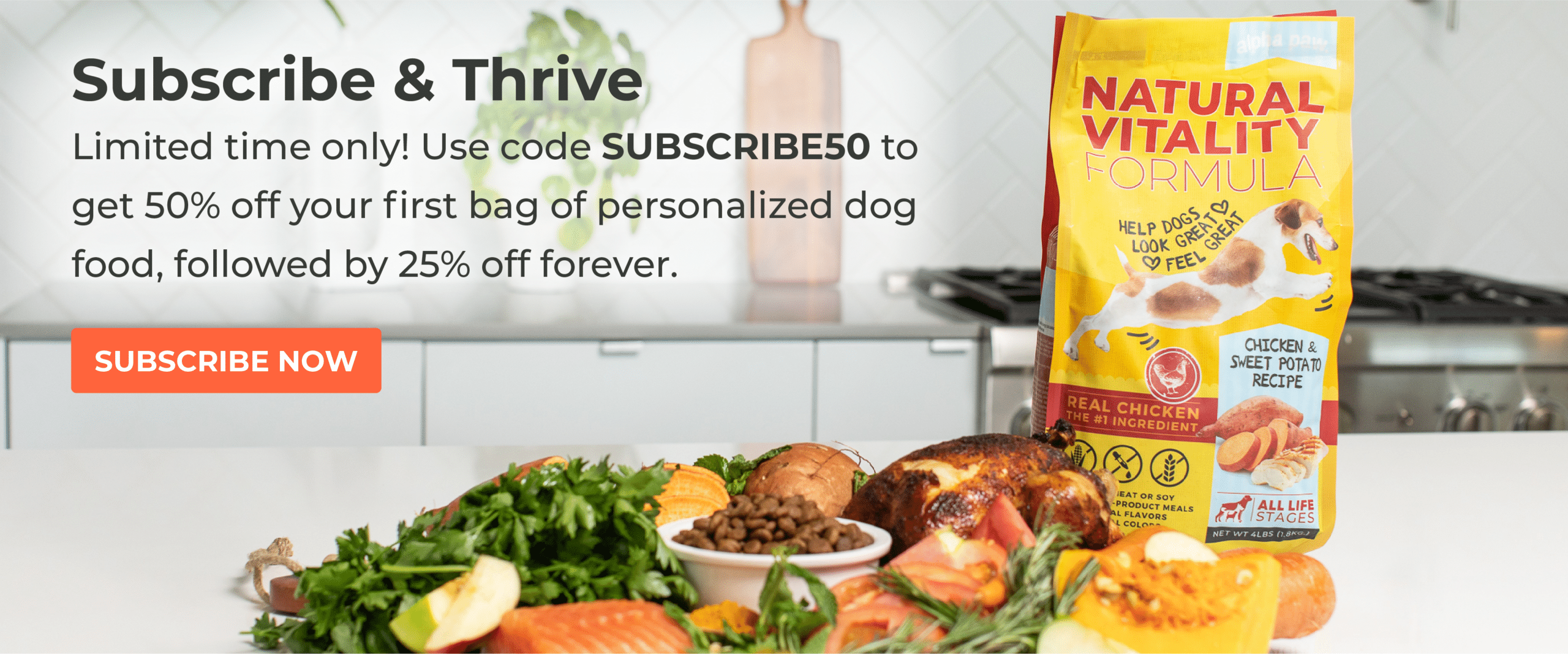 As much as possible, have your dog checked by a vet the moment it comes home with you from the shelter or a breeder. This will reveal any medical condition that could affect your dog's development or to ensure a clean bill of health.
The following are prevalent health conditions that a Boxer German Shepherd mix may have
Hip and elbow dysplasia
Heart disease
Thyroid disease
Degenerative myelopathy which can lead to hind limb paralysis
Cancer
Pancreatic insufficiency
Bloat
Allergies
Boxer German Shepherd Mix Food Requirements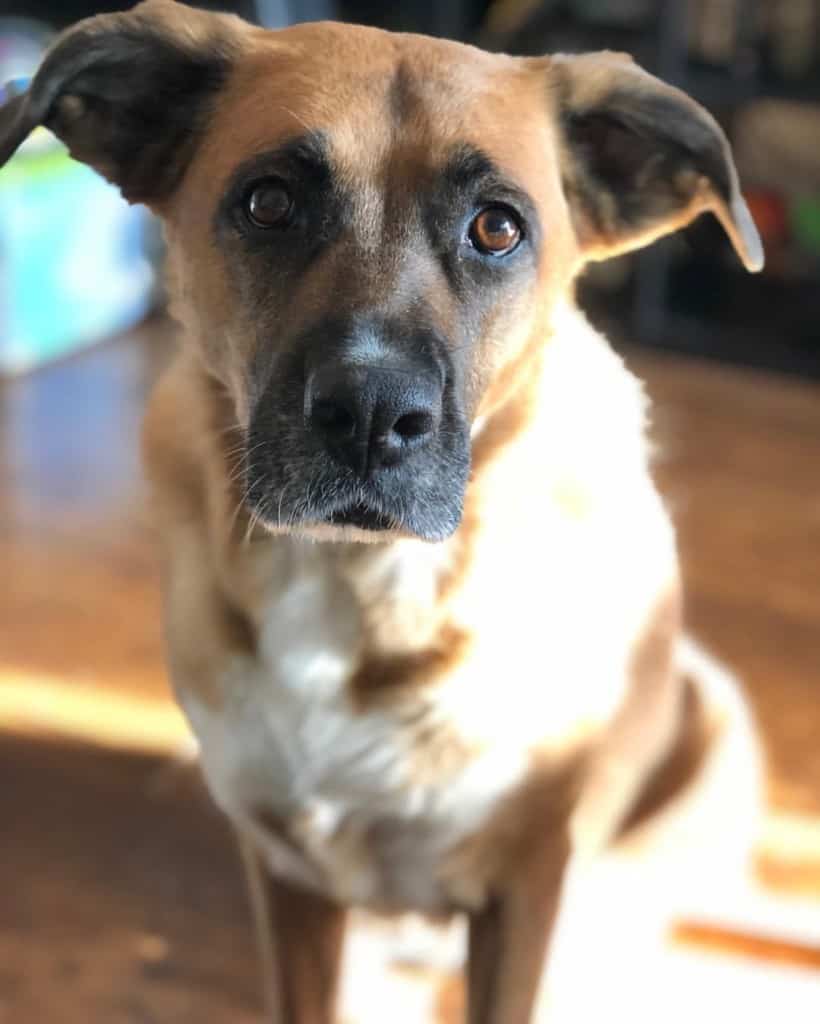 Your Boxer German Shepherd needs high-quality food that's perfect for its weight and builds. Your dog should have a healthy weight. Extra weight or being overweight is bad for dogs because this places additional pressure on its spine. Obesity can also lead to some medical conditions that can be fatal for your dog.
One of the most common causes of obesity is giving your dog treats. Therefore, you should never give your dog food treats when training your dog.
The following dog food brands are perfect for German Shepherd Boxer mix breeds
1. Blue Buffalo
There are reasons why more pet owners trust Blue Buffalo. It is made from whole grains like brown rice and oatmeal to keep your dog satiated and to help sustain its energy all day long. Blue Buffalo helps maintain regular digestion. It is available for large breed dogs and small breed dogs.
2. Halo
Only Halo provides pet food with exciting flavors like Wild Salmon and Vegan dog food flavors. Halo also has low-carb options with ingredients like salmon, turkey, and flaxseeds. This brand delivers vitamins and minerals that your dog's needs to grow healthy and strong.
3. Iams
Iams is a well-known dog food with a fantastic nutrient profile. The ingredients are naturally made from real meat and whole grains. This brand will help your dog maintain its ideal weight and energy levels.
Never give your German Shepherd Boxer the following food. Keep in mind that not all human food is safe. Some dogs may also have allergies so be careful in giving your pet just any kind of food.
Salty foods and junk food
Alcohol
Onions, chives, and garlic
Chicken bones or cooked chicken bones
Grapes or raisins
Chocolate, coffee, or tea
Apart from the unconditional love that your pooch gets from you, you should know how important their nutrition is for their happy life. For your dog's good health, always go for the best dry dog food brands you can find in the aisles, as well as Wellness Core Dog Food, Dog For Dog Food, or Nutra Thrive dog food supplement. Inform yourself properly before buying their food, and don't get them anything you can find on the worst dry dog food list.
Your hairy friend is a descendant of two gorgeous parents, who can sometimes differ a lot from one another. This means that your pooch can develop a propensity for various food types and you can experiment with best dry dog food for small dogs or best large breed dry dog food, too.
If you want to see your puppy strong, happy, and healthy, consider some of the best puppy food brands, while senior dog owners have the best senior dry dog food on their menu.
Just make sure to consult with your vet first!
German Shepherd crossed with Boxer Exercise Requirements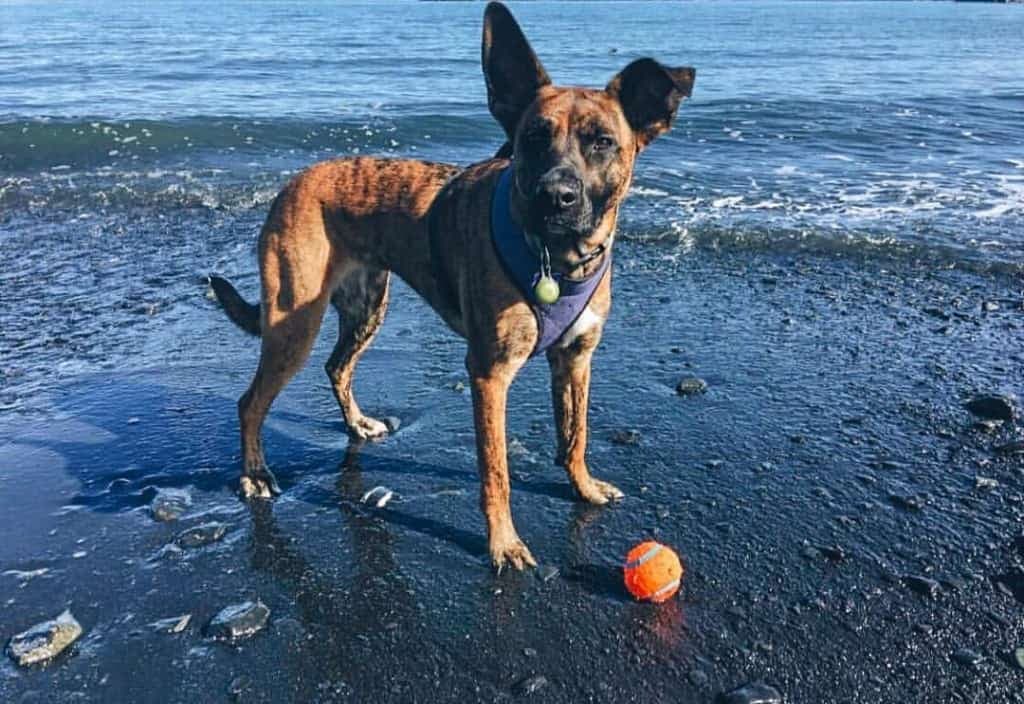 A German Shepherd mixed with a Boxer is a rambunctious mixed breed. You need to spend enough time daily to exercise and play with your dog; otherwise, it can become bored and develop destructive behavior.
A tired dog is a good dog, so they say, and the only way to tire this dog is to give it a good run and to play active games. Activities, like running, jogging, swimming, Frisbee and fetch, are perfect for this breed.
Playing with your dog is not just a way to exercise your dog but will also help you develop a strong bond with your pet. As much as possible play with your dog daily. If you can't do this, hire a walker to help you out.
Invest in durable toys for your dog. Here are a few good ideas
Nylabone DuraChew Dental Chew Dino Toy
The Nylabone is shaped like a dinosaur and is fun to chew all day long. Your dog will love how this toy is crunchy when he takes a bite but don't worry because it won't break or crack. And most of all, this dental chew toy will make his breath smell better and protect his teeth.
Kong Cozie Baily the Blue Dog Toy
This dog toy will become your dog's new favorite. Baily is soft and cuddly and is also washable. You can use this toy to reward your dog after he's been a good boy.
Chuckit! Ultra Rubber Ball Dog Toy
These are perfect for playing fetch and for discipline training. The Chuckit! is made from durable materials that will last for a long time. These are easy to clean too if only you can take this toy away from your dog!
German Shepherd mixed with Boxer Training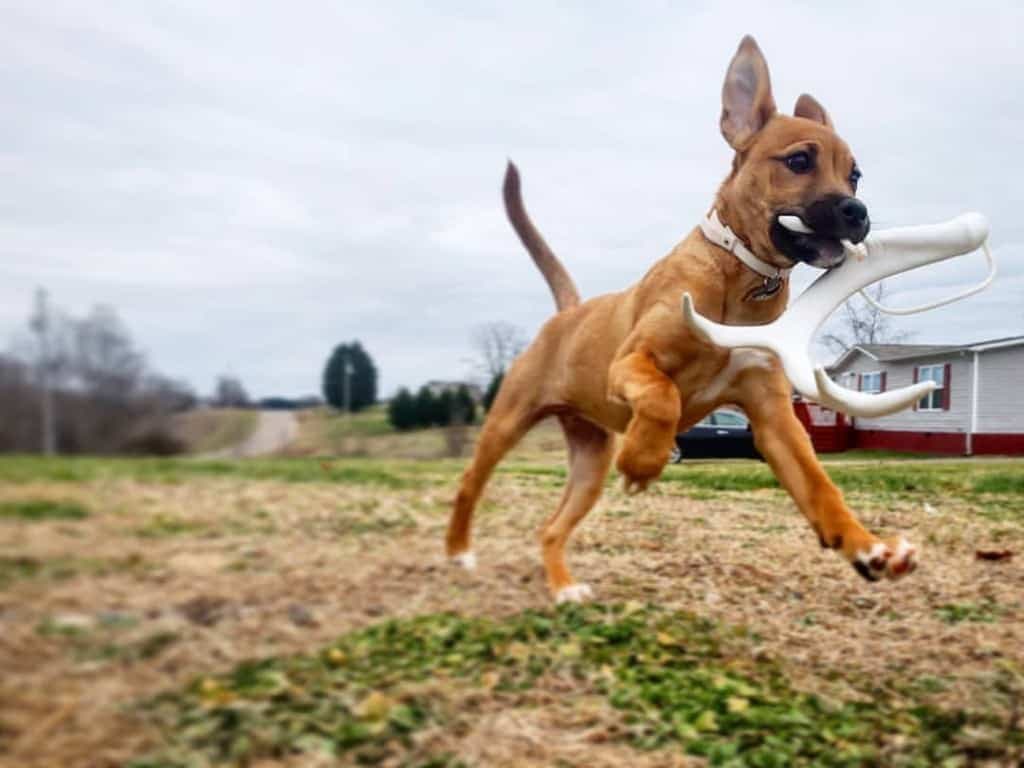 The Boxer crossed with a German Shepherd is a brilliant dog. Training this mixed breed is easy, but you need to do it right. Here are a few tricks that you can use to train your dog.
1. Offer Positive ReinforcementAvoid food treats. Provide positive reinforcement to support proper behavior. You can give your dog's favorite toy, give him a "good boy" and pat him on the head or give him a good rub on the belly.
2. Train Your Dog Early
Your German Shepherd Boxer puppy should be trained early. The moment it arrives home, teach it simple house rules. Show your dog where this will sleep and where it will find its food and water bowl. Be patient, and your puppy will surely understand where everything is at.
3. This Dog Will Work With The Clicker
This dog needs creative ways to learn new tricks. One way is to use the clicker method. The clicker is a small device that gives an audible click, something that your dog will love to hear. The point of the clicker is to give a click if your dog follows your command.
You can use the clicker for any trick. Just click the clicker after your dog follows your command and then click this again when you want your pet to repeat the behavior. Clickers are available in most pet stores.
4. Avoid Confusing Your Dog
Dogs can be easily distracted. Just a loud noise or strangers can distract them from learning new tricks. So at an early age, train your pup in a quiet environment with no distractions. Avoid confusing your dog at this stage so he can learn tricks fast.
Start training your dog indoors and gradually introduce him to the outdoors. You will know that he is ready for outdoor training once he is less distracted to noise and other pets and people.
A Boxer German Shepherd dog can be trained to become service dogs and guard dogs. You can ask a professional to train your dog so he can learn obedience training, protection training, attack training and so on.
German Shepherd Boxer Mix and Families

Boxer German Shepherds are excellent family dogs because of many reasons. One, this dog will love to be with their masters and will do everything they can to please them.
Next, this dog will defend his territory and will guard his family with his life. But despite this dog's strong and robust nature, it loves to be with kids and will care for them more. This dog will also be patient with other dogs and other pets at home.
The Boxer German Shepherd should be allowed to socialize with other dogs and people as early as possible. If this is not done, the dog can develop anti-social behaviors and may become aggressive with people or other dogs.
Your German Shepherd Boxer pup will grow up to be a well-behaved, loving, happy and healthy dog when you train it early and expose it to people and other animals in your home or community.
References:
Madhusudhan, H. S., et al. "Estimation of Maintenance Energy Requirements in German Shepherd and Labrador Retriever Dogs in Bangalore, India." Journal of Animal Physiology and Animal Nutrition, vol. 102, no. 1, 26 Apr. 2017, doi:10.1111/jpn.12709.
Langille, B. L., et al. "Mitochondrial Population Structure and Post-Glacial Dispersal of Longnose SuckerCatostomus Catostomusin Labrador, Canada: Evidence for Multiple Refugial Origins and Limited Ongoing Gene Flow." Journal of Fish Biology, vol. 89, no. 2, 28 June 2016, pp. 1378–1392., doi:10.1111/jfb.13042.
Beauchamp, Richard G. Boxers for Dummies. Wiley, 2000.
Coile, D. Caroline. German Shepherds for Dummies. Hungry Minds, 2003.