Beagle German Shepherd Mix Facts
A mixed breed like the Beagle German Shepherd has different needs than its purebred parents. I came up with a special guide to better understand what this designer mixed breed is, how to care for it and how to train it. With this guide, I'm sure that your pup will become a happy, healthy, disciplined and adorable dog.
German Shepherd Beagle Mix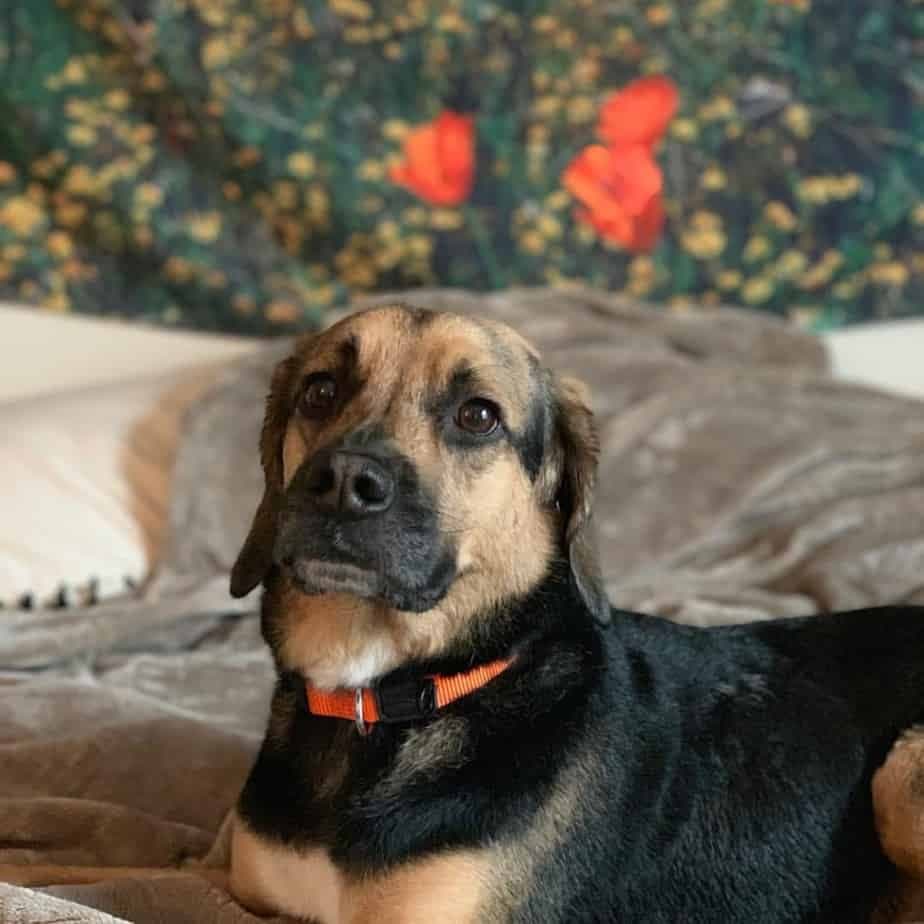 The German Shepherd Beagle is a designer mixed breed dog. This was created by combining the genes of two very popular pure breed dogs a purebred German Shepherd and a purebred Beagle. Both parent breeds are loyal, active and highly-intelligent.
Understanding the parent breeds will give you a lot of information as to the care, behavior, and temperament of a mixed breed dog. Considering the German Shepherd and Beagle breeds, your dog will be an energetic, loyal and faithful companion.
The German Shepherd breed is a renowned breed and is known all over the world. The breed was first seen in Germany and was used to guard and herd cattle. The kind was known to fight predators and to protect its herd with its life. The German Shepherd is disciplined, smart and loyal, characteristics that have made it an integral part of police forces and the military around the world.
On the other hand, the Beagle is an old breed that dates back to the 1300s when it was used to hunt rabbits and other small woodland creatures. The name Beagle was derived from an old French term "becquele" a word for a "noisy person." This was appropriate for the breed because it was known to bark and howl very loudly to alert its master during hunting. The Beagle would howl to tell his master that he has located their prey.
With this fantastic combination, your Beagle German Shepherd puppy could become a police dog, a hunting dog or a guard dog.
3 Reasons Why You Shouldn't Get a German Shepherd Beagle Mix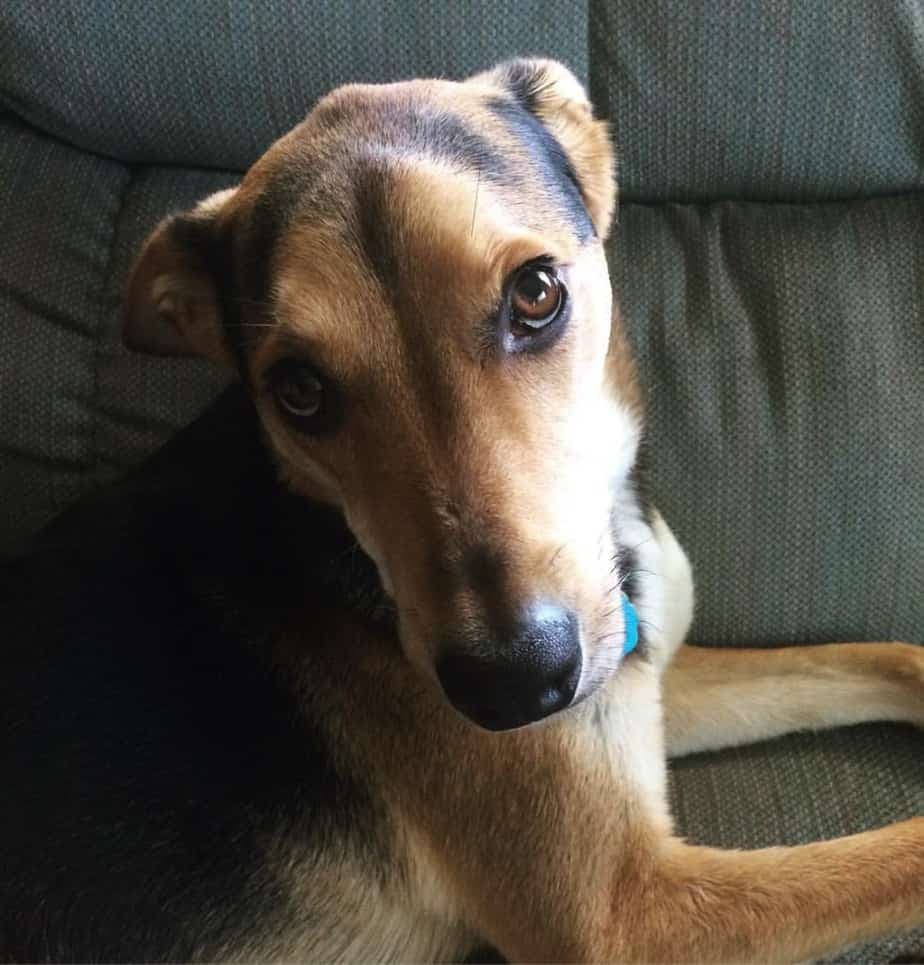 1. This Mixed Breed Requires Constant Activity And Play
If you can't spend at least two hours to play and exercise this mixed breed, then this is not the dog for you. The German Shepherd mixed with a Beagle needs regular exercise, and this is not just about taking it out for a walk. It needs to play and to exercise outdoors where it can get physical and mental stimulation.
2. This Mixed Breed Dog May Howl Loudly
Because of its Beagle ancestry, this dog could howl very loudly especially when it wants attention and when it is bored. If you are the type who can't stand constant howling or you live in a shared house or dwelling, then this is not the dog for you.
3. This Mixed Breed Needs An Active Owner
If you are the type that wants to sit and watch TV or play video games all day, then you might only end up neglecting a Beagle German Shepherd. This dog needs a devoted, active owner because activity, exercise, and play are innate in its genes.
3 Reasons Why You Should Get a Beagle Mixed with German Shepherd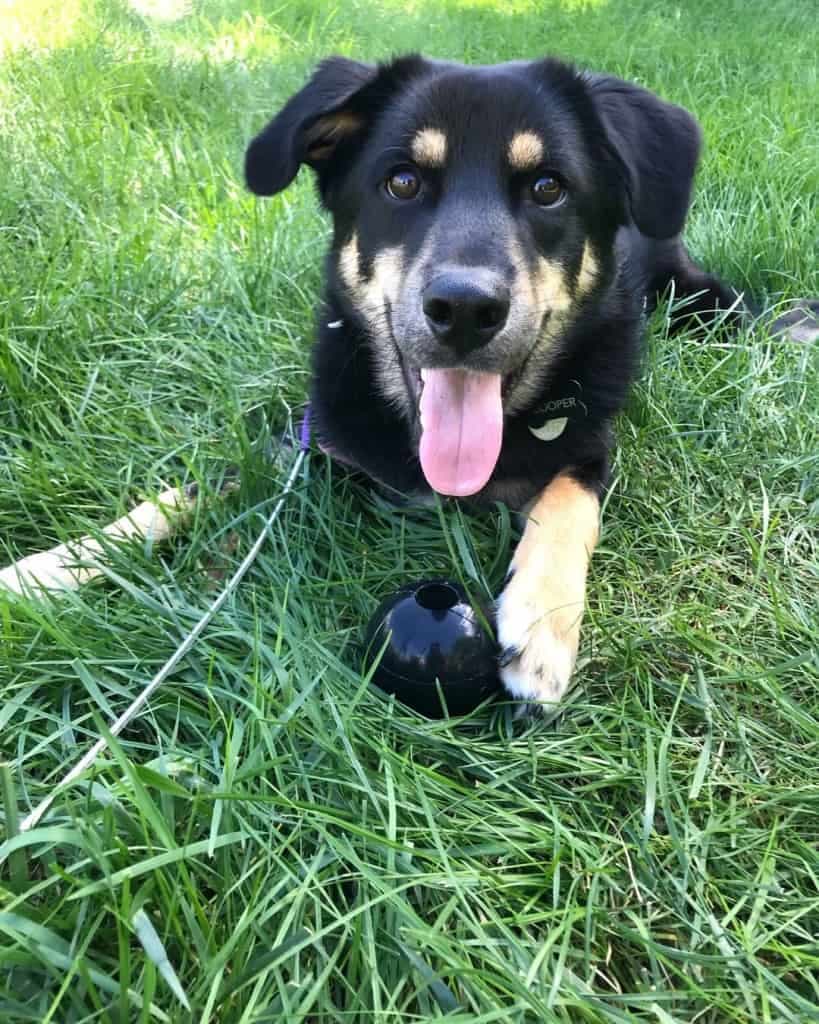 1. This Mixed Breed Dog Is Very Clever
You can teach this dog to perform all kinds of tricks and even move on to professional training. There's so much that this mixed breed can do and these can only happen if it finds a patient, devoted owner like you.
2. This Mixed Breed Dog Will Make You Active And Healthy
If you are looking for a training partner, then you'll find it in a Beagle German Shepherd mix. Your little one will be your exercise partner for life. It will motivate you with its endless energy and its endearing nature. Now you can jog, run, ride a bike or get up and move with a devoted partner.
3. This Mixed Breed Dog Is Very Clever
This mixed breed dog is a combination of very intelligent parent breeds. It can learn new tricks fast and will always want to please its master. As long as you interact with your dog strictly each day, this will learn from you and build trust with you. You may also opt to enroll your dog to professional training to further enhance its intelligence and behavior.
Other German Shepherd & Beagle Mixes
Choosing the dog breed that aligns with your lifestyle is the most important decision you can make. Every year tens of thousands of dogs are abandoned or put up for adoption because the owner was irresponsible and didn't do their research before choosing a dog that isn't a great for their lifestyle.
Not sure the Poodle German Shepherd aligns with your lifestyle? Consider adopting one of 50+ popular German Shepherd mixes or Beagle mixes.
Alpha Paw has conducted the most in-depth research into the most popular German Shepherd Mixes in America:
Appearance, Personality, and Traits of a Beagle German Shepherd Mix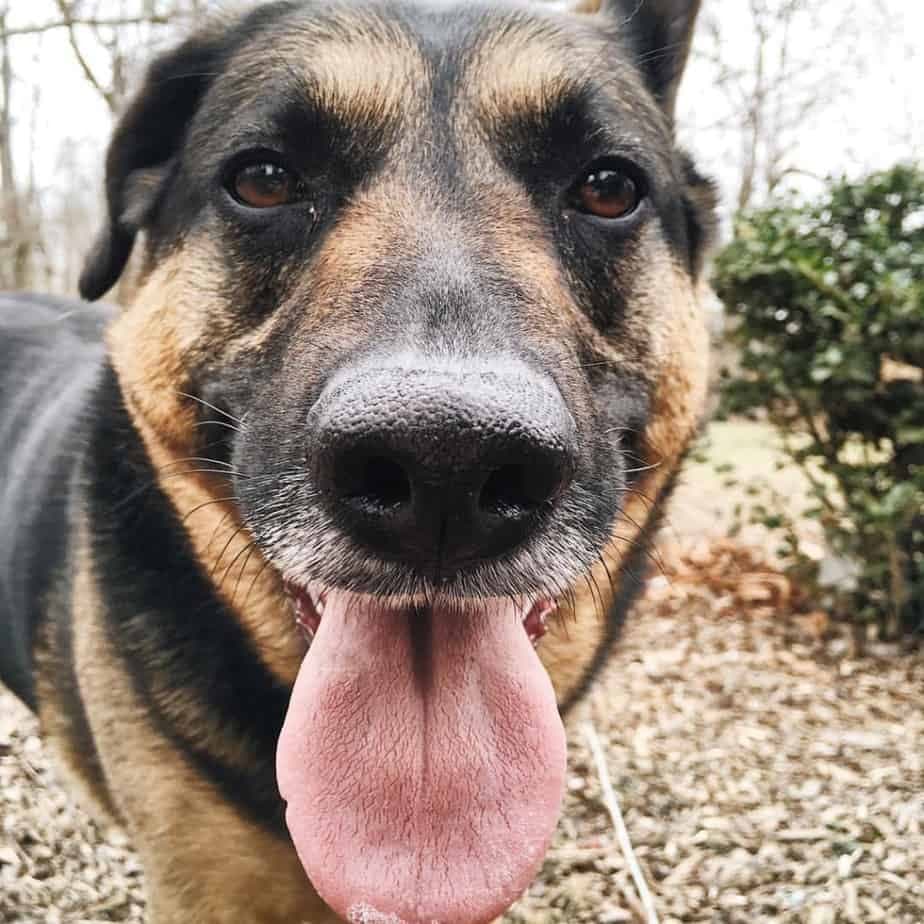 | | |
| --- | --- |
| Weight | 20 to 70 pounds |
| Height | 13 to 26 inches |
| Size | Medium built |
| Coat Type | Double coat if it takes after its German Shepherd parent |
| Coat Color | Different colors or solid color |
| Amount of Shedding | Moderate |
| Eyes | Round |
| Nose | Large or pointed |
| Ears | Large drooping or pointed |
| Temperament | Loyal, loving and protective |
| Life Expectancy | 15 years |
| Hypoallergenic | No |
| Kids Friendly | Yes |
| New Owners Friendly | Yes |
| Breed Recognition | Dog Registry of America, Inc. (DRA) |
You will be able to tell what your German Shepherd Beagle mix pup will look like by taking a closer look at its parent breeds. The German Shepherd is a medium to a large, healthy dog while the Beagle is a medium-sized dog. You can expect that your puppy will grow up to be a medium built dog.
The German Shepherd mixed with a Beagle will be anywhere from 13 to 26 inches tall. It could be from 20 to 70 pounds in weight. If the Beagle parent is smaller, the resulting pup will also be smaller as well.
When it comes to the coat and color of a Beagle German Shepherd, these could vary as well. Both parent breeds come with dense coats that are short to medium in length.
Generally, the fur of the German Shepherd mixed with a Beagle may be straight or may also be light and wavy. The hair usually lays close to the body; therefore grooming will become easier.
The fur located along the neck area may also be longer and thicker while the hair along the back of the legs will become longer.
When it comes to fur color, your dog could be bi-colored or in a single solid color. You can get a dog with black, liver, blue, tan or white. The different color varieties are due to the many possible color combinations of the German Shepherd and Beagle. There may also be possible markings on the coat which are evident in both parent breeds.
Your dog may also inherit the double coat of its German Shepherd parent.
The following dog organizations and dog breed registries recognize the Beagle German Shepherd dog breed:
Dog Registry of America, Inc. (DRA)
German Shepherd Mixed with Beagle Puppies for Sale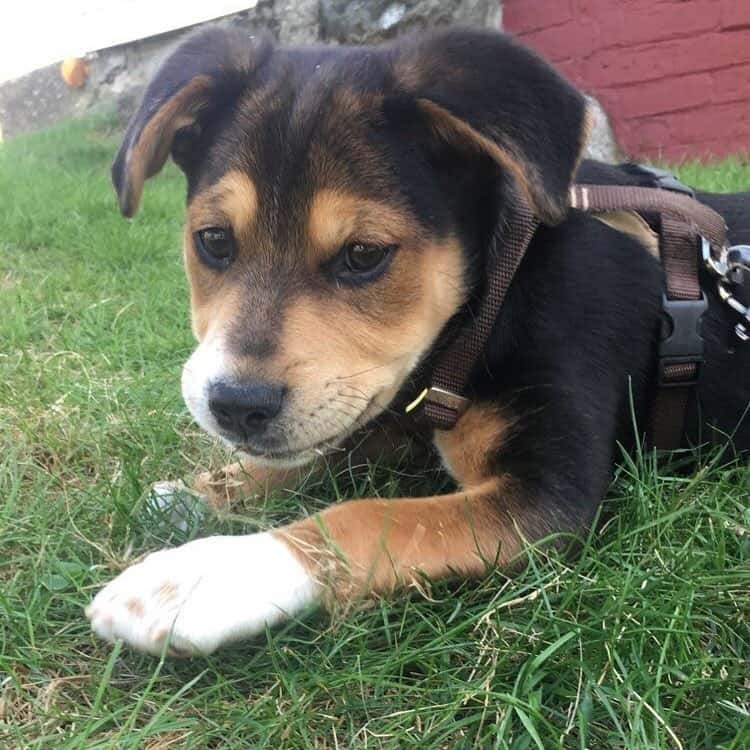 Possibly the first thing that came to your mind was to look for a breeder that specializes in breeding this designer breed. There's no problem with this for as long as you look for a reputable breeder. To help you find a reliable breeder from your area, check the Pet Professional Guild.
Once you find a reputable local breeder, check the health and the condition of both parent breeds of the Beagle German Shepherd dog or puppy that you want to keep. A reputable breeder won't hesitate to share the health clearances of both parent dogs with you. He must also show proof that the parents were crossed to make the German Shepherd Beagle pup.
If you are looking for German Shepherd mixed with Beagle puppies, the following are sites that are found to have ads for these dogs.
PuppyFind.com (International)
Adopt-a-Pet.com (United States)
Petfinder.com (United States and Canada)
Green Field Puppies (United States)
Lancaster Puppies (United States)
The American Society for the Prevention of Cruelty to Animals (ASPCA) recommends looking for a dog from a shelter or a local pound instead. The ASPCA is against the purchase of puppies and dogs online.
Grooming Your German Shepherd Crossed with Beagle
A German Shepherd Beagle mix needs regular weekly grooming to keep its coat clean and shiny. If your pup or dog has the German Shepherd's moderately long fur, then it needs brushing several times a week to keep it healthy and well-groomed. There are many kinds of brushes for dogs. Choose a natural brush with a durable handle to effectively brush it from head to tail.
Expect moderate shedding, so you need to invest in a durable vacuum to remove pet hair at home and in your car.
Bath your dog at least once a week or as necessary. Giving a bath more often than needed can cause dryness and irritation. Use only natural shampoo for your dog's moderate coat. If your dog has skin conditions, your vet can help recommend a special shampoo or soap that will control his condition.
The following are good dog shampoos for Beagle German Shepherd mixes
Wahl's Flea and Tick Shampoo
If your German Shepherd Beagle came home with fleas, then you must use the best shampoo for fleas and ticks. Wahl's Flea and Tick Shampoo is one of the best for 2019. It has a natural formula made from rosemary, cedar oil, and mint that are effective in fighting fleas and ticks up to one week. This is a PEG-80-free shampoo and is derived from plants so it won't irritate your pet's skin. It will also restore the shine and silkiness of your dog's coat.
Pro Pet Works Natural Oatmeal Dog Shampoo + Conditioner
The Pro Pet Works is a shampoo for dogs with sensitive skin and allergies. It is designed to meet the needs of dogs that have severe allergies to grass, food, and fleas. This is made from organic aloe extracts, vitamins A, D and E, almond oil and other natural ingredients. It will make your dog's fur smooth and tangle-free and is safe to use daily.
Fresh 'n Clean Scented Shampoo
With the Fresh 'n Clean Scented Shampoo, you will be able to keep dirt away and remove pet odors naturally. This shampoo will soothe your dog's irritated skin and prevent tangles with its anti-static agents. This contains aloe Vera gel which will keep your dog's coat healthy and clean all day long.
Invest in a durable nail clipper for dogs. Make it a habit of inspecting your dog's paws and nails so it won't hesitate to have them cleaned. You may also take your dog to the vet to clip its nails and to clean its ears better.
German Shepherd Beagle Health Problems
The Beagle German Shepherd mix breed dog may inherit the health issues of its parent breeds. As much as possible, have your puppy checked by a vet as soon as you take it home from the shelter or a breeder.
Regular vet checks should become natural for your dog so that any medical issues can be addressed without any fuss.
The following are very common health conditions that a Beagle German Shepherd mix may have
Hip and elbow dysplasia
Heart disease
Epilepsy
Chronic eczema
Blood disorders
Flea allergies
Pancreatic insufficiency
Bloat
Allergies
Beagle German Shepherd Mix Food Requirements
Your Beagle German Shepherd requires high-quality pet food that will match its weight and build. Just like humans, dogs should have a healthy weight. Obesity or being overweight places additional burden on its spine and this is not good for any dog. Obesity also leads to many medical issues like heart problems, blood problems, and diabetes which can be fatal for your dog.
The following dog food brands are the best for German Shepherd Beagle mix dogs:
Dogs will love this unique formula made from salmon and sweet potato. This is high in protein with top nutrients, vitamins, and minerals that will surely give your dog all the energy it needs throughout the day.
Taste of the Wild is for dogs who have grain allergies. This is made from the best and the most nutritious and natural ingredients that your dog will love to eat day after day. This dog food also promotes a healthy coat and is perfect for mixed breeds like the German Shepherd Beagle.
Dog food with limited ingredients is easy on the digestive tract. The Natural Balance is dog food made from chicken for protein and sweet potato for carbohydrates. Dogs won't resist its delicious taste and flavor. It is also made for moderately-large dogs like the Beagle German Shepherd.
Although giving your dog human food seems okay; there are some foods that are not healthy for dogs. Just like other dog breeds, the Beagle German Shepherd dogs should not eat the following human foods
Salty foods
Alcohol, coffee, and tea
Onions, chives, and garlic
Chicken bones or cooked chicken bones
Grapes or raisins
Chocolate and other chocolate-based foods
Don't worry if you're having a hard time figuring out what's the best food for your pooch. What's essential is that you are aware of how much a good diet contributes to your pup's well-being, and we'll help you with the rest.
First, forget about all the items you can find on the worst dry dog food. What you want for your sweethearts is only the best dry dog food, such as, Wellness Core Dog Food, Dog For Dog Food, or Nutra Thrive dog food supplement.
Parents pass on their genes to their pups, and thus a different taste for food, which means you can find some ideas on best dry dog food for small dogs or best large breed dry dog food lists.
Puppies and senior dogs belong to different groups when we're looking for a perfect diet plan but both need top-quality, real ingredients. For puppies, you can find an ideal choice among the best puppy food brands and for older dogs take a look at the best senior dry dog food list. Just check with your vet first to see if you should change their diet.
German Shepherd crossed with Beagle Exercise Requirements
A German Shepherd Beagle is a very active mixed breed; therefore, you need to spend time in a day to exercise and to play with your dog. If your dog does not receive enough activity in a day, it could become boring and exhibit destructive and unwanted behavior such as eating through furniture, excessive barking and howling.
Activities like running, jogging, swimming, Frisbee and catch are perfect for your dog. You must invest in quality dog toys so it can play with it for a long time.
The following are good toy products to check out.
1. Benebone Bacon Flavored Wishbone Chew Toy
What's great about this wishbone chew toy is its bacon-flavored. The design of this chew toy is perfect for your dog's mouth. He can quickly grab, chew and enjoy this toy made for dogs under 70 pounds in weight.
2. Kong Air Squeaker Tennis Balls
Teach your dog how to fetch and play with the Kong Air Squeaker Tennis Balls. It comes with a pack of three, so you'll always have one ready when it's time to play.
3. Mammoth Floss Chews Cottonblend Rope Tug
If your dog loves to play tug, then this is the perfect toy for him. It is made from a durable material that will not just make a good toy but will also help floss his teeth. This is a good toy for playing fetch, tug of war or just for chewing.
Playing with you will help you develop a strong bond with your pet. Play with your dog daily. If you can't play with your dog or walk it, have a professional do it for you. Just some of the places where your dog can play and exercise are dog parks, the beach or playgrounds.
German Shepherd mixed with Beagle Training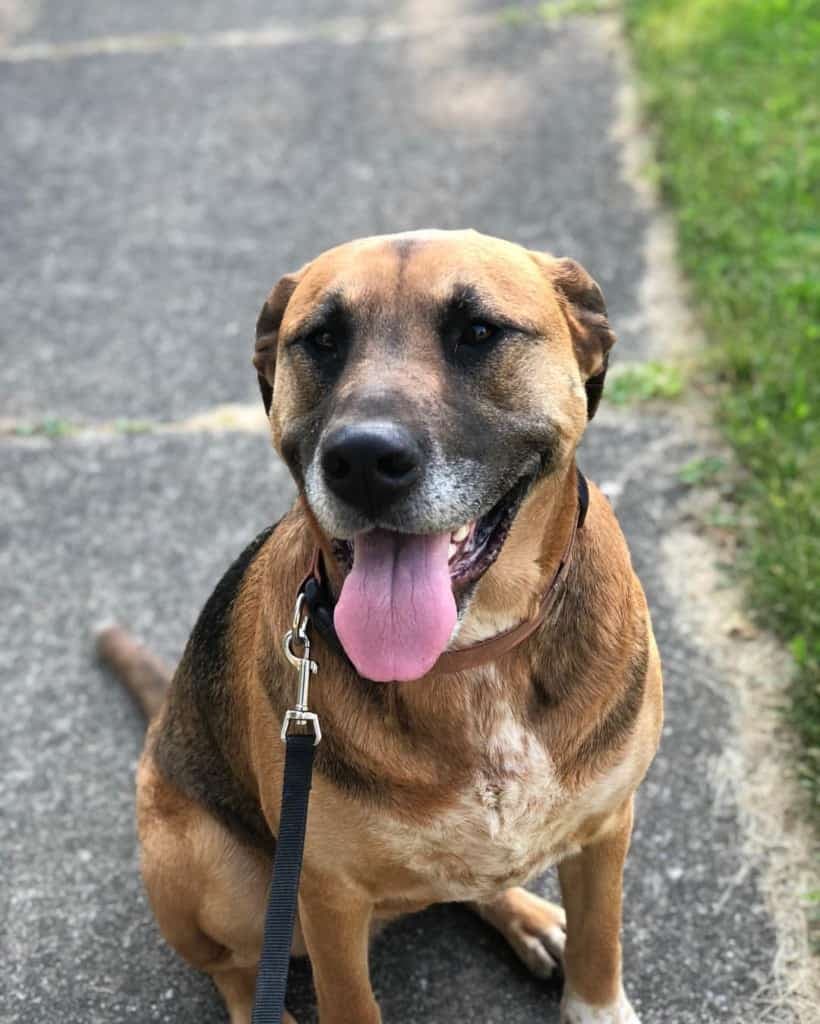 The Beagle mixed with a German Shepherd is a brilliantly mixed breed. Training should be done early and should be done right. Just a few tips and tricks to help train your dog.
1. Your Dog Needs Early Training
Your German Shepherd Beagle puppy must be trained early. As soon as it gets home, teach it simple house rules. Your pup should learn immediately where he will sleep, where he will eat and where he will poop. Be very consistent with feeding time and training time so your dog will learn fast.
2. Clicker Training
A clicker is a small device that gives a snappy click when pressed. Dogs and other animals love the sound that the clicker makes and will learn quickly when this is used during training. Click this when your pet has shown good behavior or has followed your command. Click again when your pet has repeated the action. Click this to reinforce good behavior and your dog will remember the command. You can purchase a good clicker in most pet stores.
3. Support Good Behavior With Positive Reinforcement
Do not offer food treats to your dog. This can only lead to obesity or being overweight. You can reinforce good behavior by verbal reinforcement, patting or scratching your dog or taking him out for a walk or playing with him.
4. Avoid Distractions During Training
Dogs can be easily distracted by loud noise or by other dogs or strangers. Therefore the best place to train your dog early is at home where he is familiar with the environment.
As early as possible, train your pup in a quiet environment that has no distractions, noise or strangers. Avoid confusing your dog so that he can learn tricks fast.
Gradually introduce him to the outdoors. He is ready for outdoor training once he is less distracted to other pets and people.
A Beagle German Shepherd dog can get professional training to become police dogs, service dogs or guide dogs. Look for a reputable professional to train your dog on obedience training, protection training, attack training and to learn new commands.
German Shepherd Beagle Mix and Families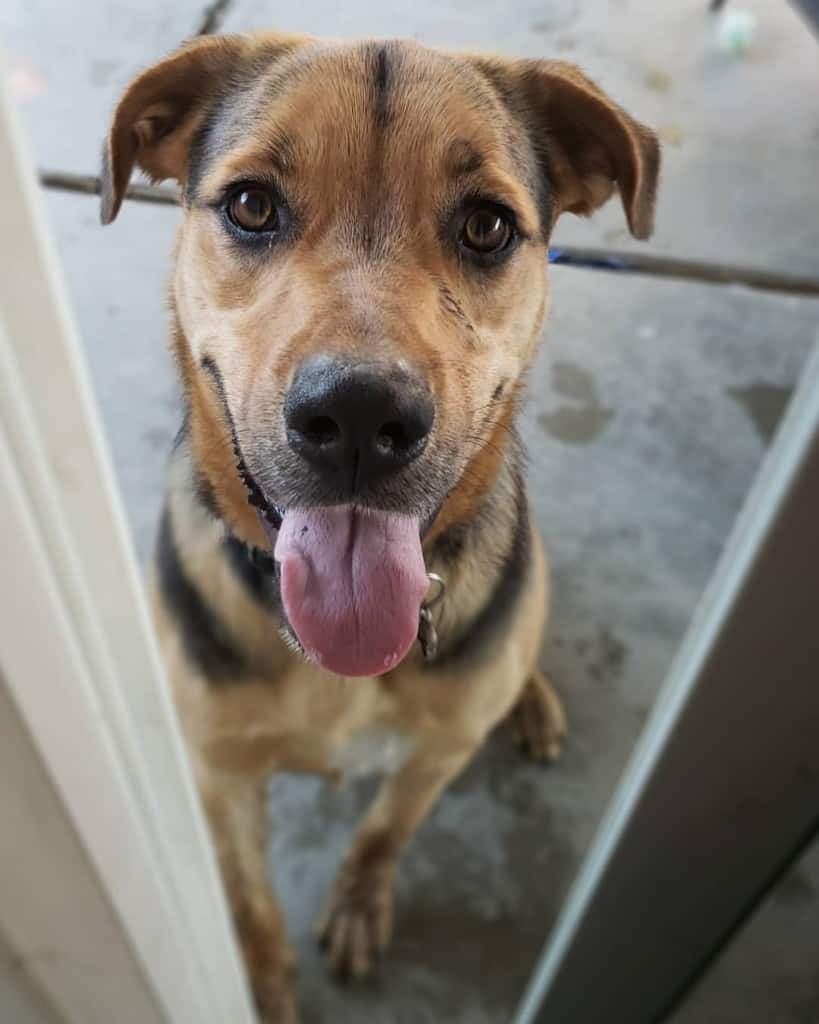 Because of the Beagle German Shepherd's fun-loving and affectionate nature, it can be a good family dog. This dog will love to accompany their masters everywhere and will do all they can to protect and please them.
Because of this dog's German Shepherd lineage, it is a good guard dog. He will defend his family and will guard his territory with his life. It also has a naturally sweet behavior which makes this perfect for families with kids and with other smaller dogs and pets.
The Beagle German Shepherd should socialize with other dogs, pets and people as early as possible to prevent anti-social behaviors and aggression with people or other dogs.
Your German Shepherd mixed with a Beagle pup will be a well-behaved, happy and healthy dog if you train this early and let it socialize with people and other animals.
References:
Madhusudhan, H. S., et al. "Estimation of Maintenance Energy Requirements in German Shepherd and Labrador Retriever Dogs in Bangalore, India." Journal of Animal Physiology and Animal Nutrition, vol. 102, no. 1, 26 Apr. 2017, doi:10.1111/jpn.12709.
Kamio, Kyohei, et al. "A Case of Spontaneous Purulent Granulomatous Pericarditis in a Beagle." Journal of Toxicologic Pathology, vol. 30, no. 3, 4 June 2017, pp. 251–254., doi:10.1293/tox.2017-0010.
Coile, D. Caroline. German Shepherds for Dummies. Hungry Minds, 2003.
Beagle. Kennel Club Books, 2010.