Australian Shepherd German Shepherd Mix Facts
German Shepherd Australian Shepherd Mix
The German Shepherd Australian Shepherd mix is a beautiful cross between the working dog breeds German Shepherd and Australian Shepherd. This crossbreed sometimes called as German Australian Shepherd, exhibits intelligence and high energy level. Although it can give the impression of an aloof dog, the German Shepherd Australian Shepherd mix dog is an affectionate pet.
These two parent breeds have distinct characteristics that distinguish them from each other. Their offspring will likely acquire advantageous traits.
3 Reasons Why You Shouldn't Get an Australian Shepherd German Shepherd Mix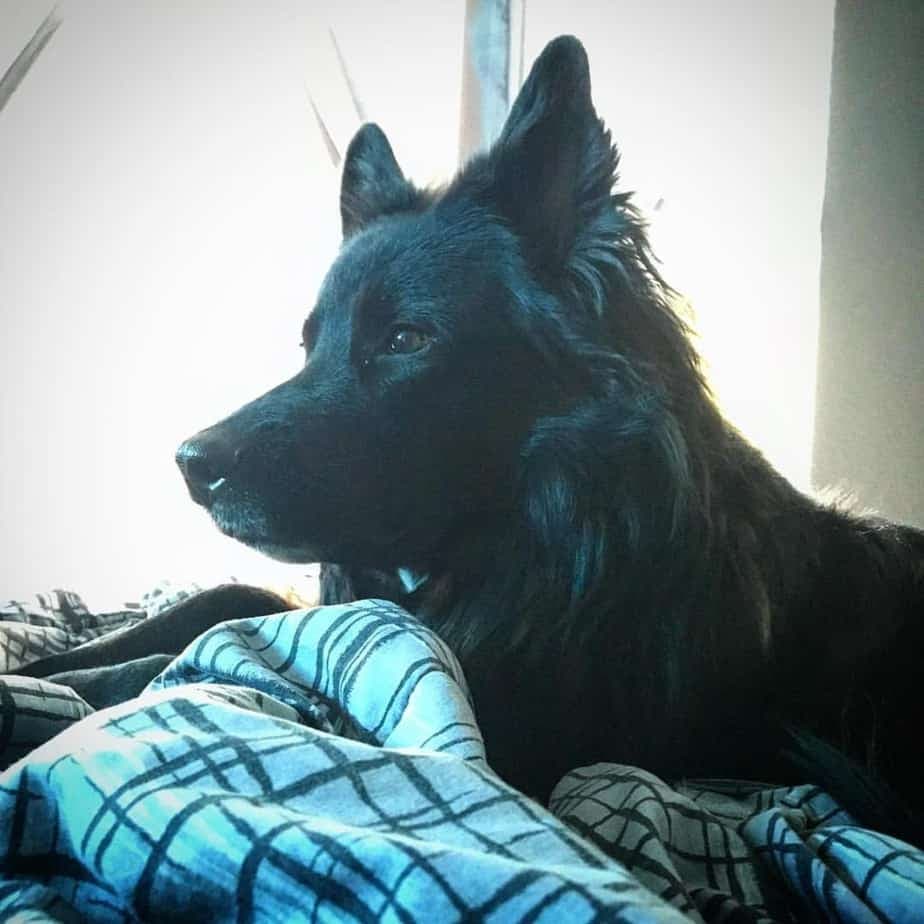 It is not suitable for small homes. People who are living in apartment units and other equally small spaces may encounter difficulties while raising this crossbreed.
It requires a high level of activities. It may be a disadvantage to people who leave the house often and people who prefer staying at home. This mix can become unruly and more mischievous when it is unstimulated and bored. This trait is not a disadvantage to all owners, particularly to active people.
It is recommended that you train the dog early and consistently. This crossbreed is not a low maintenance type of breed. You need to invest time to have a well-behaved German Shepherd crossed with Australian Shepherd dog.
Other Australian Shepherd Mixes
Not the right pup for you but have your heart set on an Australian Shepherd mix? Check out the top Australian Shepherd mixes in America: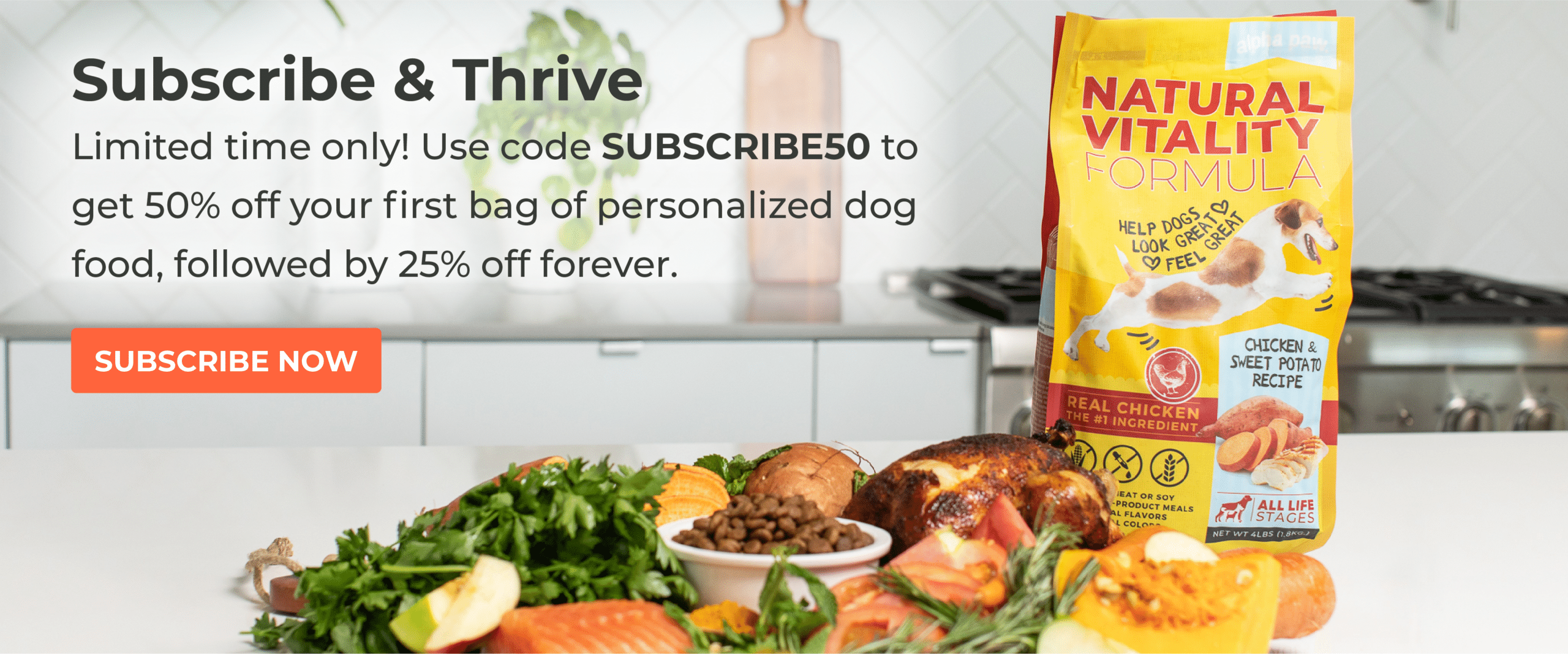 3 Reasons Why You Should Get a German Shepherd Crossed with Australian Shepherd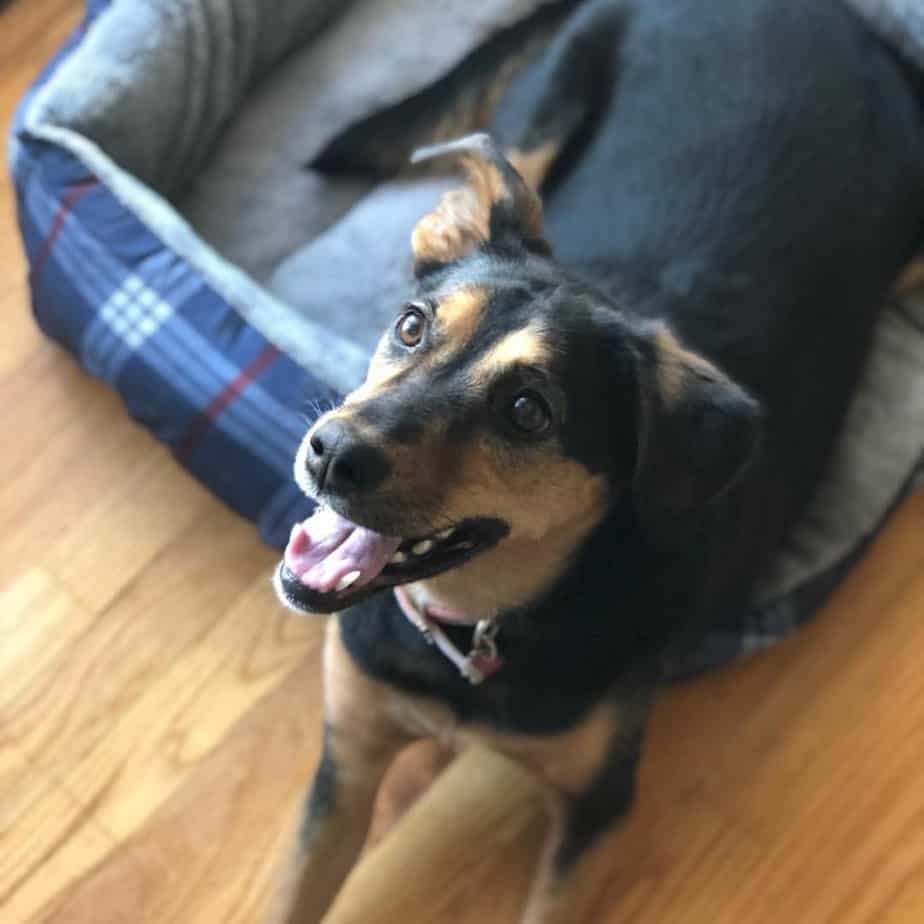 It is an easy-to-train and intelligent dog. Both of its parent breeds are intelligent breeds. The offspring will ultimately inherit this trait. Your pet will be eager to learn new techniques.

It is a wonderful family companion. It is pleasant to live with. An active family will be the best kind of family for this breed. Kids will love being around it, and it will help in watching over your kids.
It can be a great watchdog. This mixed dog has keen senses and innate loyalty. These traits would help make a valuable guard for your home.
Other German Shepherd & Australian Shepherd Mixes
Choosing the dog breed that aligns with your lifestyle is the most important decision you can make. Every year tens of thousands of dogs are abandoned or put up for adoption because the owner was irresponsible and didn't do their research before choosing a dog that isn't a great for their lifestyle.
Not sure the Australian Shepherd German Shepherd aligns with your lifestyle? Consider adopting one of 50+ popular German Shepherd mixes or Australian Shepherd mixes.
Alpha Paw has conducted the most in-depth research into the most popular German Shepherd Mixes in America:
Appearance, Personality, and Traits of an Australian Shepherd German Shepherd Mix
| | |
| --- | --- |
| Weight | 46 – 65 pounds |
| Height | 20 – 23 inches |
| Size | Medium to large |
| Coat Type | Medium-length, dense, straight |
| Coat Color | White, black, blue, red, cream, silver, sable |
| Amount of Shedding | Moderate to heavy |
| Eyes | Blue or brown |
| Nose | Black |
| Ears | Triangular, Floppy |
| Temperament | Affectionate, Energetic, Intelligent |
| Life Expectancy | 12 – 15 years |
| Hypoallergenic | Maybe |
| Kid Friendly | Yes |
| New Owners Friendly | Maybe |
| Breed Recognition | ACHC, DRA |
The German Shepherd mixed with Australian Shepherd dogs weighs from 46 to 65 pounds. Its parent breeds are notably medium to large-sized dogs. The height of this crossbreed could range from 20 to 23 inches.
The Australian Shepherd German Shepherd mix puppy will take after the parent breeds' medium-length, straight coat. Its coat is remarkably dense. You should be wary about warm places due to the coat of this dog. The colors of their coat can come out as a combination of white, black, blue, red, cream, silver, and sable.
The Australian Shepherd German Shepherd mix makes a very energetic dog, suitable for owners and families with an active lifestyle. This dog also loves going outdoors and exploring nature.
The German Shepherd crossed with Australian Shepherd dogs are intelligent dogs. They can be trained well to become service and therapy dogs. High intelligence causes less worry and more pride to the owners. The trainers would require less training time for this crossbreed.
The mixed puppy has a clingy nature. Its affectionate nature may also contribute to a fearful state, often leading to separation anxiety. This condition may be averted by employing effective obedience training and socialization. Overall, this crossbreed is a dependable and wonderful companion.
Australian Shepherd Crossed with German Shepherd Puppies for Sale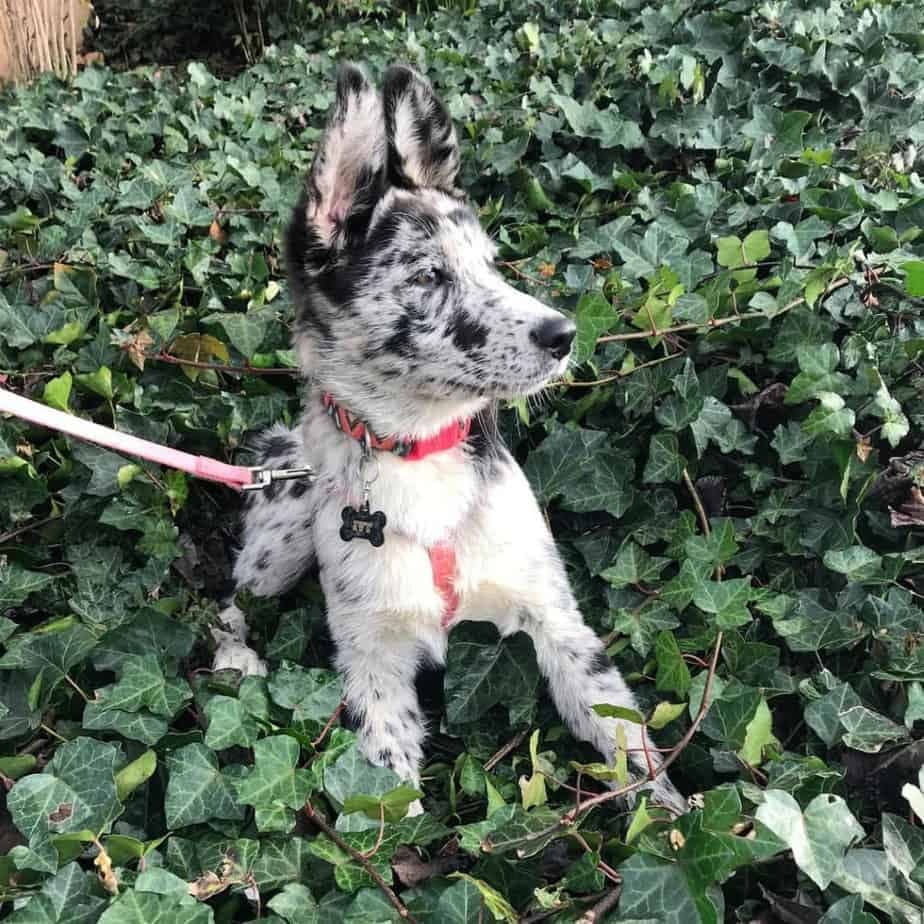 Finding a breeder for a crossbreed tends to be more difficult than going into a pet store and purchasing a new pet. The quality of the crossbreed is drastically high when the dog is acquired through reliable breeders. One place where you can spot potential professional breeders is at a dog show. Certified breeders often attend this event. You can gauge the temperament and disposition of some dog breeds during the dog show as well. This event could help you decide better on what breed to get.
You can also ask for an American Kennel Club (AKC) Parent Club's referral for breeders. There are designated and verified parent clubs that you can access and reach out to. These parent clubs provide support for breed-specific studies, along with the help of AKC.
You can seek out public opinion regarding some breeders. There are breeders with website and comments. You will see disappointed owners or prospective buyers if the breeder has pending issues on the environment and health problems of the dogs. It is recommended that you pay a visit to the breeder's home or headquarters.
The average price of a German Shepherd mixed with Australian Shepherd dog is approximately $500 to $2000. There is no accessible list of substantiated breeders for the Australian Shepherd German Shepherd Mix dogs at this time. Below is a list of reputable breeders for the parent breeds:
Catori's Australian Shepherd in Galt, CA
Australian Shepherd Puppies with AKC Champion Bloodline in Hammond, LA
Australian Shepherd puppies of Oakhurst in Barnesville, MD
German Shepherd of Hollow Hills in Clarks Summit, PA
Vom Haus Velten German Shepherds in Pomona, NY
German Shepherds of Chinook Valley Farm.com in Chinook, WA
Some rescue centers are breed-specific and non-profit. These places are good grounds for acquiring your new family member. Here are some rescue groups to contact:
AussieRescue & Placement Helpline in New Castle, PA
Australian Shepherd Rescue Midwest in Metamora, IL
Aussie Rescue SoCal in Perris, CA
German Shepherd Rescue of Northern California in Cupertino, CA
Heartland German Shepherd Rescue in Gretna, NE
Virginia German Shepherd Rescue in Centreville, VA
Big Cypress German Shepherd Rescue in Naples, FL
Grooming Your German Shepherd Australian Shepherds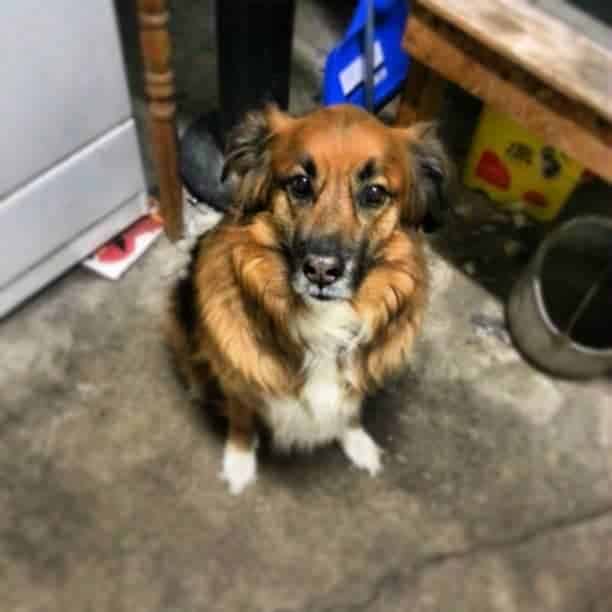 This section will provide you some basic information on how to groom properly with the least number of tools. Following these steps will assure that your dog will be in top appearance throughout all the seasons.
Brushing is an essential part of grooming this mixed breed. The German Shepherd Australian Shepherds shed heavily throughout the year. In particular seasons, this breed exhibits the phenomenon called 'blowing of the coat' when the most active and heavy shedding occurs.
Brushing is beneficial in developing your bond with your dog as well as its aesthetic value. I recommend two to four times of brushing per week for this crossbreed. This essential step promotes the health and luster of the dog's coat and skin. Another function of brushing the coat is providing proper insulation for the dog. A well-brushed coat keeps the dog's temperature secured against fluctuating weather.
Shaving the dog's coat is debatable. Some owners prefer this step. This may or may not reduce the insulating property of the coat. There is a possibility that the coat will not grow as well as before it was shaved. While you are brushing its coat, you should also check for tick and flea infestations.
You may also need a pair of thinning shears. You need to do minimal trimming of the feet, tail, ears, britches, and legs. With the use of a slicker brush, you will gently brush the hair from the toes toward the leg of the dog. You will cut the hair sticking above the foot and the lengthier hair surrounding the foot. You can use the shears to cut a vertical line at the end of the tail. You only need to cut the hair with excess length. The britches are the long part of the coat on the dog's rump. Trimming this part involves following the natural curve of the coat. The special spot to notice is the coat on the ear. You will enforce gentle trimming to blend the coat with the dog's head.
If you lack the basic grooming tools or enough time, there are dog wash salons that may also offer grooming services. You can also contact and find professional groomers to help you with the activity.
German Shepherd Australian Shepherd Mix Health Problems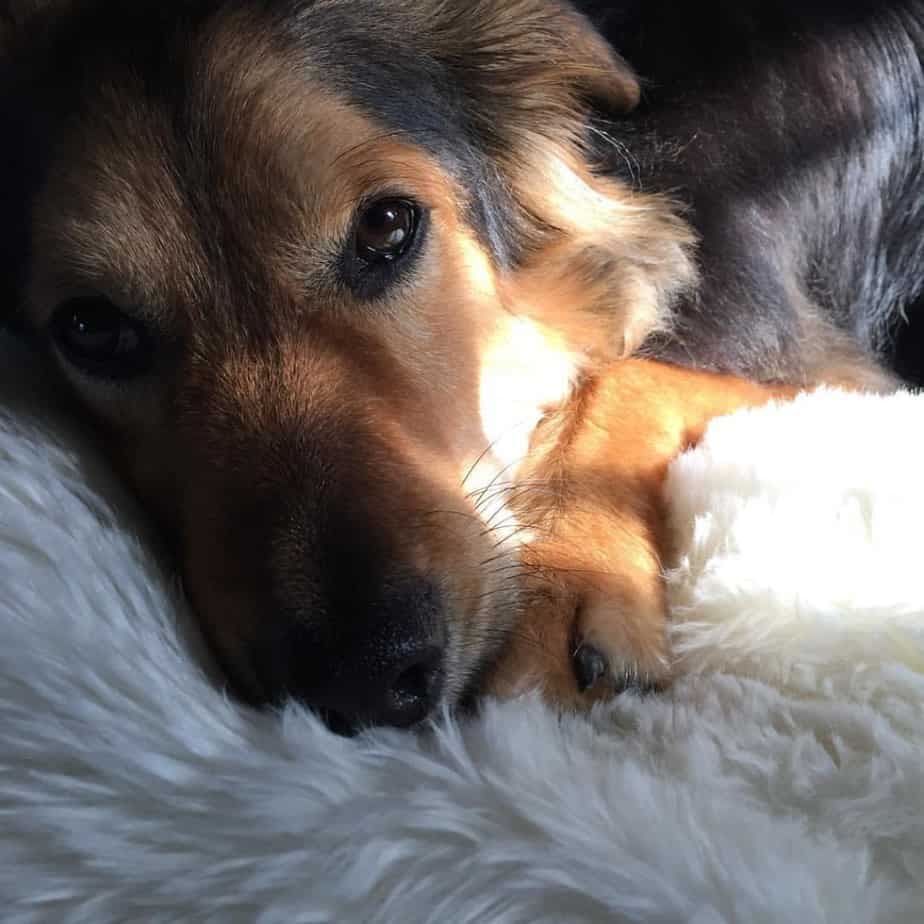 15 years is the maximum lifespan of the Australian Shepherd crossed with German Shepherd dog. The risk factors and genetic mutations in the parent breeds affect the disposition of the offspring.
The Australian Shepherd parent breed is relatively healthier than the other dog breeds. It suffers less skin, coat, and bone problems. Here's a list of some of the common health issues seen in a cross between an Australian Shepherd and a German Shepherd:
Hemophilia: This condition is a clotting disorder. It manifests as spontaneous bleeding. Dogs could have internal bleeding in muscles or joints.
Hip and elbow dysplasia: This malformation can spontaneously occur to the dog. It leads to joint inflammation at a young dog age. The cartilage in the hip socket is greatly affected in this disease.
Progressive Retinal Atrophy: This is an uncommon condition in the Australian Shepherd breed. This degenerative disease ultimately ends in blindness.
Epilepsy: It is a serious neurologic disorder that can be triggered by infections and injury. This may have structural or idiopathic causes. For German Shepherd crossed with Australian Shepherd dogs, this health issue has an idiopathic origin.
Collie Eye Anomaly: This is a group of eye issues that may be minor to fatal. It may cause unilateral or bilateral disturbances.
If you established enough rapport with the breeder, you can contact him more about the proper management of the dogs. Professional breeders will gladly inform you about the health hazards, genetic and non-genetics, and other things you need to watch for. They made the effort to subject the parent dogs and the offspring to screening tests.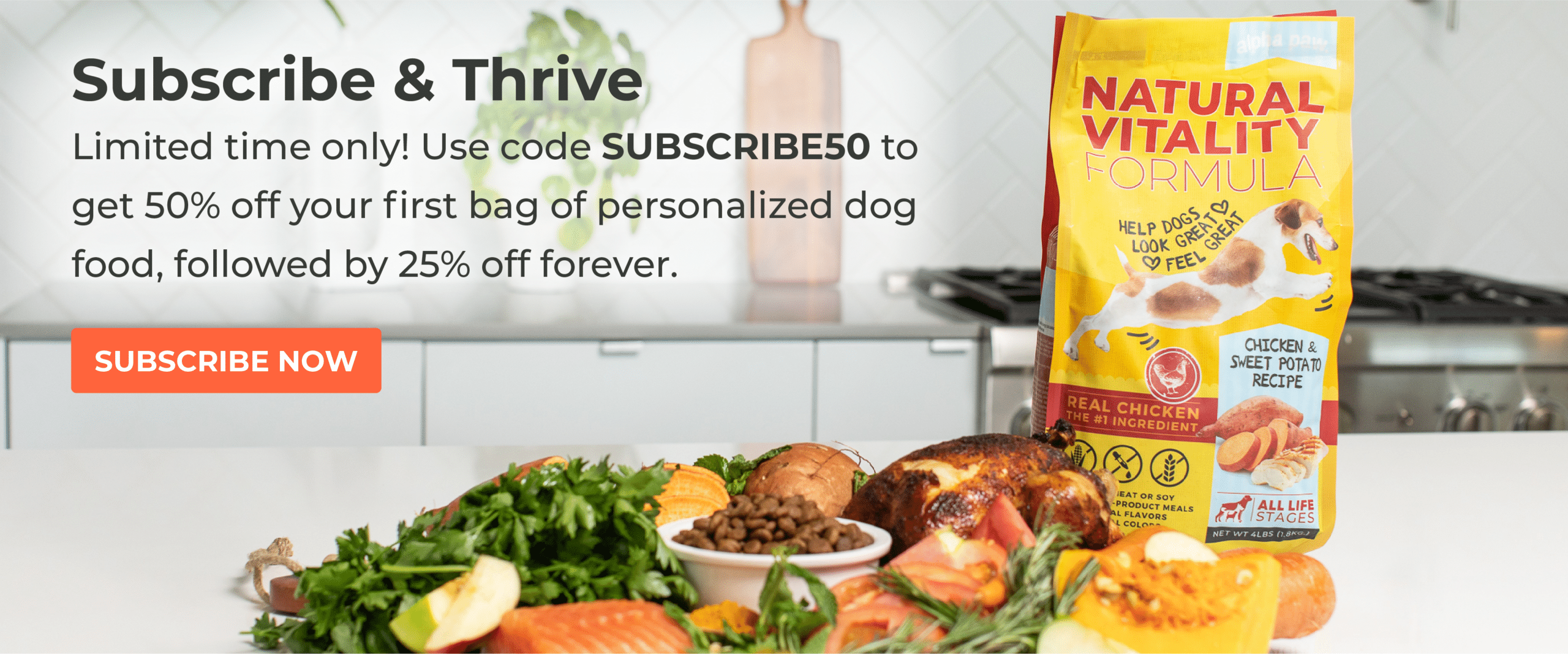 A regular appointment with a reliable veterinarian can help you a lot in maintaining the health of the German Shepherd Australian Shepherd mix dogs.
Australian Shepherd Crossed with German Shepherd Food Requirements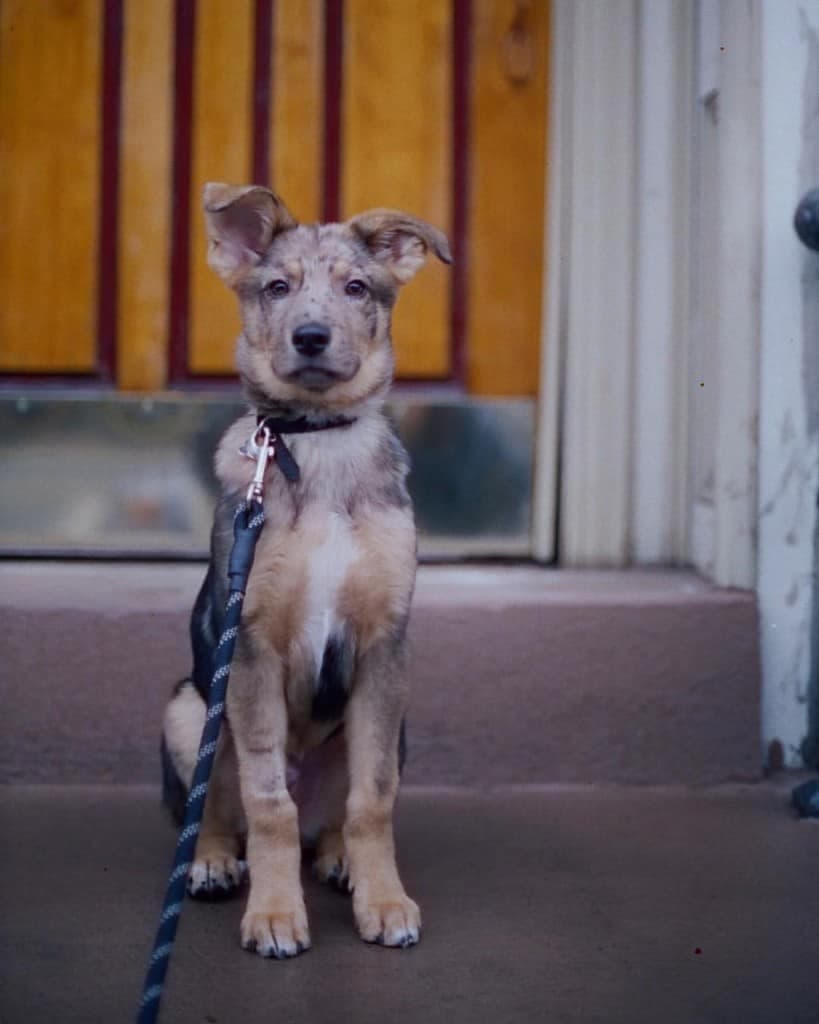 You will need a great diet plan to sustain the energy of this agile crossbreed. This mixed pup could grow to a helpful working dog, so it is crucial to maintaining a steady and strong development.
A healthy quantity of the dog depends on some variables. These variables compose of the puppy's age, size, weight, metabolism, and level of activity. The general amount of food suitable for an adult German Shepherd crossed with Australian Shepherd dog may vary from 2 1/2 cups to 3 1/2 cups of high-quality kibbles. It is advisable to divide the food servings into two meals each day.
Some essential minerals for the development of puppies are chloride and sodium. These two minerals control the fluid balance inside and outside the dog's cells. They affect the cardiac and skeletal muscles. They also contribute to the correct functioning of the nervous system.
Dry food is usually more recommended as it shows the effectiveness to clean and strengthen the crossbreed's teeth and gums. Below is a list of the recommended dry food for the Australian Shepherd crossed with German Shepherd dogs.
Blue Buffalo Life Protection Formula: This dog formula has chicken, turkey, fruits, and veggies. These ingredients contribute to building strong muscles and giving energy to the dog. It is gluten-free. The formula has Omega-3 and Omega-6 for a shiny coat. It also includes minerals for the optimal function of the joints and strength of teeth and bones.
Orijen Dog Food: This well-known formulation has a high content of protein, amounting to 75 to 80 percent. Its 25% maximum carbohydrate is relatively very low compared to other commercially available dog foods. The recipe for this dog food is patterned on the diet of the wolf ancestors.
Canidae Life Stages: This is quite a one-size-fits-all dog food. It can be suitable for dogs of all ages and kinds. It is equipped with antioxidants, fatty acids, and probiotics. It contains chicken, turkey, lamb, oatmeal, potatoes, brown rice, white rice, and cracked pearled barley.
Wellness Complete Health Puppy Deboned Chicken, Oatmeal & Salmon Meal Recipe Dry Dog Food: This formulation does not contain corn, soy, and wheat. It can be digested easily. It has a healthy source of fat called flaxseed. It is important to know the benefits of this dry food, like its advantage to the brain and eye development.
Hill's Science Diet Adult 7+ Longevity: This dog food is a formulation made for senior dogs. It has vitamins C and E that provide help to the immune system. This is a vet-approved formulation without any artificial flavors and colors. It has whole grain wheat, whole grain corn, whole grain oats, and whole grain corn.
Giving proper nutrition does not end in providing the food. You need to monitor if the diet contributes to the good development of the dog. You can check for possible weight gain by touching his spine and ribs. There is a breed standard that the dogs need to achieve. If you are able to feel the ribs, the dog is less likely to be overweight. Owners should be cautious with the possibility of obesity because it may be a manifestation of a systemic disease like hypothyroidism, insulinoma.
Your inquiries can be addressed by setting up an appointment with a veterinarian. The professional can also create a detailed diet plan for the dog.
Your dog's diet needs the right nutrient balance that will provide their well-being. That's why it's essential to choose their food from the best dry dog food, for instance, Wellness Core Dog Food, Dog For Dog Food, or Nutra Thrive dog food supplement. There are also some brands that you should keep off of their food bowls, such as the worst dry dog food.
Dogs pass on the genes to their puppy pups, and thus they can develop a different taste for food, which is why you can try your luck with the best dry dog food for small dogs or best large breed dry dog food.
If you own a puppy, scan through the best puppy food brands, and for gray-coated grandpa doggos, chose something from the best senior dry dog food list.
All changes in nutrition should be made after discussing it with your vet.
Australian Shepherd German Shepherd Mix Exercise Requirements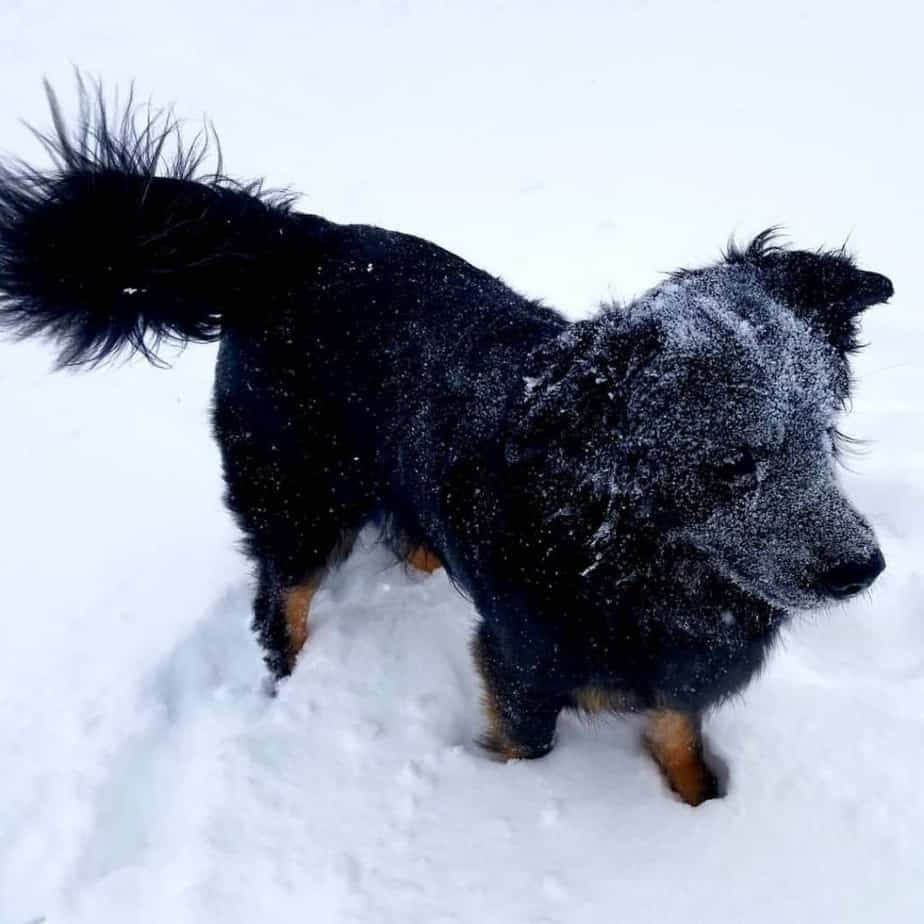 The Australian Shepherd German Shepherd mix dogs want a high level of enjoyment and exercise. The crossbreed inherited the athletic nature of its parent breeds. The duration of vigorous physical activities should be at least one and a half hour. Different techniques to gain the attention and interest of the Australian Shepherd German Shepherd mix puppies are required to avoid irritability and aggressiveness from manifesting.
You can involve the dog in physical activities such as long walks, jogging, hiking, tug-of-war, and fetching. Tug-of-war may intimidate some new owners because it could lead to increased aggression. This has great benefits if done properly, such as teaching about rules and boundaries and bonding with your dog. West Paw Zogoflex Bumi Interactive Tug of War Durable Dog Play Toy is a sturdy toy that can stretch for about twice its length.
For fetching activities, the Legendog Flying Disc Rubber Catcher is a great toy that can fly higher than the average flying discs. It has edge bulges to let the dogs bite firmly.
The Nylabone Healthy Edibles Bison Flavored Dog Bone Chews are edible chew toys that will help with the dog's digestive system. It keeps the dog fairly occupied. It has no preservatives, salt, sugar, or plastic. It has a savory bison flavor to keep the dog's interest. You can give it to dogs of all ages.
Australian Shepherd Crossed with German Shepherd Training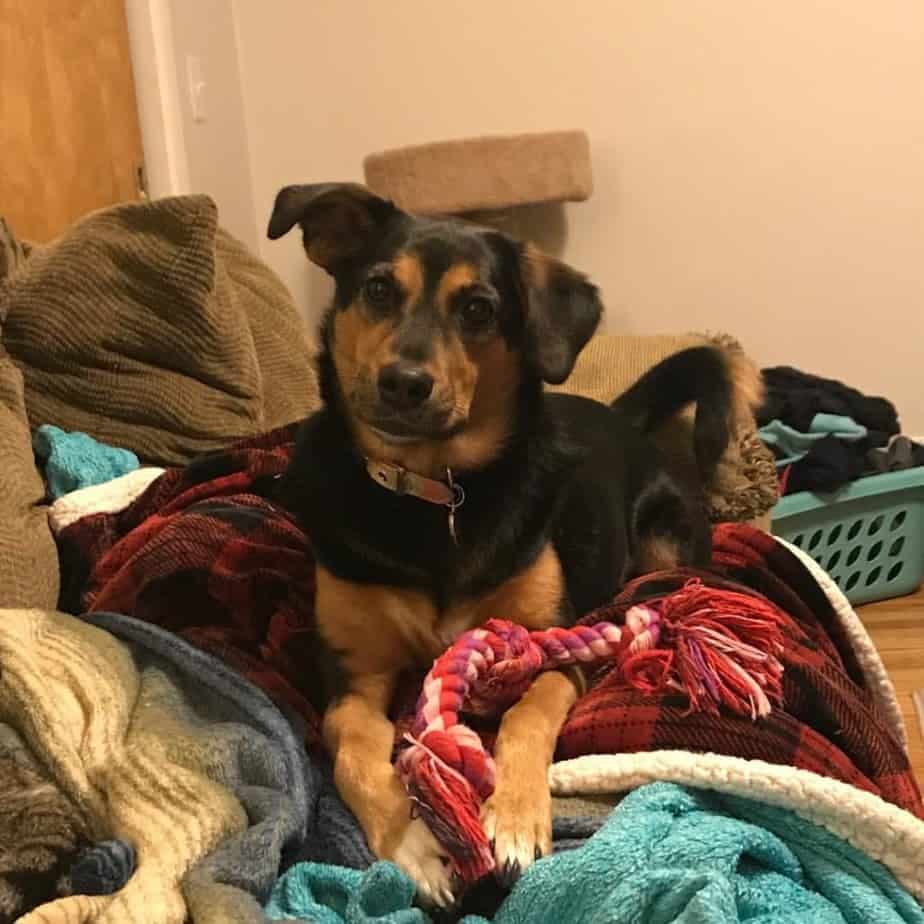 The German Shepherd crossed with Australian Shepherd dogs has a high possibility of being hailed as service dogs, involved in search and rescue, and therapy dogs. These dogs are highly trainable and willing to learn.
The owner has a role in supporting and keeping a level head during the training process. The emotions of the owners could confuse and distract the dogs.
Choose particular tasks: You can heighten the productivity of the dog if you choose to train it with specific tasks. These tasks may involve fetching the newspaper or loading the dishwasher.
Never hit your dog: This action will affect your bond with the dog. The dog could see you as a threat and attack you. It may develop antisocial personality traits.
Basic commands: The breeding instinct of the Australian Shepherd may manifest in their offspring. You should teach commands like 'recall' or 'come' to make the dogs return to you and stay by your side, instead of going around some area.
Invest in obedience classes: Your dog will benefit greatly with knowing the basic commands through formal classes. You can have fewer frustrations as well because another person is responsible for the training. It is important to allow time for the dog to process the commands and avoid unnecessary pressure.
Training will also contribute to better mental health for the dogs. If you are hesitant of the proper training techniques for your dog, you can refer to an experienced dog trainer.
German Shepherd Mixed with Australian Shepherd and Families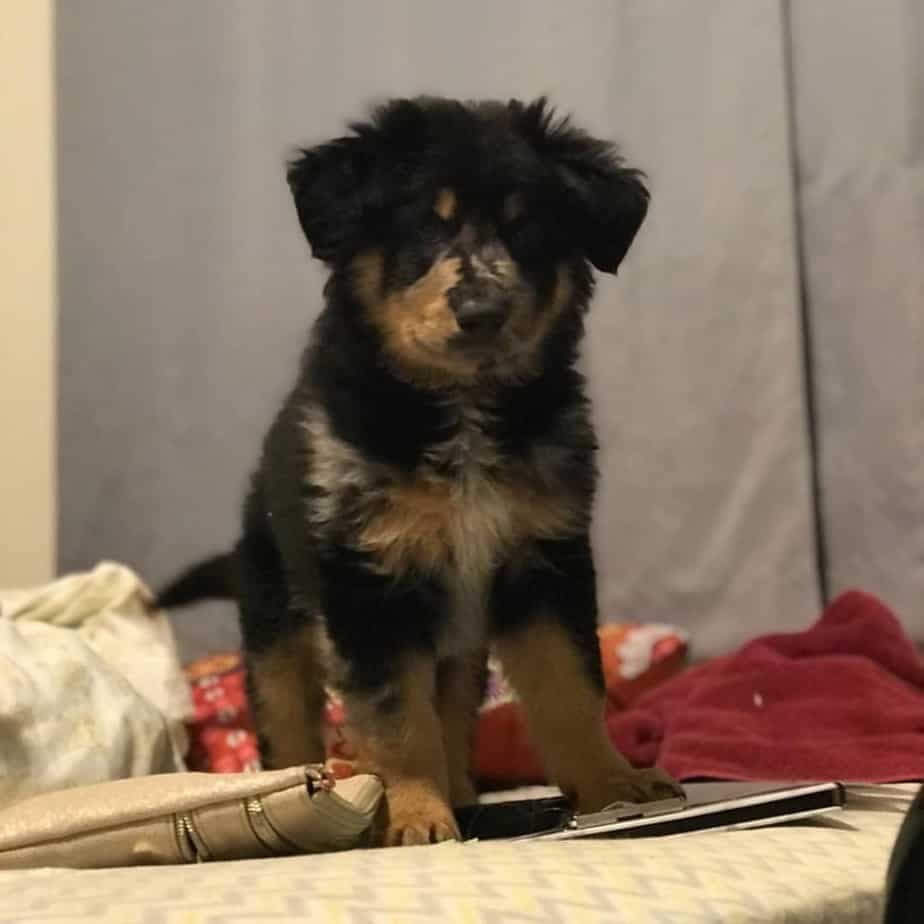 The German Shepherd mixed with Australian Shepherd dogs can be considered as a family dog. It is affectionate and loyal to its owners. An important factor in building a good family dynamics with the Australian Shepherd German Shepherds is making the dog feel that it can be part of the family, even if it is still new.
You must do early socialization. This will contribute to their potential in becoming therapy dogs, service dogs, or herders. The socialization can start as early as 2 1/2 weeks. Aside from its benefit to family dynamics, socialization allows the dog to be friendly to your friends.
They are also friendly to children. With the proper training and early socialization, you can be assured that these dogs will exhibit minimal herding behaviors with your little children and other animals.
You need to be careful in dealing with boredom in these crossbreeds. They could manifest with destructive behaviors if left unattended for a long period of time. These behaviors may include excessive barking which may affect your relationship with your neighbors.
References:
Madhusudhan, H. S., et al. "Estimation of Maintenance Energy Requirements in German Shepherd and Labrador Retriever Dogs in Bangalore, India." Journal of Animal Physiology and Animal Nutrition, vol. 102, no. 1, 26 Apr. 2017, doi:10.1111/jpn.12709.
Turnova, Evelina Hrckova, et al. "A Novel Mutation in the TYRP1 Gene Associated with Brown Coat Colour in the Australian Shepherd Dog Breed." Animal Genetics, vol. 48, no. 5, 12 May 2017, pp. 626–626., doi:10.1111/age.12563.
Coile, D. Caroline. German Shepherds for Dummies. Hungry Minds, 2003.
Schwartz, Charlotte. Australian Shepherd. Kennel Club Books, 2009.