German Shepherd Malamute Mix Facts
Other German Shepherd & Malamute Mixes
Choosing the dog breed that aligns with your lifestyle is the most important decision you can make. Every year tens of thousands of dogs are abandoned or put up for adoption because the owner was irresponsible and didn't do their research before choosing a dog that isn't a great for their lifestyle.
Not sure the Malamute German Shepherd aligns with your lifestyle? Consider adopting one of 50+ popular German Shepherd mixes or Malamute mixes.
Alpha Paw has conducted the most in-depth research into the most popular German Shepherd Mixes in America:
Malamute German Shepherd Mix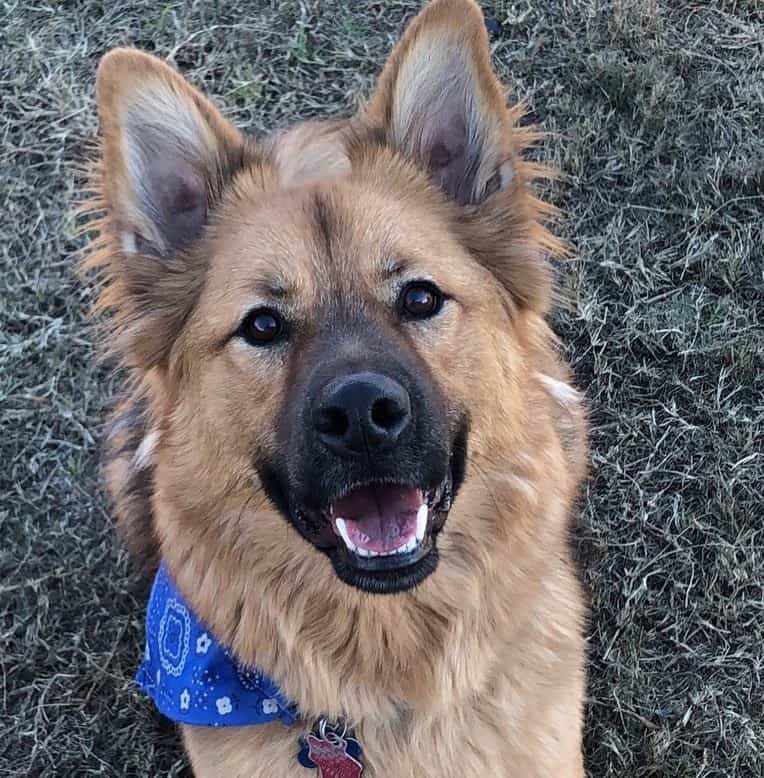 The Malamute German Shepherd mix is the combination of the large dog breeds, Alaskan Malamute and German Shepherd. This crossbreed, sometimes called as Alaskan Shepherd, was intended to carry packages and pull sleds. The German Shepherd Malamutes have remarkable strength and well-built bodies.
The physical and behavioral differences of the Alaskan Malamute and German Shepherd parent breeds are factors that alter the offspring's characteristics, but the offspring often carries better qualities.
3 Reasons Why You Shouldn't Get a German Shepherd Malamute Mix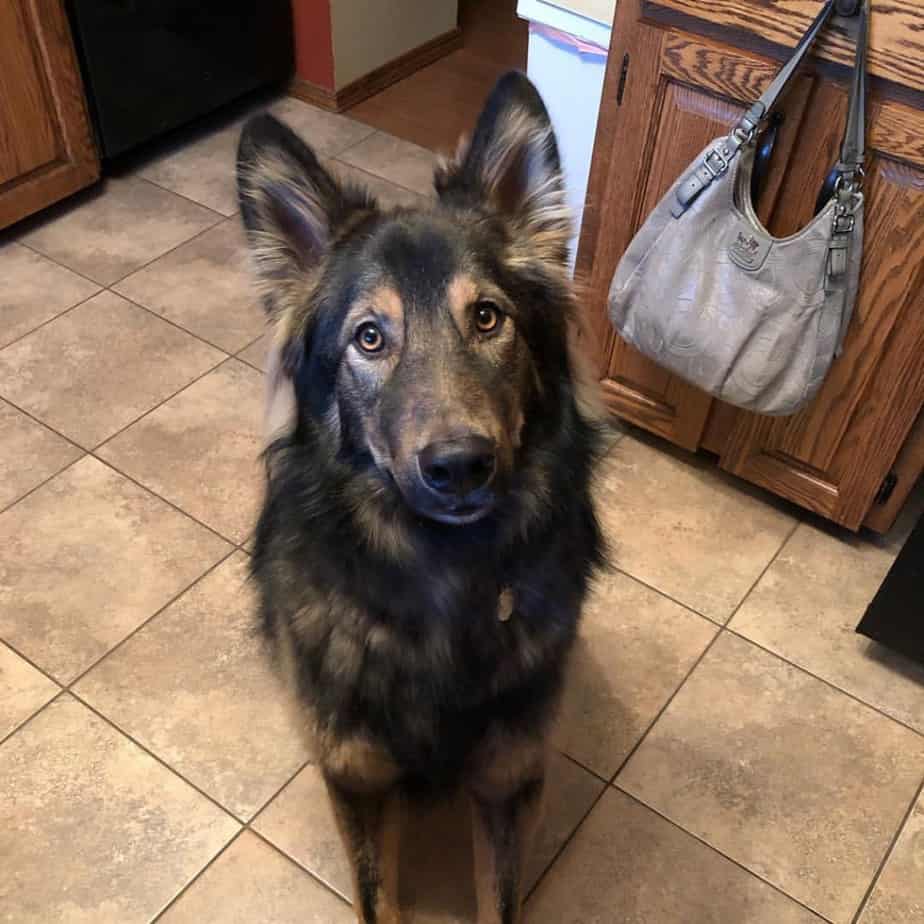 It tends to become too independent. The dog could become disobedient and stubborn at times, particularly during obedience training. This trait can negatively affect the training process.
It is not suitable for new owners. The German Shepherd Malamute mix dog may become very headstrong and independent. These traits could frustrate new owners and evoke negative emotions. It is necessary to start training right away to avoid misbehaviors.
It tends to overeat. This may lead to obesity and consequent illness. You need to be extremely cautious in feeding this breed.
3 Reasons Why You Should Get a German Shepherd Crossed with Malamute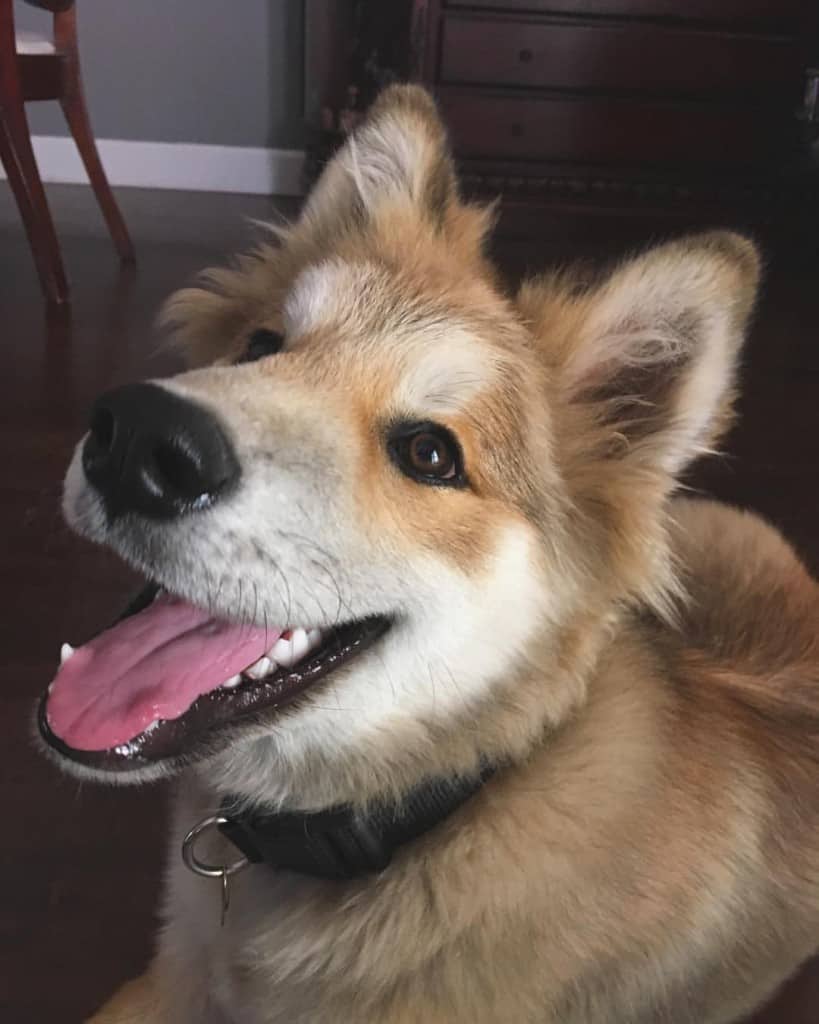 It is a wonderful family companion. This crossbreed tends to be attached to the family. It has an innate loyalty and friendliness for all the members of the family.
It is an ideal watchdog. The Malamute mixed with German Shepherd dog is wary of its surroundings and protective. Its vigilance is undoubtedly remarkable. These traits enable it to discern suspicious people and acts.
It can interact well with other animals. Some breeds tend to be aggressive in the presence of other animals. The German Shepherd crossed with Malamute dog will play along with other animals, provided that it underwent socialization early in life.
Other German Shepherd & Malamute Mixes
Choosing the dog breed that aligns with your lifestyle is the most important decision you can make. Every year tens of thousands of dogs are abandoned or put up for adoption because the owner was irresponsible and didn't do their research before choosing a dog that isn't a great for their lifestyle.
Not sure the Malamute German Shepherd aligns with your lifestyle? Consider adopting one of 50+ popular German Shepherd mixes or Malamute mixes.
Alpha Paw has conducted the most in-depth research into the most popular German Shepherd Mixes in America:
Appearance, Personality, and Traits of a Malamute Mixed with German Shepherd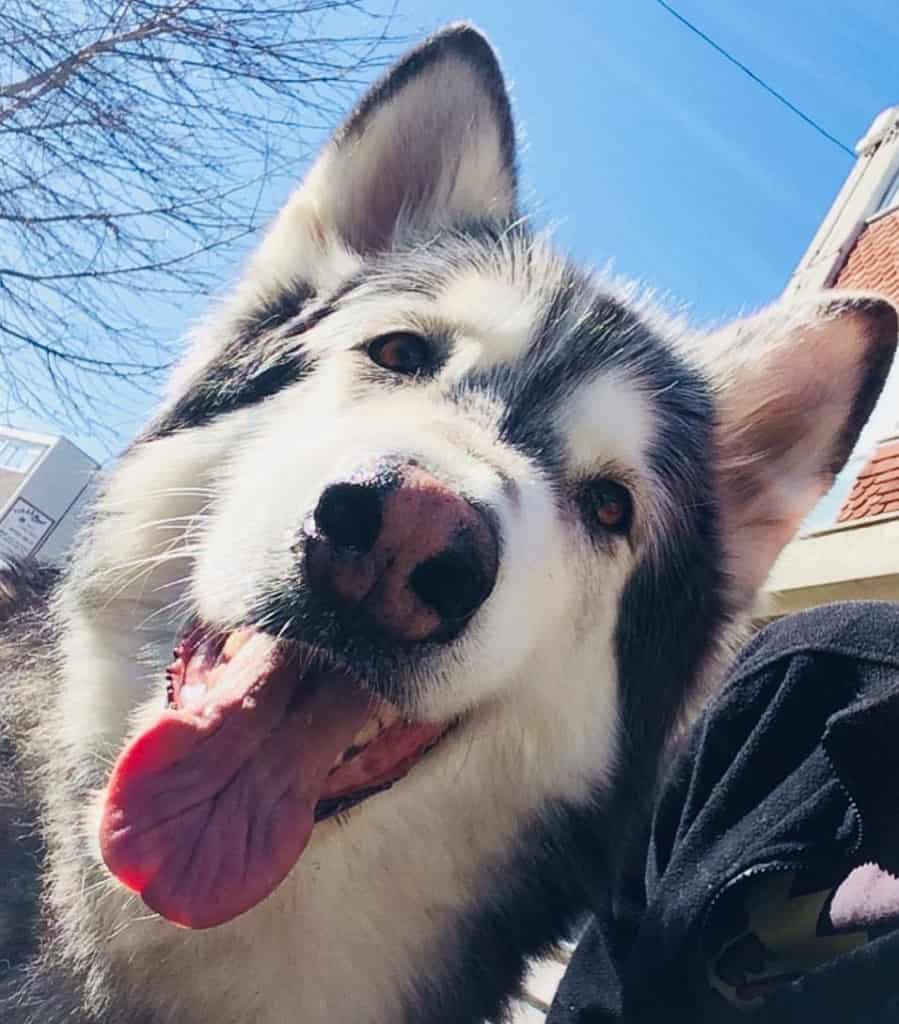 | | |
| --- | --- |
| Weight | 64 to 130 lbs |
| Height | 21 to 24 inches |
| Size | Medium to large |
| Coat Type | Double-coat; thick, coarse outer coat and soft, dense undercoat |
| Coat Color | Combination of black, gray, red, gold, brown |
| Amount of Shedding | Heavy |
| Eyes | Hazel, brown, or blue |
| Nose | Black or brown |
| Ears | Upright and pointed |
| Temperament | Friendly, Intelligent, Affectionate, Independent |
| Life Expectancy | 10 to 13 years |
| Hypoallergenic | No |
| Kid Friendly | Yes |
| New Owners Friendly | No |
| Breed Recognition | IDCR, DBR |
The German Shepherd mixed with Malamute dogs has a wide range of weight, ranging from 64 to 130 pounds. The height of these crossbreeds varies from 21 to 24 inches. Males and females have little height difference.
You can expect this crossbreed to have a medium-length, double coat. The colors of their coat can be a combination of black, gray, red, gold, and brown. This type of coat helps them cope with the extremely cold environment.
The Malamute German Shepherds are diligent working dogs. On top of that, they are alert and aware of their surroundings. They make excellent watchdogs. They bark appropriately without being annoying and disturbing. They have keen senses to discern suspicious acts and people.
Another trait it possesses is its affectionate nature. The gentle and loving German Shepherd Malamutes can come off as intimidating at first sight. In reality, they are fluffy and lovable dogs that enjoy the company of people.
German Shepherd Crossed with Malamute Puppies for Sale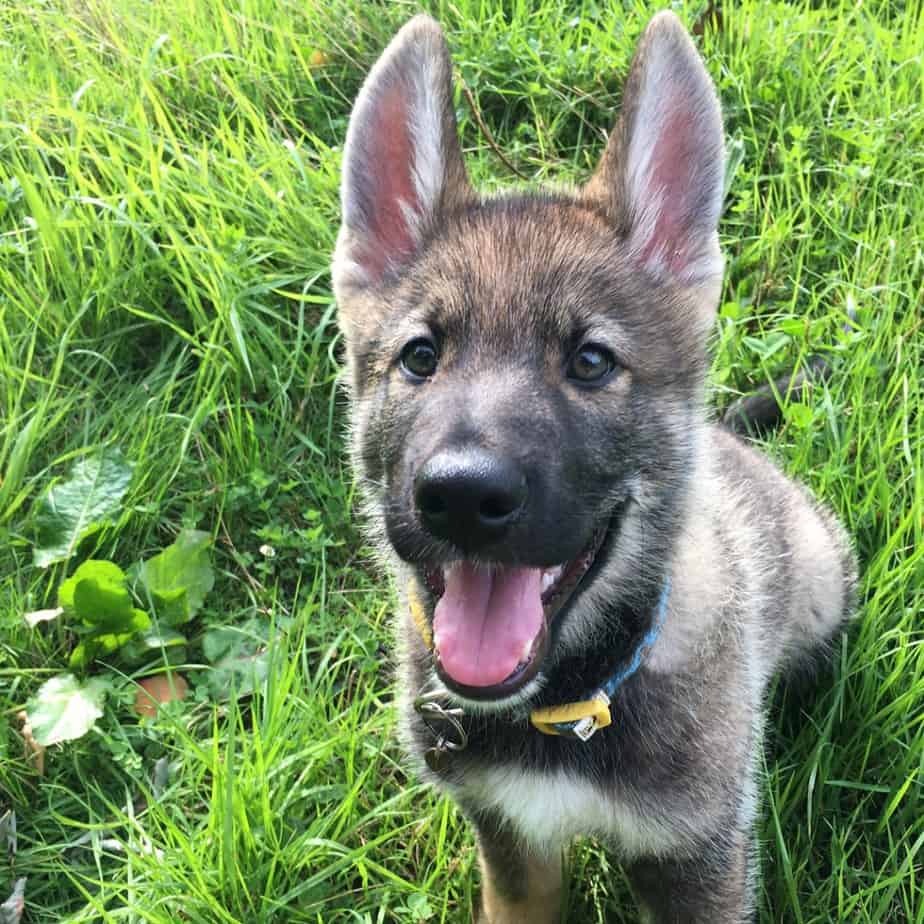 The German Shepherd crossed with Malamute puppies may be difficult to acquire. You must apply good researching techniques to locate professional breeders when it comes to crossbreeds. Professional breeders allow you to access the documents of the puppy, including health records and DNA testing. They also provide a suitable environment for the upbringing of the dogs. They will help you become reassured that the dogs will grow to have minimal problems regarding their health.
Visit the breeders in their location is highly recommended. The reputable American Society for the Prevention of Cruelty to Animals (ASPCA) frowns upon online selling of dogs, particularly crossbreeds. Another way to verify a breeder is through this visitation.
You might think that another good place to acquire this crossbreed is through purchasing in pet stores. I advise against this method. As a breeding ground, the puppy mill has thousands of stories supporting the terrible conditions for breeding. The puppy mill does not provide the most suitable environment for rearing puppies. In this place, the puppies are forced to mate with one another and give birth.
This mixed breed is relatively rare. Reputable breeders sell these crossbreeds from prices that starts from $800. Below is a list of breeders for the German Shepherd Malamutes and their parent breeds:
Alaskan Shepherd Puppies by Pets4You.com in Merlin, OR
Snowlion Alaskan Malamutes of Snowlion Kennels
KingFisher's Alaskan Malamutes in Big Lake, AK
Harvest Moon Malamutes in NY
Barick German Shepherds in Mcdonough, GA
Hollow Hills in Clarks Summit, PA
At Redwood Runs in Galt, CA
The website of AdoptAPet is a good way to look for this breed if you are considering adopting instead. There are some breed-specific and non-profit rescue centers all over the country. You can check out these rescue shelters to obtain a new fluffy companion. Here are some rescue groups that you can reach out to:
Virginia German Shepherd Rescue in Centreville, VA
German Shepherd Rescue of Northern California in Cupertino, CA
Heartland German Shepherd Rescue in Gretna, NE
Big Cypress German Shepherd Rescue in Naples, FL
Moonsong Malamute Rescue in Boise, ID
Alaskan Malamute Assistance League in Golden, CO
Grooming Your Malamute German Shepherd Mix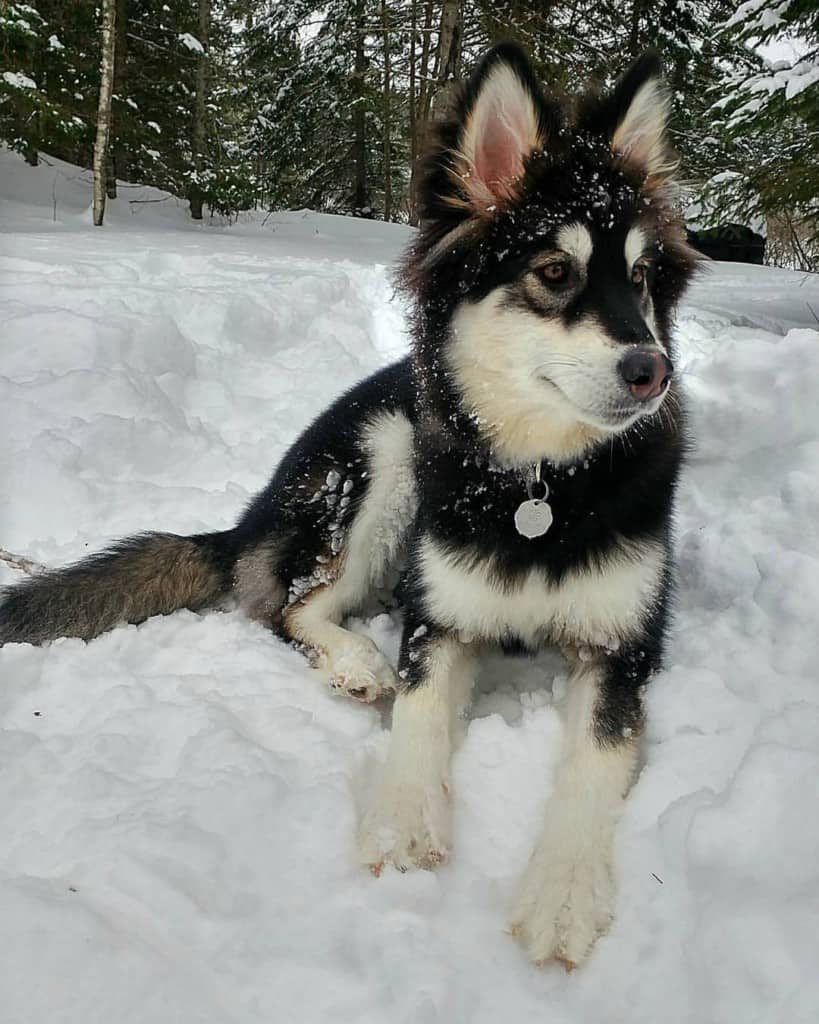 The Malamute German Shepherd mix dogs need moderate to intense maintenance for grooming. Their shedding process usually involves a lot of mess and hair, especially during periods with warm weather and when placed in a blistering environment.
Brushing the coat needs to be done for three to five times per week. You can brush the Malamute German Shepherd Mix's coat in whatever direction you desire, but it is easier to brush it in one direction.
If your dog has a collar, remove it when brushing the coat, and do not leave out the neck area unkempt. You should pay attention to spots where tangles occur often, like the base of the ears.
You can prevent loose hair from the brushing process by dousing the coat with water. Another tip for maintaining the shine of the coat is using a slicker brush instead of a pin brush. The shine will be the result of the stimulation of oil production in the dog's integument. The slicker brush will help remove the knots and tangles in the dog's coat. You can also get rid of loose hair and some debris by using the brush.
If you notice that your dog is uncomfortable each time you brush or comb its coat, you should consider starting a desensitization training. This training will help ease the dog's anxiety over the process. The process starts with using your hands to familiarize the dog with the brushing activity. After some time, you may alternate between using a real brush or comb and using your hands. You can finally change to a full-time brushing with a slicker brush after a few weeks.
The little parts of the Malamute German Shepherd Mix, such as its eyes, nose, nails, ears, and paws, must be cared for as well. You should check for ear infection signs like the accumulation of earwax. A cotton ball and an ear solution formulated for dogs are must-haves for sanitary ears. For dried and scaly paws, you may utilize Vaseline as treatment.
The popular opinion of daily bathing for dogs is not advisable to follow. The indication for bathing the dog is its appearance or smell. You should consider giving a bath when you see the dog's shabby appearance or when you get a whiff of foul odor. You may use formulations with ingredients that are soothing to its skin, like aloe vera.
It is important to determine some early signs of skin lesions. If you are unable to do the necessary steps for grooming, you should opt to bring your pup to a professional groomer in your locale.
German Shepherd Mixed with Malamute Health Problems
The life expectancy of the German Shepherd crossed with Malamute dog is 10 to 13 years. There are many innate and environmental factors affecting the health status of the crossbreed. Some of these factors are genetic make-up, the environment where it grew up, nutrition, and level of activity.
There are some health problems with a predilection to one of the parent breeds. As a reliable owner, you must be cognizant of the health risks of this crossbreed. Here's a list of some of the common health problems observed in a cross between an Alaskan Malamute and German Shepherd:
Cartilaginous exostosis: This is an illness of the bone due to the excessive formation of calcium.
Obesity: This mixed breed tends to eat more than its requirement. This should be controlled because it makes the dog vulnerable to many diseases, such as back pains, cancer, and joint problems.
Chondrodysplasia: This condition may lead to hip dysplasia. It involves the bones and cartilages of the dog's body.
Degenerative myelopathy: This is an untreatable and progressive disorder that results to the inability to move the hind legs.
Von Willebrand disease: It is a blood disorder that causes a lot of blood loss.
Knowing how to prevent some diseases is a great way to take care of your dog's health. One of the things you can do is to acquire vaccines. The recommended vaccines for puppies are rabies, measles, and a combination vaccine called DHPP.
With the help of the breeder's guide and the results of the genetic testing, you can care for your Malamute mixed with German Shepherd's health better. I strongly advise seeking the help of a trustworthy veterinarian to become knowledgeable on the signs and symptoms to watch out for.
Malamute Crossed with German Shepherd Food Requirements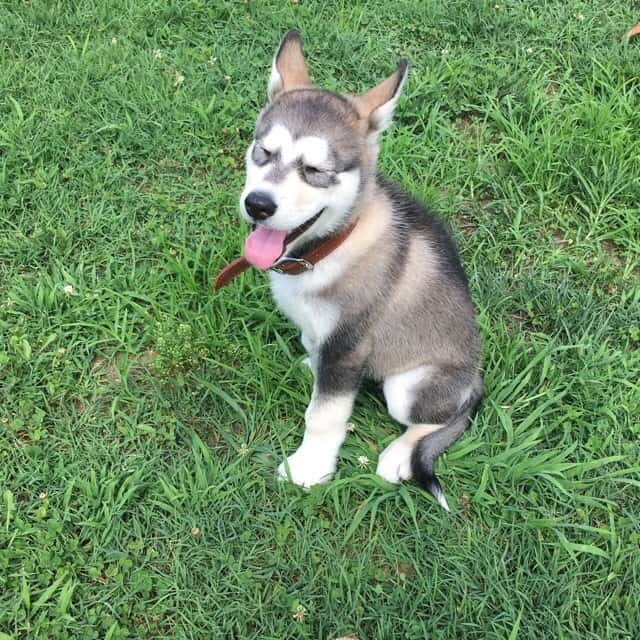 There is no fixed quantity of food for a dog, even among those with the same breeds. You need the most appropriate diet that will result in the optimal condition of your dog. The general amount of food suitable for an adult German Shepherd Malamute mix dog may vary from 2 cups to 3 cups of high-quality food items. Dry food helps maintain the cleanliness and strength of the puppy's teeth and gums. Two to three meals per day are advised for these crossbreeds.
Your dog requires healthy bones and joints for its activity. It needs a healthy amount of calcium for that. Calcium will also aid in giving the best status of immunity. Another vital mineral for the development of bones and joints is phosphorus.
Below is an inventory of the recommended dry food for the Malamute crossed with German Shepherd dogs.
CANIDAE Grain Free PURE Foundations Puppy Formula: This product is suitable for dogs with skin-related and digestion problems. It includes nine simple key ingredients. It has a meat component that ensures a tasty and adequate amount of animal protein. It does not have any unhealthy additives. This brand has a 4, 12, or 24-pound bags available.
Purina HA Hypoallergenic: This hypoallergenic formulation is perfect for some dogs which may be predisposed to developing food intolerance and allergies. The optimal effect of this product is achieved by giving this alone for eight to 12 weeks. You can combine this food with other kinds of high-quality kibbles after the said period.
Victor Performance Pet Food: This dog food formula is suitable for dogs like the Malamute German Shepherd mix. It does not have allergenic materials like soy, whey, and gluten.
It has 78% meat protein, 15% grain protein, and 7% plant protein to sustain the energy of the dog.
Hill's Science Diet Active Longevity Small Bites Dry Dog Food: This kind of dry food is suitable for dogs that are more than seven years old. It does not have artificial flavors. It contains Omega-6 fatty acids that help in moisturizing the coat and adding the healthy glow for the skin. It has easy-to-digest and organic components such as rice, chicken, and barley.
Eukanuba Small Bites Adult Chicken Formula Dry Dog Food: This formulation has a 3D DentaDefense System that minimizes the risk for developing tartar in 28 days. It has reported on nutritional breakthroughs. It possesses prime chicken and customized fiber system for easy digestion.
The German Shepherd Malamute mix may be at risk for overfeeding and obesity. An easy way to determine this is by doing the hands-on test and eye test. These two tests will require you to examine the dog beside you and looking at its waist from above. You will then position your hand on the dog's back while placing your thumbs on its spine. You will feel the ribs of the dog when you press down if the dog is not overweight. A positive result of this test should alert you as a responsible owner.
A veterinarian can help immensely in managing the diet and other health concerns of your dog. You should consider involving one while planning for acquiring a new family member.
Whether you adopt a big or small doggo, feed them only with premium-quality food to keep them happy and healthy all the time. Steer clear of the worst dry dog food, and get only the best dry dog food for your furry companion. We suggest you give Wellness Core Dog Food, Dog For Dog Food, or Nutra Thrive dog food supplement a try. If your furry buddy is still but a munchkin, consult our list of the best puppy food brands for nutrition ideas. In case your pooch is well past their prime, make sure to serve them only the best senior dry dog food to keep those frail bones, well, not so frail!
Do remember that your adorable mixed pup carries the genes of their vastly different parents. They may inherit the palate of either, so you can offer them both the best dry dog food for small dogs and best large breed dry dog food and stick with the one they choose as their favorite!
Malamute German Shepherd Mix Exercise Requirements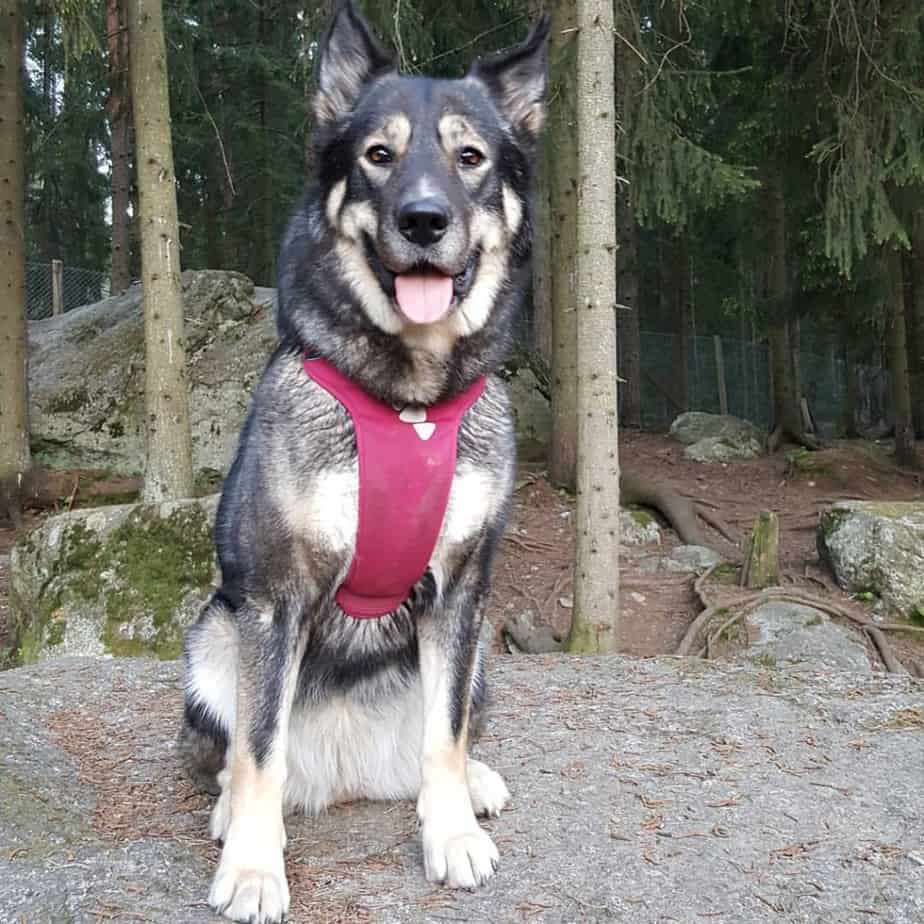 The German Shepherd and Alaskan Malamute are known to have sustained endurance and high energy requirements. The period of physical activity engagement should be at least one hour. An appropriate blend of physical and mental stimulus for this mixed breed is necessary to avoid boredom and destructive behaviors. Some examples of possible physical activities for the Malamute German Shepherd mix are hiking, fetching, and running.
Another consideration for the exercise period is the venue for the activities. I recommend a big area in a well-ventilated place for this crossbreed. The Kong Ball is a widely known toy for mental motivation. The use of this toy will aid in the digestion and mental health of the dog. It comes in different sizes, so you can get a suitable one for your dog.
The German Shepherd Malamutes have a notable strength in biting. Another suitable toy for this habit is the goDog Small Purple Bruto Dino with Chew Guard Technology. It is an under-stuffed toy that has a squeaker. It is made of a tough material, perfect for hours of rough play.
German Shepherd Crossed with Malamute Training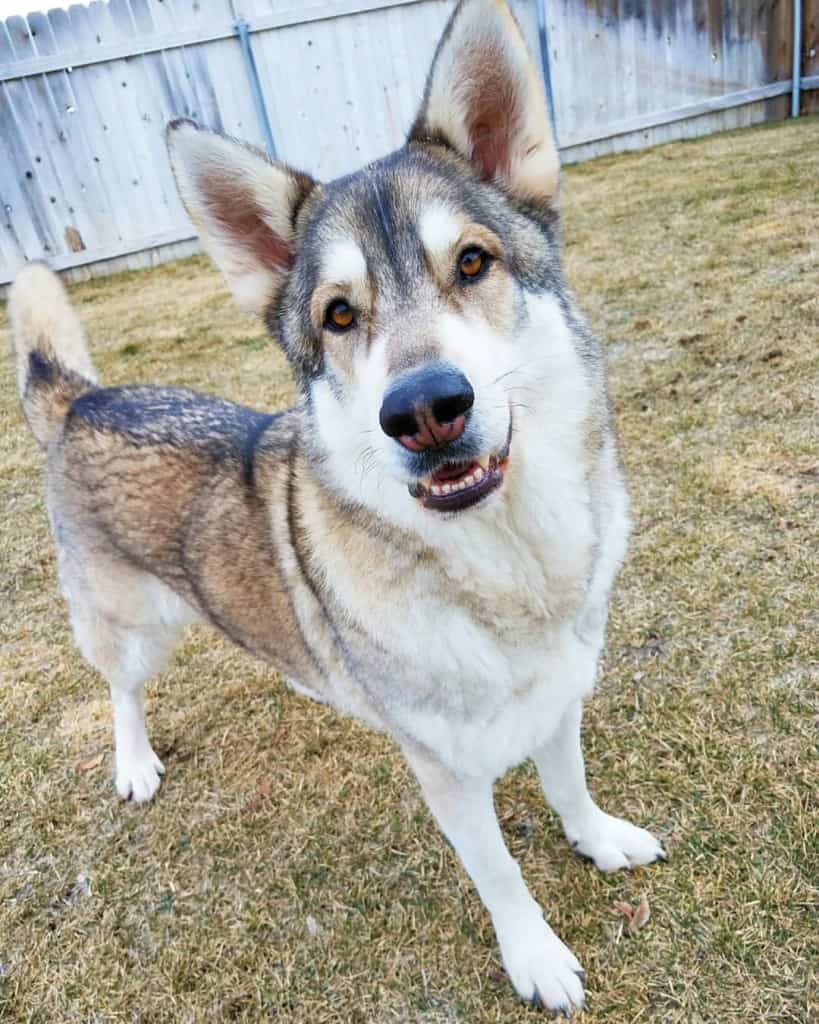 The German Shepherd crossed with Malamute dogs can demonstrate an independent streak during training. They could become hardheaded as well. The owner should acknowledge the dog's emotions and be present as a supporter. Your contribution to the morale boost will help the process. Below are some guidelines on training this mixed breed:
Limit the Duration of the Training Sessions: A way to prevent misbehaviors during the training sessions is keeping the sessions short. If you implement this technique, you will have the pup's undivided attention for a certain amount of time.
Crate Training: The crate is a dog's sanctum for minimal distraction. A great crate has a comfortable bed and optimum ventilation. The period for crate training varies from 30 minutes for younger puppies to eight hours for adult Malamute German Shepherds. This training will benefit the mental health of the dog as well. It will help in having a calm disposition, particularly during travels, and it will also ward of possible separation anxiety.
Positive Rewards-based System: This training method avoids the classical penalty techniques when dogs misbehave. You can have a box of treats ready for the training sessions. You should also provide cuddles and words of encouragement and approval when the dog abides by the rules.
Basic Commands: The Malamute mixed with German Shepherd responds well to concise commands such as "stay", "sit", and "come." Along with this technique, you will implement the reward-based system for better compliance.
Every dog has a unique way of following the commands. If you want to learn more about the proper techniques, you may opt to ask for some advice from professional trainers.
German Shepherd Malamutes and Families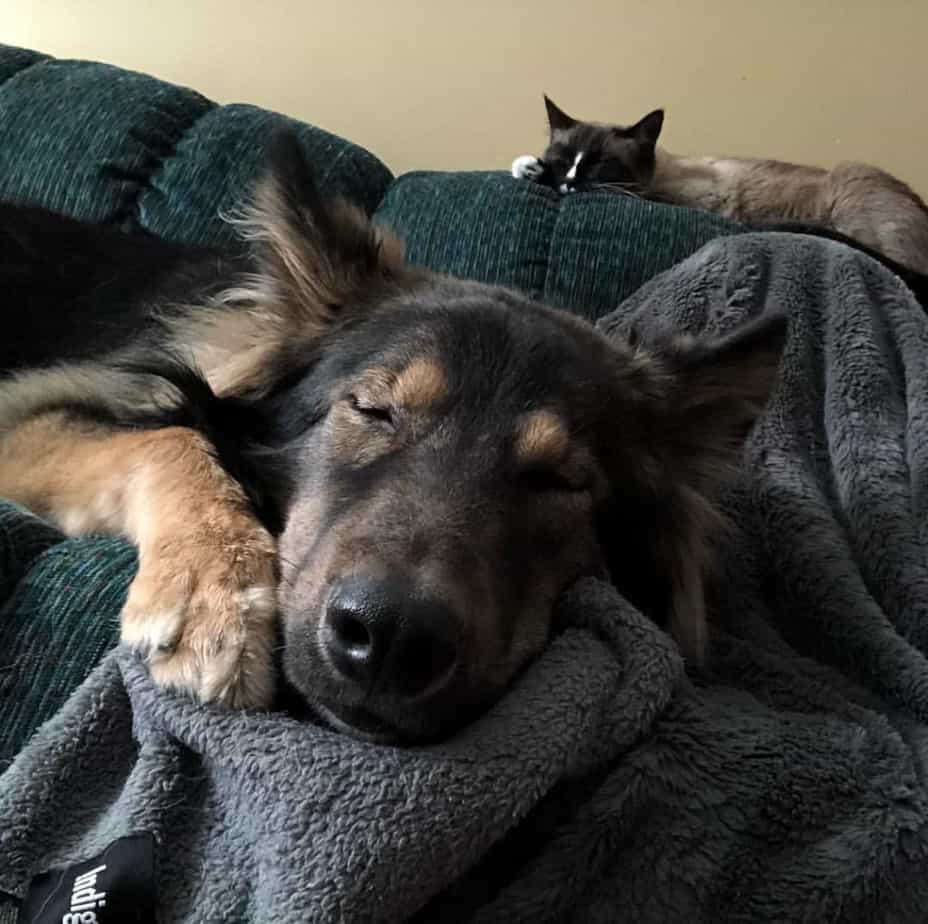 German Shepherd Malamute dogs are affectionate. They tend to recognize one family member as the 'pack leader', and they will follow this person more earnestly than the rest. It is essential to provide positive words and gestures to make the dog feel at home.
One phase of the training a dog called early socialization is necessary for developing healthy coping mechanisms to a new environment and people. Early socialization will hone the puppy and help in becoming mature. This will contribute to their potential in becoming therapy dogs, service dogs, or herders.
The process may begin when the pup is 2 1/2 weeks. The owners will hold the puppy each day until four weeks. The next phase continues until 16 weeks of age. This phase involves exposing the puppy to various kinds of animals, people, textures, fragrances, and sceneries. The above-mentioned tips on training may be applied during early socialization.
The Malamute German Shepherd dogs are generally good with children. They will give affection and friendliness to the little ones. You still need to be careful with the child-dog interactions, especially when the dog is still young. You must also teach your children how to respect and play with the dog within respectable bounds.
References:
Madhusudhan, H. S., et al. "Estimation of Maintenance Energy Requirements in German Shepherd and Labrador Retriever Dogs in Bangalore, India." Journal of Animal Physiology and Animal Nutrition, vol. 102, no. 1, 26 Apr. 2017, doi:10.1111/jpn.12709.
Bruun, Camilla S., et al. "A Gly98Val Mutation in the N-Myc Downstream Regulated Gene 1 (NDRG1) in Alaskan Malamutes with Polyneuropathy." PLoS ONE, vol. 8, no. 2, 5 Feb. 2013, doi:10.1371/journal.pone.0054547.
Coile, D. Caroline. German Shepherds for Dummies. Hungry Minds, 2003.
STOCKMAN, THOMAS. ALASKAN MALAMUTE. LUMINA MEDIA, 2016.