How to Care for A Dog At the Beach: A Pet Parent Guide
Sep 23, 2021


Not all dogs can swim and love being in and around water.


Use dog-friendly sunscreen to protect your pet from the sun's harmful UV rays.


Keep your dog well-hydrated and keep them out of the sun during the hottest parts of the day.


Your Dog and the Beach
The warm summer days are excellent opportunities to enjoy the great outdoors with your canine buddy.
What better way to spend summer vacations than to have some quality time with your pooch at the beach. The thought of soaking up the sun, breathing in the tangy sea air, and strolling along the shoreline with your furry friend is certainly irresistible.
A beach is a happy place for dogs that love the water. Splashing around, running on the sand, chasing the birds, playing with other dogs– the beach is a hive of activity that dogs will surely enjoy!
Tips for A Safe and Happy Beach Day
Whether it's your canine pal's first time at the beach or not, there are important things to keep in mind to ensure your pet's safety as it enjoys the sun, sand, the water, and the fun.
Adequate planning and preparation are very important to prevent last-minute problems and hassles and make your beach excursions one for the books.

Does Your Dog Love The Water?
Before beach day, you should know if your pup doesn't have any issues being in or around bodies of water. Some take to water like fish, while others hate it; and some dogs are even afraid of getting even one paw in the water. A visit to a nearby pet-friendly swimming pool or lake can tell you if your dog takes to water easily without any problems.
If your dog doesn't have any water issues, you should get the ball rolling. Plan and prepare for your beach escapade now!
Choose A Dog-Friendly Beach
This should be the first on your beach escapade to-do list. Always check whether the beach you have in mind takes dogs. You can call or check their website. There are lots of dog-friendly beaches around to choose from.
Does Your Dog Know How To Swim?
Some dogs are born swimmers, while others sink right to the bottom even when they try their best to paddle and move their bodies.
Certain breeds, like the Labrador Retriever and the Portuguese Water Dog, are excellent swimmers because they were primarily developed to work as buddies to fishermen and hunters. Their double-layered water-repellent hair coats and webbed feet help them swim and withstand water conditions in any kind of weather. These dogs love nothing more than playing in the water.
However, the body structure of some dog breeds makes it impossible for them to stay afloat and swim without a life vest. Bulldogs, dachshunds, boxers, and pugs are just some of these breeds.
Bring Some Shade For Your Dog
Dogs can develop hyperthermia or heat stroke when they are exposed to the sun for an extended length of time. Even when you see your dog happily romping and rolling in the sand or swimming, you should get them out of the sun especially during the hottest parts of the day.
A tent or a big beach umbrella or sunshade can give you and your pet a respite from the sun's rays. Having enough shade to lounge around and take a nap is very important for you and your pet.
Keep Your Dog Well-Hydrated
Pack plenty of cool, clean drinking water for your dog. And don't forget his drinking bowl. Being under the sun, tasting some of that salty water, and playing around can easily lead to fatigue, extreme thirst, and dehydration.
Drinking water should always be available to your dog anytime he wants. If he seems too busy exploring around, make sure to call them back to your lounging spot for water breaks. Keep your dog's water bowl in the shade.
If your dog starts to show signs of heatstroke, such as excessive panting, wipe them with a towel soaked with cold water and take them to the nearest veterinary hospital.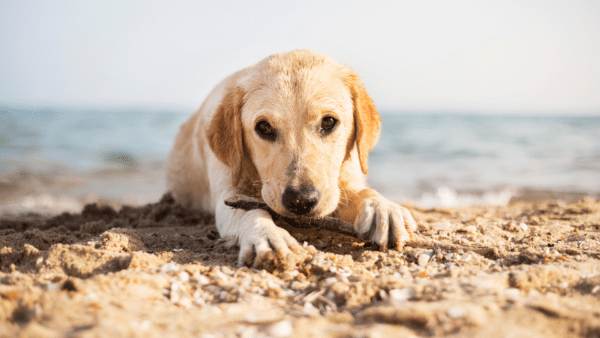 Avoid Busy Beaches
Beaches with a lot of water sports and activities can scare your dog. Jet skis, boards, or boats can cause large waves that can be scary and dangerous to your pet. Even if your dog is an excellent swimmer, rip tides and choppy water can be risky.
Keep A Close Eye On Loose Dogs
When dogs are allowed to play off-leash on beaches, fights and aggressive displays of behavior can eventually happen. If dog owners don't keep a close eye on their dogs, dog fights can end in serious injuries.
Keep Your Dog Safe With A Long Leash
Even if your dog-friendly beach destination allows dogs to go off-leash, it's best to keep your dog on a leash, one that's at least 10 feet long and has a harness. This will allow your pooch plenty of leash length to explore the beach while making it easy for you to pull them to safety in case he swims out too far or when he starts to chase animals and seagulls.
Let Your Dog Wear A Life Vest
Make sure your pet's first swimming experience is fun, and not scary.  If your dog is a novice swimmer, a life vest is always a good idea. Buy one that fits your dog comfortably.
Letting your pet wear a flotation device will give them that extra protection and will keep off some of your worries away. It will also mean enjoying y our beach day more.
Protect  Your Pet From The Sun
Adequate sun protection is very important during outdoor excursions with your pet, more so when you're spending it at the beach.
Dogs get a sunburn, too. This is especially true for light-colored breeds and those with short hair coats. Pitbulls, Greyhounds, Boxers, Dalmatians, and French Bulldogs are just some of the breeds that are more susceptible to sunburn. But all dogs, regardless of coat color and texture, will benefit from sunscreen use. A freshly trimmed dog is also prone to sunburn. And just like humans, your canine buddy is also at risk for heatstroke and skin cancer.
Find a pet-safe sunscreen and apply it liberally on the tips of your pet's ears, nose, belly, groin, and other parts of the body that are not adequately protected by hair. Make sure to reapply as often as possible to ensure optimum protection.
There are also sun shirts for dogs that are made of special materials that protect pets from the sun's harmful UV rays. Your pet can also wear dog goggles to protect his eyes from the sun. This is particularly important for dogs with eye problems.
Even with adequate sun protection, you should limit your pet's exposure during the hottest parts of the day, that is, from 10 am to 4 pm.
Keep An Eye Out For Dangerous Items
The sand can hide a lot of things–rough rocks, corals, broken glass, garbage, etc.– that can pose a risk to your pet. If you're not too careful where your dog is going, he may end up with paw injuries or serious digestive issues from eating garbage.
Protect Your Pet From Hot Sand
Your dog's paws may seem tough but they are actually sensitive to hot surfaces. If the sand is too hot for you to walk on barefoot, then it's too hot for your pet, too. To prevent paw pad injuries and burns, protect your pet's paws with rubber bottom dog booties.
When taking a stroll along the beach with your dog,  walk along the water's edge where the sand is cooler. Make a habit of checking your pet's paw pads frequency for any signs of burns, injuries, or irritations.
Rinse Your Dog Well After A Beach Day
After spending a day at the beach, whether it's salt or freshwater, always remember to rinse off your dog with clean fresh water to remove any sand, salt, dirt, and potential pathogens before you head home. A quick and simple rinse will keep your pooch fresh and smelling clean.
This can help prevent skin issues caused by sand and salt. Dogs with sensitive skin can suffer from serious itching, rashes, and hotspots when there's salt in their hair coat. Also, salt can damage your pet's hair coat.
Clean Up After Your Dog
It is the responsibility of pet owners to pick up their pet's poop and dispose of it properly. Even if most dog-friendly beaches have poop bags at the entrance, you should always bring your own. Include it in your 'what to bring list' so you won't forget.
Dog poop is an important contaminant in the environment. It can pollute bodies of water and can pose a problem for fish and wildlife. It can also be a source of parasites and illnesses that can affect other pets and even humans.
With adequate preparation and some caution, bonding times with your pet at the beach will never be the same again. And you'll surely be looking to your next beach adventure.
Is There Sunscreen for Dogs
Sun protection is just as important for your pet as it is for you. Just like humans, sunscreen protects the skin of dogs from the sun's harmful rays. Without adequate protection, a dog could develop sunburn and skin cancer.
But human sunscreen should not be used in dogs because it can contain ingredients, like zinc oxide, that can be toxic to them. Zinc oxide ingestion can increase a dog's risk of hemolytic anemia.
What Is The Best Sunscreen For Dogs?
Dog sunscreen products are not created equal. Thus, you have to make a  habit of reading labels and checking the list of ingredients for anything that could harm your pet. Dogs may lick their skin and accidentally ingest the sunscreen.
In case dog sunscreen is not available, sunscreen for babies and children can be used. However, make sure to check that it's pet-friendly with an SPF of 15 or higher. It should also be fragrance-free.
If you're not sure what ingredients in sunscreen products are regarded as being safe for your dog, ask for a recommendation from your veterinarian.
How To Apply Sunscreen On Your Dog
When it's your first time to use the sunscreen product on your dog, apply some on a small area of his body. After a few minutes, check the spot for any signs of an adverse reaction. If there's none, you can now apply it to other parts of your pet's body. Be careful when applying the product around the dog's eyes to prevent irritation and other issues.
Once you have finished applying the sunscreen on your pet, let it set in for several minutes before heading out. Keep a close eye on your dog to make sure that he doesn't lick it off.

What Should I Do If I Think My Dog Suffered Sun Burn?
When dogs get too much sun, their skin becomes red and tender to the touch, just like in humans. Signs are more obvious in areas of the body that are most susceptible to sunburn– nose, ears, belly. Your dog may also whimper as he scratches certain parts of the body where sunburn is present. He may try to shrink away when you try to pet them. A slight fever may be present when sunburn is severe.
If your dog has sunburn, here are a few steps that can help alleviate your pet's discomfort and promote healing:
For mild cases of sunburn, treatment can be done at home.
Cool your pet's skin by gently applying a cold compress.
Make sure your pet keeps out of sunlight until his sunburn has healed. If your pet needs to go outdoors, protect his sunburned skin with sunscreen or let them wear sun-protective clothing.
If your dog has severe sunburn, take them to your veterinarian right away. Your pet might need pain and inflammatory medications. Fluid replacement therapy and antibiotics may also be necessary. Any wound will also need to be dressed.
With a dose of caution and adequate preparation, the beach will be a happy place for you and your dog.