Benadryl for Dogs: Symptoms, Dosage and Prevention
Jul 23, 2021
Benadryl and Other Allergy Medications for Dogs
Allergies are frustrating! There is nothing more miserable than watching your furry friend lick incessantly at their paws or scratch themselves raw. Canine allergies are one of the most common medical conditions seen in dogs. While allergies can be bothersome, there may be some potential solutions to helping your pup finally get the rest he or she deserves.
Many effective allergy treatments currently exist for dogs. From over-the-counter Benadryl for dogs to dog allergy supplements and prescription veterinary medications, there are numerous options for treating allergies in dogs.
Remember that prior to starting a new medication, it is always important to consult with your veterinarian. This complete guide will review Benadryl and other allergy treatments for dogs.
What Is Benadryl?
Benadryl, also known as diphenhydramine, is an antihistamine used in pets and people. Histamines in the body are often responsible for inflammation and allergies. Antihistamines, like Benadryl, block histamine from attaching to cells which can prevent the allergic response from occurring.
In people, allergies are often caused by histamine release so Benadryl is often effective. In pets, histamine is not the main driver of allergies, and there are many other substances involved in the allergic response. As a result, Benadryl does not seem to work as well in pets as it does in people.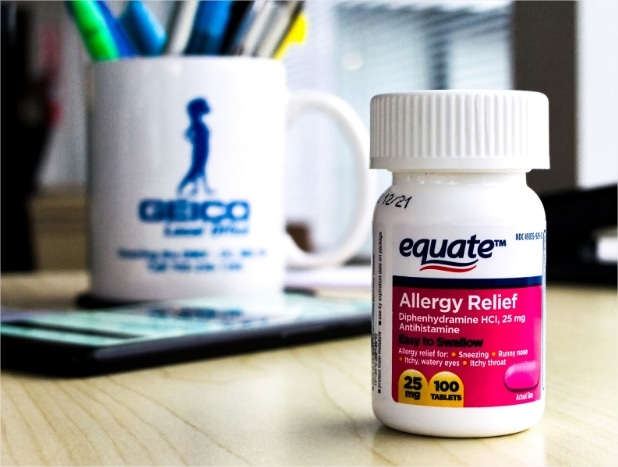 Does Benadryl Work in Dogs?
While Benadryl is generally considered somewhat safe for dogs, currently Benadryl has no FDA approval for use in dogs. Although many people use Benadryl in dogs, in my experience as a veterinarian, Benadryl only works well for a very small number of pets.
In general, it tends to just make them sleepy and is mostly ineffective for treating moderate to severe itching. There are numerous other dog allergy medications on the market that work better than Benadryl, and those will be reviewed later in the article. While Benadryl may not be very effective for relieving itching, other conditions may respond well to Benadryl.
What Conditions Does Benadryl Treat in Dogs?
Benadryl is commonly used in dogs for certain medical conditions. It is most effective when used under the direction of your veterinarian for allergic reactions and mild allergy symptoms such as itching and sneezing.
Vaccine Reactions
Veterinarians may choose to use Benadryl if their pet gets vaccine reactions. Vaccine reactions appear as facial swelling, hives, or difficulty breathing shortly after vaccine administration. Vaccine reactions require emergency treatment so visit your veterinarian if you suspect your dog is having a vaccine reaction.
Usually, if a pet has had a vaccine reaction, veterinarians will recommend giving a dose of Benadryl the morning of your pet's vaccination appointment. Alternatively, they may choose to give it as an injection at your pet's vaccination visit.
Hives
Dogs can get hives when they are having an allergic reaction. If you suspect your pet has hives, call your veterinarian right away. The most common cause of dog hives is bee stings or vaccine reactions. If your dog has developed hives, your veterinarian may recommend that you give your dog Benadryl for a few days.
Allergies and Itchiness
Dogs that scratch themselves or lick their paws often have allergies to pollen in the environment. There is no conclusive evidence that Benadryl works for this type of itchiness, but some veterinarians may wish to prescribe your dog Benadryl if they are having minor itching. I
f itching is moderate to severe, a stronger dog allergy medication or a vet-approved allergy chew for dogs will be necessary to relieve the itching.
Sneezing
Sneezing in dogs can be caused by allergies or other causes. If your dog has been sneezing excessively, your veterinarian may recommend a short course of Benadryl. This may help relieve minor sneezing episodes caused by allergies.
Side Effects of Benadryl in Dogs
The main side effect of Benadryl is drowsiness. Other side effects can include dry mouth, diarrhea, vomiting, and loss of appetite. An overdose of Benadryl can cause high heart rate, dizziness, seizures, coma, decreased breathing, and even death.
Dangers of Benadryl in Dogs
Benadryl should not be used in pets with certain medical conditions and can have adverse effects if used with other medications. Because of this, it is vital to consult with your veterinarian before starting your pet on any new medication including Benadryl. Benadryl can be dangerous if used in pets with the following medical conditions:
Pregnancy
Nursing
Glaucoma
Prostatic hypertrophy
Bladder issues
Hyperthyroidism
Hypertension
Heart disease
Chronic Obstructive Pulmonary Disease
Benadryl should not be used and can cause adverse reactions if your pet is on any of the following medications:
Clomipramine
Amitriptyline
Doxepin
Selegiline
Diazepam
Alprazolam
Phenobarbital
Benadryl Dosage for Dogs
Use caution when purchasing Benadryl from the store. Some Benadryl brand-name medications have other substances like Tylenol in them that may severely harm your dog. When you purchase Benadryl, you should ensure that it only has diphenhydramine and no other medications or harmful ingredients.
Prior to starting your dog on Benadryl, be sure to consult with your veterinarian to ensure that it will be a safe medication for your dog. The typical dose for diphenhydramine (Benadryl) in dogs is 1mg per pound every 12 hours.
For example, if your dog is 25 pounds, a veterinarian will often prescribe a 25mg Benadryl tablet by mouth every 12 hours. I do not recommend going over a Benadryl dose of 50mg in any dog, and in dogs larger than 50 pounds, I would give no more than 50mg.
What other dog allergy medicine should I ask my vet about?
Benadryl does not seem to be very effective for itching caused by allergies. There are many other dog-specific allergy medications currently on the market that work better for itching.
Cytopoint
Cytopoint is an injectable medication that can be used to treat allergies in dogs. It is highly effective and will typically give your dog itch relief for 4 to 8 weeks. This medication is very safe for dogs and generally has no side effects. As it is highly effective and extremely safe, Cytopoint is one of my favorite allergy medications to use for itchy dogs.
Apoquel
Apoquel is a fast-acting allergy medication that is extremely effective at relieving itching secondary to allergies. This medication comes in pill form and can be used as long-term maintenance for allergy symptoms in dogs. Apoquel has had a few reported side effects like stomach upset and blood work abnormalities, so it is recommended if placing your pet on Apoquel long-term to get your dog's blood work checked annually. For severe allergies, this medication may provide amazing itch relief for dogs.
Atopica
Another common allergy medication prescribed by veterinarians is Atopica . This medication can provide long-term itch relief for dogs with allergies. While this product is highly effective, it also comes with a high price tag. In addition, Atopica can have side effects like stomach upset. Because of this, I don't often use Atopica for my patients.
Steroids
Steroids like prednisone and prednisolone are sometimes used by veterinarians to treat itching caused by allergies. While steroids are cost-effective and very effective at providing short-term rapid relief from allergy symptoms, they also have several side effects and usually can not be used for long-term maintenance.
Possible side effects of steroids usage in dogs include drinking excessively, peeing excessively, panting, and increased hunger. Typically these side effects are short-term and will stop once your pet is weaned off the medication. Your veterinarian may choose to place your pet on steroids if your dog is in need of rapid relief from itching.
Fatty Acids
Fatty acids may be more effective at relieving itching from allergies than Benadryl. Omega 3 and 6 fatty acids in the form of fish oils can aid in supporting the inflamed skin. Up to half of dogs may benefit from taking fatty acids for itching, so your veterinarian may choose to place your dog on fatty acids for allergy symptoms. Fatty acids are generally safe for dogs but should be used with caution in diabetic animals or pets on blood thinners. The most common side effects of fatty acids include diarrhea and vomiting.
Allergy Supplements
Alpha Paw's vet-approved Allergy Chews   are formulated to boost your dog's immune system and can help provide relief from seasonal & environmental allergies and dry, itchy skin. Our dog allergy supplements contain a powerhouse of all-natural ingredients including colostrum, krill oil, organic turmeric, and probiotics that work together to support canine digestive and immune health. Unlike other dog allergy medicine, our peanut butter-flavored soft chews won't make your dog drowsy and are suitable for daily use
Medicated Baths
Medicated shampoos can be beneficial for dogs with allergies. My favorite shampoo for dogs with allergies is Dechra's Miconahex + Triz Pet Shampoo. I typically recommend for my patients at the veterinary hospital with moderate to severe skin allergies to bathe with this shampoo weekly for maintenance.
When using a medicated shampoo, first wet your dog with lukewarm water, lather well with the shampoo, and allow the shampoo to sit for 5 to 10 minutes prior to rinsing. Finally, rinse thoroughly with water. Do not shampoo around the eyes and ears as this may cause harm to these sensitive areas.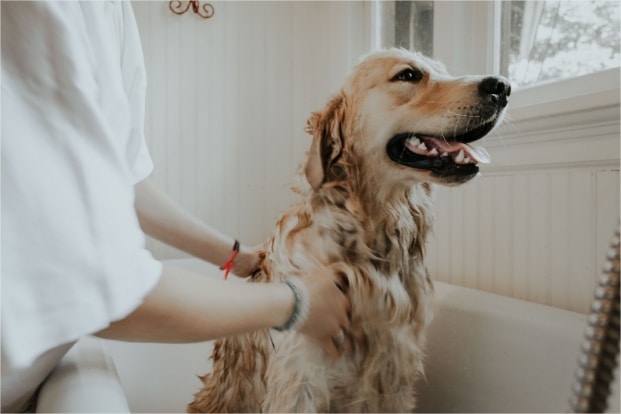 Final Thoughts
Benadryl, while generally safe for use in dogs, can also cause adverse reactions if used inappropriately. While it may be tempting to reach into the cabinet and give your dog medication you have at home, it is crucial to first speak with your veterinarian before administering medications to your pet.