What Are The Best Dog Ramps for A Truck?
If you're looking for the best dog ramp for your truck, car, or home, it can be difficult. Nowadays, dog ramps come in many shapes and sizes. Depending on the type of vehicle you drive, certain ramps may work better than other ramps. One thing is certain, whatever dog ramp you purchase should have a high traction walking surface that puppies and senior dogs can use.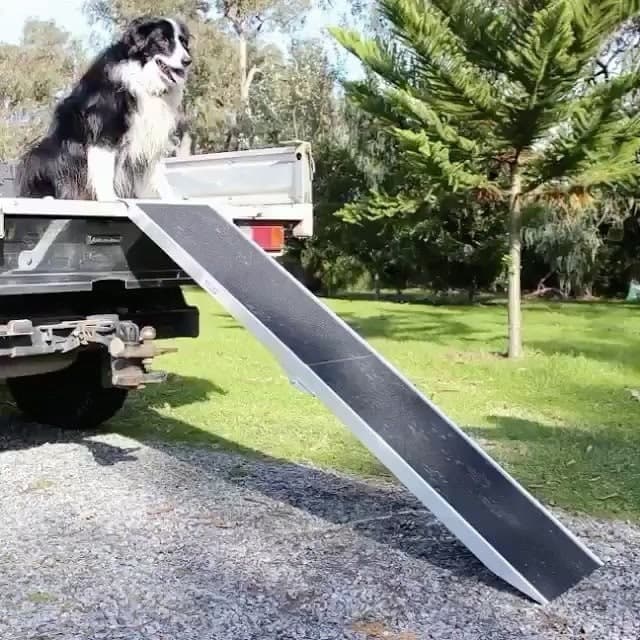 Credit: rampchampstore
Another important thing to remember is that pet ramps are completely different than dog stairs. Dog stairs still require a pet to hop up and unto them, unlike an adjustable ramp that is stationary, with a slanted walking surface that is flat. Dog ramps do not put pressure on your pooch's spine as they do not need to jump to get from one place to the next.
Sifting Through All the Choices to Find the Perfect Dog Ramp
Whether your dog is big or small, we're sure that they are finding it hard to manage in a human-sized world at times. Why wouldn't they? They live in our homes, roam our yards, look out for our property, and ride in our vehicles. Small breeds and dogs with walking difficulties almost always have trouble climbing our furniture, but dogs of all sizes face obstacles when it comes to entering our rides.
Don't miss the sale happening NOW for Alpha Paw's #1 Vet-Recommended, patented car ramp – CLICK HERE!
Fortunately, a dog ramp can help in most of those situations. It is a useful aid that can facilitate your dog's access to sofas, beds, decks, patios, and even swimming pools! It is also excellent when it comes to getting your pup into a vehicle — you no longer have to pick them up and help them get in your car or RV. If you have a truck and take your dog with you wherever you go, a dog ramp is an absolute must.
While we carry our own PawRamp and Dachsramp as well as a car ramp, we still want to be a resource for our customers and fans, so we took it upon ourselves to find the best dog ramp for trucks. We looked into what makes these ramps reliable and searched the depths of the internet to find our top picks. We used a set of rigorous criteria to ensure that nothing was left to chance and that you know exactly what you're getting with each product.
How We Selected the Best Dog Ramps for Trucks
Buying a dog ramp is not something you should take lightly. Just like getting a dog crate that works for your pet and yourself, the same goes for dog ramps. This pet gear is essential for the pet parent and the four-legged buddy. Your dog has to be comfortable going up and down the pet ramp. They also have to feel safe so pet ramps that have a non-slip surface are critical.
Getting a reliable ramp or a random one could mean the difference between having a safe, healthy pooch and an injured, disabled one so choose carefully, and take every detail into consideration.
To make your choice easier, we did the due diligence and inquired about what criteria truck dog ramps need to meet. To that end, we consulted:
Veterinarians
Pet store employees
User reviews
Dog trainers
Veterans and Physical Therapist Gave Their Take On the Best Dog Ramps
Veterinary physical therapists were our main source of information. Ramps are primarily recommended for tiny, old, or disabled canines. Notwithstanding, trucks can pose a problem for many dogs, big or small. Many trucks have a big gap between the ground and their door so senior dogs, puppies, and even healthy adults can happy a problem getting in them.
That's why we've dedicated this article to finding the best dog ramp for trucks as trucks pose a special problem for all dogs because of their height. A common misconception by pet parents who own large dogs or medium-sized dogs is that they can easily jump onto the truck bed or the truck itself, and they won't have a problem. That is not true. Even large dogs have a risk of injuring themselves if they miss the landing or if they continue to jump up and down high places.
We found out that dogs can seriously injure themselves when jumping out of such tall vehicles and need a proper ramp that would prevent accidents. That refers to all breeds that are prone to skeletal issues like Dachshunds are to intervertebral disc disease or German Shepherds to elbow dysplasia.
The ramp has to have a non-slip surface and an incline suitable for the dog in question — the smaller, older, or more injured they are, the milder the incline of the ramp should be. A telescopic dog ramp is ideal for big trucks with a large truck bed, and we'll discuss that when we rate a telescoping dog ramp.
Pet Store Associates Shared Inside Knowledge About Choosing the Best Dog Ramp
Pet store workers shared their industry's inside knowledge on dog ramps. They revealed that most products that customers returned had one of the following flaws:
One-size-fits-all dimensions — dog ramps need to be wide, long, and tall enough for your dog to feel comfortable walking on; the same ramp would hardly be suitable for, say, a Pug and a Newfoundland
A walkway that bends — if the ramp isn't sturdy enough, your doggo could refuse to use it, or the ramp could break, hurting your dog in the process
A cumbersome design — truck ramps for dogs are used only when getting in or out and are stored inside when they aren't needed, so they ought to be compact enough not to get in the way when folded or collapsed
Impractical features — besides being bulky, ramps that are too heavy or hard to assemble are among the least functional ones, so you should never settle for those that weigh over 20 pounds or don't attach or unfold easily
We made sure to avoid those traits at all costs in our search for the best dog ramps for trucks, but we also wanted to check which ramps received the highest praise from users online. We compared those products to the expert advice we got and chose the 12 that ranked the highest.
Several members of our team drive different truck models, and they were more than happy to test out the ramps we selected for review. Since dog trainers use dog agility ramps on daily basis, we asked them for tips on how to teach our doggies to use their truck ramps.
The Alpha Paw–Approved Dog Truck Ramps
Our selection process has thus come to an end. We were confident that we have chosen the best of the best, and quite literally so. Below you will find our picks for the top dog truck ramps that are perfect for vans and pickup trucks, while some are even long enough to be used for semis or big rigs.
Best Multipurpose Ramp: The Car Ramp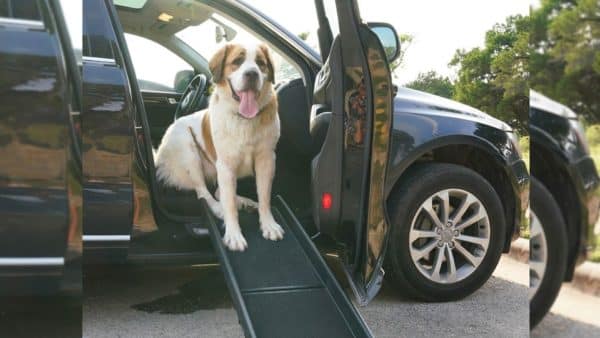 You may recognize the car ramp as our top pick in our dog ramp article.  The car ramp is 62″ long x 16″ wide. Packs flat to 8″ high which makes it an excellent side truck ramp — all you need to do is lean it against the vehicle. It may even be suitable for the tailgate, but that would depend on the size of your truck.
Why Dogs Like the Alpha Paw Car Ramp
It is surprisingly lightweight at just 10lbs, so you won't have a problem bringing it in and out of the vehicle for your pooch. These ramps are durable, weather-resistant, and incredibly easy to clean — all you need to do is wipe them with a damp cloth! The ramp's walkway has a ridged surface that guarantees your dog won't slip on it at any incline.
This multi-purpose ramp is one of the best ramps for dogs of any size. From puppies to senior dogs to small dogs to large dogs, the car ramp does it all. We've had many positive reviews from pet parents who've tried other dog ramps and then discovered ours.
More Pros With Alpha Paw's Car Ramp
The ramp is 62 inches long by 16 inches wide
Packs flat to 8 inches high
A fantastic multipurpose item for owners on a budget, as you get a two-in-one deal — a practical ramp for both indoor use and your vehicle
Holds up to 200 lbs
Runner-up: PetSafe Happy Ride Extra Long Telescoping Dog Ramp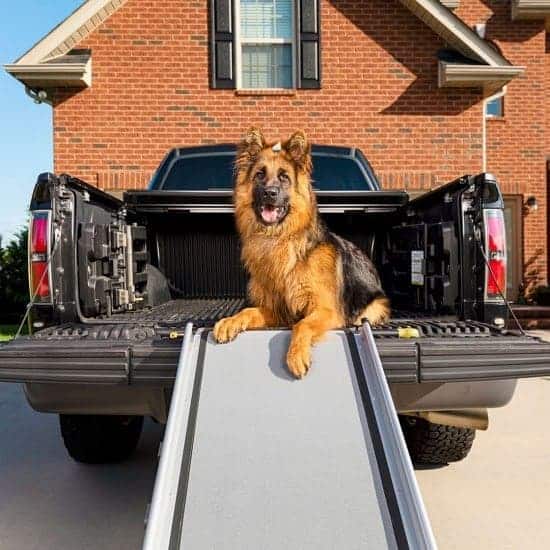 Credit: PetSafe
PetSafe Happy Ride Extra Long Telescoping Dog Ramp was our runner-up pick across the board. It is easy to transport and even easier to use. The telescopic design allows this ramp to slide effortlessly from 47 to whopping 87 inches!
Why Dog Owners Like the PetSafe Dog Ramp
The aluminum frame allows this huge ramp to weigh only 18 pounds but also to be sturdy enough to support canines of up to 300 pounds! That means that even a chubby, 230+ pound Mastiff could freely strut up and down this doggo runway, and dogs rarely get heavier than that!
This ramp is 20 inches wide, which makes it suitable not only for large breed dogs but also for other animals, such as pigs or goats. That is fantastic news if you also happen to have a farm, a veterinary practice, or you keep or transport other animals in your truck.
This ramp has a high-traction surface and side rails that ensure the safety of your dog. It stores like a charm, too — it is only four inches thick, and it comes with a safety latch that locks the telescopic mechanism in place.
More Pros With PetSafe's Dog Ramp
You can control the length and customize it to your vehicle (check out other adjustable dog ramps here)
Long enough for most trucks, including semis, raised trucks, and big rigs
A carry case for this product is also available
Some Cons With PetSafe's Dog Ramp
When retracted, the ramp is still rather long at 47 inches
The walkway lining does have a sandpaper-like feel to it, but it may not provide sufficient support for a senior dog
Our 3rd Pick: Gen7Pets Natural Step Ramp for Vehicles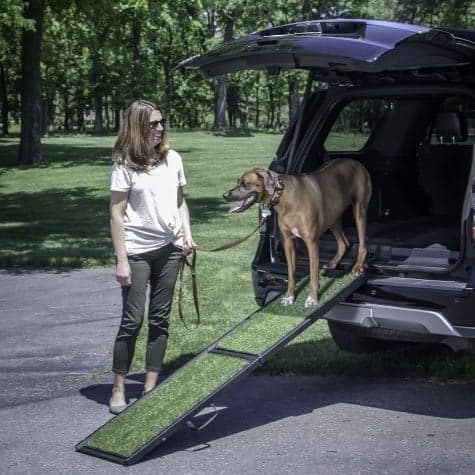 Credit: Petmate
Gen7Pets Natural Step Ramp for Vehicles is a unique product in terms of its lining. It is designed to give woofers the impression of walking on a natural, grassy surface. The poly-grass surface also provides doggies an excellent grip of the ramp, regardless of the incline. Because dogs feel like they are walking on grass, this gives them an extra level of comfort.
Why Dogs Like The Petmate Dog Ramp
Rubber grippers located at the ends of the ramp give it stability and allow it to stay in place even when the dog runs over it to climb in the truck or another vehicle. The ramp is portable, weighing 18 pounds in total, features rubber-grip handles for easier transport, and stores flat.
The maximum weight capacity for this ramp is 250 pounds, which is excellent for any dog, and even other animals. When extended, it is 72 inches long, which is optimal for most high-rise vehicles. It's one of several folding ramps that make storage easy for the pet parent.
More Pros With the Petmate Dog Ramp
Comes in two sizes — regular for trucks, jeeps, and SUVs, and mini for cars and minivans (42 inches long)
Folds in half (3 inches thick)
Has a locking clip that prevents it from opening when stored
Some Cons With the Petmate Dog Ramp
16 inches wide, which is not enough for giant dog breeds
The mini-sized ramp doesn't have a safety tether that is featured in the regular version of the ramp
Our Budget Pick: Titan Aluminum Telescoping Dog Ramp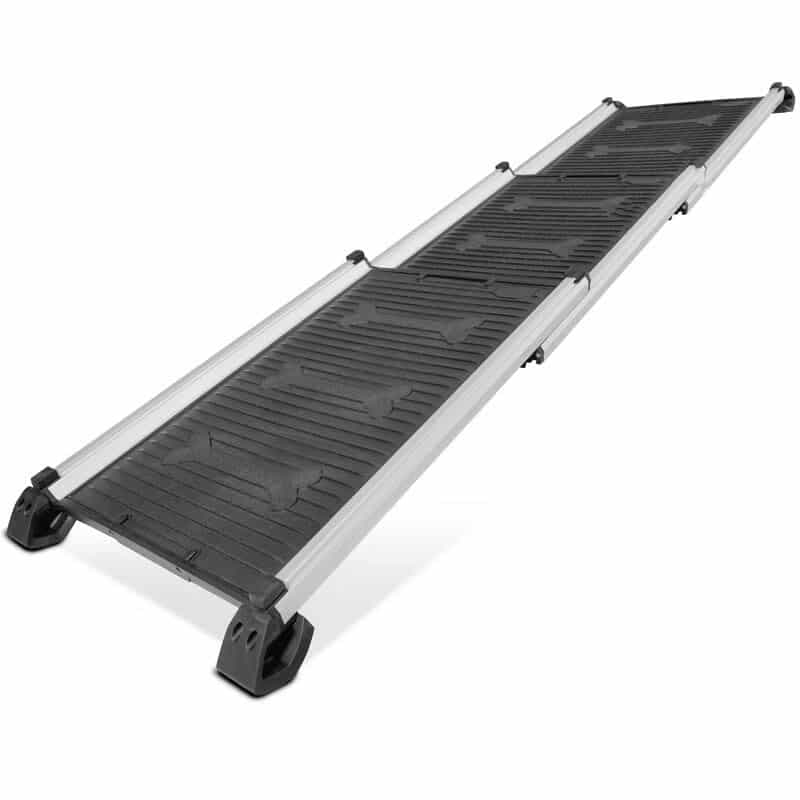 Credit: Titan Ramps
Titan Aluminum Telescoping Collapsible Pet Ramp won as the dog ramp for owners on a budget. It offers most of the features that ramps we looked at having, such as:
Easy storing — the three-part, collapsible telescopic design is fantastic as it stores rather compact and opens effortlessly
Rubber feet to prevent sliding on the sidewalk or other surfaces
Grooved walkway — the textured surface ensures your dog won't slip when climbing up or down this ramp, which is vital for senior dogs or others with difficulty walking
Why Dog Owners Love the Titan Dog Ramps
This ramp is made from aluminum, which makes it both lightweight and sturdy — it is tested for dogs of up to 180 pounds, while the ramp itself weighs a mere 13 pounds! The telescopic dog ramp design is functional as it allows for single-hand operation. The ramp is 61 inches long when open, which is enough for most trucks.
More Pros With the Titan Dog Ramp
Comes in two colors — silver and black
Almost 17 inches wide, which is enough for puppies to senior dogs
28 inches long when collapsed
Some Cons With the Titan Dog Ramp
The walkway is plastic, which could potentially fracture if you treat it harshly or if it gets tossed around in the trunk or the truck bed
Can't support giant breed dogs (180 pounds maximum weight capacity)
Best for Giant Breeds: PetSTEP Original Folding Dog Ramp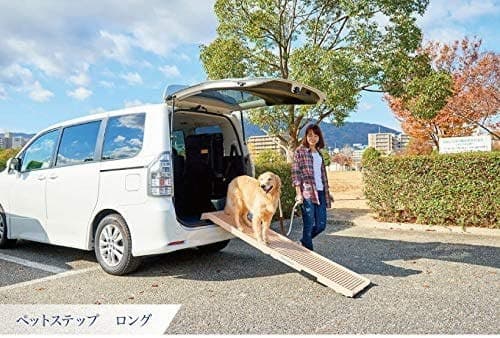 Credit: Amazon
PetSTEP Original Folding Dog Ramp can withstand dogs of any size, so it had to take the win as the best ramp for large, hefty canines. It has a 500-pound weight limit, which makes it suitable not only for giant dog breeds but also for other animals. However, despite its large weight capacity, it can still be used for smaller dogs, puppies, and older canines.
Why Dog Owners Love the PetSTEP Original Folding Dog Ramp
Additionally, because it is a folding dog ramp that holds up to 500 lbs, it is widely used in a variety of settings. Most notably, it is often used in veterinary stations to facilitate the climb of many four-legged patients onto the exam table.
This product features a rubber, no-traction walkway, which protects against slipping and is ideal for all weather conditions. Whether it is wet or dry outside, you can rest assured that this ramp won't trap moisture. It is made of fiberglass, which also means it is strong, durable, and corrosion-free. It can even be used in pools or other bodies of water that are shallow enough for this ramp.
This dog ramp is 17 inches wide, which is wide enough for most dogs, but some may be reluctant to use it if they feel it is too narrow for them. Our top pick beats this one by three inches, which is precisely what we loved about it.
At 18.5 pounds, it is easy to use this ramp for each car stop on the road trip with your furry companion, and the side handles make carrying the ramp a breeze. Rubber grips at each end keep it stable and in place, regardless of how big of a dog steps on it.
More Pros With PetSTEP Folding Ramps
Long enough for most trucks: 70 inches when unfolded
Compact enough for storage in any vehicle: 36 inches when folded
Comes in two colors: beige and black
Some Cons With PetSTEP Folding Ramps
Not an ideal choice if you have a small doggo
Almost six inches thick when folded, which exceeds the majority of similar products
Why A Dog Needs Dog Ramp For A Pickup Truck
Small breed dogs don't have it easy when it comes to climbing anywhere where their owners need them to — from beds to cars. If you own a miniature pup and also drive a truck, that leaves you with two options:
Bending down, picking them up, and carrying them around everywhere
Investing in a quality dog ramp (or making one yourself)
If your pooch suffers from a health issue that renders them incapable of entering vehicles by jumping in, a dog ramp is an ideal solution for both owners and the dogs in question. This applies to dogs that recently underwent surgery, have a physical disability, are missing a limb or use a wheelchair, or are simply too old to negotiate tall surfaces.
Don't miss the sale happening NOW for Alpha Paw's #1 Vet-Recommended, patented car ramp – CLICK HERE!
Dog ramps aren't only meant to help pooches climb into a truck, but also to exit it. All dogs can sustain an injury when jumping out of a vehicle, which makes getting them a ramp all the more important. The impact of a jump is powerful and can wreak havoc to your pup's joints. This is particularly important for dogs that are prone to back problems, such as Doxies.
How to Train Your Pooch to Use Dog Car Ramps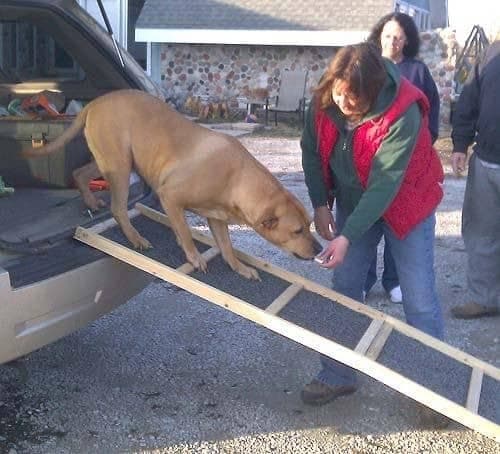 Credit: saltofamerica
The secret of getting your pooch to use their dog ramp lies in the power of positive associations.
You have to teach your dog to associate the ramp with something pleasant, such as food, play, or praise. You also have to be patient and move slowly during the training process. Whatever you do, make sure to avoid these dog training mistakes.
Simple Steps To Training Your Dog To Use A Pet Ramp
Start by laying the ramp flat on the floor and putting a treat on it. Slowly put more treats in different places along the ramp to encourage the dog to walk on it. Once they have gotten used to feeling it under their feet and have started sitting or lying on it, you're good to move to the next step in the training process.
Set the ramp against your truck, and place treats along with it all the way to the top. Once your dog climbs up the ramp, praise them and reward them with a pat or more treats. Make sure you only use natural and healthy treats and don't overfeed your little muncher. Here are our suggestions of the best dog treat brands and the worst dog treat brands we could find.
Reasons Why Your Dog May Refuse The Pet Ramp
The key to successful training is patience. If they use the pet ramp once and then decide they don't want to use it again. Find out why your dog may have had an adverse reaction to using the dog ramp. Perhaps it didn't feel sturdy enough for them. If that's the case, reset the pet ramp and test your pet gear to ensure it feels sturdier.
If they refused to use the pet ramp because they didn't feel safe, check to ensure the non slip walking surface is not slippery. Wipe it down and make sure it's dry. Sometimes a dog may feel uncomfortable using the dog ramp because they are not used to the incline angle. In that case, guide them slowly up and down the ramp so they can get used to it.
Another issue that could arise is from older dogs. Many times these dogs have been jumping on and off high places and are very used to their way of doing things. Even if you get the world's best dog ramp for them, they may not use it. In that case, you have to have a bit more patience and introduce it to them slowly. Eventually, they will come around and start using the dog ramp
Dog Ramps Should Be Included In the List of Required Pet Gear for Your Small Dog
One of the main reasons why dog ramps are critical for smaller dogs, especially Dachshunds is the spinal injury they can suffer from. Called IVDD, this debilitating health issue is caused by constant jumping up and down from high places.
For Dachshunds, that can be deadly. Because of their elongated spines, one in four Dachshunds will have IVDD in their lifetime. Many will end up in wheelchairs and have to undergo expensive spinal surgeries to correct it.
The simplest and most effective protection and prevention strategy for these smaller dogs is having them use a dog ramp. Smaller dogs need to use a dog ramp, in the house, when traveling, and whenever possible to prevent spinal injuries and accidents.
Final Thoughts
As you can see, getting the best dog ramp for your four-legged buddy is difficult. There are many things to consider, but it's worth the effort. Having a dog ramp for your pooch will help prevent many health issues and unnecessary vet bills.
It's true that many dog ramps are on the more expensive side, but that is nothing compared to the pain your dog may suffer or the medical bills required to get them back to health. With that in mind, we highly recommend you invest in a dog ramp for your four-legged best friend. This is one pet gear ramp that is worth the investment.
References
Belshaw, Zoe, et al. "Systematic Review of Outcome Measures Reported in Clinical Canine Osteoarthritis Research." Veterinary Surgery, vol. 45, no. 4, 2016, pp. 480–487., doi:10.1111/vsu.12479.
Giffin, James M., and Liisa Carlson. Dog Owner's Home Veterinary Handbook. Howell Book House, 2000.
Brevitz, Betsy. The Complete Healthy Dog Handbook: The Definitive Guide to Keeping Your Pet Happy, Healthy & Active. Workman Publishing Co., Inc., 2016.