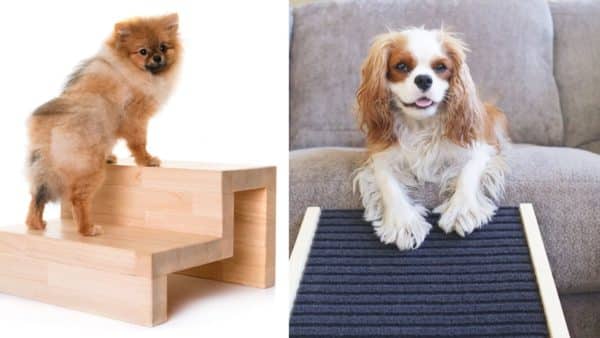 Dog Ramp Or Dog Stairs?
Dog ramps become inevitable as dog age. For other owners, it's the best decision to protect the short-statured breeds that they love dearly.
IVDD Survivor Story – Hannah & Louis
No matter the reason, they make life easier for the pets and owners that use them.
When deciding which options are best for you and your furry friend, there are many things to consider. However, with both options offering many of the same features, the Alpha Paw Car Ramp for Dogs is the true leader of the pack.

One Ramp Fits All
Though breeds of all types can use dog stairs, not all dog stairs can support every dog.
Don't miss the sale happening NOW for Alpha Paw's #1 Vet-Recommended, patented dog ramp – CLICK HERE!
Most sets of dog stairs on the market have a maximum weight capacity of 150lbs. Our dog ramp has a maximum weight capacity of 200lbs. That means that even the biggest of our furry best friends can safely use the ramp without concern.
As with weight considerations, ease of use is also a factor for smaller breeds and dogs with mobility issues. Dog stairs are just as simple to find a place for in the home but, that doesn't mean they are easy to use. Sometimes they can even pose a risk or falling hazard to the dog.
With a gentle incline of the ramp, a dog can carefully navigate it in their own time and at their speed. Stairs require extra balance and stability that many dogs in need of mobility assistance do not have. Plus, they'll thank you for the lack of strain on their joints when using a ramp.

Ramps Go Anywhere You Do
Not only are dog ramps the safest option for your dog within your home, but they're also the safest option on the go. There is no longer a need to risk strain or injury to your own body or theirs when you bring the ramp along for your adventures.
Watch Dr. Ross's Review on Dog Ramps
When considering if a
dog ramp
or dog stairs are best for you, it is necessary to remember that home is not the only place you will be using them. That means anything from veterinary appointments to rides to
the beach.
The ramp is easy to break down when you're about to leave and set up again for them outside. When your dog uses the ramp to get into the car, it not only prevents your chance of injury but theirs too.
Don't miss the sale happening NOW for Alpha Paw's #1 Vet-Recommended, patented dog ramp – CLICK HERE!
Once they're in the car, fold it up and pack it in the trunk. At only 9.9lbs, it is a breeze to bring along. The ramp folds flat and requires little space when being brought along – stairs are an entirely different story.