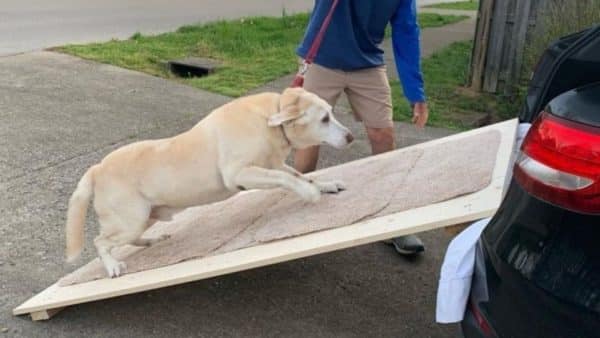 How to Build a Dog Ramp for SUV—Step-by-Step Procedure
Image source: furbabycaremn
Up, up, up… just a little bit more… aaand nope… another failed attempt to get into the vehicle. Your pooch is lying on the floor with four legs in the air. The, "What did I need this for?" moment lasts for five seconds, and here they are—trying to reach the inside of your SUV again.
Don't miss the sale happening NOW for Alpha Paw's #1 Vet-Recommended, patented car ramp – CLICK HERE!
This is what everyday life looks like for small breed canines, puppy munchkins, and dogs with back issues. And although it can be adorable to watch them roll over, you usually end up picking your baby up and carrying them into the vehicle.
​​
Dog ramps for SUVs are a perfect choice for all pet owners who want to enable their dogs easier access to the car. You can either purchase or build them, but in either case, both you and your pooch will be relieved.
IVDD Survivor Story – Hannah & Louis
In this article, we are going to teach you how to build a perfect SUV dog ramp. So, put your yellow Bob the Builder cap on, and let's start constructing.
Why Do Dogs Need a Dog Ramp?
Some pooches are prone to injuries more than others and shouldn't be exposed to any possible bone-cracking situation, not to mention our elderly cuties who are well into their senior years. The same goes for pups, mighty warriors, who have gone through injuries or surgeries before. A large or small breed, they shouldn't risk reopening their wounds.
If your hairy child belongs to a risky group, or if you are tired of carrying and lifting them into the vehicle, the ramp is a perfect solution for you.
The Best Material for SUV Dog Ramp
We can start with the basics. Before you begin constructing, you need to choose the proper material. Dog ramps are usually made of:
Plastic
Wood
Metal
Each of these has its benefits and downsides. Your task is to choose the best one based on your ramp's purpose. Since we are building an SUV dog ramp that will be used outdoors, we need to choose wisely.
Plastic Ramps
The problem with vehicle ramps is that you can't set them up and leave them in one position for eternity. You keep them in your vehicle and take them out when needed, sometimes even ten times a day if necessary, in case your pooch is in a good mood for shopping. So, the quality you are seeking in a ramp is to be light enough for you to carry it around. The plastic ones are perfect in that sense—not even holding them with your pooch on top will leave you with sore muscles.
Their downside is that these ramps aren't built for large breed canines.
They are perfect for
Teacup Dachshunds
or Chihuahuas, for instance. Large doggos such as
German Shepherds
might get sad thinking that the remains of their winter belly lie behind the broken ramp.
On the plus side, plastic ramps are resistant to rust and mildew, which means you can even leave them outdoors for a while—the rain will do them no harm.
Wooden Ramps
Wooden ramps provide your pooch with great stability. They can be used for dogs of all breeds, ages, and sizes. If you purchase them according to your pooch's measures, everything will be fine. In case you decide to build one, make sure to sand the wood so that the surface is smooth. Cover your ramp with a carpet, as it can get extremely slippery, especially if left outside.
The greatest disadvantage is that wood is heavy, and so are the wooden ramps. This material is usually used for ramps only when they are supposed to be static. If you need to move them around a lot, they aren't a good choice for you.
You can build a ramp using plywood, which will reduce the ramp's weight. The key is to cover it with non-slip fabric that dries off fast.
Metal Ramps
These ramps also provide stability, and they are not as heavy as the wooden ones. You will carry them around with ease. Both large breed and small breed canines can enjoy them. Storing metal ramps is a piece of cake, especially if they are foldable.
Although cleaning them is no sweat, these ramps can get rusty fast if you don't take good care of them. We don't recommend leaving them outdoors!
While all these ramps have their pros and cons, the wooden ones are the easiest to build on your own. So, let's learn how to build a dog ramp using plywood.
Things to Consider Before You Start Making Plywood Dog Ramp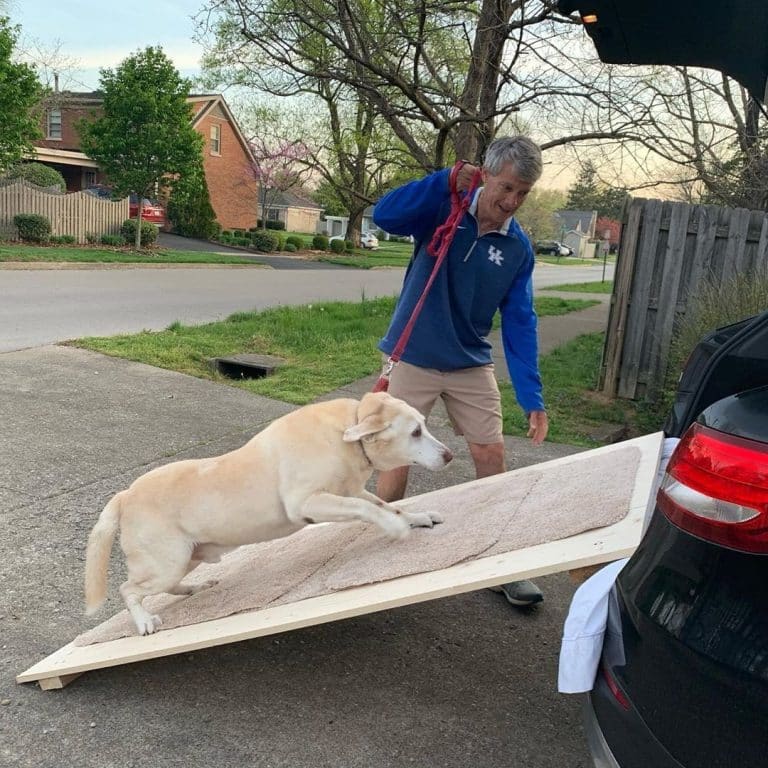 Image source: catfan7
If you go through the next section thoroughly, you will know what to acquire for this project. We will also help you avoid:
Buying too many unnecessary items
Throwing extra material away
Purchasing the wrong plywood size
To spare you from head-scratching and puzzling over what you need to prepare, we are here to help! There are several things to think about before getting down to work:
What's the size of your dog?
How much plywood do you need?
Does your pooch have any health issues?
What's the Size of Your Dog?
Your pooch's size determines:
The ramp's width
The ramp's slope
Plywood thickness
Do not neglect their size when making a ramp. If you make one that does not suit your pooch's needs, they will not be happy to use it.
Watch Dr. Ross's Review on Dog Ramps
How Much Plywood Do You Need?
Plywood is a great choice for dog ramps as it's not too heavy. But, its weight varies depending on your pooch's size. If you have a small munchkin rolling around your home, you will need thin plywood. Large breed dogs require a thicker ramp to walk on.
The ramp's width also rests on your canine's size. We have prepared a rough estimate to help you determine how wide your plywood should be:
| | |
| --- | --- |
| Dog's size | Ramp's width |
| Small dog | 7–11 inches |
| Medium dog | 11–15 inches |
| Large dog | 15–19 inches |
As for the length of plywood, try to figure how big a slope you want to make. Our advice is to go with a gradual slope as it's safer and more stable.
The length and the slope depends on the ramp's height. You need to measure how tall your vehicle is.
After you have taken all these dimensions, you will know exactly how much plywood you are going to need for this project.
Does Your Pooch Have any Health Issues?
Even if you have a perfectly healthy little beastie at home, they can have a predisposition towards developing some issues. Dachshunds, for instance, are genetically predisposed to intervertebral disc disease (IVDD), which can lead to a shorter lifespan. In case you are the owner of this gorgeous breed, take a look at our article on Dachshund ramps.
Senior canines are often victims of arthritis, which sometimes complicates their walking and playtime, let alone jumping into vehicles. These poor things need a ramp with as small a slope as possible.
Items You Need to Build a Dog Ramp for SUV
Before the ramping begins, you need to prepare all the items you need. After you have determined the dimensions of your ramp according to our guidelines, you know how much building material and which tools you need. Let's check out the list of items:
Plywood
Saw
Sandpaper
Lacquer
Extra wood for crossbars
Extra wood for side rails
Fabric
Drill
Screws
Pen
Let's Start Ramping
We have divided our building process into several steps. Let's see the step-by-step procedure of making the SUV ramp.
Cut the Plywood
If you have prepared all the items you need, it's time for cutting. Use your measuring tape and a pen to draw cutting lines with precision. We recommend you put on gloves for extra protection. You can also wear a face mask and goggles to prevent the dust from entering your eyes and mouth.
Sand and Lacquer the Plywood
Sanding the wood is important as it removes mill marks. Find good sandpaper that will help you smooth the board's surface with ease. If you skip this step, you risk having your pooch hurt while using the ramp.
Once you have finished the sanding, use lacquer to paint over the board. This way, you will protect the ramp from water. Lacquer is resistant to stains, which is perfect if your dog likes to jump into dirt here and there.
Add Crossbars on Top of the Board
Take the extra wood and mark the cutting lines with a pen. Make at least two or three crossbars for the board. Their length should match the ramp's width.
After you have prepared the crossbars, take the drill and screw the bars into the ramp. Make sure no screws are sticking out of the board because your pooch can get hurt.
Add Side Rails
This part is not obligatory, but it's highly useful. Extra safety measures ain't gonna hurt nobody. Side rails should be as long as the ramp itself. There are tons of ways you can make these rails, but the simplest one includes the following three steps:
Cut the extra wood into two planks
Sand the planks
Use drills and screws to attach them to the ramp's both sides
The planks can follow the height of your pooch's knee caps.
Carpet the Board
The final touch is carpeting the ramp. Choose the material that is not slippery. Stable footing is crucial for dog ramps. If they feel that the fabric beneath them is slick, they will refuse to use the ramp.
The carpet should also dry off fast, as it will prevent soaking and reduce the risks of mildew. Synthetic turf provides a better grip and gives the whole construction a beautiful look.
The carpet is also SUV friendly. Nice fabric will cover the sharp ramp's edges, and it will not do any damage while stored in the back of your vehicle.
What Makes the Perfect SUV Ramp?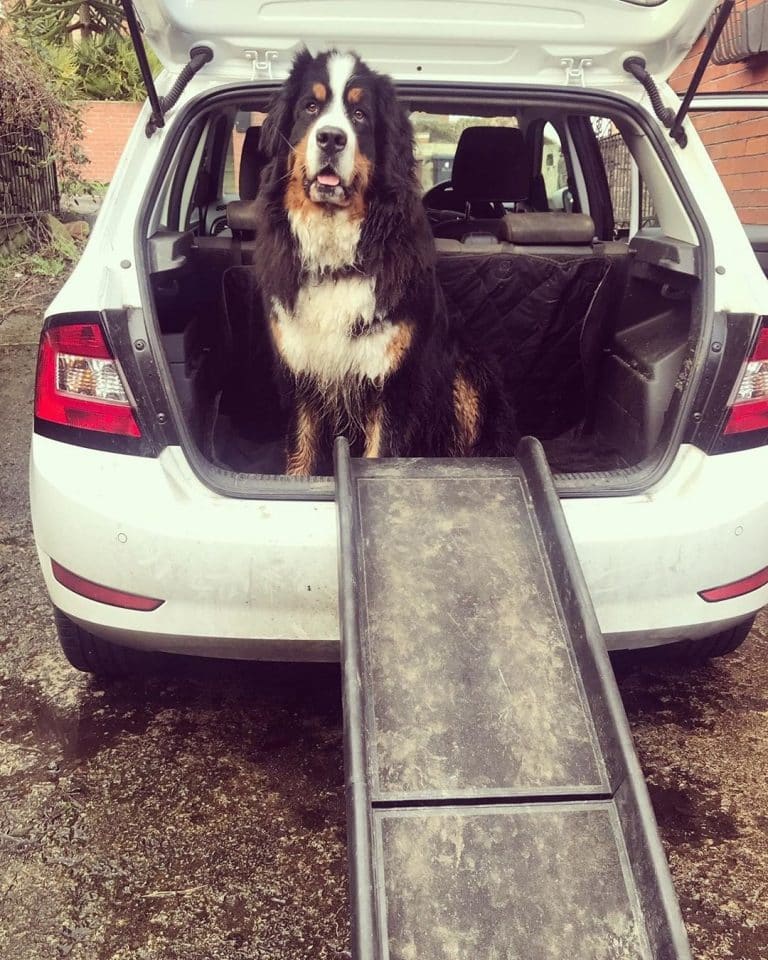 Image source: toby_the_bernese_
The prime goal of building a ramp is to help your dog get on and off the SUV easily and to spare the owners from carrying their pooch around all the time. A sturdy dog ramp will resolve these issues, but it should be stable enough for your pooch to use it on its own. There are several things you need to consider in order to build a perfect SUV ramp, and we're going to cover each one. If you are a rookie, you will find our guidelines useful!
Stability
Our hairy friends can be terrified of unstable ramps that tremble under their paws. They will refuse to go any near such ramps and will probably wreak havoc if you force them to use them. You can blame your dog, but in this case, we'll point the finger at you.
Don't miss the sale happening NOW for Alpha Paw's #1 Vet-Recommended, patented car ramp – CLICK HERE!
Unless you want them to feel like walking on a plank where you get to be the evil eye-patched pirate, build them a stable ramp.
The Right Material
The choice of material depends on the ramp's purpose—is it made for indoors or outdoors? If it's for outdoors like in this case, try to use fabric that's resistant to
Whichever you choose, make sure to cover it with material that will protect your pooch from sliding off the board.
Mild Slope
Here's the thing—the more gradual the incline of the ramp, the more stable the construction is. Steep ramps can be scary for your sweetie, especially when they are supposed to come down. Dogs are not big fans of slides, and perhaps your pooch suffers from acrophobia, you never know. If they get scared, there's a slight chance they will try to jump out of the SUV. The impact of a jump can be extremely dangerous for your pup's joints. So, the gradual slope is vital for dogs that are susceptible to back problems, such as Doxies.
Also, our grandpa and grandma dogs are sensitive to sharp climbs. Their joints and bones can be under a great deal of pressure if the angle is too steep, not to mention canines who suffer from joint problems.
Dog owners must make their dog's walking easier, which means making a ramp that meets their requirements.
Here are our rough estimates on how steep the ramp should be.
| | |
| --- | --- |
| Dog's size | Ramp's incline |
| Small dogs | 18–25 degrees |
| Medium dogs | 22–25 degrees |
| Large dogs | 25–29 degrees |
Bear in mind that your pooch should feel comfortable on the ramp. It will help with keeping your dog's joints healthy and reducing the pain they feel.

Side Rails
While you are still in your working suit, stay a bit longer and add something super useful to your dog's ramp—side rails. These are not obligatory, but they do provide extra security, especially if you have a clumsy pooch. If they lose stability, they can slide off the ramp and hurt themselves.
How to Train Your Pooch to Use the SUV Dog Ramp?
It's crucial that your four-legged friend associates the ramp with something positive. Prepare yourself for lots of praise and fill your pockets with treats. Do not force your pooch to the ramp—the key is to make them come to it on their own.
Put the ramp on the floor, sit next to it, and call your daredevil to you. Once they sniff the ramp, give them a treat. If your lovely canine makes any physical contact with it, praise them, and give another treat. Use your hands to provoke the interaction with the ramp.
You can also place a yummy treat on the ramp, and let them eat it off the board. Make sure to avoid these dog training mistakes.
As you lean the ramp against the vehicle's entrance, encourage your gorgeous pet to climb. If they come up successfully, well, you know what to do.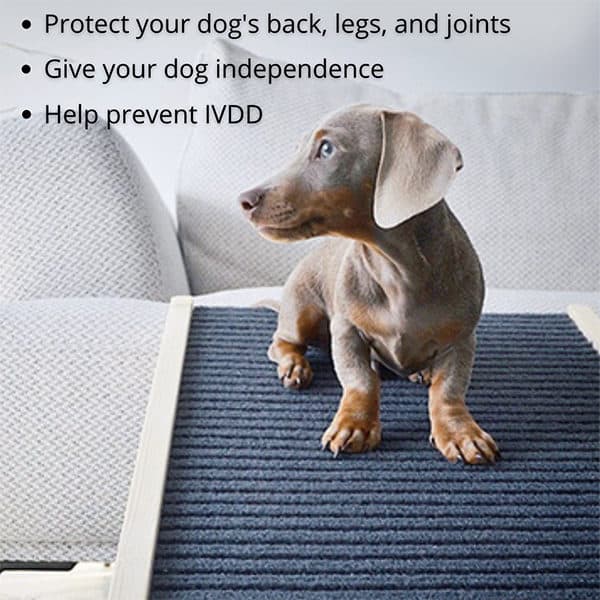 As you can see, this training process allows your pooch to eat a lot of treats.
Make sure you give them only
natural and healthy treats
, to reduce the risks of obesity.
Take a look at our choices for the
best dog treat brands
, and the
worst dog treat brands
on the market.
Let's Wrap Up What We Have Learned
In this article, you saw a step-by-step procedure on how to make a simple SUV dog ramp. What we would like you to remember are some of the most crucial parts of the making, such as the importance of:
Using non-slip material to cover the ramp
Adding crossbars on the ramp
Sanding the plywood after cutting
Making the ramp as sturdy as possible
Dog owners who need more ramps around the house for their canines can check out our suggestions for a dog ramp for a tall bed or the bedside dog ramp—you can find some exciting ideas. If you liked our guidelines for building SUV dog ramp, take a look at some of our other similar articles:
References
Jensen, V. F., and K. A. Christensen. "Inheritance of Disc Calcification in the Dachshund." Journal of Veterinary Medicine Series A, vol. 47, no. 6, 2000, pp. 331–340., doi:10.1046/j.1439-0442.2000.00297.x.
Beauchesne, Ryan. Crusoe, the Celebrity Dachshund: Adventures of the Wiener Dog Extraordinaire. St. Martins Griffin, 2015.