An Impawsible Situation
When a Shepherd mix lost all her pups after they were born prematurely, she was devastated. Heartbroken and unable to accept that her pups were gone, the grieving dog mom refused to stop search for them until a trio of orphaned kittens came into her life.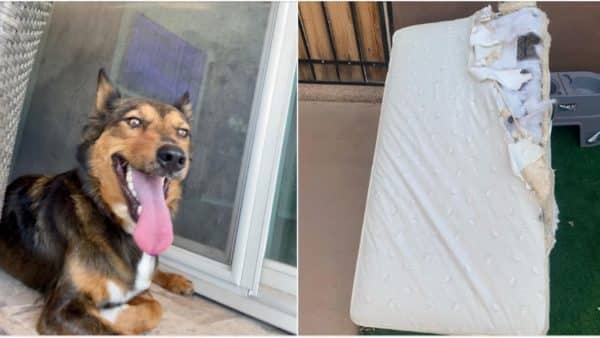 Georgia, an Australian Shepherd mix, was rescued near the U.S.-Mexico border, living near a gas station. Sunshine Dog Rescue in Phoenix was able to take her in. That is when they found out that she was pregnant.
Unfortunately, Georgia gave premature birth to her litter, and none of the puppies survived. As any mother can imagine, the dog was beyond devastated.
"I've never had a mom dog lose a whole litter before," Anita Osa, founder of Sunshine Dog Rescue, told ABC 15. "The best way I could describe it was, she was frantic. It was so sad, she was looking for those babies. She tore up the toddler mattress we had her on, trying to find her babies."

A Mother's Love Sees No Species
Once the rescuers recognized how dire the situation was, they put out a call on social media asking if there was anyone that had animals in need of a lactating mother dog. Before they knew it, someone answered the call.


It wasn't the same species, but a trio of kittens had recently been orphaned and needed a surrogate mom. However, Osa was still apprehensive. Would Georgia accept the kittens?
"I introduced them to her gently. I first brought one out and let her sniff it, and she seemed to accept it, so I brought the others out," she said. "It's amazing to see how she instantly calmed down."
And as for the kittens…
"I think for the kittens, they have no idea that Georgia is a dog," Anita said.
Georgia will heal her broken heart, and the kittens will receive the love and nourishment only a mother can provide in return. Watch the adorable video below about Georgia and her new family.

More Pawsome Animal Stories To Enjoy
If you enjoy reading about Georgia's story, visit Alpha Paw's daily blog for more heartwarming stories, helpful information, and expert advice to help you give your dog the best life pawsible! Below is a sample of what our daily blog offers!
An Incredible Friendship Between A Dog and A Lamb