The Essential New Puppy Checklist Your Family Needs
May 04, 2021
Adopting a new puppy into your family is an exciting experience for everyone, but while it may be tempting to buy your new furry friend that cute puppy sweater, there are many essential items that you will need first in order to prepare for their arrival. Caring for a puppy requires a lot of time, work, and money but with the following items welcoming your new puppy into your home should be a breeze!
The Basics: Essential Puppy Supplies
There are certain items that are absolutely essential when welcoming a new puppy into the family. Not only will these items make your life easier but they will ensure you are providing the best possible care for your pup.
The Basics: Essential Puppy Supplies
There are certain items that are absolutely essential when welcoming a new puppy into the family. Not only will these items make your life easier but they will ensure you are providing the best possible care for your pup.
1. Food and Water Bowls
There are many different types of food and water bowls on the market. From plastic to metal bowls, always consider the size of your dog when choosing; larger dogs will of course require bigger bowls and some dogs may find it easier to eat or drink from an elevated bowl.
2. Leash
It may sound simple but there is more to choosing a leash for your dog than you might think, you need to make sure that you can keep your dog safe and under control when out in public. They come in a variety of fabrics and lengths so it is important to match the leash to your dog. Larger, stronger dogs will require a more durable leash that won't break when your dog pulls on it while smaller dogs can get away with a thinner leash.
3. Collar or Harness
A collar or a harness is essential so that you can take your dog on walks. The size and strength of the collar/harness will need to match the size of your dog. If your dog is liable to pull then a martingale collar can teach them not to pull on the lead, alternatively, a harness may give you more control over your dog. We would recommend avoiding choke collars as these may unnecessarily harm your puppy.
4. Microchip
A microchip is a small electronic tracking device that your vet can safely insert under your dog's skin. Hopefully, your dog will never go missing, but if they do this would allow whoever found them to scan their microchip and track the dog back to you.
5. Mediation for worms, fleas, and ticks
Anti-parasite medication is essential in allowing your puppy to explore their environment worry-free. Always use medication prescribed by your vet for treating fleas and follow the recommended dosing regime that they give you.
6. ID Tag


Another essential item for your dog in case they go missing, this customizable ID dog tag will allow them to be easily identified and returned to their owner as fast as possible. It will also make a great fashion accessory!
7. Pet Bed

Your dog will need its own space to sleep and this Cozy Calming Bed is the ultimate in comfort. With raised outer edges for head support and 100% vegan fur, this beg will provide the perfect stress-free environment, providing that feeding of safety and comfort.
This dog ramp is essential for allowing your small puppy to get to those hard-to-reach areas without having to jump up and down. Jumping and climbing can put excessive strain on your puppy's fragile joints as they develop. This ramp is truly useful for your dog's lifetime as they may rely on it again once they are a senior dog.
Traveling With Your Dog: Packing List For Your Road Trip
Taking your dog on their first road trip or holiday is extremely exciting but there are a number of items that you won't want to be without on your travels. Be sure to take out travel insurance for your pup to minimize any costs associated with unforeseen events and be sure to investigate rules and regulations regarding bringing your pet into an airplane cabin – many airlines will allow you to bring a small pet into the cabin for an additional fee, but always call the airline in advance as there are often size requirements.
This lightweight car ramp comes in very useful for allowing your puppy to get in and out of your car without injuring themselves. Its durable and heavy-duty design is also compact and portable.
10. Dog Seat Belt and Car Seat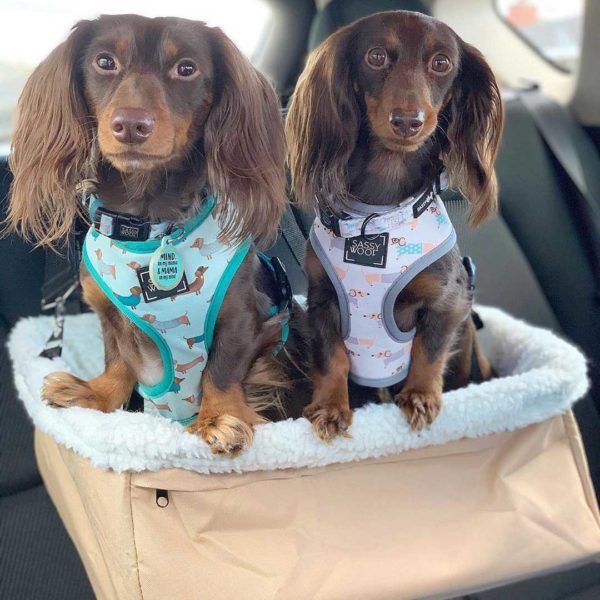 Keeping your dog secure whilst driving is essential to the safety of everyone who rides in the car. This adjustable seat belt and car safety seat are both made from the highest quality materials and will ensure your dog can safely enjoy their next road trip.
11. Crate or Carrier
A crate or carrier is essential for not only crate training but also for allowing you to safely transport your puppy. There are a variety of different sized crates available, be sure to choose one that matches the size of your puppy as they grow.
12. Collapsible Water Bowl
It's essential that your dog stays well hydrated wherever they travel. A collapsible water bowl doesn't take up much space but still allows your puppy to have a drink when on the move!
13. Water Bottle
A water bowl is useless without water. Always carry a few full bottles of freshwater to keep your dog hydrated.
14. Baby/Wet Wipes
Until toilet trained expect your puppy to have a few accidents while traveling. Wet wipes will make you live so much easier, allowing you to clean up any mess while traveling
15. Extra Leash
Carrying an extra leash is essential. In some situations, you may want a longer or shorter leash and it's always a good idea to carry a backup in case your first one breaks.
16. A Ball for Fetch
Great for keeping your puppy entertained and stimulated while out traveling!
17. Treat Bag/Pouch
Always keep a full bag of treats on hand. Traveling is an excellent opportunity to continue to practice your puppy's training.
18. Small First Aid Kit
Always carry a small first aid kit containing a few essentials such as alcohol wipes and bandages for treating any small injuries that your puppy may pick up along the way until you can get them to a vet.
19. Pet First-aid Book
A book of basic pet first aid will come in very handy in providing quick care for any injuries that your puppy might pick up on their travels. This is not a substitute for professional care but should help keep them as healthy as possible until you can get them to a veterinarian.
20. Prescription or over-the-counter medication that your pet normally takes
If your dog has been prescribed any medication then be sure to take this with you. Make sure you have enough to last the whole trip as it may not always be possible to find a local vet when traveling.
21.Phone number of your local veterinarian and a national poison control helpline
Always take the contact details of your home veterinary practice with you in case of an emergency. It's also worth investigating the area that you are traveling to and getting the information of any vets in the area in advance.
If you are concerned that your dog may have eaten something toxic on their travels then contact the ASPCA poison helpline on (888) 426-4435.
Feeding Your New Puppy: Healthy Dog Food & Treats
A properly balanced diet is extremely important for your growing puppy. Be sure to choose a high-quality puppy diet and follow the advice on the food label to ensure that you are feeding them enough. Puppies have extensive nutritional needs so we wouldn't recommend feeding them a home-cooked diet as you can't be sure you are meeting their requirements.
22. Supplements
Nutritional supplements are essential in ensuring your new dog is getting all of the micronutrients they need. The 15-in-1 multivitamin chews are a tasty way to ensure your dog is getting all of the vitamins, minerals, fatty acids, and antioxidants they need for optimal health and a strong immune system.
If you are adopting an older dog then these Hip and Joint chews will help to support your dog's mobility, reduce inflammation and help to reduce any pain they may be feeling from aging joints.
23. Healthy Treats
Victors Doggy Cookies are the perfect healthy treat for your dog. Ideal as a reward for training, these doggy cookies are baked with all-natural ingredients.
24. Quality food
A high-quality, balanced diet is the backbone of the healthy development of your puppy. Choose a puppy-specific food with only the highest quality ingredients such as Purina ProPlan puppy food, Hill's Science Puppy food, or Royal Canin puppy food.
Training Necessities & Cleaning Supplies
Pet parenting is hard work, but the payoff of having a well-trained dog by your side is priceless. Having a new puppy around isn't all fun & games. Things get messy. Tough love can be hard to give -it's tempting to let bad behavior go unpunished when they give you those puppy eyes. But it's in the best interest of you and your new furry family member to stick to a training regimen, correct bad behavior, and make sanitary cleaning practices a habit in your household. These items will quickly become your most prized possessions – do yourself a favor and stock up before your new best friend arrives.
25. Pee Pads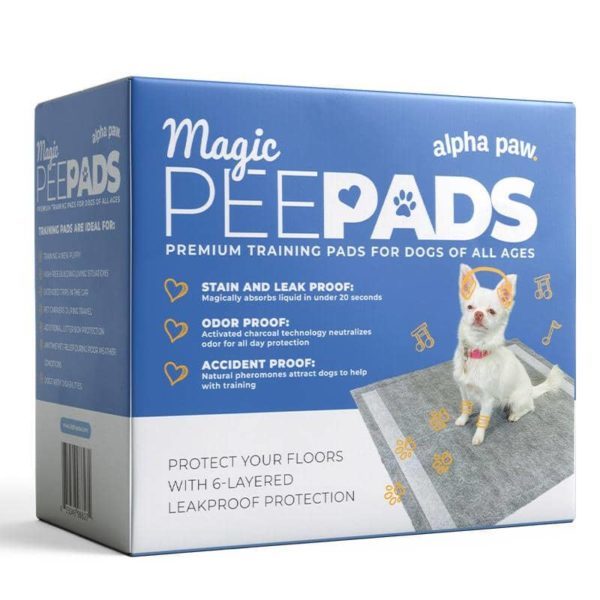 In the process of your puppy becoming fully toilet trained there are bound to be plenty of accidents along the way. These Magic Pee Pads will make sure to work of any mess that your puppy makes around the house. They also come in a larger size for larger puppies or even your mature dog that may have become incontinent.
26. Poop Bags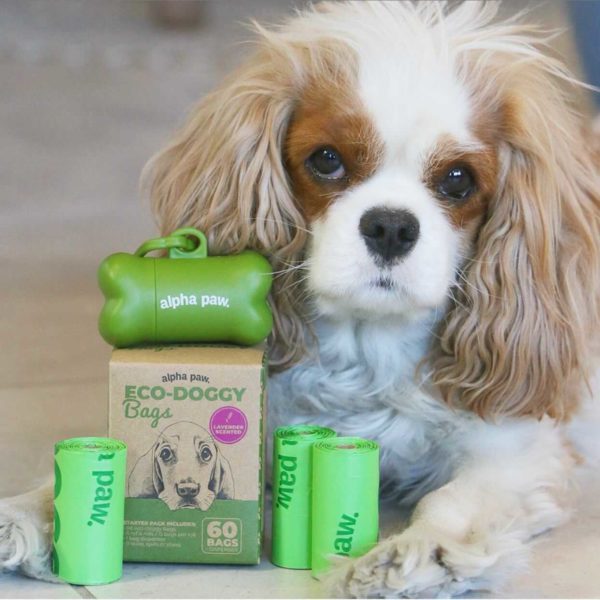 Whether you're out and about or at home, you'll need a way to clear up any poop that your puppy might leave behind. These Eco-friendly Doggy Bags are ideal for picking up after your dog; they are made out of recycled materials and are infused with an odor-blocking natural scent to prevent any nasty smells.
27. Toys
Toys are essential for keeping your dog entertained and for providing comfort when you're not at home. Look no further than this Bouncy Fish Toy – an interactive toy that moves when your pet is nearby. It is completely safe for them to chew or bite.
28. Chew Toy for Teething Pups
Teething chew toys will help to soothe your puppy, allowing them to chew safely. Puppies explore the world through their teeth so by providing them with something to chew on they can learn what they can and can't chew on.
29. Enzyme spray/carpet cleaner for accidents
It's essential to have some safe enzymatic cleaning products on hand for any accidents that miss the puppy pads. These will prevent your precious carpets and rugs from staining.
Grooming Tools
Grooming is essential to keep your dog's coat in good condition, it is also a fantastic way to build a close bond with your new canine friend. It's good to start grooming as soon as possible so that your dog becomes used to being brushed and having their nails clipped.
30. A Brush
You should brush your dog's coat every few days to prevent any mats from forming and to remove any dirt that may have accumulated. It's useful to have a range of brushes on hand for different areas of your dog's body.
31. Nail Trimmers
You'll need to trim your dog's nails before they grow too long. You may feel more comfortable taking them to the vets to have this done but if you are comfortable doing this yourself then it's useful to have a pair of trimmers at home. Only ever cut off the excess nail above the quick as otherwise, your dog's nails may bleed.
32. Shampoo
A dog's coat should be shampooed once or twice a week to remove any nasty dirt or debris. Choose a gentle sensitive shampoo that won't cause any damage to your dog's coat, hypoallergenic shampoos can be great if your dog has itchy skin.
33. Toothbrush, Toothpaste, and Magic Mouthwash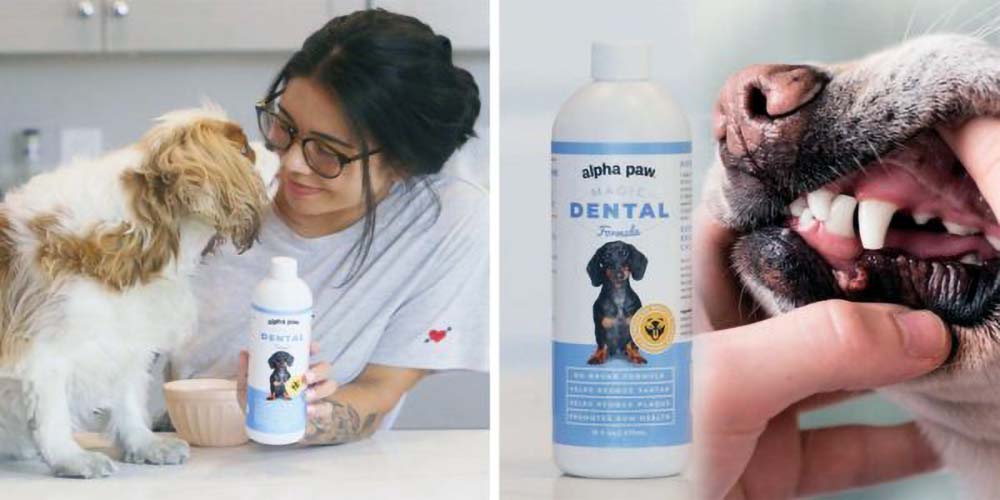 Dental disease is one of the most common diseases in dogs so it is extremely important to clean your dog's teeth on a daily basis. Cleaning prevents bacteria from building up and ultimately leads to a longer and happier life. Finger brushes are often the best to use with an enzymatic meat-flavored toothpaste. This Magic Mouthwash is a great addition to help prevent the build-up of plaque.
Essential Health Services
Finding reliable and trustworthy services to ensure that your best friend stays safe, happy, and healthy is essential, even when you're not around. Although it may not seem necessary to find these now while your puppy is young and fit, it's best to have these services in place before you find yourself in an emergency. Whether your pup needs emergency care or if you need someone else to look after your puppy in a family crisis, having these contacts will give you peace of mind. Be sure to share these contacts with the members of your household so that everyone knows who to contact should disaster strike.
34. Pet Insurance
Pet healthcare is very expensive and before you know it you could end up with a bill for thousands of dollars. Pet insurance is a must-have to ensure you can provide the best quality of care for your dog without worrying that it will break the bank.
35. Dog Trainer
While many owners may feel confident training their own dog, a dog trainer can take this to the next level. Particularly useful for disobedient pups, these professionals will get your puppy to obey commands in no time.
36. Veterinarian
The veterinarian is essential for all aspects of your dog's health. Whether it be for administering their annual vaccinations or providing care in the case of an emergency, having a local veterinarian that you can trust is crucial. Be sure to check they provide out-of-hours cover and are reachable 24 hours a day.
37. Groomer
Important for keeping your dog's coat clean and under control, your local groomer is a great contact to have.
38. Dog Walker
Dog's need regular exercise and this might not always be possible in a busy schedule. A dog walker will take your dog on exciting walks, providing essential exercise and an opportunity to socialize with other dogs.
39. Pet Sitter
For those occasions when you have to be away from your dog for a few days, a pet sitter will keep your dog company while you are done and look after them.