Dog Dental Care: How To Keep Your Dog's Teeth Clean
Jun 18, 2021


Dental Disease in dogs can attribute to many other health issues


Providing proper dental care can help keep your dog healthy and happy


Brushing your dog's teeth daily will help decrease tartar build-up on your dog's teeth


What is Dog Dental Care?
A dog's health depends on proper care for its whole body. This includes understanding their teeth, mouth, proper use of mouthwash, and toothpaste for dogs.
This is a common area that is often overlooked when routine care and maintenance are discussed. Dental care should be an important part of your daily routine for your pet. This will help keep your dog healthy and happy.
If you notice any of these signs in your dog, it would be best for your vet to check them over to make sure that these signs are only due to their dental disease and not something more. Depending on your dog's dental disease severity, your vet may recommend that your dog have a professional dental cleaning done at the vet clinic to remove any infected teeth and help get rid of all the tartar and plaque build-up.
Common signs of dental disease in dogs are:
Bad smelling breath
Tartar on their teeth
Swollen face, especially under their eyes
Pawing at their mouth
Drooling
Difficult or painful when eating

A Dog's Oral Health
Many dogs can develop dental disease as they get older. This is most commonly seen in small breed dogs such as Poodles, Chihuahuas, and Yorkies. By caring for your dog's teeth, they can live long lives and be much healthier. Dental disease has been linked to other diseases such as heart disease, kidney disease, or systemic infections. If your dog has dental disease, it is best to start to care for your dog's teeth early in their life to help maintain healthy teeth and prolong their life.
Signs of Dental Issues In Dogs
When your dog starts to develop dental issues, you will see a small amount of tartar that has built up along the gum lines. This tartar can easily attract bacteria and food particles. These will get trapped along the gum line until there is plaque formation. Plaque is the harder substance on your dog's teeth that can be very difficult to remove by just brushing your dog's teeth.
If your dog has severe dental disease, they can have inflamed gums called gingivitis and need a professional dental cleaning at your vet's office. Your vet can clean your teeth just like people get at their dentist to remove any plaque and tartar. Once this is done, you can then start routine maintenance to keep your dog's teeth free of plaque and tartar.

How to Keep A Pet's Teeth Clean
There are many different ways that you can keep your dog's teeth clean. These are a few different things that you can try at home.
Brush your dog's teeth
There are toothbrushes and toothpaste that are specifically made for dogs. This can take a little tie for your dog to get used to having their teeth brush, but with a little time and training, your dog can easily learn to allow you to brush their teeth. These are a few steps that you can take to help train your dog to allow you to brush its teeth.
Put your finger on their teeth.
Allow your dog to see and smell the toothbrush and toothpaste
Give your dog a small amount of toothpaste to lick
Put the toothbrush in their mouth and on their teeth
Put a small amount of toothpaste on the brush and start to brush a few teeth
Many dogs do best with a finger toothbrush, but you can also use a soft-bristle baby toothbrush to brush your dog's teeth.
Give Your dog Dental chews.
There are many chews and dental sticks that are great for dogs with dental disease. These chews help decrease plaque and tartar build-up on your dog's teeth. When looking for a dental chew, make sure that the veterinary oral health council approves it. They have compiled a list of great treats for dogs and have studies showing that they help decrease dental tartar and plaque buildup.

Give your dog dental food.
There are a few diets that are specifically designed for dogs with dental disease. These diets are often available with a prescription from your vet. They work by breaking away plaque and tartar when your dog bites on the crunchy pieces of food. If your dog has to have a special diet for another health issue, you can even add a few pieces of this diet in with their other diet so that they can still eat their prescription diet while getting the benefits of a dental diet.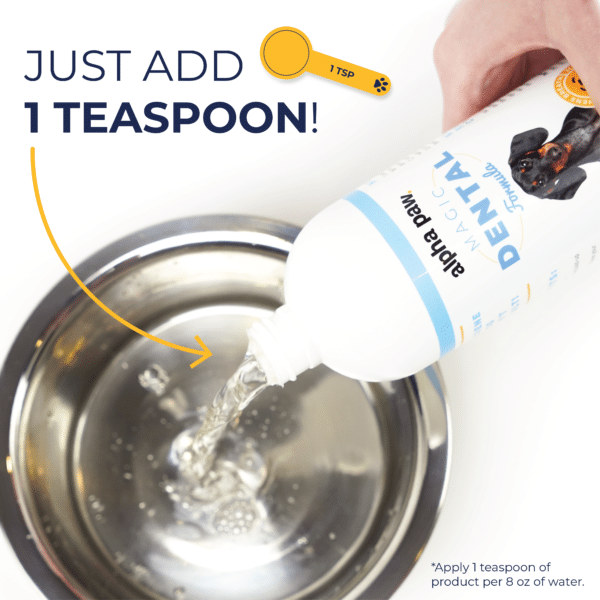 Put dental additives in their water.
You can put things like mouthwash for dogs into your dog's water that will help decrease plaque and tartar on their teeth. It will also leave them with a fresh-smelling breath. However, when offering your dog these water additives, make sure that you also provide them with water that does not have and additives in them as some dogs can be very picky and not like the taste of the water additive.
Can Dogs Use Human Toothpaste?
You should only brush your dog's teeth with pet toothpaste. NEVER use human toothpaste. This contains xylitol and other ingredients that are toxic to dogs. Many dog toothpaste also comes in flavors that many dogs like, such as beef or vanilla.
Final Thoughts
If your dog has bad-smelling breath, it would be best for you to look at their teeth. If you notice that there is tartar or plaque on their teeth, you should brush your dog's teeth and offer them dental treats to chew on. Following these tips, you can quickly teach your dog to tolerate having their teeth brushed. Keep your dog's mouth free and bacteria, tartar, and plaque will help keep your dog healthy for many years as dental disease has been linked to causing or worsening many other health issues.