Poodle Pug Mix Facts
Pug Poodle Mix
The Pug Poodle mix is a combination of the Pug breed and the Poodle breed. While most people commonly like pure breed dogs, others equally find mix breed dogs fascinating and loyal too. A Pug Poodle crossbreed is a small dog that has lovable traits from its renowned parent dogs. Let's get into this guide that tells you more about the mixed breed before considering owning one yourself.
Table of Contents
1

 3 Reasons Why You Shouldn't Get Pug Poodle Crossbreed

2

 3 Reasons Why You Should Get Poodle Pug Crossbreed

3

 Appearance, Personality, and Traits of a Pug mixed with Poodle

4

 Poodle Mixed with Pug Puppies For Sale

5

 Grooming Your Poodle Pug Mix

6

 Pug Poodle Mix Health Problems

7

 Pug Poodles Food Requirements

8

 Poodle Pug Crossbreed Exercise Requirements

9

 Pug Poodle Crossbreed Training

10

 Poodle Pugs and Families

11

 References:
3 Reasons Why You Shouldn't Get Pug Poodle Crossbreed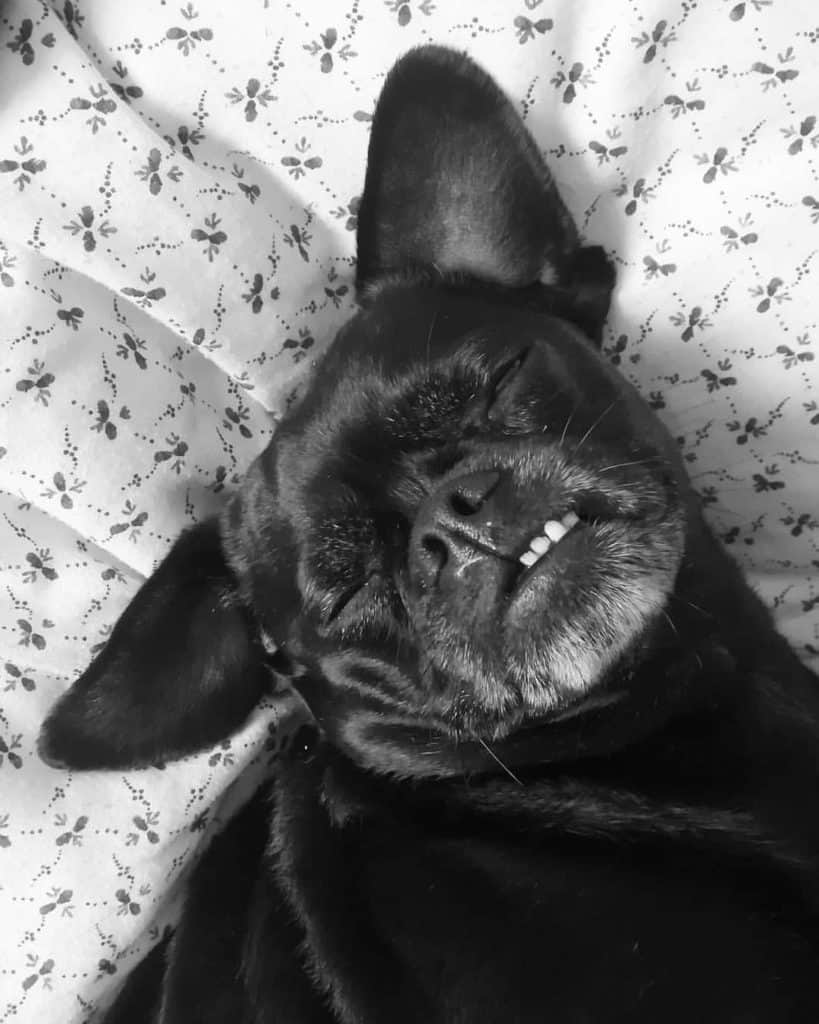 The dog is capable of being stubborn. Just like its Poodle parent dog, the Pug Poodle mix may willfully do as it pleases from time to time. You can easily control the dog's stubbornness when it is trained well and actively responds to your commands.
It has the potential to shed its coat at excessive amounts. The Pug Poodle mix may inherit a short, medium or long coat which heavily depends on the dominating gene in the dog. It may be easier to groom a Pug Poodle mix if it inherits the coat length of the Pug parent dog. Inversely, you may need to do daily grooming on the dog if it has the coat length of the Poodle parent dog.
The dog could become noisy if left untrained. Both the Pug and Poodle have the natural tendency to bark, with its offspring resulting in the same pattern of behavior. The dog may also become noisy if it is deprived of attention from its owners which it needs most of the time.
3 Reasons Why You Should Get Poodle Pug Crossbreed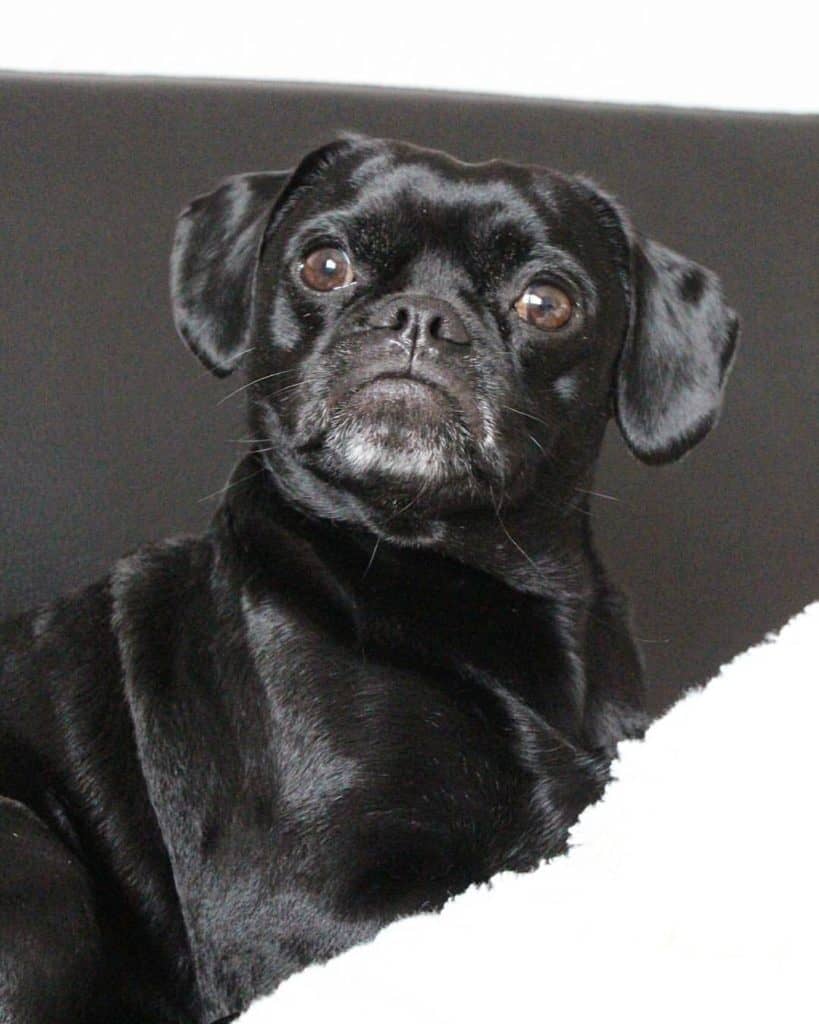 The dog requires a moderate amount of exercise. The Pug Poodle mix is generally a small breed. Unlike larger dog breeds that need substantial outdoor living space, this dog requires little to no outdoor area. Leisurely walking may do the trick for the dog.
It is bred as a house pet. Both dog parents of a Pug Poodle mix have thrived inside closed doors and with people. The dog is family-oriented, fun-loving, pleasing, caring and affectionate companions to have at home.
The dog is highly intelligent. The Pug Poodle mix is eager to please its owners which makes it highly skilled in doing dog tricks. Poodles have also been present in several dog shows and dog sports.
Appearance, Personality, and Traits of a Pug mixed with Poodle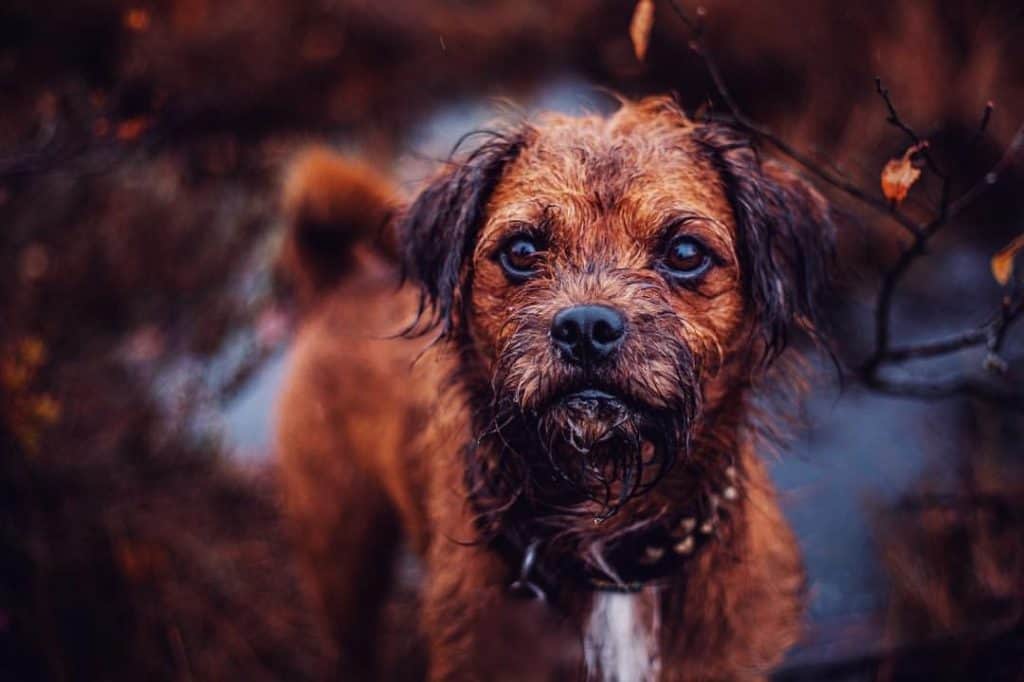 | | |
| --- | --- |
| Height | 6 to 15 inches tall |
| Weight | 10 to 30 pounds |
| Body Type | Small size; similar body type to the Pug |
| Coat Type | It may either inherit straight or curly hair. It is more likely to resemble more like the Poodle than the appearance of the Pug. |
| Coat Color | White, gray, brown, black, tan, red, cream |
| Life Expectancy | 10 to 14 Years |
| Family-Oriented | The Pug Poodle mix is an extremely affectionate and loving dog that is well-suited for a family and children. |
| Indoor Pet | The mix breed prefers indoor living and will do well in an apartment space or at home as a house dog. |
| Excessive Barker | The dog is generally known to bark moderately |
The appearance of a Pug Poodle mix depends on which parent gene becomes more dominant. In general, the dog resembles the height of its Pug parent dog and has varying coat lengths. Depending on the more dominant gene, the Pug Poodle mix may exhibit straight or curly hair. The dog may also manifest a dark muzzle like the Pug. On the other end, the Pug Poodle mix may have a long snout of its Poodle parent dog.
The Pug Poodle mix is a dog that genuinely enjoys spending time with its owner and other people in the house. The dog is active, playful and friendly to children as well. Since the Poodle and Pug were bred as house pets, its offspring is family-oriented and loyal. The Pug Poodle mix prefers sticking by your side than being left alone, making it one of the best companions for veterans and retirees.
The Pug Poodle mix has a life expectancy of about 14 years. You could also prolong the dog's lifespan by taking it to the vet for vaccinations and providing it with a variety of whole foods and nutritious dog food.
Poodle Mixed with Pug Puppies For Sale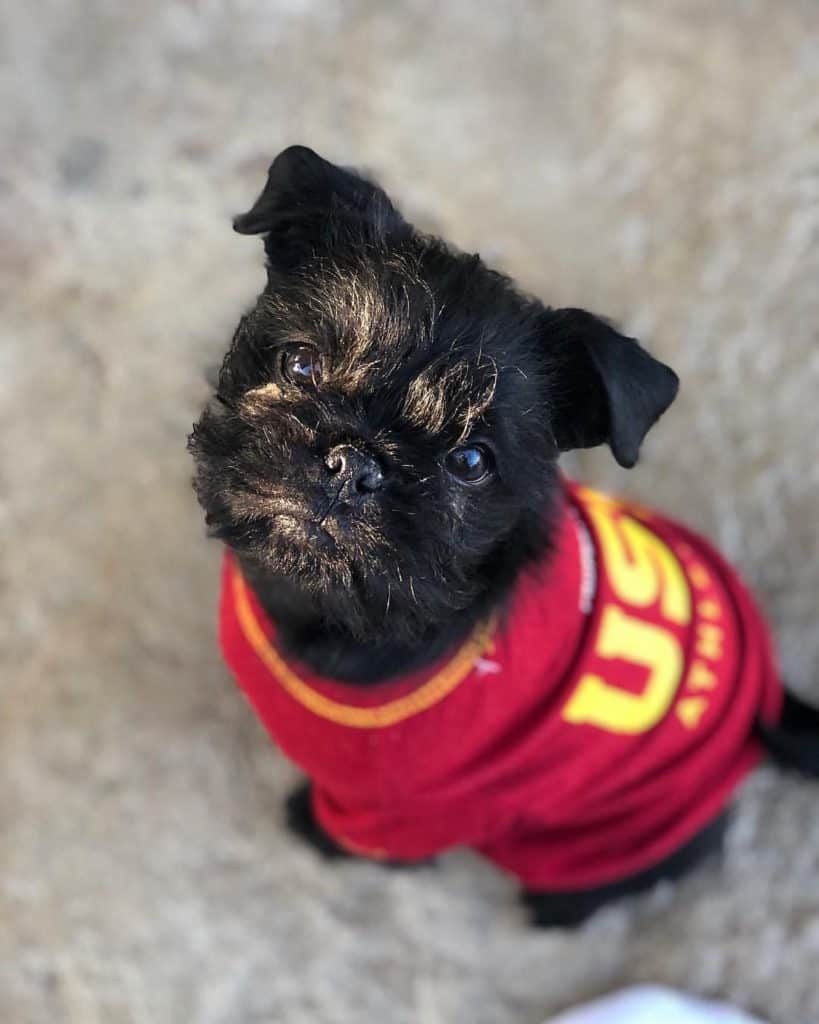 Before buying a Pug Poodle puppy, you need to consider the budget and expenses involved after paying for its ownership. About more than one thousand dollars is required for purchasing the puppy and providing it with medicines and vaccinations. The typical price of a Pug and Poodle offspring range between four thousand dollars to eight hundred dollars.
The best way of looking for this puppy is by checking out dog breeders who specialize in breeding Pug Poodle offspring. To guarantee the quality of your puppy, you should consider reputable dog breeders because the parents of the puppy are surely healthy with offspring that are less likely to inherit "bad" or unhealthy genes. Besides crossing out possible health issues from parent dogs, your other concern when looking for quality breeders is the price of their puppies.
Another budget-friendly method is by looking at adoption centers or Pug Poodle mix breeders who are open to adoption. You should expect to be interviewed by the staff since they need to ensure their dog's overall wellbeing once it's released to you. An excellent and responsible dog breeder is someone who makes as many background checks on the buyer as possible. Below are some dog breeders and websites to get a Pug Poodle puppy:
Woof Animal Rescue
W.O.W. Dog Rescue
P.A.W.S.
Little Lotus Rescue
Lucky Dog Rescue
Adorable Dog Rescue
Wags and Whiskers
Poo-Mix Rescue
Canine Clubs
Adoptapet.com
You can also buy the puppy online for as long as you take the responsibility of double checking the background of the seller just as you would with a dog breeder. You could also attend professional dog shows, contact or join dog clubs, or talk with a veterinarian who may know or refer a Pug Poodle mix breeder to you.
Grooming Your Poodle Pug Mix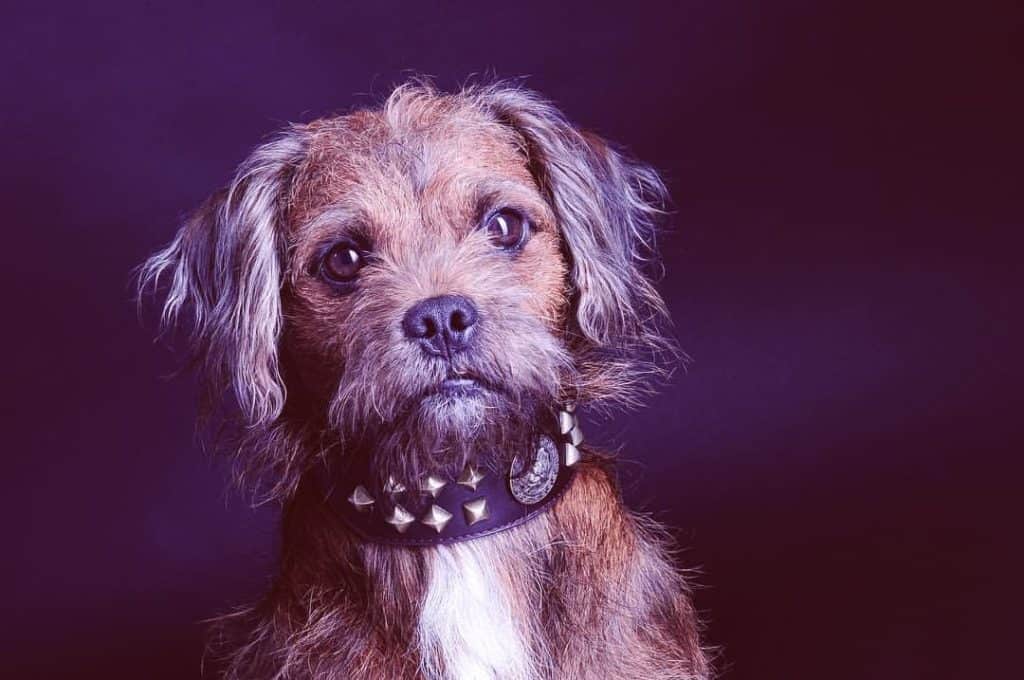 A Pug Poodle mix may require a moderate to high degree of grooming for its coat. Since the dog would generally have a long coat like its Poodle parent dog, the dog would be shedding excessively. You should brush and trim the dog's coat daily every 4 to 6 weeks. Here is a list of dog shampoo and moisturizer products:
Buddy Wash Original Lavender & Mint Dog Shampoo and Conditioner. This dog shampoo is all-purpose and can be used on different dogs. It is formulated as natural soap-free, it is a natural deodorizer, and moisturizes the dog's coat and skin. It is scented with lavender and mint as well.
TropiClean Hypoallergenic Gentle Coconut Puppy Shampoo. This dog shampoo has a hypoallergenic formula and helps in rejuvenating the skin of a dog. This shampoo was specifically designed for puppies.
4-Legger Hypoallergenic Lemongrass & Aloe Dog Shampoo. This dog shampoo helps in alleviating skin problems including allergies and infections on the skin of the dog. It has a unique blend of essential oils including lemongrass which provides moisture and aid in the antibacterial and antifungal effects of the product.
Veterinary Formula Clinical Care Antiseptic & Antifungal Shampoo. This dog shampoo consists of benzethonium chloride, and ketoconazole allows the shampoo's medical property to take effect on the dog's skin. It also has natural cleansers and deodorizers.
Earthbath Light Color Coat Brightening Lavender Dog Shampoo. It is 100 percent biodegradable dog shampoo with natural blends that brighten and whiten the coat of the dog. It has a refreshing smell which won't bother the dog's nose and has coconut extracts for removing dirt.
Do not forget about maintaining the nails of the dog. Just like many dogs, the Doberman German Shepherd mix also needs its nails trimmed using specialized nail clippers for dogs. The occasional cleaning of the ears and brushing of the teeth should be done as well.
Pug Poodle Mix Health Problems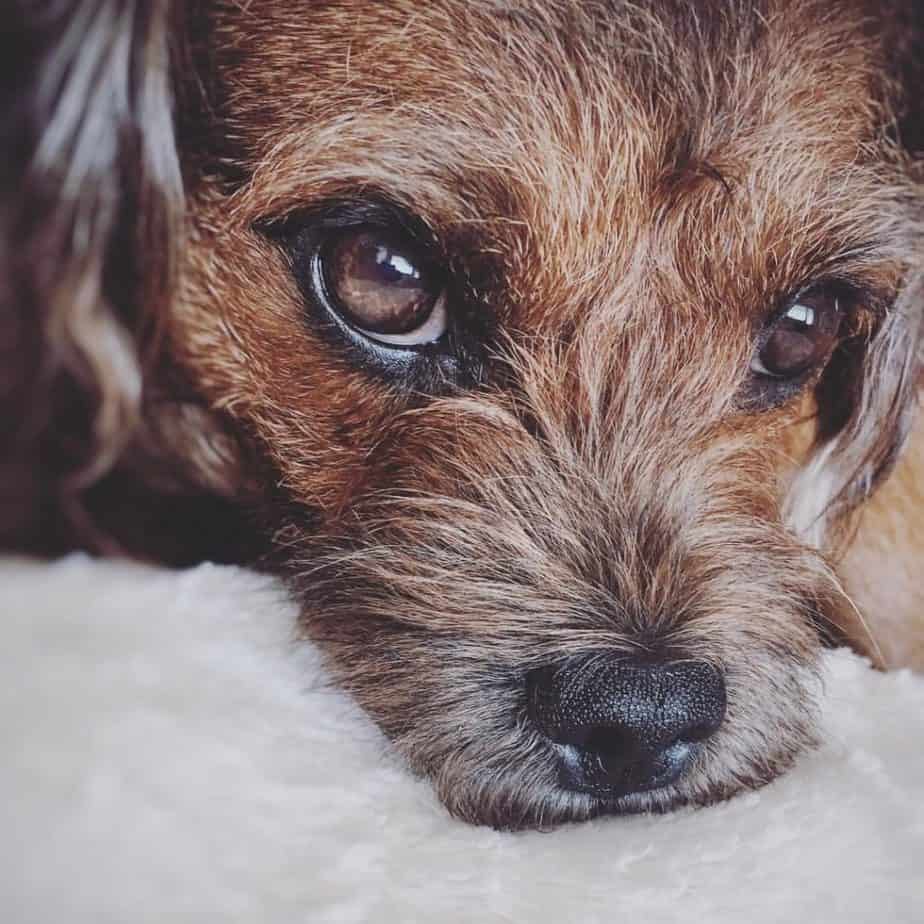 The Pug Poodle mix has little to no health conditions or issues, but it is still prone to illnesses that the Pug and Poodle have. Daily exercises and occasional visits to the vet are recommended to prevent the following health problems:
Hip Dysplasia. This disease is a genetic illness that is common to many dogs in general. In other cases, obesity and improper nutrition and diet can contribute to the development of hip dysplasia as well. The hip joints of the dog slowly deteriorate and could result in skeletal malformation.
Legg-Calve-Perthes Disease. This disease occurs when there are blood supply issues to the femur bone of the dog and degenerates. This results in the inflammation of the bones and joints and disintegration of the hip joints. Early warning signals of this disease include a density decrease of the bones and wide joint spaces.
Encephalitis. This is a disease that is characterized by the swelling or inflammation of the brain in the dog. There are different factors that contribute to the development of this disease. Warning signs include smaller or unequally sized pupils, low responsiveness, facial paralysis, circling or uncoordinated motor ability, worsened consciousness, and behavioral changes.
Lens Luxation. This disease is described as the dislocation of the dog's eye lens from its proper position. This results in eye and sight problems for the dog. Warning signs include eye reddening or swelling, and trembling of the iris or lens,
Von Willebrand's Disease. This disease is a type of blood disease in dogs which involves a deficiency of von Willebrand Factor, or vWF, which helps the platelets in sealing wounds. A lack of vWF could result in excessive bleeding. Warning signs include nosebleed, blood in the urine, blood in the feces, bleeding gums, and prolonged bleeding from wounds or injuries.
Addison's Disease. This disease happens to the dog when hormonal glands near the kidney drastically increase or decrease. This results in weakness, low blood pressure, dehydration, etc. Some of the warning signs of this disease include lack of appetite, dehydration, depression, blood in the feces, painful stomach, hair loss, weight loss, and diarrhea.
Brachycephalic Ocular Syndrome. This is a disease which affects dogs with shortened facial features. This results in head and eye problems. Some warning signs include the production of too many tears, partially closed eyelids, inflammation, redness or discharge from the eyes, partial or complete blindness, and rubbing the face or eyes.
The Pug Poodle mix does not necessarily have any health issues or illnesses that were explicitly pointed out. Nevertheless, the sicknesses and health problems that were mentioned above can still be passed on to the offspring that are derived from the genes of both parent dogs.
Pug Poodles Food Requirements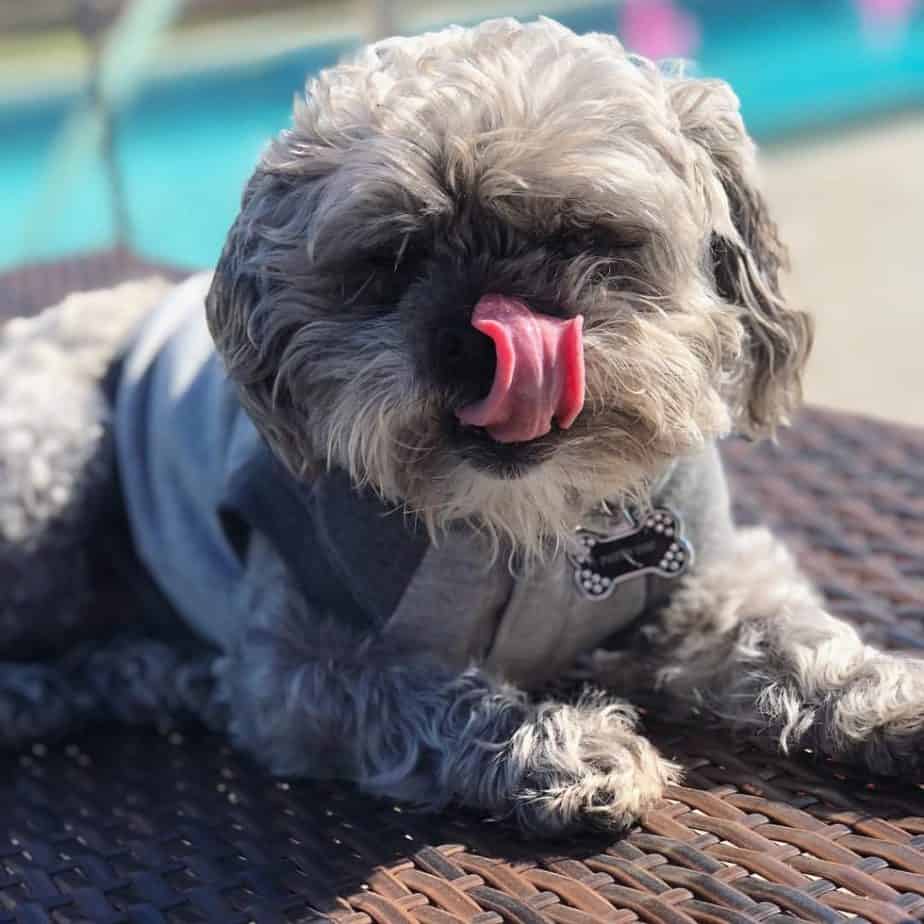 The Pug Poodle mix requires dog food that is exclusively formulated for small breeds (we've got the rundown of the best dry dog food for small dogs!). The dog generally needs to eat a balanced diet of carbohydrates, fats, and proteins by about a single cup or serving per day. You may feed you Pug Poodle mix more food depending on the activities that it engaged in throughout the day.
Small breeds, like this hybrid, don't require that much food daily.  The Poodle Pug mix specifically needs to be fed 3/4 to 1 and a half cups of good quality dry dog food each day split into two meals. Make sure not to overfeed them as they may gain weight and become obese which may cause different health issues.
Here are some dog food suggestions for the dog:
Wellness Complete for Small Breeds – Turkey and Oatmeal. This is the top recommended dog food for different types of small dog breeds. It contains 28 percent of protein, 16 percent of fat, 4 percent of fiber, and Omega-3 and Omega-6. Additionally, this flavor includes deboned turkey,
Royal Canine – Pug Adult Dry Dog Food. It consists of small and bite-sized kibbles specifically for pugs, and it is made up of chicken meal, brown rice, oatmeal, and corn. The shape of the kibbles is designed to aid the pugs with picking up the food since this dog has a short muzzle, making it difficult to eat.
Orijen Adult Dog Food. This dog food is free of grain. It is made up of chicken, fish, turkey, and avocado, or approximately 80 percent of meat and 20 percent of vegetables and fruits.
Avoderm Small Breed. This dog food is formulated for dogs that are 20 pounds and below only. It has 266 percent of crude protein and 16 percent of crude fat, beef, and avocado.
Avoderm Natural Weight Control Dog Food. Small dogs that are obese should consider eating this dog food. It has no byproducts, no corn, wheat, and soy, and contains chicken meal.
Whichever brand you settle on, you want to be sure it makes only the best dry dog food. Those formulas are not ridden with additives, by-products, preservatives, and artificial colorings that are typical of the worst dry dog food.
Puppies have special nutritional requirements, so if you have one at home, make sure you only get them the best puppy food brands. Old dogs are also not excluded from special treatment. Give your loyal, elderly pup the best kind of chow for their age by following our best senior dry dog food guide. In case your pooch has particularly refined taste buds, they might be in the mood to try food designed for much bigger fellows than themselves — in that case, opt only for the best large breed dry dog food, and you can't go wrong!
Feeding your Pug Poodle mix should have a balanced diet just like any other dog. You should consult with your veterinarian about these dog foods and devise a holistic dietary plan. Too much protein is too much calorie for the dog and may result in too much weight.
Poodle Pug Crossbreed Exercise Requirements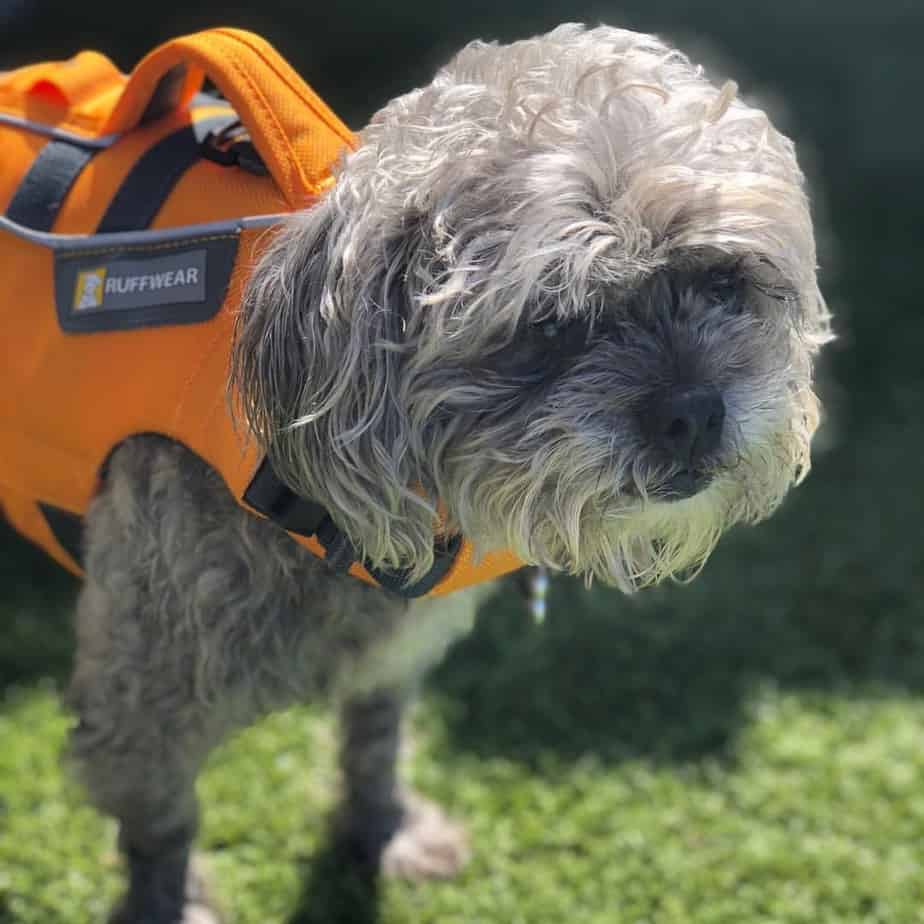 The Pug Poodle mix would enjoy doing activities with its owner. It may not be the most energetic dog, but it can adapt to the lifestyle of the family. You should make at least 30 minutes to 45 minutes of playtime and mental stimulation for the dog. Below are some activities for the dog:
Walking or Jogging. This activity is encouraged since it would quickly burn down the energy level of your dog.
Playing fetch. This is another alternative to walking or jogging outside. It also encourages mental stimulation since it would eventually learn new commands and react to it.
Socialization. This is an effective method of molding the attitude of your dog into a pet-friendly animal. Not only does it learn how to socialize with other dogs, but also learn how to play with children.
Trick training. There are various exercises that incorporate both physical and mental stimulation that is applied when teaching your dog to climb over an obstacle or jump over a fence.
Pug Poodle Crossbreed Training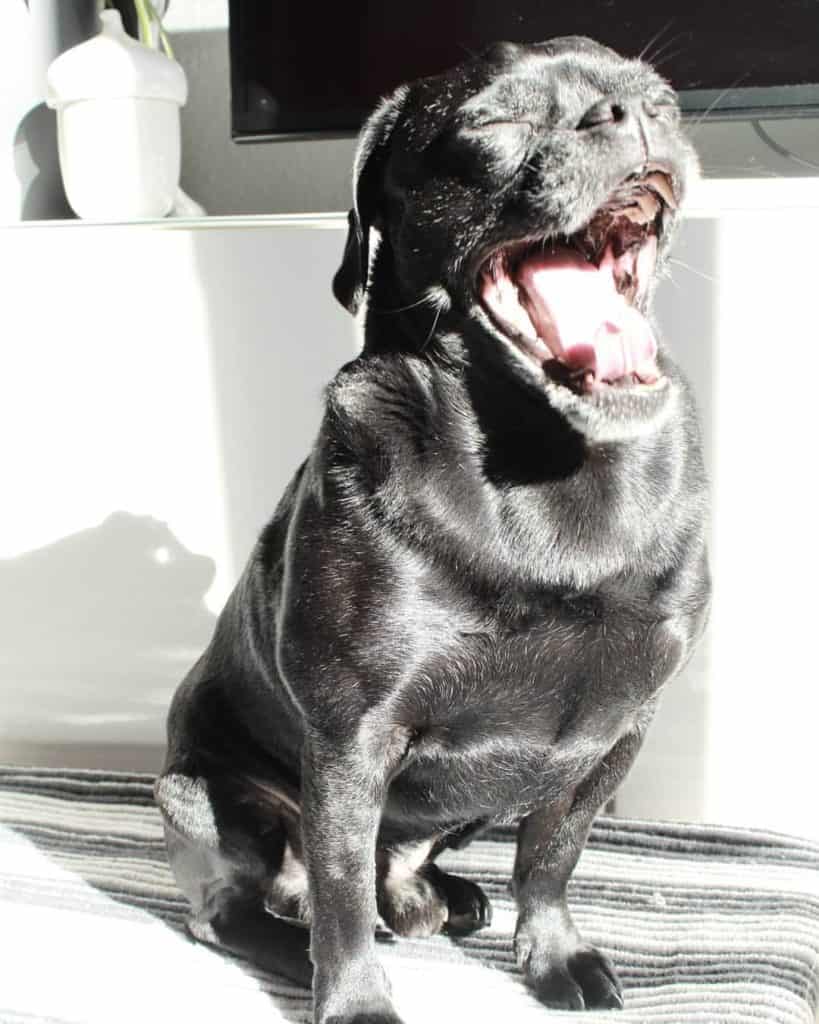 Pug Poodle mixes are easily trainable once you get past its quite stubborn personality. If the dog is left untrained, it would have the tendency to jump up to people while being excited. Other times, the dog may become noisy and difficult to handle around strangers or guests at home. Here are some approaches to addressing these issues:
Socialization. The Pug Poodle mix is a dog with a small pinch of attitude. The dog needs to be exposed with children and other animals and dogs as a puppy to help control the dog's natural tendencies including barking and biting. The dog will eventually learn new social skills and make the necessary behavioral adjustments to please its owner.
Positive Reinforcement. Rewarding your dog while teaching it commands can come a long way to its relationship with you. You give your dog a reward such as a treat or a toy whenever it successfully responds to your command but gives it nothing until it learns how to react correctly to your call.
Puppy Training. The most important part of training the dog as a puppy is giving it your time and company. This should teach your dog the value of your bond with it and will soon acknowledge you as its alpha. Let it play with toys that you give so that it learns that being with you is a rewarding experience.
Poodle Pugs and Families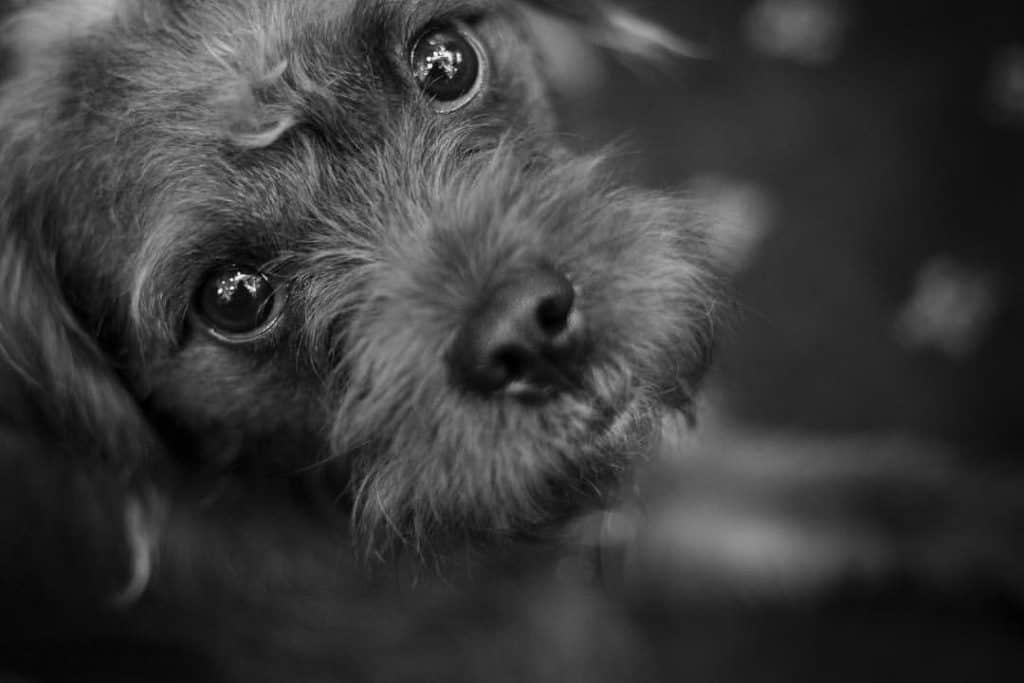 Pug Poodle mixes make one of the best family dogs out there. This is an adorable dog that loves nothing more than being at the center of attention. It needs constant attention and engagement with members of the family because it is eager to please. The Pug Poodle mix is very intelligent. Like its Poodle parent dog side, the dog can be taught several dog tricks and follow new commands with ease. Children would enjoy learning how to train the Pug Poodle puppy and appreciate its presence at home. Since some Pug Poodle puppies are smaller than others, you should make sure that it doesn't injure its fragile body around the kids or furniture.
This dog is also an ideal companion for people living in smaller spaces such as dorms and apartments. Since the dog thrives in indoor areas, your Pug Poodle mix shouldn't be left alone for a long time daily because it is prone to developing separation anxiety. And because the dog should have constant companionship, it makes for ideal dogs for senior citizens or retirees who spend most of their days at home. Additionally, the Pug Poodle mix could adapt to different climates or temperatures.
Since the dog spends most of its time indoors, it won't be difficult to give it some physical exercises at home.  The Pug Poodle mix loves to fool around and play in its own way with its owner, so expect it to be noisy when it plays with you. The dog does well with other dogs and animals because of its social disposition. A Pug Poodle mix has a loving personality that makes it more than qualify as a special member of the family.
References:
Brocal, J., et al. "C7 Vertebra Homeotic Transformation in Domestic Dogs – Are Pug Dogs Breaking Mammalian Evolutionary Constraints?" Journal of Anatomy, vol. 233, no. 2, 14 May 2018, pp. 255–265., doi:10.1111/joa.12822.
Friedenberg, Steven G., et al. "Evaluation of the Genetic Basis of Primary Hypoadrenocorticism in Standard Poodles Using SNP Array Genotyping and Whole-Genome Sequencing." Mammalian Genome, vol. 28, no. 1-2, 18 Nov. 2016, pp. 56–65., doi:10.1007/s00335-016-9671-6.
Nicholas, Anna Katherine. Pug. Kennel Club Books, 2004.
Ewing, Susan M. Poodles For Dummies. John Wiley & Sons, 2007.
https://en.wikipedia.org/wiki/Poodle