Non-Core Vaccinations All Dogs Should Get
Nov 30, 2021
There are non-core vaccinations all dogs should get to prevent bacterial and viral diseases.
Some vaccines are absolutely mandatory such as the rabies vaccine.
Some vaccines are not mandatory but should be given to puppies and dogs.
The Importance of Canine Vaccinations
If you're a pet parent, you probably know how important vaccinating your dog can be. There are core and non-core vaccinations all dogs should get.  Vaccines are capable of preventing bacterial and viral diseases which, in some cases, can be deadly for our canine friends.
But some vaccines are absolutely mandatory either because they can prevent lethal infections in dogs or because they can do the same for humans (such as rabies). On the other hand, there are vaccines that are optional. Out of all the noncore vaccines, which ones should you get?
We will be answering this question and more in today's article, so keep on reading.

What Vaccines Are Absolutely Necessary For Dogs?
We won't spend too much time on the core vaccinations your dogs should get as it's not the main topic in this article, but generally speaking, you should know that every dog should be immunized against the following diseases:
The first three infections (distemper, parvo, and adenovirus) can be deadly in dogs. The last disease, adenovirus or rabies, is dangerous for people as well. To date, rabies has no cure, so getting these core vaccines is extremely important not just for your canine friend, but also for yourself, your family, and the rest of society.
What are Non-Core Vaccinations?
Non-core vaccines are definitely worth considering, but your veterinarian has to make the right recommendations to you depending on your specific situation. For example, if you breed dogs and cats, the animals are more likely to get kennel cough, so they have to be immunized against it.
The same rule applies to the Lyme disease vaccine. If there have been cases reported in your area, your veterinarian will undoubtedly recommend the vaccination.
Of course, it all depends on how much you are prepared to spend, but do keep in mind that by immunizing dogs against all of these diseases, you will effectively eliminate any high risk that they develop the infections.

Kennel Cough
Kennel cough is caused by Bordetella Bronchiseptica, a bacterium that produces a highly contagious infection of the respiratory tract. Dogs that live in large canine communities have a higher exposure risk of contracting this disease.
Symptoms
As its name suggests, if your pet catches the infection, they will develop a cough, but other symptoms will be noticeable, too, such as the following:
A Bordetella vaccine is given to all dogs that are kept in shelters or boarded when you go on vacation, for example.
Just to be on the safe side of things and even if the infection can be treated with antibiotics, we strongly suggest asking for some information from the boarding facility to find out if their canine population is vaccinated against Bordetella or not.
The vaccine against kennel cough is pretty fast-acting since most dogs develop immunity against the bacterium about 48 hours after its administration. Talk to your vet about getting the shot for your pet, especially if you are planning a trip and want to keep your dog at a kennel for the duration of your absence.
Coronavirus
Canine coronavirus is a disease that affects the digestive tract of dogs. There is no treatment for this disease, but a non-core vaccine does exist against it. However, it is not necessarily recommended by the American Animal Hospital Association as the virus rarely causes a severe form.
Furthermore, this disease is almost always self-limiting, which means that an infected dog has a high chance of recovering thanks to their immune system — without any treatment.
The CCV vaccine is not mandatory, but your vet might still recommend it in case your dog suffers from chronic health issues or they know for sure that your pet doesn't have the right immunity to fight the disease on its own.
Symptoms
The symptoms of this disease in dogs are the following:
Lethargy
Blood in the dog's stool
Leptospirosis
Although some people might think that vaccinating their dogs against Leptospira is completely unnecessary, the truth is that it can save your dog a lot of trouble. Furthermore, this disease can be passed on to humans, which makes vaccinating your puppy against it even more important.
It is true that since Leptospirosis is a bacterial disease, it can be treated with antibiotics and some of them are quite effective against it.
However, we would like to note that about 10% of all cases result in death. So, if a vaccine is administered before your dog comes into contact with the pathogen, they will not develop the infection.
Symptoms
The symptoms of Leptospirosis are general as the pathogen affects a variety of organs, including the kidneys and the liver:
Jaundice
Increased thirst
Changes in the color of the dog's urine
Difficulty breathing
Tremors
Vomiting or diarrhea
Blood in the dog's stool
A double dose of the vaccine is often enough to protect your dog against Leptospirosis. Most veterinary professionals recommend including the shot in the basic vaccination schedule of puppies. A booster can be given every year along with the rest of the shots against rabies, parvo, distemper, and adenovirus.
As previously mentioned, even though Leptospirosis can be treated with antibiotics, by the time most puppies end up at the veterinary hospital, they could have sustained permanent damage to their liver and kidneys.
Lyme Disease
Lyme disease is caused by Borrelia burgdorferi, the same pathogen that produces the disease in humans.
The vaccination against it is also a non-core one, but depending on where you live and the number of Lyme disease cases that were reported in your region, your vet might insist on giving your puppy the vaccine.
Dogs that are regularly walked through bushy areas have a significantly higher risk of being bitten by ticks. From spring to autumn, you should check your dog's body after each walk to make sure that they haven't been bitten by a tick. According to most vets, if you remove the parasite within the first few hours after your dog was bitten, they might not develop the disease.
Symptoms
Some of the clinical signs that a dog with Lyme disease will show are the following:
Loss of appetite
Fever
Lameness
General malaise or pain
Urination issues
Although quite rare, there is a form of this disease that could produce such changes in the body of a dog that they might develop kidney and heart failure and die.
Depending on what recommendations your vet has for you, your dog can be vaccinated against Lyme disease as early as eight weeks of age. A second dose is given two to three weeks later. All dogs that live in high-risk areas should be given a vaccine against this condition every year.

Parainfluenza
Parainfluenza is just another name for canine influenza, a highly contagious and sometimes, potentially deadly disease. While there is a vaccine against it, some pet owners might feel like their dogs do not necessarily need it.
The canine influenza vaccine can be given to dogs as early as six to eight weeks of age with boosters given around three weeks later or until the dog reaches 16 weeks of age.
While it is true that some dogs might be able to recover from the disease on their own, this health problem can cause dramatic complications in puppies as they have a higher risk of developing a more severe form.
The vaccination against canine parainfluenza usually comes in a combination shot which includes protection against the other potentially deadly diseases of dogs — DHPP stands for Distemper, Hepatitis, Parainfluenza, and Parvovirus.
Symptoms
A dog that catches this virus from other infected animals can show the following clinical signs:
Fever
Nasal discharge
Conjunctivitis
Lethargy
Various complications such as bacterial pneumonia
If you are the owner of a healthy dog, the disease could be self-limiting. However, most vets decide to administer broad-spectrum antibiotics and a vaccine as it might limit the spread of the disease and could lower the severity of the symptoms.
Canine influenza can often be mistaken for Bordetella bronchiseptica (kennel cough) as it produces somewhat similar clinical signs. It is also more prevalent in pets that come into direct contact with other unvaccinated dogs.
If you have two or three dogs, they definitely need the vaccine against canine influenza — talk to your veterinarian about how you should go about things.
Which Non-Core Vaccines Would You Recommend For a Dog That Will Be Boarded?
All of them. Core and non-core vaccines are always necessary when your dog risks getting a disease such as canine hepatitis adenovirus, canine distemper, parvovirus, or even canine influenza or kennel cough.
The boarding facility will probably ask you to provide proof of vaccination as they most likely do not want to put the health of the other dogs and cats they care for at a risk. You might be able to treat your dog afterward if you have pet insurance, but the rest of the dogs living in that community might not be as lucky.
Even a somewhat harmless disease that isn't caused by a virus can be deadly in some situations.
The immune system of a puppy or a geriatric patient might not function properly, which is why they might not be able to fend off the attack of a pathogen, whether a virus or a bacterium.
The only vaccine that you might be able to 'skip' would be the one against canine coronavirus. Getting your dog vaccinated against this infection might be useful, but the truth is that it doesn't offer that good protection and the virus itself also doesn't produce as severe symptoms so as to be really worried.
However, this rule does not apply to puppies and seniors as they might need the shot.
Does My Dog Really Need All These Shots?
Of course. The deadliest diseases that can affect our canine friends are Parvovirus, Adenovirus, Canine Distemper, and Rabies. However, veterinary medicine has evolved a lot over the years, which is why there are many more vaccinations nowadays and they can protect your pet against many other diseases.
It is all a matter of whether your dog has a high risk of getting a specific infection (such as Lyme disease, for example) or not. All dogs have to be immunized against rabies regularly, whether yearly or once every three years. Some vaccines might offer longer protection, but most will protect your pet only for about a year.
Giving your dog all of these vaccinations is difficult, especially if you have just adopted a canine friend. Unfortunately, it is quite necessary.
Core vaccinations are extremely important and can make the chances of all dogs getting potentially lethal diseases from dog parks, for example, much lower.
If in your city, all of the dogs would be immunized against Adenovirus, even a pet that might not have received the right vaccinations against this infection would have no way of contracting the virus — as there would be no dogs spreading it around.
This is a phenomenon called herd immunity and it can be achieved only when more than 70-80% of all of the canine population in a specific area has been vaccinated against a disease.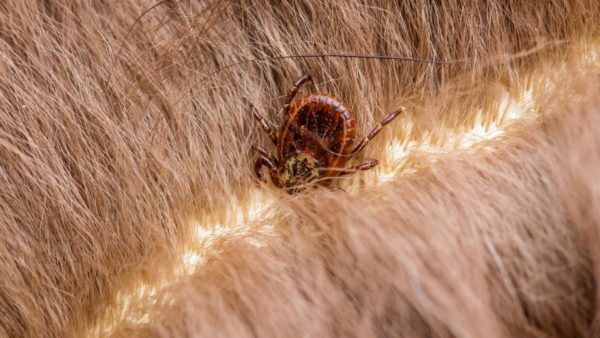 Naturally, some diseases, such as rabies, Leptospirosis, or Kennel cough are practically impossible to eradicate for several reasons.
For example, rabies is also transmitted by wild animals, and it would be impossible for the authorities to vaccinate all of them against the virus. Leptospirosis can also be transmitted through the urine of rats, for instance, and once again, no one vaccinates rats against this infection.
Technically, kennel cough could be eradicated if absolutely all dogs were to receive the vaccine against the infection. However, kennel cough also affects other species, such as pigs, rabbits, and even horses and turkeys. The infection can even be transmitted to humans in some cases.
By the same token, if all dogs were to be vaccinated against Lyme disease, ticks wouldn't consume infected blood, so they wouldn't pass the infection from one animal to the next.
Final Thoughts
In other words, getting your dog vaccinated is a way to protect them, but might also be a way of protecting yourself against these diseases.
Also, if your pet does catch a disease that could require expensive and lengthy treatment, you might risk going into debt just so that the vet saves your dog's life.
Talk to your vet about what vaccines they recommend and make sure you take your dog to the animal hospital at least once or twice a year for a regular check-up.