Canine Distemper: Symptoms, Causes, Treatment & Prevention
Jul 12, 2021


Distemper in dogs is an infectious disease caused by a virus that can be transmitted airborne or through direct contact with infected dogs or wildlife.


The symptoms of distemper include lethargy, fever, eye discharge, and severe neurological symptoms including twitching and seizures.


Treatment for canine distemper includes supportive care, but this virus is often fatal especially in young puppies.


Regular vaccination with the distemper vaccine will help protect your dog from this deadly virus.


What is distemper in dogs?
Distemper is a dangerous virus that dogs can get at any stage of life. Canine distemper virus can cause severe clinical symptoms including fever, eye discharge, and neurological symptoms. Distemper has a high fatality rate especially in younger dogs which is why vaccination for distemper becomes extremely important.
What causes canine distemper?
Canine distemper is caused by a dog virus. Viruses are non-living infectious agents that consist of proteins and DNA or RNA. Distemper virus is a paramyxovirus, a virus close in relation to measles.
How do dogs get distemper?
Dogs get distemper when they are exposed to another animal with distemper. This can occur if they have exposure to another dog with distemper or if they are exposed to wildlife infected with distemper.
Distemper is easily killed in the environment with normal disinfectants, but unfortunately, many dogs and wildlife infected with distemper can shed the virus for weeks to months after becoming infected.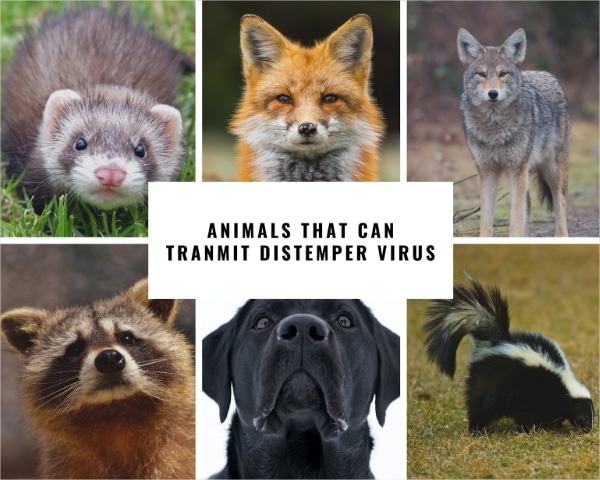 The American Veterinary Medical Association reported that many wildlife species can carry distemper including:
Wolves
Foxes
Raccoons
Coyotes
Skunks
Mink
Ferrets
The AKC reported that there are 3 major ways that the distemper virus is spread:
Direct contact with another infected animal
Airborne spread through respiratory secretions
In-utero when the mom transmits it to the puppy
How common is canine distemper?
Because veterinarians commonly vaccinate dogs for distemper, this disease is not extremely prevalent within the United States. Canine distemper is more prevalent in other countries and new strains have recently been introduced into North America due to unregulated animal movement.
Even though distemper isn't as common as it used to be, it is still crucial to get your dog vaccinated regularly for distemper. The main reason we have been able to keep distemper under control in the United States is that we routinely vaccinate dogs with the canine distemper vaccine.
Which dogs are prone to canine distemper?
Any dog is prone to becoming infected with canine distemper so it is vital to get your dog vaccinated for distemper. Risk factors for developing the disease include:
Unvaccinated dogs
Unvaccinated puppies
Dogs with wildlife exposure
Dogs that travel to foreign countries
What are the symptoms of distemper in dogs?
The main distemper symptoms include fever, nose and eye discharge, and neurological symptoms. These symptoms tend to progress over time. Dogs with distemper infections have a very poor prognosis for a full recovery, and as many as 50-80% of dogs with distemper will die of this disease.
Early signs of distemper in dogs include:
Lethargy
Fever
Nasal discharge
Eye discharge
Not eating
Vomiting
Diarrhea
Coughing
In the later stages of distemper, your dog may develop serious neurological symptoms including:
Circling
Seizures
Head tilt
Strange eye movements
Muscle twitching
Paralysis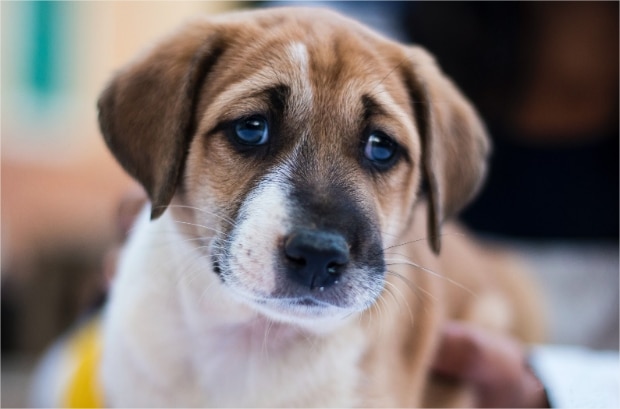 How to Treat Canine Distemper
The treatment for distemper in dogs is mainly supportive care. Your veterinarian will place your dog on fluid therapy to maintain hydration and give medications to control your dog's symptoms. There is no cure for canine distemper, so your veterinarian will give supportive care so that your dog can hopefully fight off the virus.
Can a dog recover from distemper?
Some dogs can recover from distemper, but canine distemper is a highly fatal disease with mortality rates of 50 to 80%. That being said, some dogs can recover from this illness. Adult dogs may have a higher chance of surviving distemper. Puppies that get distemper virus have a much lower chance of surviving which is why it is so important to get your puppy vaccinated for distemper as early as 6 weeks of age.
When is it time to see the vet?
Anytime your dog exhibits a new symptom that is unusual for them, you should get them examined by your veterinarian as soon as possible. If your dog is experiencing any of the symptoms described above or if you suspect your dog has been exposed to distemper virus, then I recommend seeing your veterinarian right away. The sooner that your veterinarian can start supportive care the better.
Preventing Canine Distemper
The good news is that there is an effective preventative option for distemper! The canine distemper vaccine can be used in dogs as young as 6 weeks of age to protect against this virus.
Pet parents should ensure their puppies are up-to-date with vaccinations in general as it will protect against many health issues. Distemper shots should be started at 6 weeks of age and given every 3 to 4 weeks until your dog is over 16 weeks of age.
Also, your dog will need booster distemper vaccines annually throughout your dog's entire life or as determined by your veterinarian. During your vaccination appointment, be sure to consult with your vet to see if any supplements might benefit your dog.
Alpha Paw's 15 in 1 Multi Chews may be an option to consider to help your pup live a long and happy life after vaccines. If you are a new pet owner and you are interested in learning more about how to best care for your pet, check out these articles on how to spot fleas on dogs and the bordetella vaccine.
Other Distemper Preventative Measures
In addition to regular vaccination throughout your dog's life, there are a few other preventative measures that can be taken to reduce the risk of distemper in dogs. Prior to socializing a new puppy with other dogs, be sure your dog and other dogs that your dog will be playing with are up to date on their distemper and parvo vaccine.
Also, avoid exposure to any wildlife by always monitoring your pup when they are playing outside. In addition, never let your dog play with a dog that is sick or exhibiting any symptoms of distemper.
Final Thoughts
While Canine Distemper can be devastating to dogs, it can be prevented. Taking the necessary steps will keep your dog healthy and happy for years to come!