How to Help Your Dog Lose Weight: A Pet Parent Guide
Feb 28, 2022
Help your dog lose weight by reducing the number of treats they get in between meals. 
Maintain portion control to prevent accidental overfeeding.
There are medical reasons for dog weight gain.
Dog Weight Problems
How do you help your dog lose weight? It's very simple. Portion control. Many dogs tend to gain weight as they start to get older. Understanding what your pooch needs at each stage of their life goes a very long way in determining the portion size to feed your dog as well as the vitamins and nutrients needed.
It's worth all the effort. Weight gain causes many health issues in your dog. Not only will it lead to joint issues but can also shorten your dog's life. The main causes for weight gain include:
OverFeeding
Most people give their dogs too much food each day. There are daily suggestions for amounts on the back of your bag of dog food. If you are going to offer your dog any treats during the day, it is best to also decrease the amount of food that they are eating.
If your dog is still gaining weight, it is best to decrease the amount that you are feeding them by 25% and increase the amount of exercise that they are doing.

Cushing Disease
Cushing disease is an overproduction of steroid hormones in your dog's body. When your dog takes steroids they will want to eat more and drink more. This will cause them to gain weight. They also will become very bloated, have hair loss, and seem very hot.
If your think that your dog does have Cushing's disease, it would be best for them to see your vet. They can run bloodwork and test your dog for Cushing's disease. Cushing's disease can easily be managed with daily medications.
Hypothyroidism
If your dog's thyroid is not producing enough thyroid hormone, they can gain weight. Other signs of low thyroid disease are:
Weight gain
Hot
Lethargic
Droopy face
Your vet can easily run a blood test to determine if your dog does have low thyroid levels. This disease is easily managed with daily medication.
Genetics
Just like with people certain dogs are just genetically predisposed to being overweight. If your dog is a breed that is commonly overweight, it is best to watch their food intake and try to keep them at their ideal body condition.
Is There A Dog Weight Loss Program?
While there is no medication that you can give to your dog to make them lose weight you can start a weight loss program for your dog at home. This would be just like people do when they try to lose weight. A few tips that you can try to help your dog lose weight are:
Decrease Their food Intake
There are weight loss diets and low-fat diets that are designed to help your dog feel full without any extra calories. These usually have higher fiber levels than normal diets.

Increase Their Exercise
Exercising will help your dog lose weight. You will need to take your dog on a walk each day. If your dog is not currently walking every day start with just 10 minutes and gradually increase both the speed and distance of your walk until you are going for a walk for about 1 hour each day.
Stop All Treats
Dog treats contain added calories. If you are trying to get your dog to lose weight it is best to not give them any treats during this time. If you do need to use treats for training purposes, look for low-fat treats.
NO Human Food
Human food is very high in fats and calories. Just a small bite of human food can cause your dog to start gaining weight. It is best to stop giving your dog people food to help them lose weight.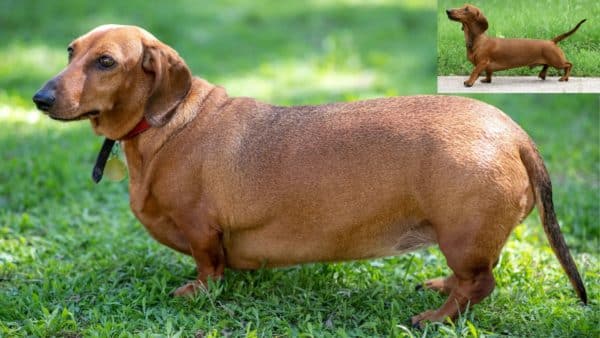 Talk With Your Vet
If your dog continues to gain weight, despite your efforts, it is best to talk with your vet. There are medical issues that could cause your dog to continue to gain weight. Your vet may want to run bloodwork, take x rays, check a fecal sample, or perform an ultrasound to see what is causing your dog to continue to gain weight despite following these few tips.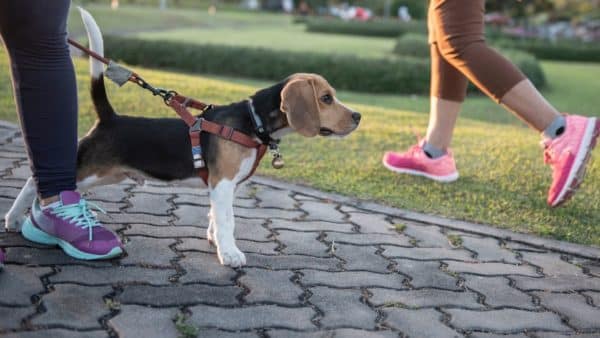 How To Prevent My Dog from Gaining Weight
If you want to avoid the struggle of trying to help your dog lose weight, prevention is key. It is best to feed your dog a high-quality diet and an amount that is appropriate for their weight.
You can calculate the calories that are needed for your dog so that you are feeding your dog the correct amount. A dog needs about 25 calories per pound of body weight. You can usually find the number of calories per cup on the back of your bag of dog food.
Also giving your dog plenty of exercises will help keep them fit. You should take your dog on a walk each day. If the weather is not allowing you to go for a walk at least play with them inside your house and make them exercise. Great indoor games are hid and seek or tug-o-war.

Final Thoughts
Like humans, overweight dogs (and cats) have an increased risk for certain health issues such as joint issues, heart disease, and diabetes. If you keep your dog at a healthy weight, they will live a longer, healthier, and happier life.
Remember, a simple method is portion control. Do not leave food out, give them measured portions, at certain times of the day. Water can be left out in large bowls. Similar to humans, dogs (and cats) can go without solid food for several days but need water to survive every day.
Most importantly, you should always strive to keep your dog fit and lean. You should be able to see a nice tucked abdomen and be able to feel their ribs without seeing them. If you are having trouble with your dog losing weight it is always best to see your vet.
There may be a medical issue that is going on with your dog that your vet can quickly diagnose and start your dog on medication to help them lose weight and feel much better.