Shih Tzu Pug Mix Facts
The sweet and petite Pug Shih Tzu is a mixed breed whose parents are the purebred Pug, dubbed as the clowns of the canine world, and the purebred Shih Tzu, known as the "little lion" for their long and gorgeous coat. Also known as the Pug Tzu, this hybrid is a small-sized dog with lots of adorable personalities and remarkable talents in obedience and tricks. He's also known for his friendly nature which makes him great as a companion and family dog.
If you're a potential owner of a Pug Shih Tzu mix, read on to know more if this quirky yet loving hybrid is the perfect dog for you.
3 Reasons Why You Shouldn't Get a Pug Shih Tzu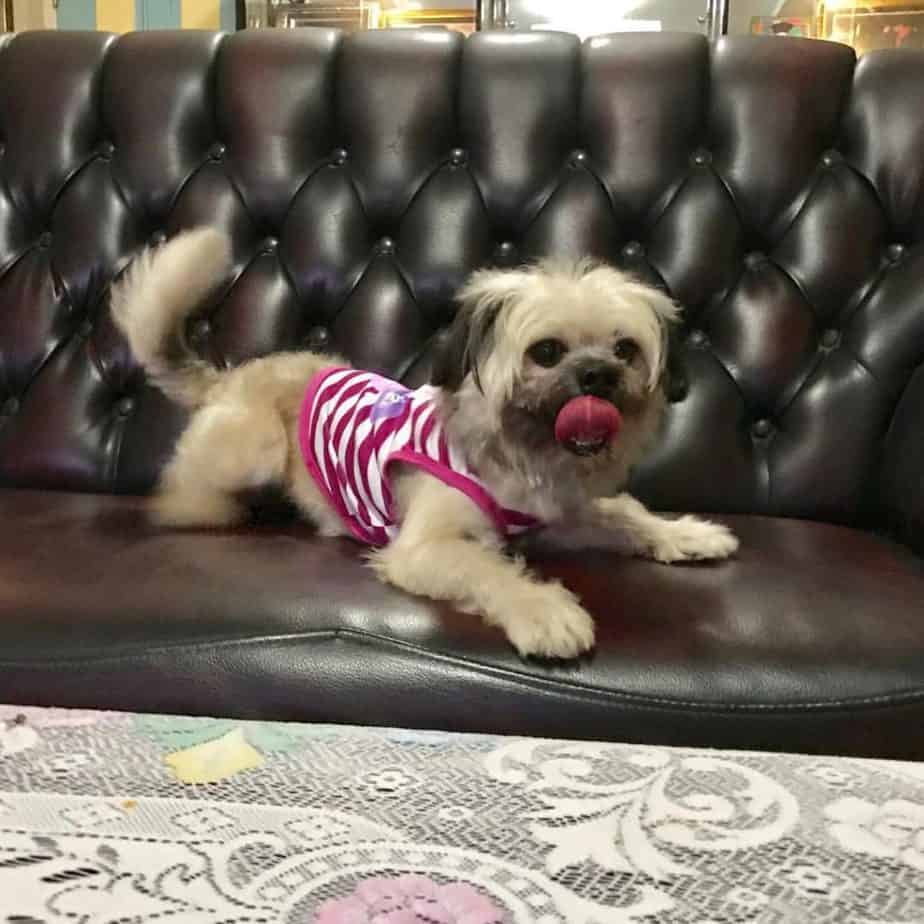 1. Not a Good Watchdog
The Pug Shih Tzu is an easygoing dog even to strangers, which makes this hybrid not the best candidate for a watchdog. He occasionally barks, but most of the time he's not always the type of dog to bark at someone and alert you of an intruder in your house. If you're looking for a companion dog that can also serve as your watchdog, then this hybrid is not for you.
2. May Suffer from Separation Anxiety
The Pug mixed with Shih Tzu hybrid is a great family dog, but he requires lots of your time and attention. Otherwise, he tends to be destructive when unstimulated and not nurtured. He will not be happy if left in solitude for long periods and may suffer from separation anxiety. As a potential dog owner, you should be well aware of this information especially if you're planning to travel for a good bit or when your work demands you to be away from home all the time.
3. Has a Low Tolerance to Heat
Potential owners of this mixed breed should know that the Pug crossed with Shih Tzu is very sensitive to heat. He needs to stay in a cool environment especially during summer days to prevent heat stroke. Both the Pugs and Shih Tzu can easily get overheated during hot and humid weather so potential owners of the Pug Shih Tzu should always keep this in mind.
3 Reasons Why You Should Get a Shih Tzu Pug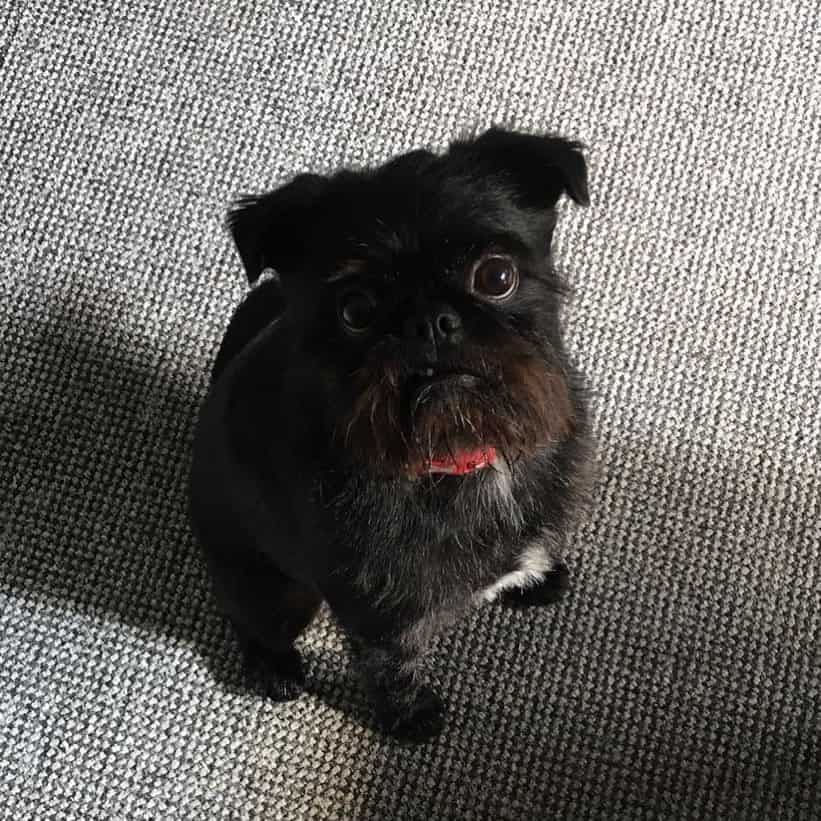 Great Dog for First Time Owners
Owners of the Shih Tzu Pug mix say that this hybrid has a lively personality, low aggressive tendencies, and is eagerly friendly and playful, making them an excellent breed for first-time dog owners. This dog breed loves spending time with his human friends and enjoys lots of cuddles.
As cute as how they look, the Pug Tzu has a very loving and affectionate nature. They get along very well with children and even with other pet animals. This hybrid is a great family pet and can also become your kids best playing companions. Early socialization and training of your Pug Shih Tzu mix will be of great help.
Best Suited for Apartment LivingDue to his small size, the Shih Tzu crossed with Pug is an excellent apartment dweller. This dog does not need a lot of space and is quite content sleeping on his basket bed covered with an old blanket. If you're in search for a great companion dog that does not bark all the time and goes well living with you in your apartment or condominium, then the Pug Tzu is the mixed breed you might have been looking for.
Appearance, Personality, and Traits of a Pug Shih Tzu Mix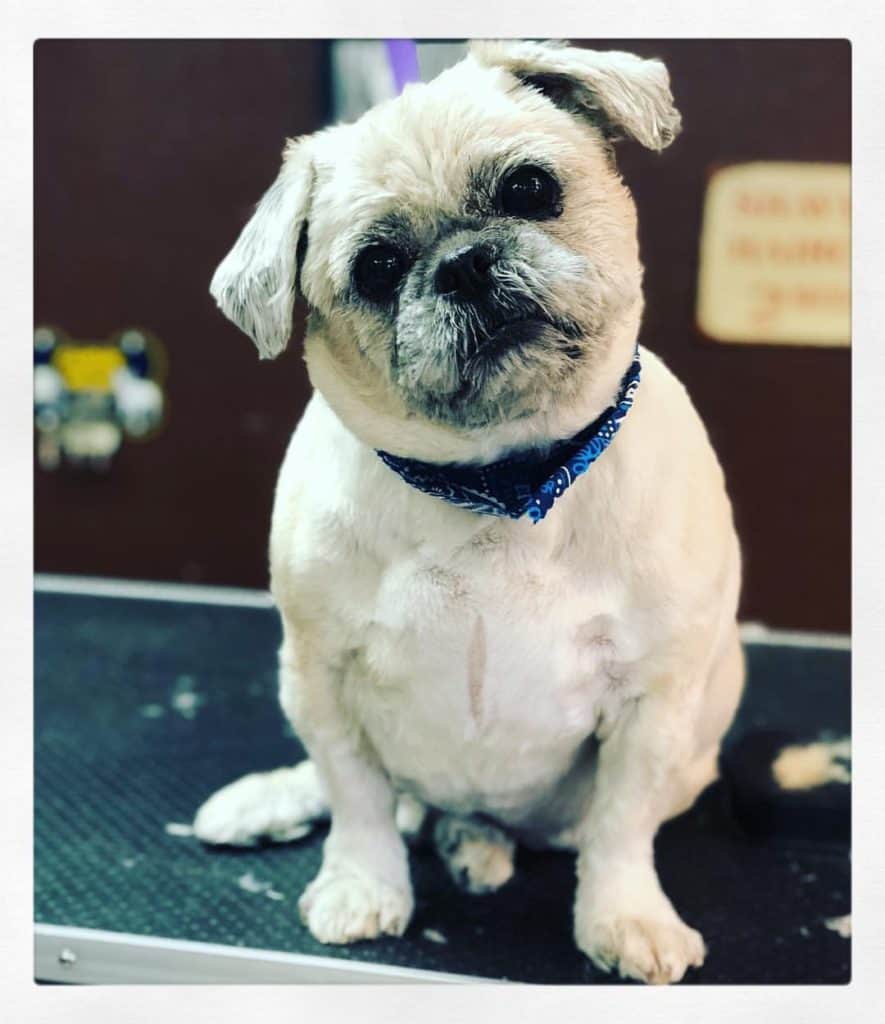 | | |
| --- | --- |
| Weight | 8-22 lbs. |
| Height | 8-12 inches |
| Size | Small |
| Coat Type | Medium to long, silky, flowing or dense |
| Coat Color | Black, brown, white, fawn, brindle |
| Amount of Shedding | Moderate to frequent |
| Eyes | Brown |
| Nose | Black |
| Temperament | Friendly, affectionate, sweet-natured, headstrong, playful |
| Life Expectancy | 9 to 14 years |
| Hypoallergenic | No |
| Kids Friendly | Yes |
| New Owners Friendly | Yes |
| Breed Recognition | ACHC, DBR, DDKC, DRA, IDCR |
The Pug mixed with Shih Tzu is a very quirky yet sweet-natured dog. He is an affectionate, funny, and friendly dog who can be a great family companion dog. He's a loyal dog who loves to be around people a lot. He can have a stubborn behavior at times, but most of the time he's sweet and cheerful. This hybrid will demand a lot of attention from his owner but will be very affectionate in return.
The Pug Tzu is a small-sized hybrid that can look either more of a Pug or a Shih Tzu, or sometimes just an equal mix of its two parent breeds. Generally, this hybrid has a black mask on his face, a coat which can be medium to long in length and a tail which can curl similar to that of the Pugs. The coat colors of this hybrid may vary from black, brown, white, fawn, to brindle.
In terms of breed recognition, this hybrid is not recognized by the America Kennel Club however the Shih Tzu crossed with Pug does qualify to be a member of the American Canine Hybrid Club (ACHC), Designer Breed Registry (DBR), Designer Dogs Kennel Club (DDKC), Dog Registry of America, Inc. (DRA),n and the International Designer Canine Registry (IDCR).
Shih Tzu Pug Mix Puppies for Sale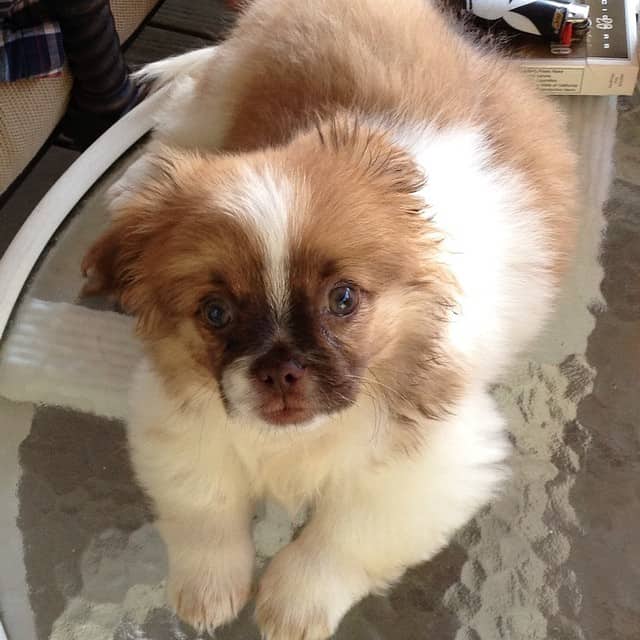 The Pug Tzu pups are incredibly adorable little guys who are friendly and playful; however, care should still be considered as they are very fragile at this stage. On average, a Shih Tzu crossed with pug would cost around $300 to $1100, depending on the dog's age and the breeder's location and reputation.
In buying your pup, make sure to be a responsible breeder by doing your own research of where to find the right breeder for your Shih Tzu Pug pup.  If the process gets too easy for you to purchase your puppy, you're better off looking for another breeder. A responsible breeder will show you with health clearances and proofs of health guarantees of the pup and its parents. Your new family dog companion should be screened for any possible health issues he might have.
Avoid buying from puppy farms or puppy mills, where dogs are bred in inhumane conditions just to sell them afterward. The best place to purchase a mixed-breed pup is at an animal shelter, where you would only spend a small amount of money on adoption fees and spay/neuter and vaccination expenses. Moreover, the benefit of knowing you have saved the life of a dog by providing a warm home and serving as his new loving family is always a rewarding feeling.
While there's no guarantee that you'll be able to find a Pug Shih Tzu mix from them, the following list of rescue organizations can help you start off your search:
You may also check out sites like www.petfinder.com and www.adoptapet.com to find a reputable breeder. Remember to double check and do some background research to ensure that you'll purchase a healthy pup from a trustable breeder.
Grooming Your Pug Mixed with Shih Tzu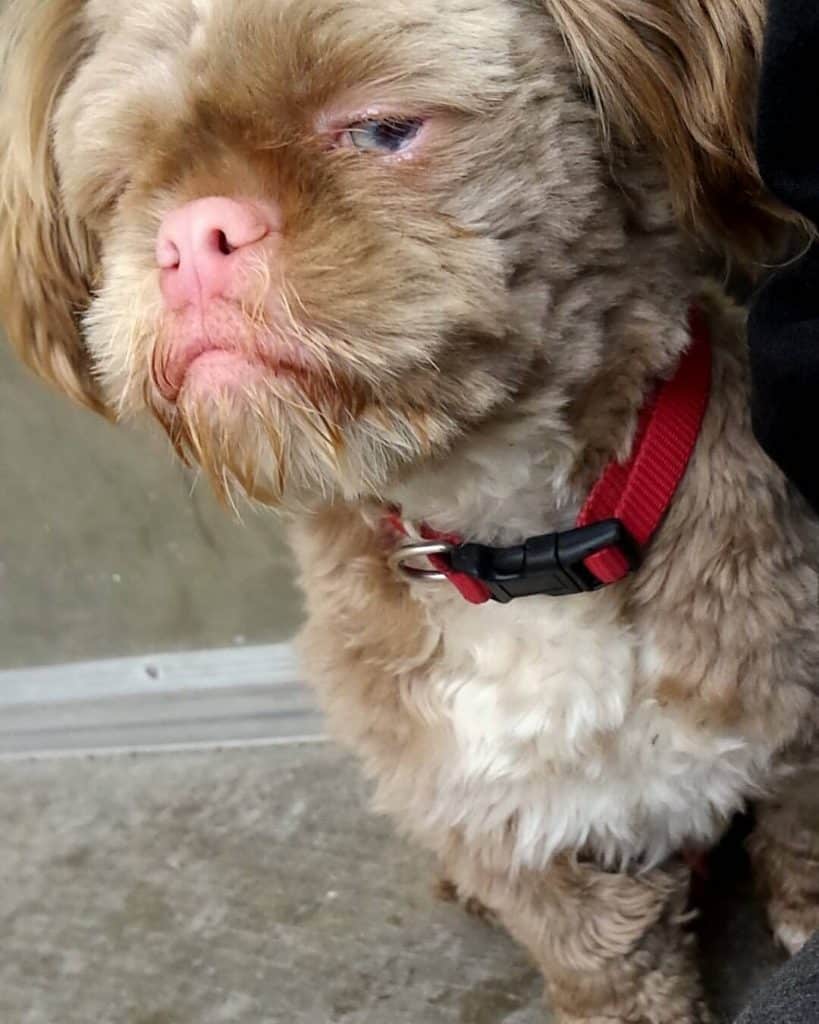 The grooming requirement for the Shih Tzu mixed with Pug can vary from low to frequent. If he has the long coat just like his Shih Tzu parent, then he will be needing daily brushing as his coat can tangle very easily.
It's best to bring your Pug Tzu to a groomer to be trimmed regularly. Moreover, other grooming needs of your pet dog such as nail clipping and ear cleaning can also be done efficiently by a groomer.
When it comes to bathing, you may opt to have it at the groomer's as well or by yourself at home. Remember to bath your Pug Shih Tzu mix only when necessary using the appropriate dog shampoo, but otherwise, this dog doesn't need frequent water time to preserve its natural oils and prevent having dry skin.
For Shih Tzu Pugs that inherit the shorter coats, they will need relatively less maintenance. Still, regardless of the length of his coat, it is essential that you brush your dog's coat occasionally to maintain his neat and clean appearance. Moreover, keep in mind to regularly brush your Pug Tzu's teeth at least twice a week to prevent any likelihood of developing unwanted dental problems.
Shih Tzu mixed with Pug Health Problems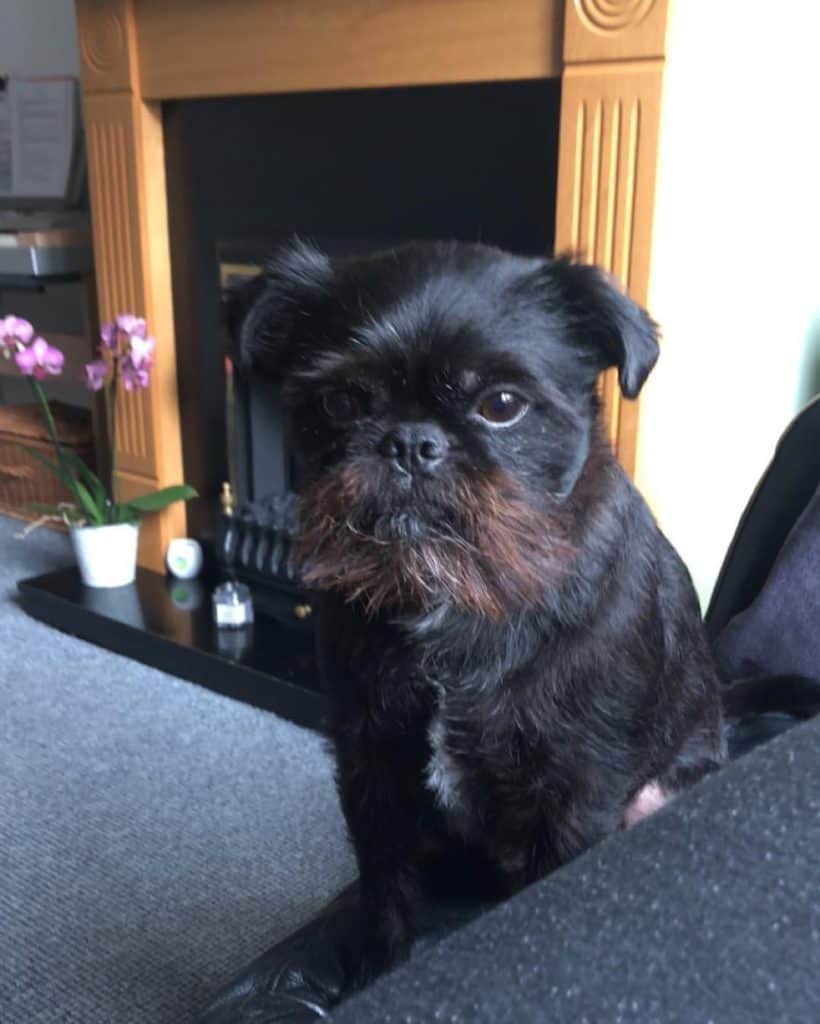 The Shih Tzu Pug mix has a life span of 9 to 14 years. Their lifespan is just average for small breed types. For this reason, potential owners of this mixed breed should need to take time understanding both breeds of origin as well as get as much historical information from the dog breeders. This is crucial to ensure that you're adopting a healthy and active Pug mixed with Shih Tzu.
If you're a potential owner of the Shih Tzu Pug mix, take note of the following diseases that you should be aware of:
Patellar Luxation: This condition is described as the dislocation (luxation) of the kneecap (patella). The knee joint, most often the hind leg, slides in and out of place which causes extreme pain to your dog. This can be crippling.
Hip Dysplasia: The Pug breed is genetically susceptible to this condition, and the possibility of passing it to its offspring is highly possible. The Shih Tzu Pug mix is prone to have idiopathic epilepsy which is characterized by seizures that occur for no known reason. If your Shih Tzu Pug experiences an episode of seizure, take him to your veterinarian to determine what treatment is appropriate for your companion dog.
Epilepsy: It is the abnormal formation of the hip socket which causes extreme pain and lameness on your dog.
Allergies: This is a common ailment in all dog types. Your Pug crossed with Shih Tzu may suffer from a variety of allergies ranging from food, contact and inhalant allergies. If you see your pup rubbing his face a great deal or licking his paws a lot than what he usually does, then have him check by your veterinarian.
Eye problems: Diseases of the eye are not uncommon among the Shih Tzu and the Pug dog breeds because of their large eyes. Some of the eye conditions common to both breeds include proptosis, distichiasis, progressive renal atrophy, and dry eye.
The above health conditions can be avoided by making sure that you only purchase from a reputable breeder who is able to present you with health clearances for both parent breeds. Visiting the breeder to have a look at the puppy's condition is also an excellent way to prevent having a sickly pet companion.
Pug crossed with Shih Tzu Food Requirements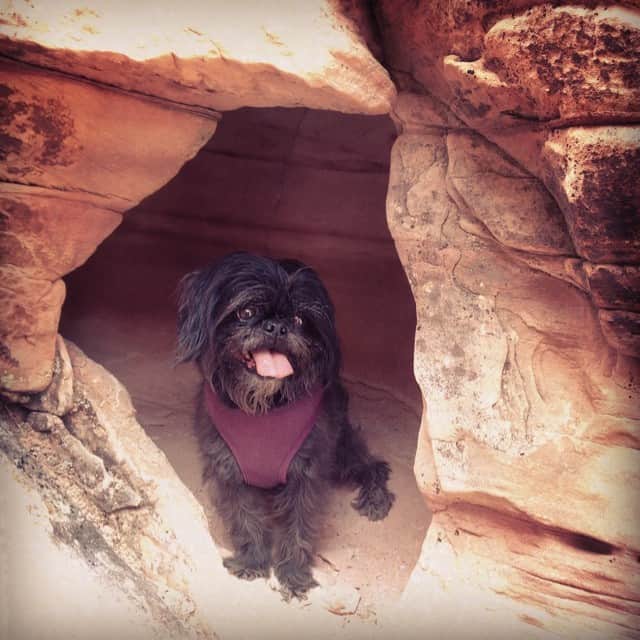 The Pug crossed with Shih Tzu is a typically small hybrid, so their dietary requirement is fairly minimal too. Here are some of the best dry dog food for small dogs. He will be requiring a nutrient-rich kibble that satisfies his age, small size, and activity level needs. Since this pup has a tendency to become obese because of the Pug breed on his lineage, it's essential that you keep him at an ideal weight.
Plan to feed him one-half to one cup of high-quality dog food daily which should be divided into two meals. Opt for dog food or kibble that is low in carbohydrates and fillers that may cause him to overeat to feel full. Always go only for the best dry dog food and avoid the nutrient-deprived worst dry dog food at all cost. Our favorite brands are Wellness Core Dog Food, Dog For Dog Food, or Nutra Thrive dog food supplement.
For healthy dog food options for your Pug Shih Tzu, here are some more recommendations:
Wellness Complete for Small Breeds
The Wellness Complete brand is known for creating food formulas that focus on quality ingredients and high nutritional value. This formula for small-sized dog breed is a good option for your Pug Shih Tzu. It's made up of small kibble size dog food that is rich in Omega-3s and Omega 6s.
Wellness CORE Grain Free Original Formula
This dog food is excellent for all breed types. It's also a grain-free dog food comprising of deboned turkey, turkey meal and chicken meal as primary ingredients. It's also rich in protein (34% crude protein) and a moderate amount of fat (16% crude fat) to fulfill your Pug Shih Tzu's nutritional needs.
Natural Balance Limited Ingredient Dry Dog Food
This dog food is formulated with a limited list of premium carbohydrate and protein sources. Natural Balance Limited Ingredient Diet (LID) is grain free with no artificial flavors, colors or preservatives. It supports a healthy, shiny coat and excellent digestive health. It's a great balanced and complete nutrition dog food perfect for puppies and adult dogs.
Orijen is a dog food brand that works well for almost every breed type. Its formula is made up of 80% high-quality meat and 20% fruits and vegetables. It's also grain-free and is made up of small, round kibbles great for small breed dogs like the Pug Shih Tzu mix. Its ingredients comprise of a perfect blend of chicken, turkey, fish, and avocado.
Hill's Science Diet Senior Dog Food
If your Shih Tzu Pug is at his senior years already, then this dog food is the right choice for your dog. The famous Hill's Science Diet Senior Dog Food is designed to support the immune system function and joint health of senior small breed dogs. This dog food is made with high-quality and easy-to-digest ingredients rich antioxidants and vitamins C and E to support a healthy immune system of your senior Shih Tzu Pug mix.
Since your lovely mixed pooch is a medium-size one, you could also offer them some of the best large breed dry dog food formulas and see how they like them. But you should never experiment like that with cubs and old doggos — here are the best puppy food brands and the best senior dry dog food recipes, respectively. Do remember to consult their vet before making any changes to your pup's diet!
Shih Tzu Crossed with Pug Exercise Requirements
Despite his small size, the Shih Tzu crossed with Pug is a relatively active dog and therefore requires a moderate amount of physical activity. A minimum of 30 minutes of exercise per day, which includes either an outdoor walk or an indoor play, would suffice. Since he's a friendly little dog, consider visiting the dog park so he can burn off some steam and interact with other pet animals as well.
When staying outdoors during the summer months, make sure your Pug Shih Tzu does not overexert himself too much under the sun since this hybrid is very sensitive to heat. Indoor activities are always welcome on these days.
The Shih Tzu Pug mix can live quite happily in small spaces, so they are perfect for small apartment living as long as you make sure they still get their adequate need of short walks and lots of playtimes.
Pug Shih Tzu Training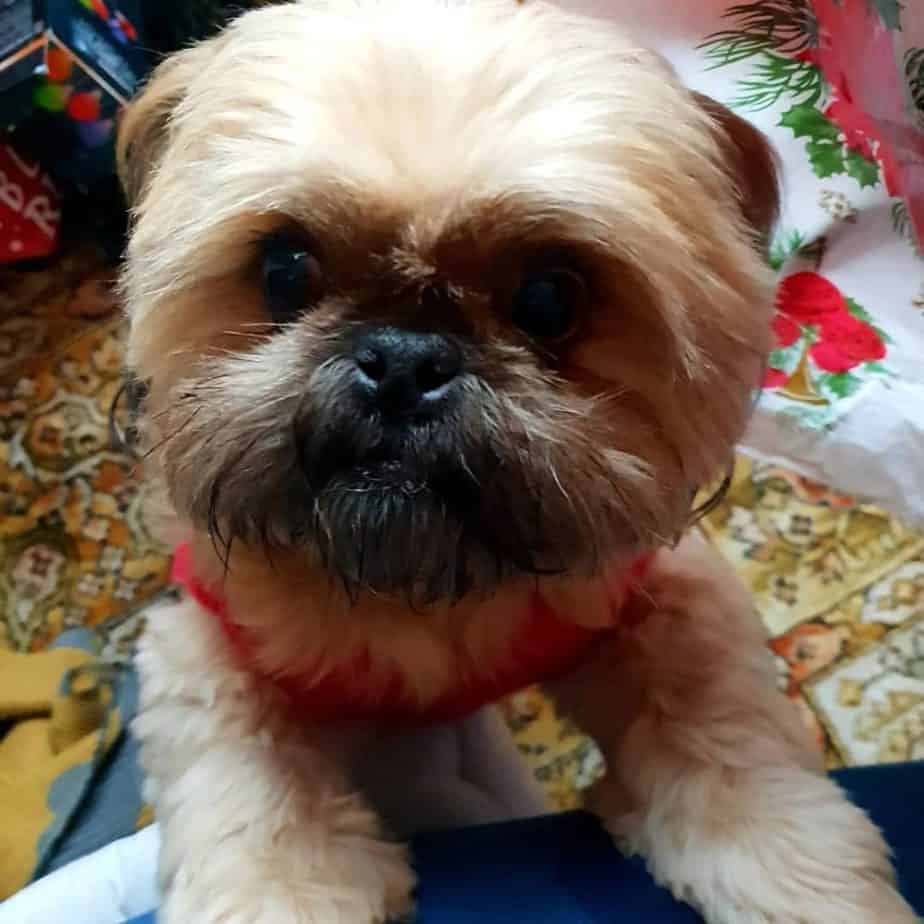 The Pug Tzu is a hybrid that is moderately easy to train. They are always willing and enthusiastic to learn new tricks, although there are times that they can be stubborn. That is why it's essential that owners start the training process as early as possible to eliminate the dog's stubborn behavior while still young. It's also crucial to not be overly strict to a puppy as he may grow up fearing you in the long run. Be gentle but firm in training your Pug Shih Tzu pup.  
It's recommended to use food treats as a motivator since this hybrid loves his food and will respond eagerly to them. When your dog sees that there's a reward after successfully performing a task, he tends to be very obedient and eager to please which will help well during training sessions. This is called the positive reinforcement method which will aid your pup in a long way to behave well and eliminate unwanted behaviors.
It's crucial that you socialize your pup early. Proper socialization and exposure to the different environment should be a part of any responsible dog owner's training routine. It's recommended to socialize your pet dog at a young age to create a better sense of acceptability. Puppy socialization is known to effectively reduce having aggressive behaviors, fearfulness, and anxiety later on in their adulthood.
Moreover, do include stimulating mental activities on your dog's training routine, which can be in the form of games or puzzles. This is to keep your Pug mixed with Shih Tzu from getting bored and to further improve its social interactions.
Shih Tzu Pug and Families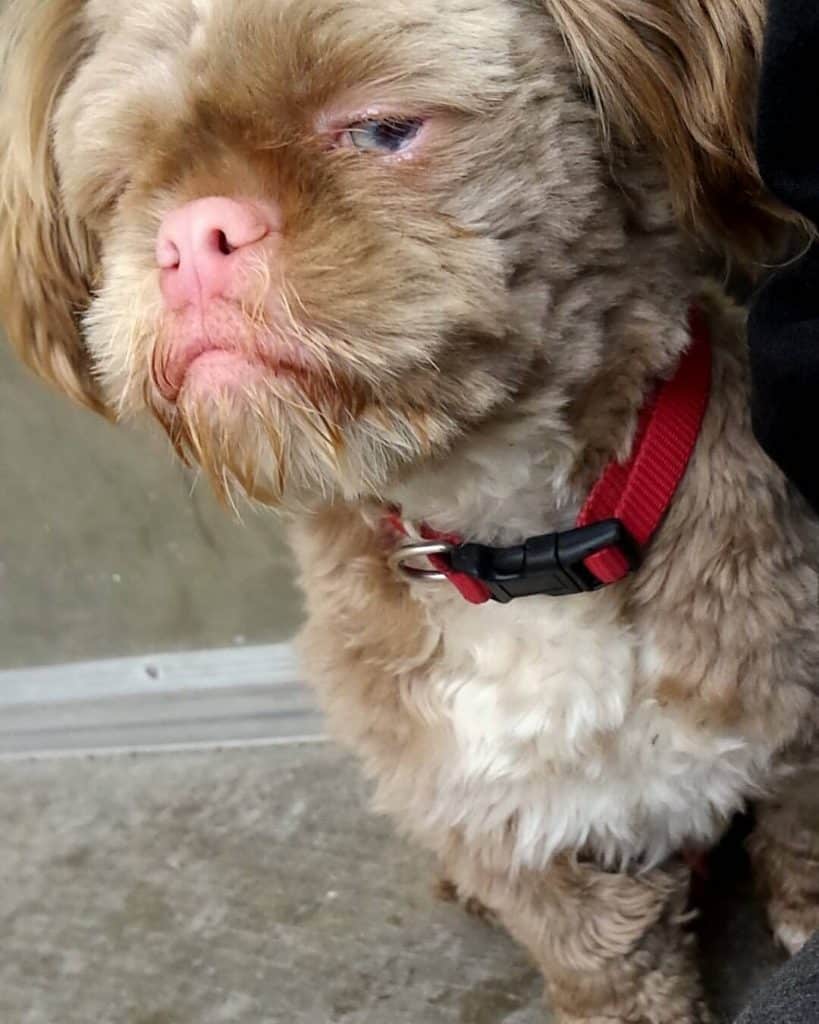 The Shih Tzu Pug mix is best suited for families with children and other pets at home. The cheerful Pug Tzu brings together the friendly personality of the Pug and the confident character of the Shih Tzu for a sweet-natured family companion. His warm and affectionate disposition makes him a fun companion to children and other animals as well.
This cute and lovely hybrid is friendly to everyone even to strangers. The personality from both sides of its parent breeds makes the Pug Tzu have a loving as well as trusting nature. They'll be excellent as family pet companions but not good watchdogs, given that they frequently appear to be friendly to almost everyone they meet and will not hesitate to interact and play with any of them.
With early socialization and proper training, the Shih Tzu crossed with Pug can go along well with children and can be your loyal family pet companion. It all comes down to how you'll be raising your pet like a real dog parent. Be a responsible owner by feeding them the right amount and type of food, socializing and training them early and giving them sufficient amount of exercises daily. If you were able to accomplish those things rightly, expect a Pug Shih Tzu mix that will shower you with lots of affection and loyalty.
References:
Brocal, J., et al. "C7 Vertebra Homeotic Transformation in Domestic Dogs – Are Pug Dogs Breaking Mammalian Evolutionary Constraints?" Journal of Anatomy, vol. 233, no. 2, 14 May 2018, pp. 255–265., doi:10.1111/joa.12822.
Kitamura, Yasunari, et al. "Assessment of Meibomian Gland Morphology by Noncontact Infrared Meibography in Shih Tzu Dogs with or without Keratoconjunctivitis Sicca." Veterinary Ophthalmology, 4 Feb. 2019, doi:10.1111/vop.12645.
Shih Tzu. Kennel Club Books, 2009.
Nicholas, Anna Katherine. Pug. Kennel Club Books, 2004.
Compare Pet Insurance