51+ Poodle Mix Breeds
Boxer Poodle Mix = Boxdle
The Boxer Poodle mix is known as a mysterious designer breed. This was bred to create a dog with a low-shedding coat and a winning character.
This breed has the charming demeanor of a Boxer combined with a friskiness and playfulness of a Poodle.
The Poodle Boxer mix is muscular owing to its Boxer lineage.
This Boxer mixed with Poodle is naturally protective of its family, so it tends to bark when it senses something wrong. Train this early to control barking.
Husky Poodle Mix = Poosky

The Husky Poodle mix is also known as the Poosky, Huskydoodle or the Huskypoo.
This is a designer dog breed that is known for its high energy and therefore requires a lot of exercise and play.
This Husky mixed with Poodle is a large dog so feed this with a formula recommended for a large dog.
The Poodle Husky mix breed needs training from the time it is brought home to avoid potential problems.
Corgi Poodle Mix = Corgipoo

A Corgi Poodle mix is a mixed breed and is very common. This breed was created to come up with a breed that has a cute size of a Corgi and the hypoallergenic coat of a Poodle.
The Poodle Corgi mix is a small dog with floppy ears like a Poodle's and has a round head and short muzzles.
There are no specific health issues for this breed but be sure to watch out for obesity and overeating. Avoid giving too many treats and use a schedule to feed this dog.
The Poodle Corgi mix breed requires daily exercise, but their small size may be contented with just a short walk.
German Shepherd Poodle Mix = German Poodle

The German Shepherd Poodle mix is a mixture of two highly-intelligent breeds. This dog is sharp-witted, easy to train and very eager to please.
This dog has low grooming requirements but before you use any dog shampoo or soap, be sure to visit your vet to get the best brand.
Poodle German Shepherd mix breeds can be prone to ticks and fleas if you don't take care of their coats. These are also susceptible to hip dysplasia and Von Willebrand's disorder, two common health conditions in the two breeds.
German Shepherd Poodle puppies need to be fed several times in a day, but adults require only 3 to 4 cups of top quality dog food in a day. Avoid treats to prevent being overweight.
Beagle Poodle Mix = Poogle

The Beagle Poodle mix breed was created to come up with a dog that has the intelligence of a Poodle and the curiosity of a Beagle.
This breed is highly intelligent, with moderate to high energy levels and has an easy-going nature.
Beagle Poodle mix breeds may be affected by eye disorders, epilepsy, hypothyroidism, luxating patellas and other health issues common to both races.
Grooming a Poodle Beagle mix depends on what type of coat the dog has. This dog needs regular exercise.
Labrador Poodle Mix = Labradoodle

The Labrador Poodle mix breed is one of the most common mixed breeds known by almost all dog associations and clubs.
This breed was an attempt to create a dog that has low-shedding characteristics for people who had allergies to dog hair.
The Poodle Labrador mix can grow from medium to large with a solid brown, black or apricot color.
First generation Poodle Labrador mix breeds have a coarse coat that needs weekly brushing while later generations have longer coats that need daily brushing.
Chihuahua Poodle Mix = Chipoo

The Chihuahua Poodle mix is a designer breed that was created by combining a Chihuahua with a Miniature or Toy Poodle.
First generation dogs are less likely to have common diseases from their parents according to a study made by the University of Sydney.
The Chihuahua Poodle mix has tons of energy to spare and is very intelligent and very curious.
The Poodle Chihuahua mix may or may not inherit the Poodle's low shedding characteristics. You need a professional groomer for long-haired dogs to prevent tangles and to keep the coat healthy.
Chow Chow Poodle Mix = Poochow

The aggressive Chow Chow's characteristics may still shine through in a Chow Chow Poodle mix breed, but most that care for this dog say that it is affectionate and even-tempered.
This breed could be prone to Addison's Disease, bloat, thyroid disease, hypoglycemia, and epilepsy. These are common health issues common to these two breeds.
If the Chow Chow Poodle has inherited the Poodle's shedding, then you must brush its coat at least a few times a week.
The Poodle Chow Chow mix needs plenty of exercises. Plan on a regular exercise routine to keep the dog's energy levels down.
Border Collie Poodle Mix = Border Colchow

The Border Collie and the Poodle are two of the most intelligent dog breeds on the planet. Combine this, and you get a lively and brilliant Border Collie Poodle mix.
This breed is medium-sized, with a lively and smart demeanor, making this dog perfect for livestock herding.
The coat of the Poodle Border Collie mix could vary from one dog to another and can be curly to moderately long.
Rely only on a reputable breeder when looking for a Poodle Border Collie mix. This will minimize any health-related conditions.
Australian Shepherd Poodle Mix = Australian Poodle

The size of the Australian Shepherd Poodle mix breed dog will depend on the size of its parents. Usually, the size of the Poodle affects the size of the pup. A Poodle comes in standard, miniature and toy sizes.
This dog is going to be very intelligent because its parent breeds are known as the smartest dogs.
The Poodle Australian Shepherd mix can inherit the energy of the Aussie Shepherd, so it's better to forgo the fancy coats of the Poodle and go with a manageable coat style.
The Poodle Australian Shepherd mix needs a lot of protein to burn because it is a very energetic breed.
Dachshund Poodle Mix = Poodlehund

The Dachshund Poodle mix is a designer dog breed that was created mainly because of its looks. Usually, a standard Dachshund and a Toy Poodle are used to develop this breed.
The dog may have short or long legs depending on which parent the dog takes after.
The Poodle Dachshund mix is smart, loyal and tends to develop a strong attachment to its owners.
Both breeds are prone to suffer from patellar luxation that causes lameness. Take your Dachshund Poodle mix to the vet if you suspect this condition.
Pug Poodle Mix = Puodle

Before you start thinking of buying a Pug Poodle mix dog, check local shelters or rescue centers first.
It's hard to say what the personality of the Pug Poodle is, but if a dog takes from its Poodle parent, then it is a barker so be sure to train early.
If your Poodle Pug mix takes from its Poodle parent, then it may have a curly coat that sheds very little. The short Pug coat sheds a lot.
Both parent breeds are good with children, so this dog could make loving and loyal companions if you have kids.
Cocker Spaniel Poodle Mix = Coodle Spaniel

The Cocker Spaniel-Poodle mix breed is perfect as companion and assistance dogs.
This breed is very energetic, has a happy disposition and is sociable.
Even celebrities have fallen in love with the cute Poodle Cocker Spaniel mix including Harry Styles, Minka Kelly, Lady Gaga and Ashley Judd.
The Poodle Cocker Spaniel mix may or may not produce less dander which makes the dog hypoallergenic or not.
St. Bernard Poodle Mix = St. Poodle

The appearance of the St. Bernard Poodle mix depends on whether the dog takes to its Poodle lineage or its St. Bernard heritage.
There is very little information on the history of this breed, but it is believed that it has originated in the US way back in the 1880s.
The Poodle St. Bernard mix is not recognized by the American Kennel Club, but it is registered at the International Designer Canine Registry, Designer Breed Registry, Dog Registry of America, Inc., Designer Dogs Kennel Club, and the American Canine Hybrid Club.
The Poodle St. Bernard mix is prone to some hereditary health issues prevalent in both breeds including bloat, eye disease, hip dysplasia, idiopathic epilepsy, immune-related disorders, and gastric dilation-volvulus, to name a few.
American Bulldog Poodle Mix = American Poodle

The size of an American Bulldog Poodle mix will depend on the size of its parents. It could be small to a medium-sized dog.
This mixed breed may have a short to medium length coat. But no matter how long the dog's coat is, make sure that this receives regular washing and brushing.
To find a Poodle American Bulldog mix pup, check out local shelters and rescue centers before buying one from reputable breeders.
A Poodle American Bulldog mix that has more natural and less extreme looks can reduce some common health issues of the parent breeds.
Cane Corso Poodle Mix = Cane Cordle

A Cane Corso Poodle mix breed is a very obscure breed. Very little information about this breed exists.
The best way to find out about the characteristics, appearance, and temperament of this mix breed is to take a look at its parent breeds.
The Poodle Cane Corso mix is an active and loyal breed. The Poodle is a very active type of dog while the Cane Corso is an Italian dog breed developed to guard property and for hunting.
The only available evidence of the Poodle Cane Corso mix breed is photographs of these dogs. It has medium built, and a longer nose but a dog's appearance may depend on the looks of its parent breeds.
Shar Pei Poodle Mix = Poopei

The Shar Pei Poodle mix is playful, fun-loving and highly-intelligent.
You need to socialize this mix breed early so it will grow up to be an affectionate pet and be great with kids.
The Poodle Shar Pei mix dates back to the 1980s or 90s, the era where breeders may have started to crossbreed different purebred dogs to get the best traits.
A Poodle Shar Pei breed may pick up the willful and stubborn nature of the Shar Pei making it a challenge to train.
Akita Poodle Mix = Pookita

The Akita Poodle mix is an active mixed breed that is good with kids and other pets. Because of its parent breeds, it will make a good watchdog.
This is a designer dog that was created due to the increased demand for smaller, gentler and hypoallergenic versions of these breeds.
The coat of the Akita Poodle mix can range from very short like the Akita coat and the curly like the Poodle.
Start the obedience training of the Poodle Akita mix early on to prevent behavioral problems.
Blue Heeler Poodle Mix = Blue Poodle

The Blue Heeler Poodle mix breed is an active, energetic and lively breed considering the traits of both its parent breeds.
There are a few health issues that can arise with a Poodle Blue Heeler mix, so it's important to choose a reputable breeder to lessen the chance of getting a healthy dog.
Bath your mixed breed dog only as necessary since frequent baths can dry their skin.
The Poodle Blue Heeler mix has a Wolf background so consider a raw food diet which is a good diet for this type of breed.
English Bulldog Poodle Mix = English Poodle

The English Bulldog Poodle mix breed size can range from a small to a medium-sized dog.
This is a designer breed that is brilliant like a Poodle and outgoing as an English Bulldog. These characteristics have made the Poodle English Bulldog the ideal family pet.
The Poodle English Bulldog mix has a large head, floppy ears, and a dull facial expression.
Although this breed is bright, it may show some stubbornness. So train this early to be able to get rid of any misbehavior.
Golden Retriever Poodle Mix = Golden Poodle

The Golden Retriever Poodle mix was first seen in the 1990s and was made by mixing a standard Poodle with a Golden Retriever.
This breed is known to be hypoallergenic, but sadly there is no pure, hypoallergenic breed. This dog's allergies can be less pronounced.
There may be specific health issues of the Poodle Golden Retriever mix coming from both parent breeds. Have your pet checked by the vet at least every 4 to 6 months.
Golden Retriever Poodle mix is just too friendly and too lovable, so it is not a good watchdog.
Great Pyrenees Poodle Mix = Great Pyroodle

The Great Pyrenees Poodle mix is a very new designer dog breed. It is a heavy dog that can weigh anywhere from 85 to 100 pounds.
This is a loving, friendly, affectionate and social dog that will love to spend time with its master and family.
The Poodle Great Pyrenees mix can inherit genetic health issues from both parent and just one parent breed.
Before you contact breeders, check local shelters or rescue centers for possible Poodle Great Pyrenes that you can adopt.
Rhodesian Ridgeback Poodle Mix = Rhodesian Poodle

The Rhodesian Ridgeback Poodle mix breed is a new designer mixed breed that is so unique that there is very little information about it online. The only way to learn about this breed is to understand the characteristics and appearance of its parent breeds.
If the dog takes to the characteristics of a Rhodesian Ridgeback, then expect a larger dog with a muscular appearance. If it takes to its Poodle lineage, then a smaller version with more attractive appearance should be expected.
The Poodle Rhodesian Ridgeback mix breed is very active, highly intelligent and thus may be trusted as a hunter and a watchdog.
The Poodle Rhodesian Ridgeback mix may inherit the health issues of both the parent breeds.
Bernese Mountain Dog Poodle Mix = Bernese Poodle

There is a good chance that the Bernese Mountain Dog Poodle mix is a good family dog because both parent breeds are known to be good with children and are loyal to their owners.
The Poodle is very active, but the Bernese Mountain Dog enjoys lounging around so your Bernese Mountain Dog Poodle mix could have varying personalities.
It is common for the Poodle Bernese Mountain Dog to shed, but it would just be very slightly so brush once a week with a wire brush to remove dead hair.
Hotter climates will not suit this mixed breed. You need to keep it cool and away from extremely hot temperatures.
Pitbull Poodle Mix = Pitboodle

The Poodle Pitbull mix is playful, loving and energetic. It will maintain a behavior like those of a puppy even throughout its adult life.
This breed could be a bit stubborn so be sure to train it to follow basic commands at an early age.
Your Pitbull Poodle mix will have a clean bill of health for as long as you choose a reputable breeder. But don't forget that there could also be dogs waiting for you at the shelter or rescue center.
Expect this dog to live for as long as a decade. You need to take the Poodle Pitbull mix at least every four or six times a year to a vet.
French Bulldog Poodle Mix = French Poodle

This is only for experienced dog owners and also for people who are looking for minimal shedding dogs.
The French Bulldog Poodle mix can be loyal, playful, good with pets and kids and highly intelligent just like its parent breeds.
Joint and digestive system problems are common health issues with the French Bulldog Poodle mix. Take it to the vet at least every four months to ensure a clean bill of health.
The Poodle French Bulldog mix will not do well when left alone for an extended period. It wants to be an integral part of a pack or family.
Shih Tzu Poodle Mix = Shih Tzupoo

If a Shih Tzu is bred with a toy or mini Poodle, then expect a small Shih Tzu Poodle mix dog.
This dog will shed minimally and needs to be groomed weekly. There are tons of cute hairstyles available for this fancy mix breed. These are prone to tear stains so wash its face once a day.
Trust only a reputable breeder where you can get a healthy Poodle Shih Tzu mix.
Both parent breeds of the Poodle Shih Tzu are prone to dental disease so be sure to brush regularly.
Doberman Poodle Mix =Doboodle

The Doberman Poodle mix is highly-trainable so you can guarantee to get a well-mannered dog.
This type of mix breed could suffer from hip dysplasia, and a blood clotting disorder called von Willebrand's disease. These are common health issues for both parent breeds.
The Poodle Doberman mix will need a lot of exercises because both parents are known to be very active.
The Poodle Doberman mix breed has been refined and was known to be bred to become guard dogs.
Newfoundland Poodle Mix = Poofoundland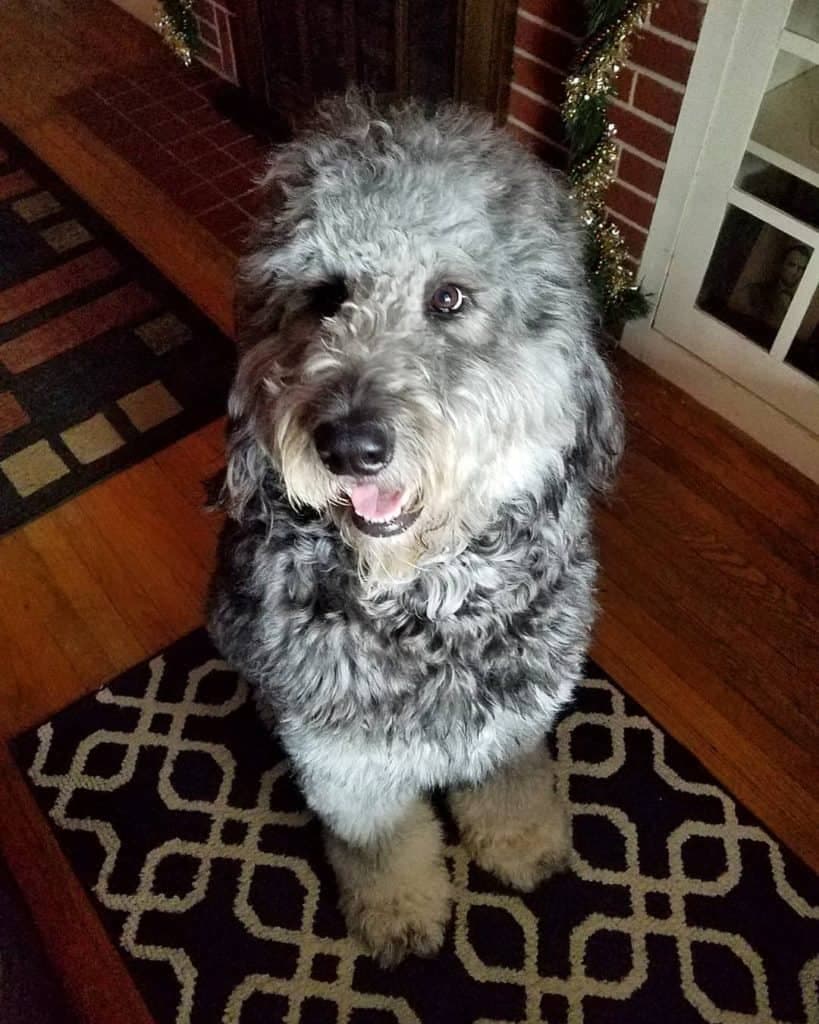 The Newfoundland Poodle mix will likely inherit the curly hair and kind nature of a Poodle and the patience and loyalty of a Newfoundland.
This dog is large and can weigh up to 150 pounds. But the size could depend on which parent breed the pup takes up to.
Most Poodle Newfoundland mixes can have either brown, grey, black or in different color combinations.
The Newfoundland Poodle mix breed will likely be protective of its owners but will still be open to meet new people and other animals or pets.
Poodle Mix Food Requirements
If you have your heart set on adopting a Poodle mix, you'll need help with finding proper nutrition for your lovely mixed doggo. You are in luck as we can help with that.
While your pooch is still a pupper, you'll want to get them food by the most trusted manufacturers in the industry, so take a look at our list of the best puppy food brands. After about a year, you can start switching to adult formulas and supplements, such as Wellness Core Dog Food, Dog For Dog Food, or Nutra Thrive dog food supplement. Whichever brand you choose, make sure it is only the best dry dog food and steer clear from the worst dry dog food. You may also want to match your pup's diet to their size — go for the best dry dog food for small dogs or the best large breed dry dog food, depending on how big they turn out to be!
In case you decide to rescue an elderly dog, we hail you. Here is some of the best senior dry dog food that they'll love munching! Make sure to consult with your vet before you make any radical changes to your Poodle mix dog's diet.
References:
Noh, Daji, et al. "Liposarcoma of the Spermatic Cord in a Toy Poodle." Journal of Veterinary Medical Science, vol. 79, no. 12, 14 Nov. 2017, pp. 2026–2029., doi:10.1292/jvms.17-0357.
Ewing, Susan M. Poodles for Dummies. Wiley, 2007.