Hound Lab Mix Facts
Lab Hound Mix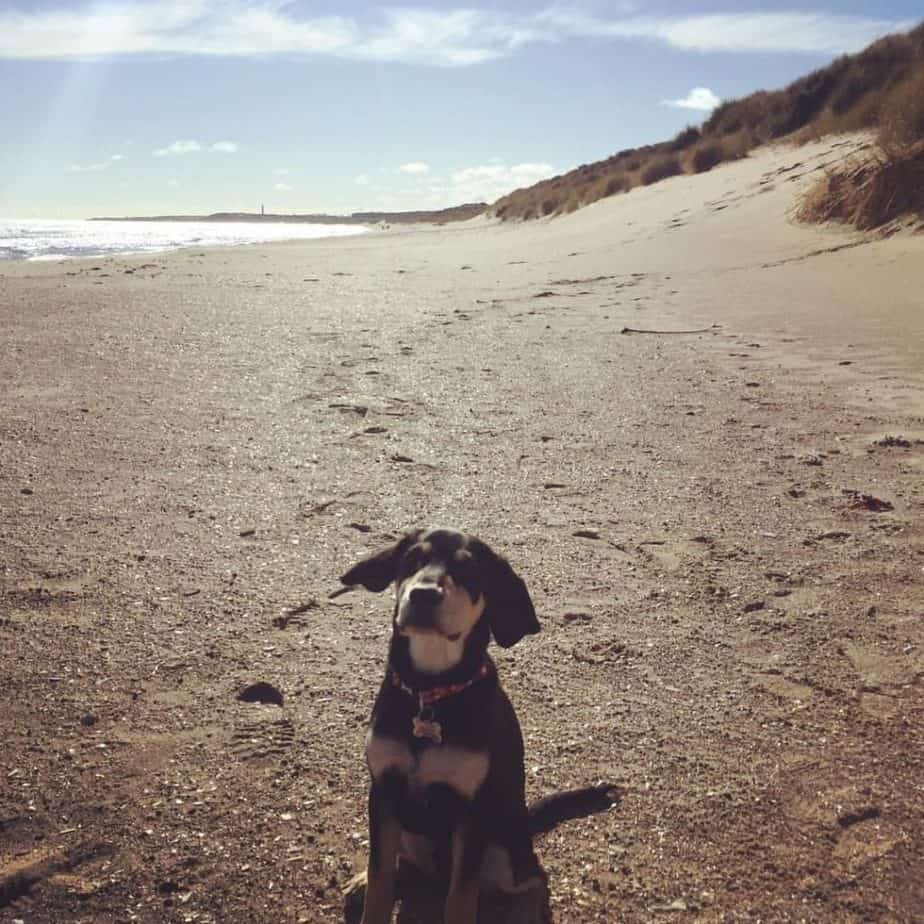 The Labrador Retriever is one of the world's most popular and beloved dogs. So it's not surprising that numerous crossbreeds have the Lab as one of the parents. One such unusual but a still lovable hybrid is the Lab Hound mix.
The Lab Hound is the offspring of a Labrador and any one of the Hound breeds, like a bloodhound, a greyhound or a Plott hound.
This hybrid also goes by several names, like Bassador, Dachsador, Labloodhound, or Labbe. This refers to the kind of hound that bred with a Labrador Retriever. For instance, a Labloodhound is a cross between a Lab and a Bloodhound while a Labbe is a Beagle Lab mix. Meanwhile, the Dachsador is a Labrador and Dachshund cross and a Bassador is a Basset Hound crossed with a Lab. There is also a Greyhound Lab mix, a Coonhound Lab mix, and a Plott Hound Lab mix.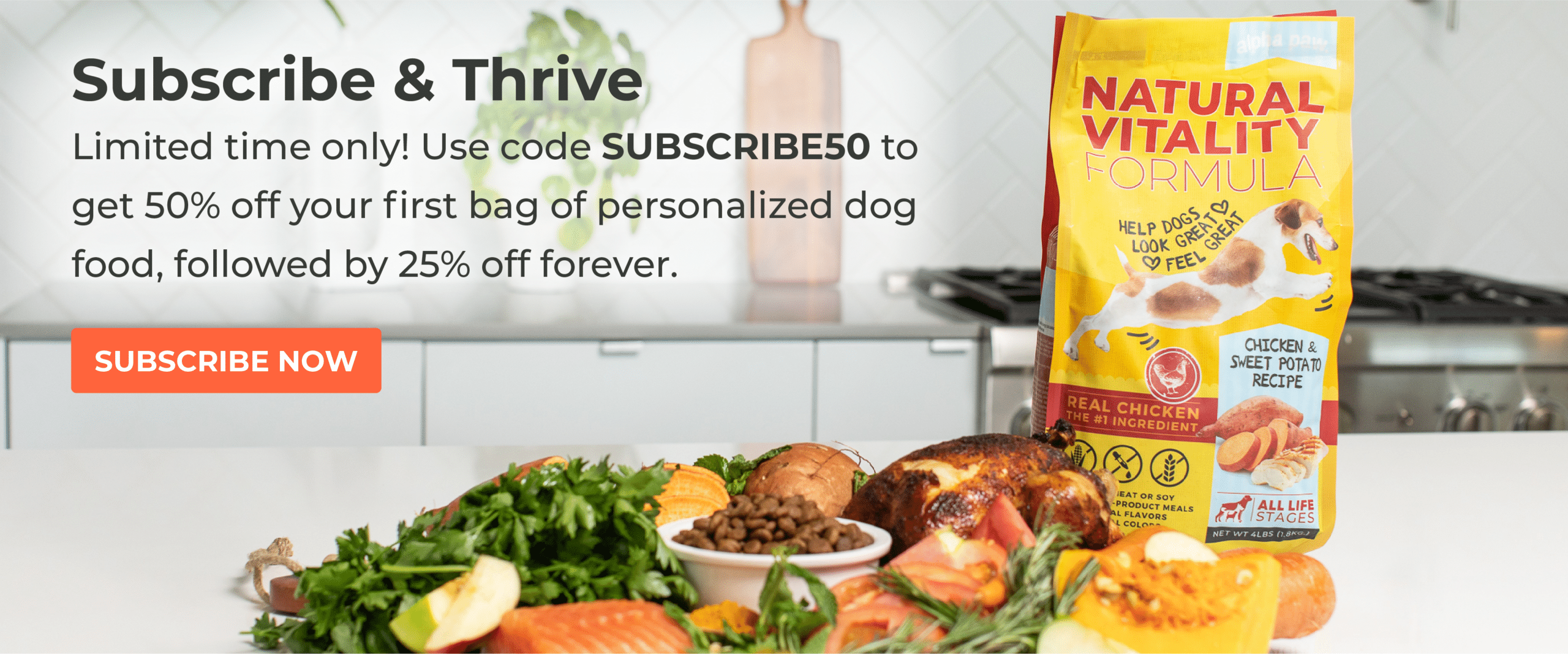 The Lab Hound cross is an affable, affectionate, and warm canine that is happy to meet everyone, just like its Labrador parent. It's also focused, tireless, and depending on the person you asked, can be described as either persistent or stubborn. These traits are clearly from their Hound side.
This hybrid dog has a good mix of traits it inherited from its parents, both positive and negative. This makes it harder to predict just what kind of pet you will have and what to expect from it. And that's the beauty of having a mixed breed dog. Just like a box of chocolates, you'll never know what you'll get. But what you can do is study the two parent dogs to get an idea of how to raise and live with a Lab Hound mix.
3 Reasons Why You Shouldn't Get a Lab Hound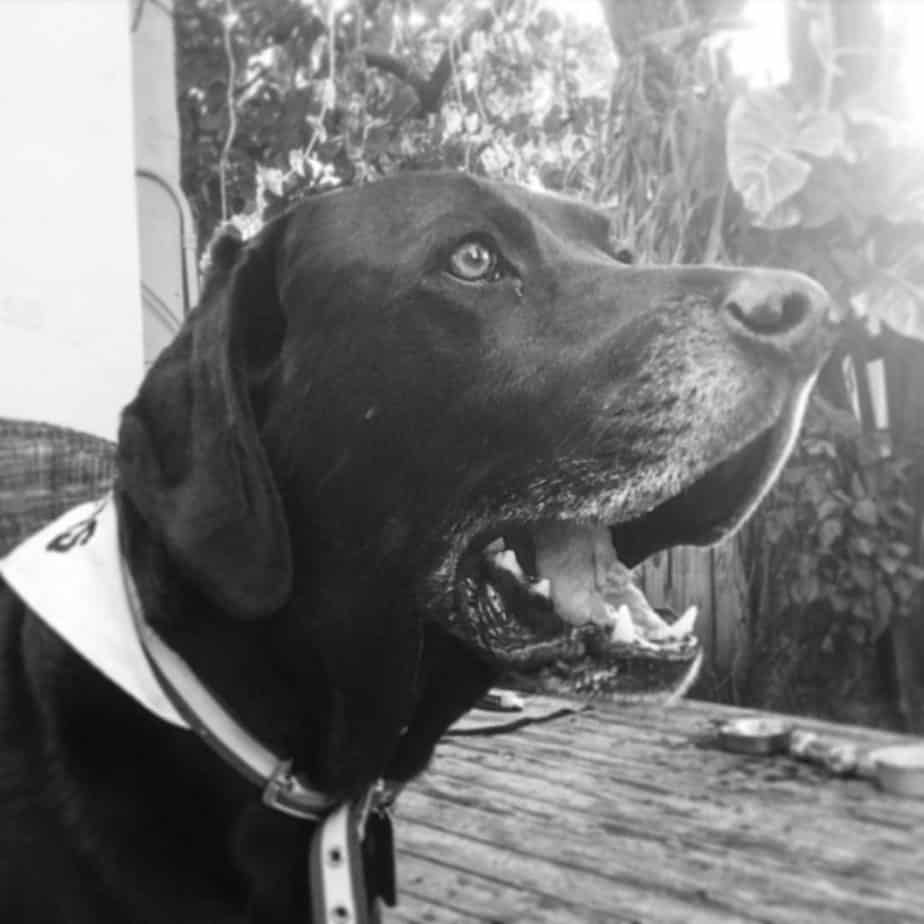 It's not kid friendly. Due to its sheer size, large dogs like a Lab Hound are not kid friendly. Even if your dog is trained and socialized, play time can become rambunctious and it might accidentally harm children.
Might have inherited the Hound's tendency to bay. Dogs in the Hound group are known for "baying," a very loud and unique vocalization. Unfortunately, the sound can be unsettling and not everyone is accepting or tolerant of it.
It's a lousy guard dog. The Labrador influence means this dog is naturally friendly and happy to be around humans. While it sometimes shows wariness around strangers, it doesn't get alarmed or bothered with unknown elements in its territory.
3 Reasons Why You Should Get a Hound Lab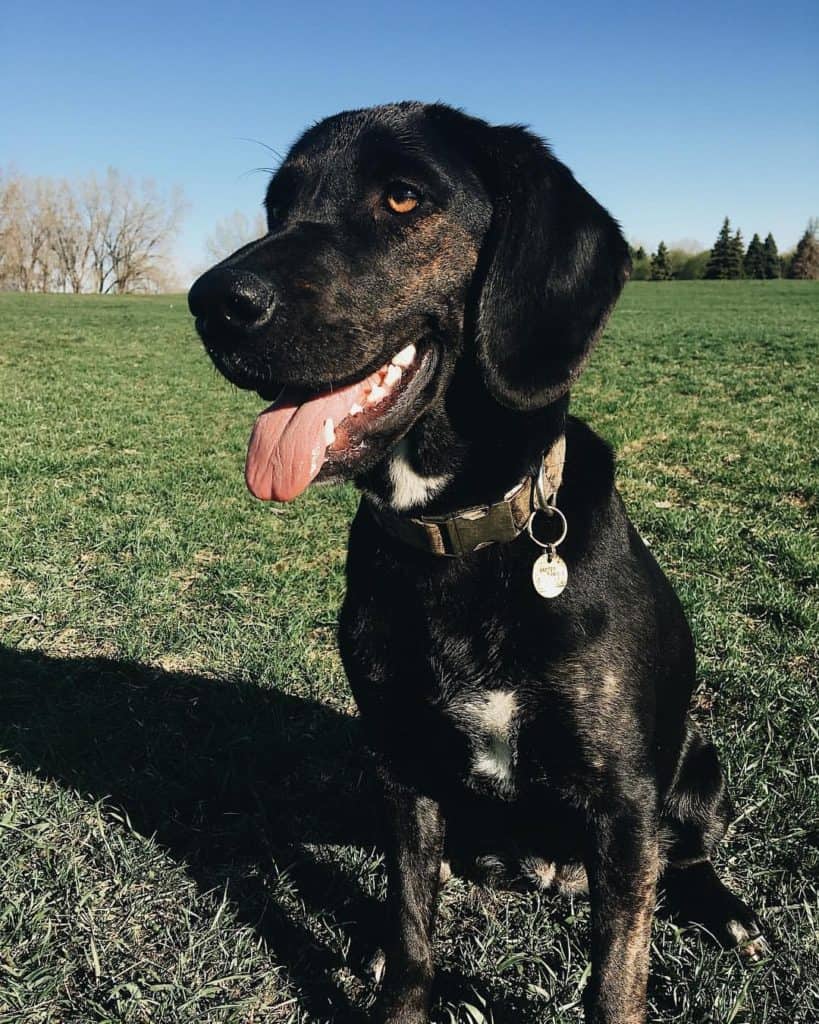 It's one of the friendliest dogs around. Despite its size, a Hound Lab mix is one of the friendliest dogs around. Thanks to its Lab genes, this dog loves the company of humans and is eager to please them. While it's not exactly a velcro dog, it still enjoys following and staying by its owner's side.
It has an amazing sense of smell. Hounds are scent dogs, so it's no surprise that its hybrid offspring will also have a strong nose. This dog can literally follow a scent for hours. You won't have to worry about losing your stuff as your mixed breed dog can find it for you.
It loves going on adventures. Lab Hound cross is athletic, energetic, and adventurous. It's a great companion to take on family trips. It will have a great time hiking and camping with you. This dog also loves to swim so a beach vacation will be more fun.
Appearance, Personality, and Traits of a Lab Hound Mix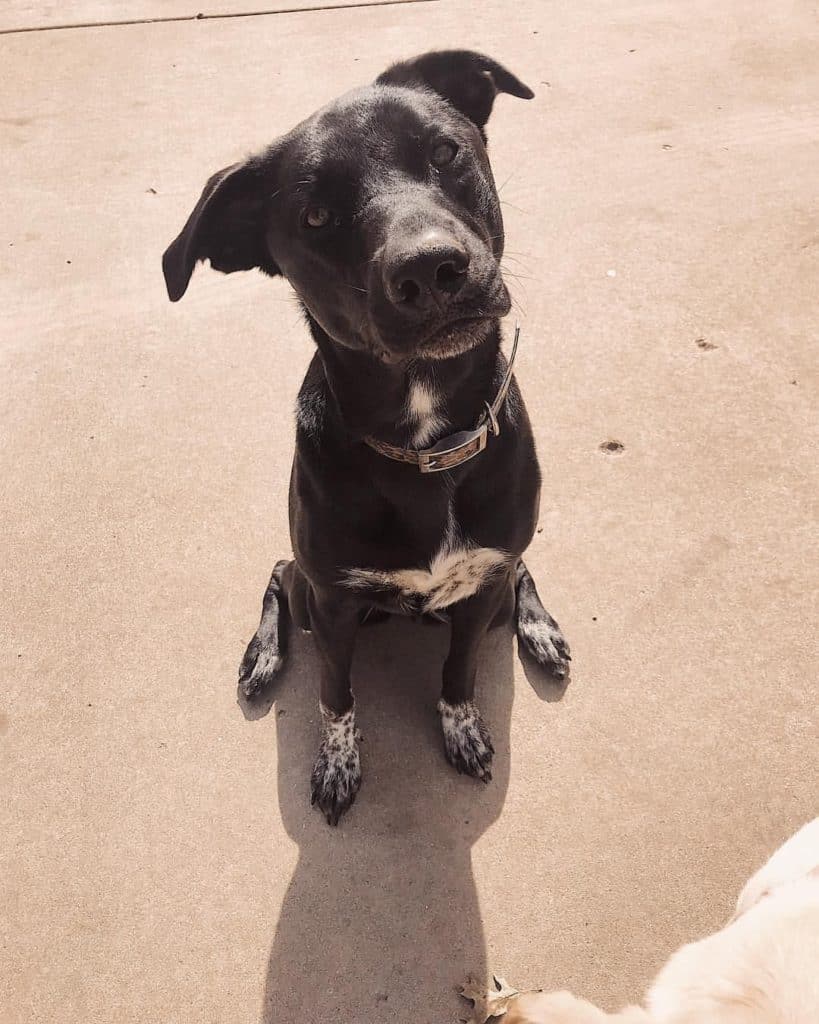 Weight
70 to 110 lbs (Labloodhound)

65 to 70 lbs (Greyhound Lab mix)

25 to 70 lbs (Labbe)

15 to 30 lbs (Dachsador)

Height
22 to 28 inches (Labloodhound and Greyhound Lab mix)

9 to 15 inches (Dachsador)

Size
Depends on the Hound breed. Labloodhounds are considered large dogs while Labbes and Bassadors are medium sized.
Coat Type
Dense
Coat Color
Black, white, brown, golden, and a brown and white combination
Amount of Shedding
Moderate
Eyes
Black, brown and light brown
Nose
Dark
Ears
Drooping
Temperament
Affectionate, friendly, great sense of tracking and smell, sweet, tireless, and stubborn
Life Expectancy
10 to 13 years
Hypoallergenic
No
Kid Friendly
No with very young children
New Owner Friendly
No
Breed Recognition
American Canine Hybrid Club (ACHC), Designer Dogs Kennel Club (DDKC), Dog Registry of America (DRA), International Designer Canine Registry (IDCR)
A Lab Hound mix has a decidedly muscular and athletic built. Its deep chest and round and broad shoulders hint at this dog's strength. It has an excess of skin around its neck and upper back and round eyes that are livelier and friendlier than the Hound's rather dull eyes. It also inherited the droopy ears of its parents.
Labloodhounds and Bassadors are also known for their distinct looks. The two mixed breeds have the floppy ears and wrinkly skin of its Hound parent.
It's difficult to determine what kind of personality your Lab Hound mix will have. Like humans, there are several factors that will affect this, like the environment it's raised in, the training it receives, and even the genes inherited from the parent breeds.
There are some traits that are typically observed in dogs of this kind. The Hound Lab mix is said to be generally affectionate, congenial, and warm. It is even-tempered and gentle like a Lab, making it a wonderful pet. However, it has the energy levels of the two parent breeds and boundless curiosity.
Owners have to keep an eye on them to ensure they don't get into too much mischief. They also need lots of attention and can't be left alone for long. Otherwise, this dog will become destructive.
The Lab Hound mix will also thrive if raised in the right environment. Its size and energy levels mean it needs a family who lives in a home with enough space and an enclosed yard. This is crucial since this dog is excitable when confronted with cats, rabbits, and other small animals. This could result in your Labloodhound taking off to track them and will not return for hours.
The Hound Lab is comfortable and happy to sleep on the floor indoors, so an argument can be made that this dog can also be a good apartment pet. However, its love of tracking and high energy levels mean that owners who live in apartments should make sure their Labrador Bloodhound hybrid has enough space to roam as a means to manage its excess energy.
Hound Lab Mix Puppies for Sale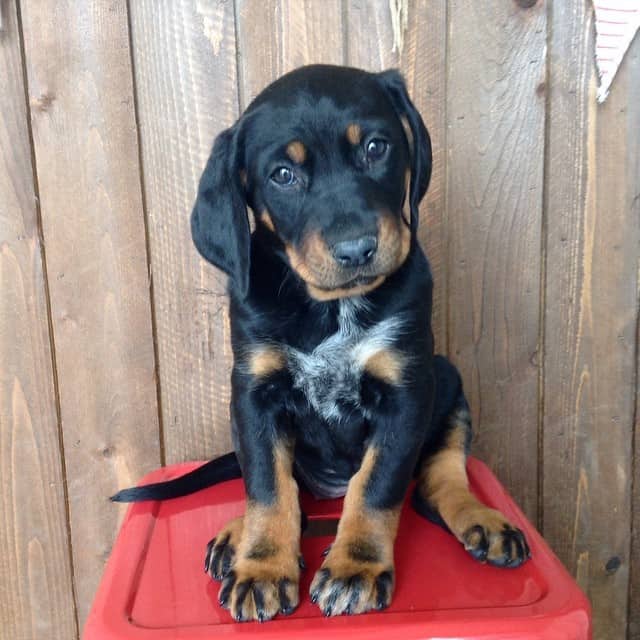 Regardless of whether you're buying a purebred or a mixed breed dog, it always pays to do business with ethical breeders. Aside from having certain regard or outright passion for the animal, responsible breeders know how to take care of the parent dogs and the litters. They also utilize genetic testing with their stock to ensure they're healthy. It also helps them to have a clear understanding of their dogs' health.

Put some time and effort into researching and looking for responsible and legitimate breeders of Hound Lab mix puppies in your area. Once you have found one, request to visit their kennels. Breeders with nothing to hide are only too happy to meet prospective puppy parents and show them around the kennels.
Take note of whether the area is clean and spacious. Insist on meeting the parent breeds and inquire about their health. The breeder should be able to provide you with papers attesting to the dog's health.
You want to make sure that your Lab Hound puppy is as healthy as can be. Hidden health issues that suddenly crop up can be costly and could ruin a potentially happy relationship.
Here are two breeders that can jumpstart your search for a Lab Hound cross puppy:
Adoption is another worthy option to consider. Sites like www.petfinder.com and www.adoptapet.com can help you with the process. You can also look into animal shelters or get in touch with rescue groups. They might have the perfect Hound Lab mix who's just waiting for you to save and adopt them. Try checking out these sites –
Grooming Your Lab Mixed With Hound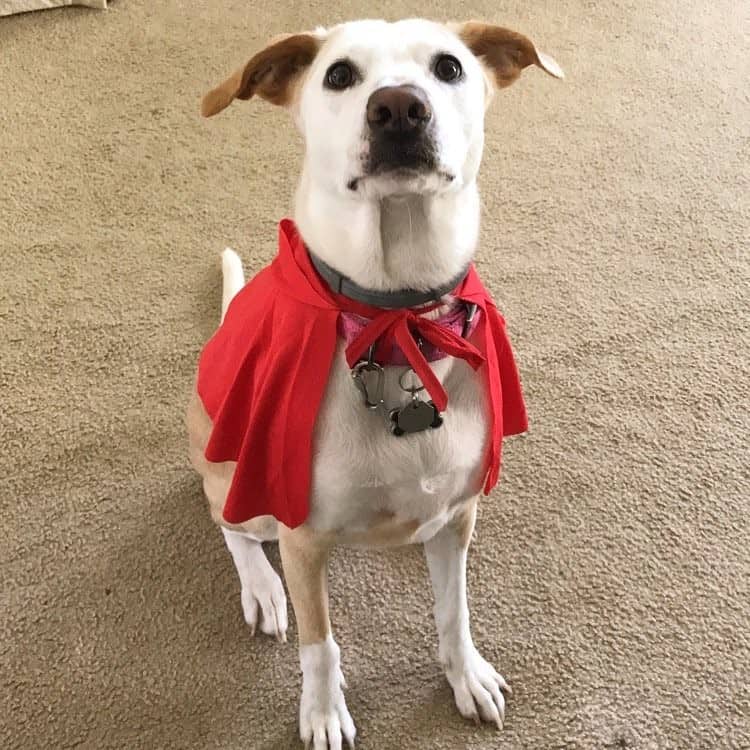 A Lab mixed with Hound is considered a moderate shedder. Most would only require a little maintenance, but owners should develop a regular grooming schedule that they follow religiously. As a rule, brushing its coat once a day, five to six days a week is enough to keep your pet's coat sleek and tangle-free. However, a Labloodhound tends to shed more so it should be brushed daily. Regular bathing will also help maintain its shiny coat.
If your Lab Hound mix has wrinkles on its face and neck, make sure that the skin there is dry and clean. Wipe the folds with a baby wipe or washcloth and then dry thoroughly. If you're having trouble in that area, a sprinkling of baby powder or corn starch can work wonders.
This dog has very strong teeth. Make sure you brush its teeth regularly, especially since the Lab Hound is notorious for being a chewer.
You should also check your Lab Hound's ear regularly. The draped ears do not allow air to freely circulate and this could lead to an infection.
Hound Mixed With Lab Health Problems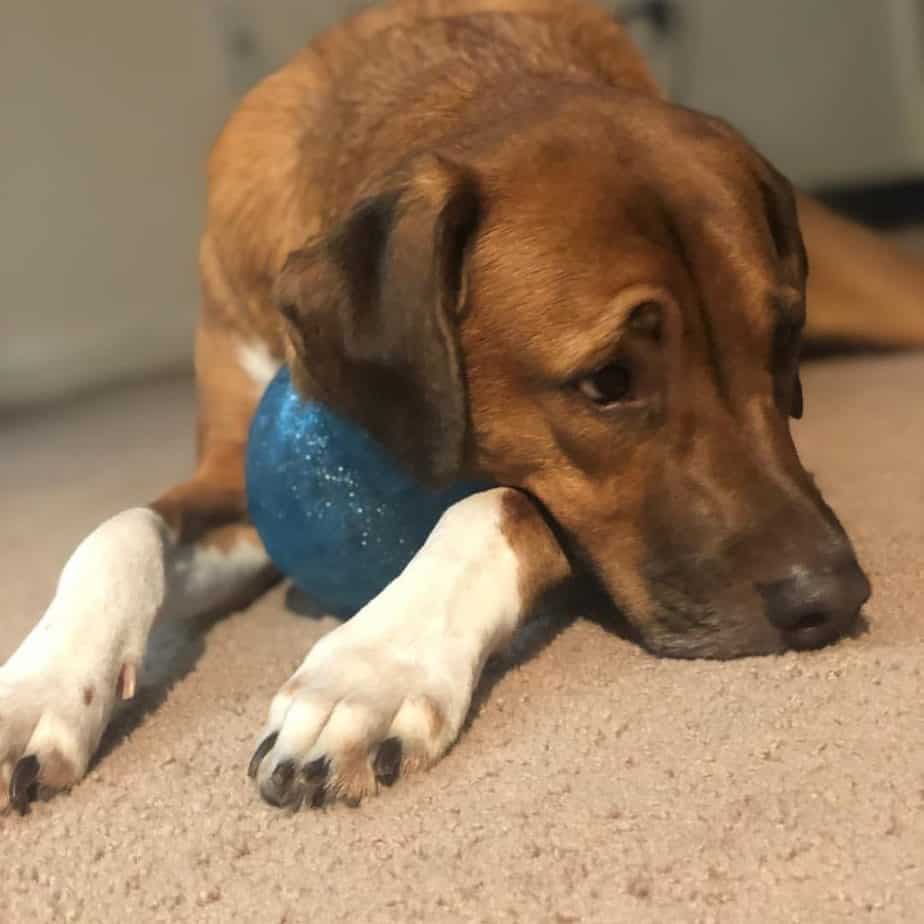 As with any mixed breed dogs, a Hound mixed with a Lab is potentially healthier than the parent breeds. However, it could still be susceptible to genetic illnesses later on in its life.
One complication you should watch out for are skin allergies. These can manifest in a variety of forms and is said to be inherited from its Labrador side.
Hounds, the Bloodhound, in particular, have always been prone to bloating and cancer. These two diseases are the main cause of deaths for this breed. It will make sense for you to watch out for it as well.
Since the Labloodhound is considered a large dog, there's a risk it could suffer from common afflictions like elbow dysplasia, epilepsy, hip dysplasia, ligament rupture of the knee, and progressive retinal atrophy.
Their Hound ancestry can also make them susceptible to back problems, especially if one of the parent breeds is a Dachshund. You should also watch out for blindness, hypothyroidism, and obesity.
Owners should also take note that a Hound mixed with a Lab is athletic and active so it could suffer exercise-related injuries like a broken tail, pulled muscles, or split pads.
Lab Crossed With Hound Food Requirements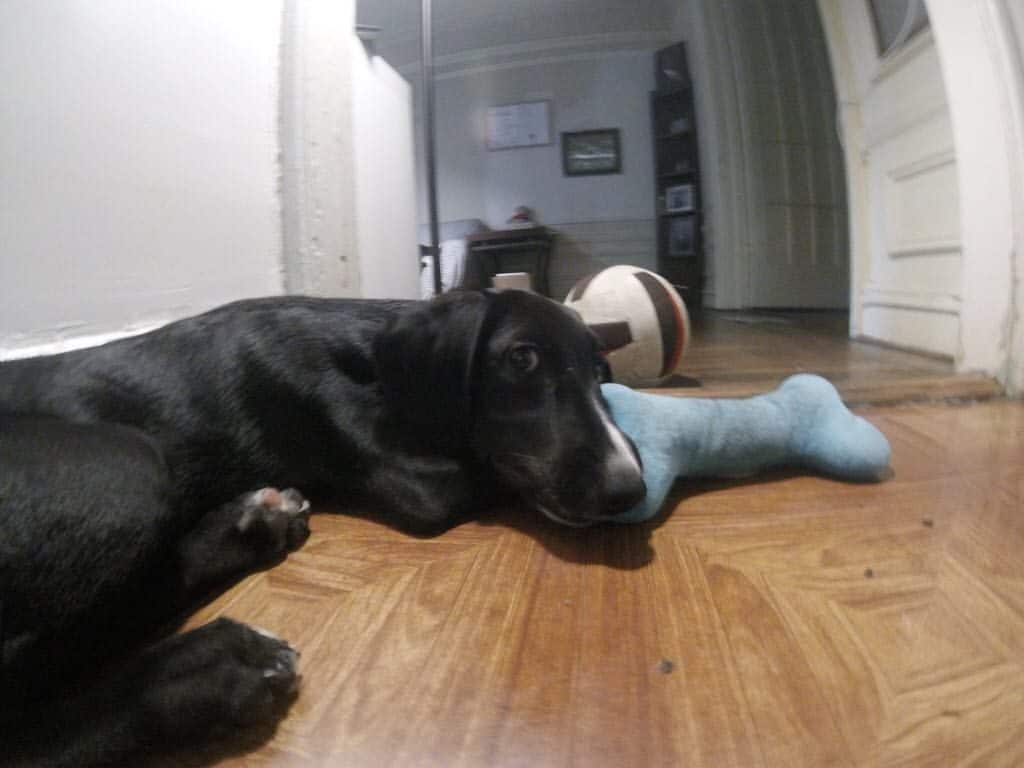 Your Lab Hound's food requirements will depend on its size and age. While they aree still puppies, they can munch on these best puppy food brands to their heart's content, but their energy needs will also be met if you serve them some of the best dry dog food for small dogs. Older dogs have different nutritional requirements, so make sure to give them the best senior dry dog food to meet those needs.
Labloodhounds and Lab Greyhound mixes are big breeds. While they will consume large portions, you should make sure they don't eat excessively. You cannot go wrong if you offer them food made specifically for dogs of their caliber, so we suggest you try some of the best large breed dry dog food.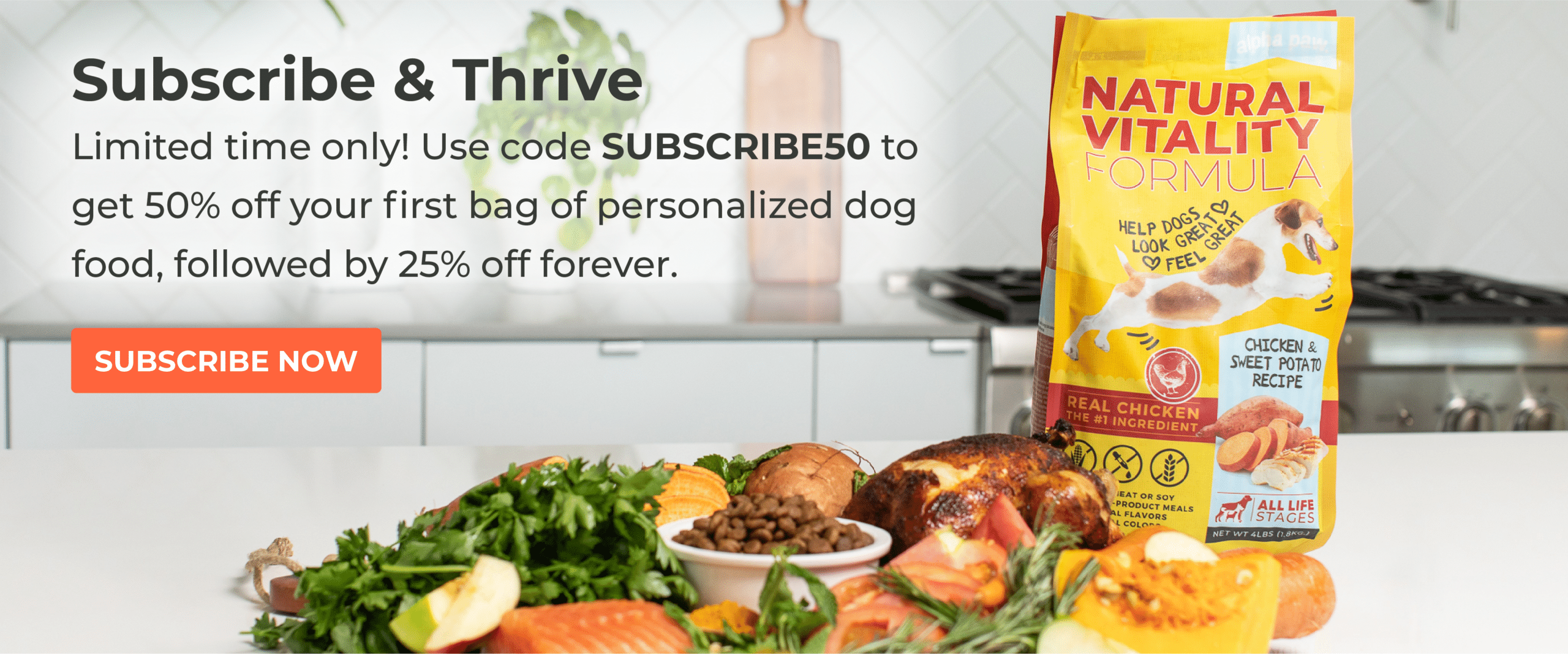 Three decent sized portions of kibble daily are ideal. This will ensure that they consume the proper amount of proteins and nutrients needed for their size. Meats such as chicken, beef, lamb, and pork are ideal sources of protein. If you need help distinguishing proper dog kibble from that which is sub-par, take a look at our guides on the worst dry dog food and best dry dog food before you shop.
It's also a good idea to sprinkle some snacks throughout the day. You can even integrate it into your dog's training to emphasize positive reinforcement.
If you're looking for the best food to give your Lab Hound crossbreed, consider the following:
Wellness Core Dog Food: This brand is unique because of its high protein content. It boasts of 38% protein, with chicken meal, deboned chicken, and turkey meal as its first three ingredients. Wellness Core also uses fruits and vegetables like apples, blueberries, broccoli, carrots, and spinach. The meal is also packed with vitamin C, vitamin D, vitamin B2, vitamin E, calcium, iron, and zinc.
Dog For Dog Food: This brand ensures that your pooch gets only food made from natural ingredients. They also make delicious dog treats that can work wonders for your pup's training sessions!
K9 Natural Grain-Free Puppy Formula: Your Lab Hound mix puppy will grow big and strong with this premium brand. It used freeze dried grass-fed New Zealand beef, flaxseed, New Zealand mussel, kelp, and other fruits and vegetables. The ingredients ensure your puppy will have the optimum levels of nutrients it needs for growth. It also uses hoki oil for healthy eye and brain development.
Natural Balance Original Ultra Whole Body Health Large Breed Recipe: Your big dog will get a large dose of the protein and nutrients it needs with this brand. This dog food formula utilized chicken, chicken meal, and duck meal to help build lean muscle mass. It also has a distinct blend of whole grain fibers, fruits, and vegetables for improved digestion. The meal also has omega-3 and omega-6 fatty acids to ensure your dog has a healthy coat and strong bones.
Nutra Thrive dog food supplement for an added energy boost for your big Lab Hound cross!
Hound Crossed With Labrador Exercise Requirements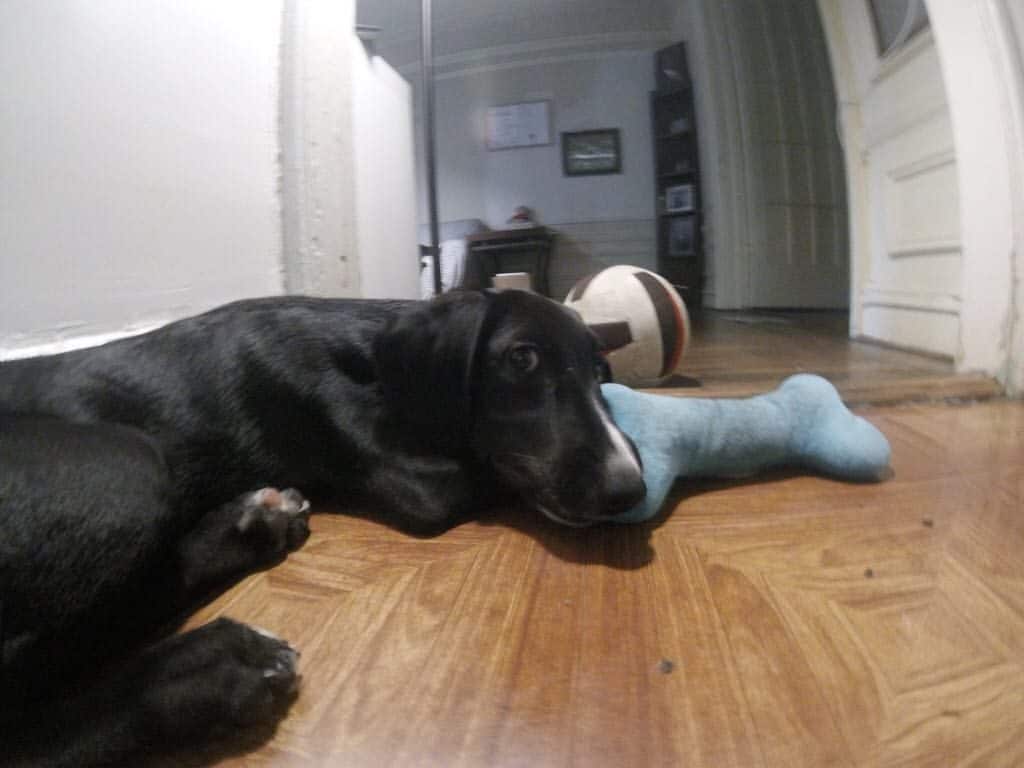 As the offspring of two dogs with fairly high energy levels, you should expect a Hound crossed with a Lab to have similar physical needs.
You should be prepared to provide your hybrid dog with the proper outlets it needs to remain healthy. Exercise should be done on a regular basis. Spending time exercising or playing with your pet will also help strengthen the bond between the two of you.
Your Hound Lab mix will require at the very least an hour of exercise every day and about twenty miles of walking or running distance a week. However, do not exercise or do strenuous activities on hot days.
This dog loves the outdoors so running around the park, playing Frisbee, or hiking up a mountain is right up its alley. It also loves to swim, so trips to the beach or even just a walk along the shoreline will be a treat.
It's also a good idea to keep a close watch and a tight grip on this mixed breed when you go out in public. It might not be able to control its Hound instincts and could take off to follow scents.
Check out these toys for your Hound Lab cross:
Nylabone Dura Chew: The perfect toy for strong chewers like this hybrid. The various textures keep your dog interested while keeping its teeth healthy.
KONG Extreme: Shaped like the traditional KONG, the Extreme model is made from stronger material. Fill up the toy with kibbles and other treats and your dog will be happily occupied for hours.
Mammoth Flossy Rope: As the name implies, this is a huge, cotton blend, three-knot toy. Your dog will love tugging, tossing, and carrying it around. The fibers in the rope also work as floss for your pet's teeth.
Labrador Hound Training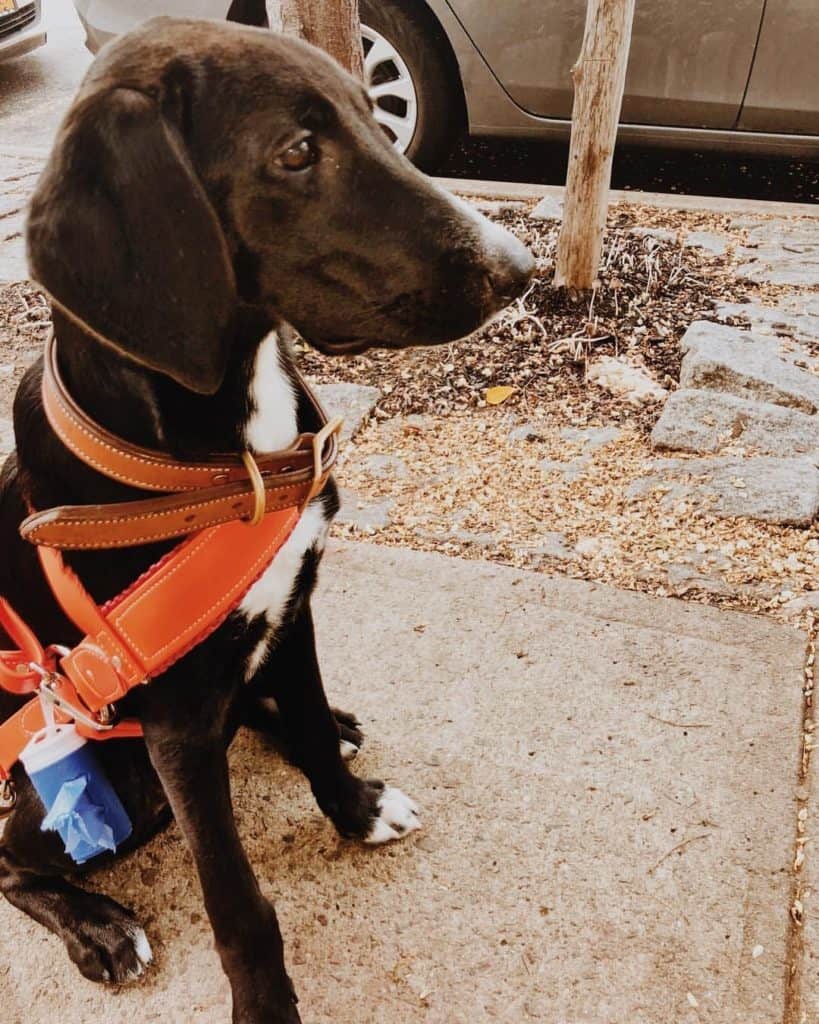 The success of a Lab Hound's training and socialization will depend on a number of factors – the skill of the trainer, the owner, and which parent gene is dominant.
A Lab mixed with Hound is fairly smart, but it won't be able to take to training as quickly as a Labrador or Poodle does. This is due to the Hound's stubborness and independent streak. While the Labrador is a hardworking but friendly, Hound breeds are trained to be stubborn and relentless when tracking their prey. This can translate to your mixed breed dog's disinterest to learn.
Consider the following suggestions when training your Lab Hound:
Patience and consistency is key. Keep those two ideas in mind when training this hybrid. Regardless of which side has more influence, training that focuses on positive reinforcement will work best with this breed. It should be reinforced with lots of practice, consistent actions, praise, and rewards.
Train early. It's in everyone's best interest to start training a Lab Hound as early as possible. If you can, begin training as soon as you bring your puppy home. An eight-week-old pup will soak up information like a sponge. You run the risk of having a headstrong dog to work on when you commence training at six months.
Socialization should also start early. It's great if you can enroll your dog in a puppy kindergarten class. If not, you can begin the process at home by exposing it to friends, family, and other animals.
Hound Labrador and Families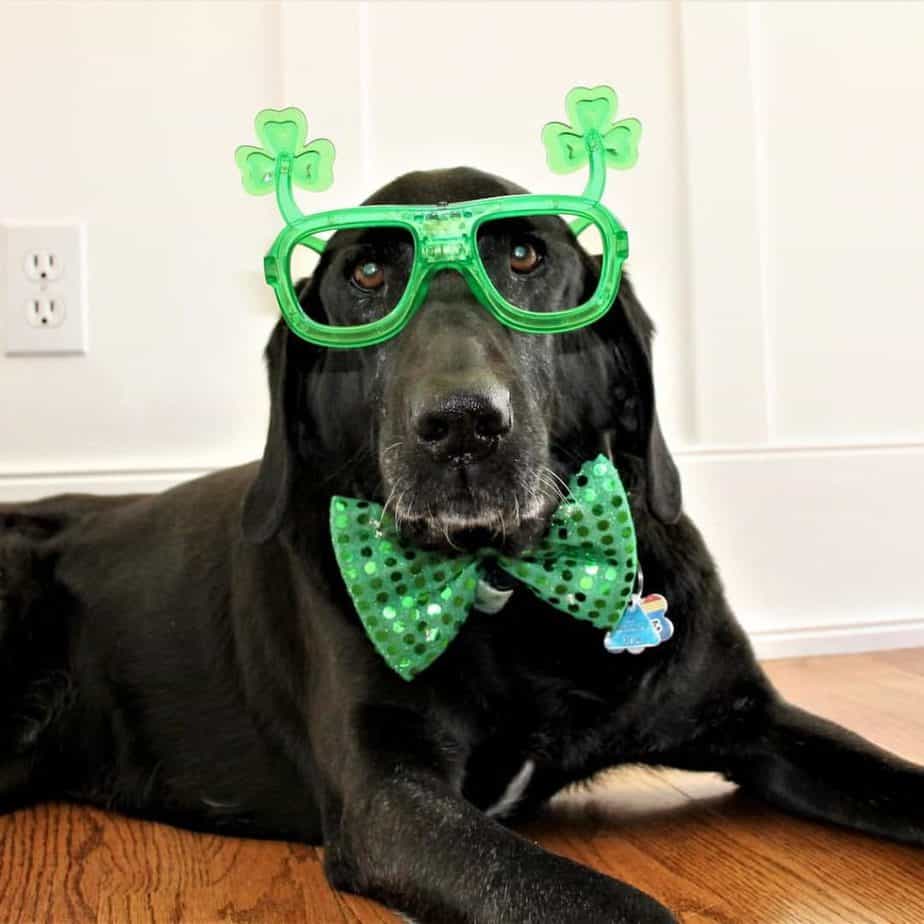 A Hound Lab can be a good companion for people who love to spend time with their pet, whether it's through playing in the yard or jogging around the park.
This large dog needs a home with a lot of space. It will not fare well in a small apartment since it won't have the space it needs to move around comfortably. The Lab Hound should ideally live in a home with a fenced in yard. It needs a barrier as this dog has a natural curiosity and a tendency to wander, explore and follow anything that catches its interest.
The Hound Lab's sheer size also means it's not a good choice for families with very young children. While it has a loyal, affectionate, and playful personality, it still is too powerful and big to be playing or interacting with tiny tots. It might accidentally hurt its young playmates.
The same goes for other pets at home. No matter how well socialized a Lab Hound hybrid is, it could still inadvertently hurt smaller dogs.
Mixed breed dogs like the Lab Hound are unpredictable. You don't know what they will look like or what their personality would be. They can also end up to be the best dogs for you. However, this is a give and take relationship. While this particular breed is affectionate and loyal, it can also be stubborn and destructive. It also demands a lot of attention and regular exercise. You have to be confident you can meet its needs. If you're successful, you'll have a loving and faithful companion for life.
References:
Davison, L.j., et al. "The CaninePOMCGene, Obesity in Labrador Retrievers and Susceptibility to Diabetes Mellitus." Journal of Veterinary Internal Medicine, vol. 31, no. 2, 8 Feb. 2017, pp. 343–348., doi:10.1111/jvim.14636.
"Retracted: Histologic Evaluation of New Bone in Post-Extraction Sockets Induced by Melatonin and Apigenin: an Experimental Study in American Fox Hound Dogs." Clinical Oral Implants Research, vol. 29, no. 11, 18 May 2016, pp. 1176–1176., doi:10.1111/clr.12866.
Levine, Becky. Hounds: Loyal Hunting Companions. Capstone Press, 2013.
Walton, Joel, and Eve Adamson. Labrador Retrievers for Dummies. Wiley Publishing, 2007.
Compare Pet Insurance