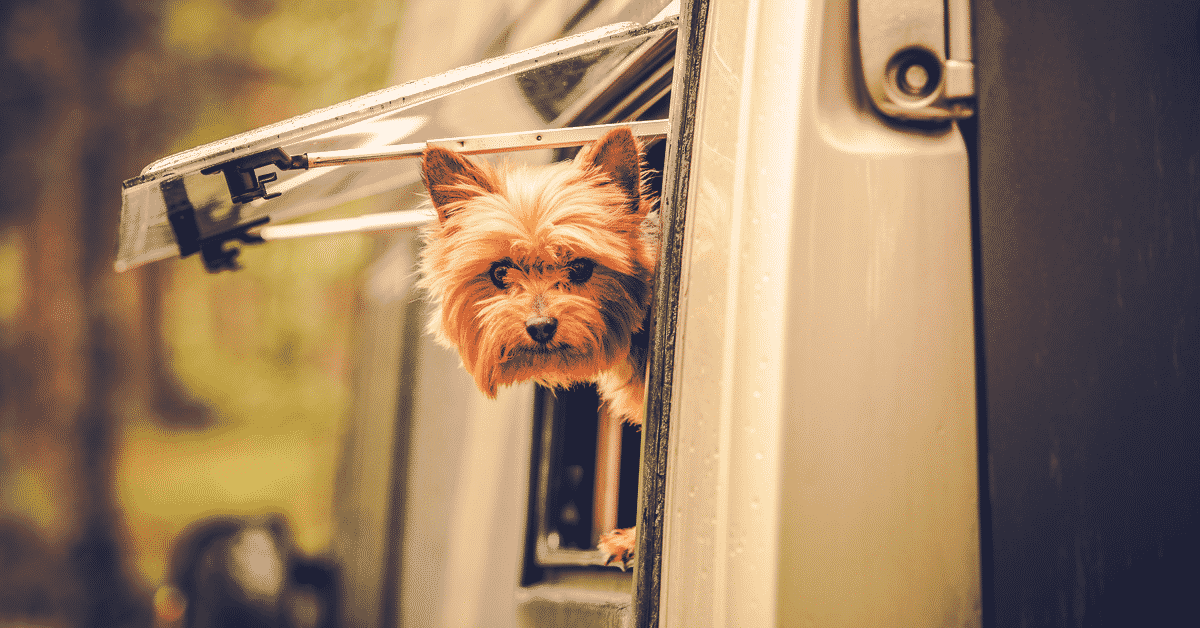 Dog Ramp for RV—A Buyer's Guide
Your dog is a proud little canine. They don't want to be carried up and down the stairs even when they shouldn't do it on their own. These masters of ignoring the pain will do anything just to have their paws on the ground. 
IVDD Survivor Story – Hannah & Louis
There are several reasons why your dog may need a dog ramp and why you should not let them use the stairs. RV stairs tend to be extremely steep and dangerous, especially for a dog that suffers from back issues. And these furry cuties don't know that stairs are one of their greatest enemies. Luckily, they have you to look out for them. 
In this article, we are going to tell you all you need to know about dog ramps for RV and explain how you can train your hairy pal to use them safely.
Why You Should Get a Dog Ramp for RV
Going on the road and having your pooch climb aboard with you is a wonderful experience. But sometimes, the dog owners aren't sure if their canine's brittle bones can handle traveling that requires the constant use of RV stairs. Getting in and out of the vehicle becomes difficult for a dog as they age.
Don't miss the sale happening NOW for Alpha Paw's #1 Vet-Recommended, patented dog ramp – CLICK HERE!
Dogs who suffer from back issues shouldn't put too much pressure on their spine. Jumping into and out of the vehicle can be dangerous for your canine. If your RV doesn't have stairs and its entrance is high, they can gain injuries jumping out of it.
Older dogs are prone to bone-breaking more than younger munchkins. Even if your RV has stairs, they could feel pain going up and down. If you plan on traveling with your senior dog, you must provide your cutie with great road conditions and thus keep their joints healthy.
There's a solution that will help both of you enjoy your time together, and that is—a dog ramp! You should acquire it as soon as you notice your pooch is having difficulties with climbing and getting down the stairs.
The goal is to find the perfect RV dog ramp and train your pooch to use it before they really need it.
Best Dog Ramps for RV Trailers
Getting your pooch a ramp for RV is not only beneficial for your pooch, but for you as well. Dogs tend to grip the inside of the vehicle to climb up and thus leave their nail traces. You will also be relieved as there is no need to pick your pal up and carry them around anymore.  
You can find two types of dog ramps on the market—the stationary ramp and a portable ramp. Since we are searching for a vehicle ramp that you need to put up and store according to your dog's needs, the portable ramps are the right choice for you.
Below, you will find some ideas of the ramps that we believe would be a fantastic choice for your RV.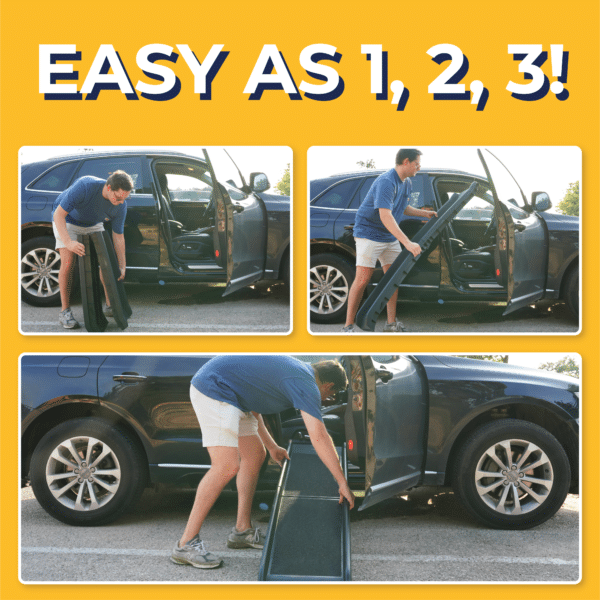 Image source: Alpha Paw
You can't make a mistake with AlphaPaw's car ramp. If you check out the online reviews, you will find lots of favorable comments on these ramps. They are easy for dogs to climb up and down, and their major advantage is a non-slip board surface.
The car ramp is portable and lightweight. You will have no trouble putting it up on the vehicle's stairs. This ramp folds out, and can easily be placed on the doorway. It is stable and sturdy, so your four-legged best friends will feel safe racing up and down. The ribbed carpet provides traction and reduces the risks of sliding off. 
This ramp provides easy access and a high-traction surface to help any dog get safely in and out of your vehicle. Designed for all dogs and sizes including larger dogs, elderly pets, and holds up to 200 lbs.
AlphaPaw car ramp is our number one choice. 
Runner-up: Gen7Pets Natural Step Dog Ramp for Vehicles
Image source: Amazon
This ramp can be used by both small and large breed dogs. It differs from our previous ramp suggestion in the carpet choice. Here, the board's surface is covered with poly-grass, which provides your pooch with a stable grip and soft surface for their paw pads.
Its grassy exterior is beneficial for your vehicle, as it won't leave scratches. Gen7Pets Natural Step Dog Ramp for Vehicles can't be unfolded by accident due to its automatic locking latch. It's 72″ long but lightweight enough to carry and set up. You can easily store it in the back of your RV.
It provides your pooch with a gradual incline, and it's perfect for our gorgeous heroes who have had surgeries or injuries. The ramp is sturdy, and it's tailored with your dog's safety in mind.
Second Runner-up: Pet Gear Full Length Ramp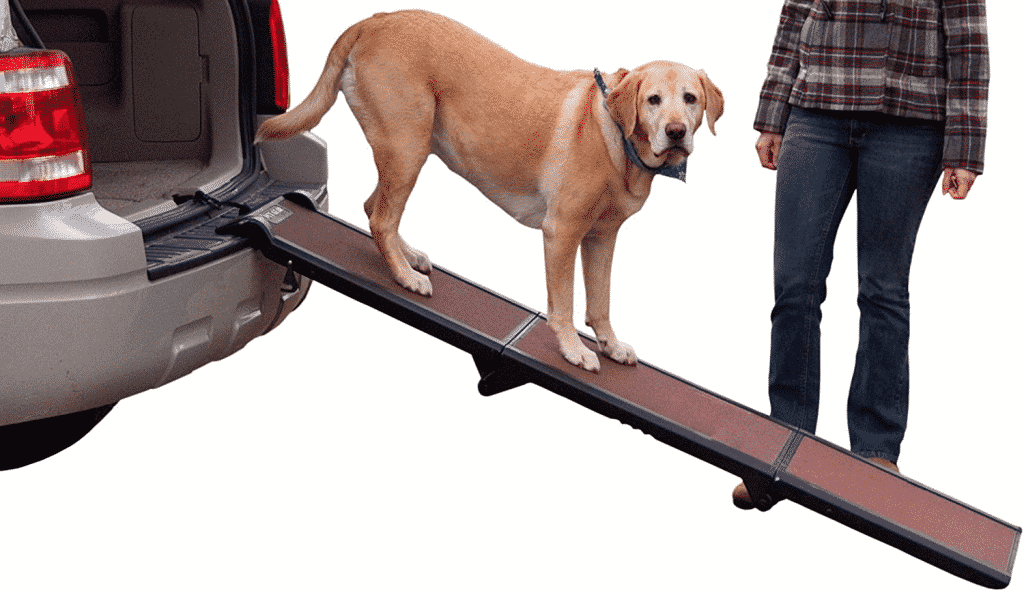 Image source: Amazon
Pet Gear Full Length Ramp has rubber grippers on the bottom, which makes the board more stable and provides secure placement. It is easy to fold and clean. 
Watch Dr. Ross's Review on Dog Ramps
The mat used on the ramp's surface is soft and vehicle-friendly. It will not leave any scratch marks on your RV.
The surface is non-slippery, which reduces the risks of falling off the ramp.
This ramp is stable and sturdy, making your dog feel comfortable while walking on it. 
The ramp doesn't take up much space, so it's perfect for RVs. It can be used for doggos up to 200 pounds. 
What Makes the Perfect RV Dog Ramp
We want to provide you with verified information about dog ramps for RV, so we asked experts for help. Pet shop owners told us what some of the key features that a stable and high-quality dog ramp for RV needs to have are. After thorough research, we gathered the crucial data and prepared a list of things you need to pay attention to.
Gradual Incline
RV stairs are usually rather steep, which is what we are trying to avoid by using the dog ramp. The goal is to provide your woofer with the ramp they will feel comfortable walking on. If the ramp is too steep, canines will be scared to use it. 
More importantly, what you want to avoid are spine curvatures. The flatter the terrain they walk on, the better.
Stability
Stability is one of the key features that you should be looking for in a ramp. If your dog feels unstable on the ramp, even for a second, they start acting up like teenagers who refuse to do something. But it is the fear that makes them be disobedient. Remember this—dogs don't appreciate shaky terrain.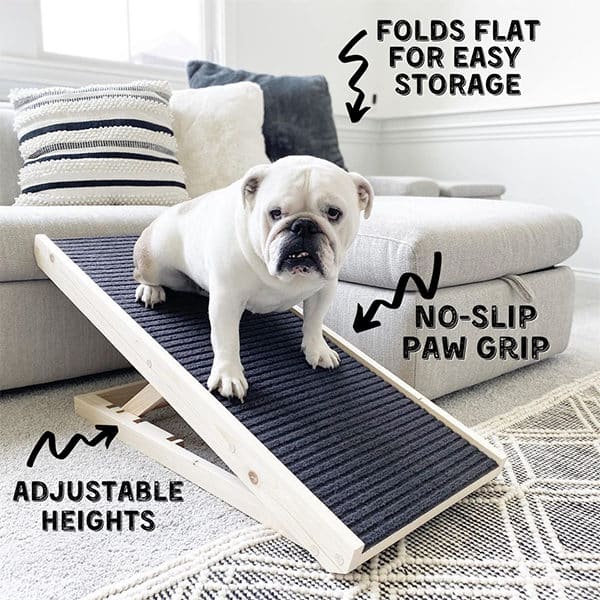 Whether you are building or buying a ramp for RV, keep in mind that it needs to be stable. The sturdier the ramp, the better. You can make or purchase dog ramps made from different materials, but before you do, learn all about their benefits and downsides.
Dog ramps can be made of:
Wood

Plastic

Metal
Wooden dog ramps provide your pooch with great stability. If you decide to make one by yourself, make sure to sand the wood when you finish, to avoid getting your canine stung by thorns. Wooden ramps tend to be slippery, so it's essential to cover them with non-slip carpet. Their downside is that they can be heavy to carry around. These ramps tend to be impractical for travels in the RV, as you need to move them every five seconds. 
Plastic ramps are a nice solution, but only for small breed canines such as Chihuahuas or Teacup Dachshunds. These ramps are too unstable for larger dogs because they can turn over if the dog is heavier than the ramp is intended to support. Their benefits are rust resistance and lightweight. You can leave them on RV stairs for a while and not worry about rain. 
Metal ramps are rather stable and suitable for both small and large breed dogs. They get rusty if left outside in the rain. These ramps are easy to clean and disinfect. 
Carpet
Whether you are buying or building a dog ramp, you need to find the carpet for the board's surface. This way, you will cover the slippery walking board and won't have to worry about your pup sliding off the ramp.
The carpet needs to be properly attached to the board, either by waterproof glue or a staple gun. Try to find the carpets that dry off fast. The last thing you want is to have it ruined with mildew shortly after buying. Needless to say, the carpet should be made of non-slip material.
Side Rails
We advise you to search for ramps that are made with side rails. Dogs can be super clumsy on the rail—it must be the spotlight pressure. They tend to swing left and right as if they sniffed on your beer prior to climbing. 
Don't miss the sale happening NOW for Alpha Paw's #1 Vet-Recommended, patented dog ramp – CLICK HERE!
Side rails can provide your pooch with greater safety and reduce the risk of falling off the ramp.
Crossbars on the Boards Surface
Crossbars aren't obligatory in case you've found a ramp with non-slip carpet. They provide extra cautionary measures, as your canine feels greater traction while walking on the ramp. 
How To Train Your Dog to Use the RV Ramp
If your dog feels hesitant about using their new ramp, it means you'll have to take baby steps to get them used to it. The training process should include treats and lots of patience. 
Remember that with dogs, it is all about association. The goal is to create a positive environment during training and to relate the ramp with your woofer's happy thoughts. The training process involves three steps:
Walking on the ramp in a flat position

Using the ramp leaned against the vehicle
The first step is to give your pooch some time to get to know the ramp. The object is fairly new to them, and you can't force it on the dog. Bring your pal close to the ramp and let them sniff it out. Once they do, give them a treat. Don't pull them on the ramp yet. The whole point of this step is to create a positive association with the new object before starting to use it.
If your canine touches the ramp with their paw, praise them and give them a well-deserved treat. The more they interact with the ramp, the more praises and treats they should get. You can also put a treat on the ramp, to make your dog stand on it, but do it only a few times. They should approach the ramp on their own.
The second step is to train your dog to walk on a ramp in a flat position. Use a leash and walk your dog on the ramp while you lead the way by their side. After each round, use positive reinforcement. 
The third and final step is to lean the ramp against the vehicle. By now, your dog should have made a positive association with the ramp, which means they don't have any fear of approaching it. But if the ramp feels shaky under their paws, they can get scared and relate fear with it. This is why it's vital to acquire a stable and sturdy ramp for the maximum comfort of your lovely canine. 
If your dog fails to climb up the ramp, repeat the first and the second step before you try to get your pooch into the vehicle again.
As for the training process itself, there are several things you need to pay attention to. Adhering to a few rules will help you train your dog faster and with ease. The training should:
Not last longer than 15 minutes.

Dogs have a short attention span, so be careful not to burden them, as they will lose focus and associate training with negative emotions.

Be repetitive.

It takes some time for new information to sink in, but it generally depends on the dog. Observe your pooch carefully and repeat the exercise until you think they are ready for the next step.

Include positive reinforcement.

Creating positive associations with dogs is easier if you use

dog treats

,

toys

, and praise. After each successfully obeyed the command, give them something they adore.
Why You Should Get an RV Dog Ramp
You need to be aware of your dog's health condition before you take them on a trip with you. Several health issues require that your pooch uses the dog ramp and avoids stairs as much as possible. If your beloved canine has any of the following back problems, don't think about going on a trip without a ramp in your trunk.
As your pup ages, their back becomes more fragile and tends to cause a great deal of pain. Bone frailness is a common condition with senior canines. Responsible dog owners need to do anything in their power to make them as comfortable as possible. Ramps are a good RV stair replacement, and if you find a ramp with a gradual incline, your pooch will appreciate it.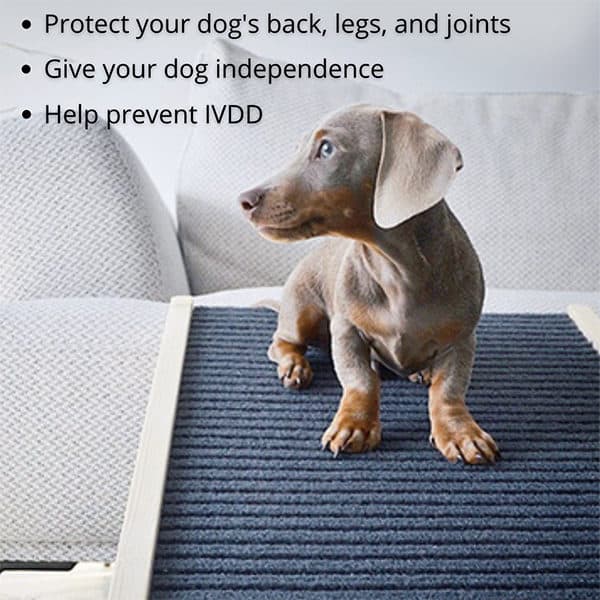 Even though your pooch has recovered from an acute injury, it has left them with fragile and weak spots that should be nurtured.
They need to avoid any sudden moves whenever possible. As we have mentioned already, RVs tend to have rather steep stairs or no stairs at all, which means your pooch will be exposed to abrupt movements. An RV ramp will be a great addition to your travel luggage.
Intervertebral Disc Disease makes the dog's spine age faster than usual. Some breeds, such as Dachshunds, are prone to back problems more than other dogs. It is a genetic predisposition that should be treated before it takes its toll, and a sturdy RV ramp is a great solution for your traveling pal.
Let's See What We Have Learned
If your pooch suffers from any back issues, try to make their moving as comfortable as possible. Using an RV dog ramp on your trips is an important precautionary measure. 
Adjust your home and your vehicle to your canine's needs. If you follow our guidelines, there's only one thing left to say—we wish you safe travels!
If you need more ideas for a dog ramp, take a look at our suggestions in:
References
Kirkby, Kristin A., and Daniel D. Lewis. "Canine Hip Dysplasia: Reviewing the Evidence for Nonsurgical Management."

Veterinary Surgery

, vol. 41, no. 1, 2011, doi:10.1111/j.1532-950x.2011.00928.x.

Brevitz, Betsy.

The Complete Healthy Dog Handbook: The Definitive Guide to Keeping Your Pet Happy, Healthy & Active

. Workman Publishing Co., Inc., 2016.