Is Owning a Dachshund Expensive?
Having a playful, cuddly, and adorable dachshund around is such a treat for so many pet lovers out there. You might wonder how much would it cost you? Considering this factor in pet adoption fees, food, housing, and breeder fees helps you prepare for the financial responsibility that comes with having a dachshund.

Buying A Dachshund Puppy
There are different ways to have a dachshund. If the odds are not against you, you might find a dachshund from a shelter or a rescue that you can adopt.
This process would be extremely inexpensive. However, if you buy from a breeder or a pet store, then it's much more costly and you would need to pay upfront. So, how much would a dachshund puppy cost you? Well, the answer sort of depends.

Dachshund
puppies
may greatly vary from one type to another, and so does the price. When buying a dachshund puppy, you are looking at spending $200 to $3,500. The Law of Supply and Demand applies here. Some
dachshunds
are more in demand than others based on their coat textures and colors. The more popular a dachshund breed is, the higher it may cost.
Once you have your dachshund, there are a few things you need to buy or invest in at least once in your pet's life. Here's a quick list that should give you an overview of what to expect. Of course, you have the option to spend on the following items or not, but basically, these are the things most pet owners pay for.
Spaying/Neutering: $200
Initial Medical Exam: $70
Collar/Leash: $20-$30
Carrying Crate: $50-$60
Dog Training: $100-$200
Vaccines: $50-$300
License: $15
Preventive Medications: $200-$500
Pet sitting, walking, and boarding services: $100-$500
Backyard fence: $500-$1000
On average, one-time pet expenses would be around $1,500. It depends on many factors such as your location, the dachshund's needs, the vet clinic where you bring your new family member, and the store where you buy your supplies. Let's look at consistent, yearly expenses you should know about!

Food and Toys
Though dachshunds are relatively small compared to other dogs, they can have an insatiable hunger. However, this should not worry you. As long as you are feeding your dachshund properly, they might just act hungry at times.
Food and treats should not cost you more than $50 per month for your dachshund. However, if your pet is prescribed a special diet by your vet, food expenses may easily increase to $100 per year.
Fortunately for dachshund owners, they might not spend so much on toys. Dachshunds are not tough chewers as they are basically smaller than most dogs. They even prefer running and jumping instead. Thus, you probably be spending around $25 to $50 per year on toys.
Bedding and Grooming
Your dachshund needs a cozy, warm, and comfortable bed to sleep on. Basically, you can create your own bed, but if you're going for a bed specially designed for pets, then you might spend around $50-$100 per year on beddings.
The best thing about having a smaller dog is that it can be easy to clean. Therefore, pet grooming fees can be kept at a minimum. The hairy dachshund may cost more in grooming than those who have short hair. You might spend around $30 to $300 per year. The cost can significantly decrease if you groom your pet yourself.

Medical Expenses
Dachshunds are relatively healthy dogs. They don't develop many problems as they grow and age. However, because of the short stature and long body of a dachshund, they are prone to developing back problems. Routine veterinary check-ups and visits should help prevent health problems and deal with them before they worsen.
Among the expenses that you probably would spend on your dachshund, vet care is among the most. Wellness checkups are done once or twice a year and each visit may cost $100-$150. If you add the annual lab work, have an additional $100-$300 to your budget. Dental cleaning is also an important aspect of dog care and it could cost you around $200 to $500 per year.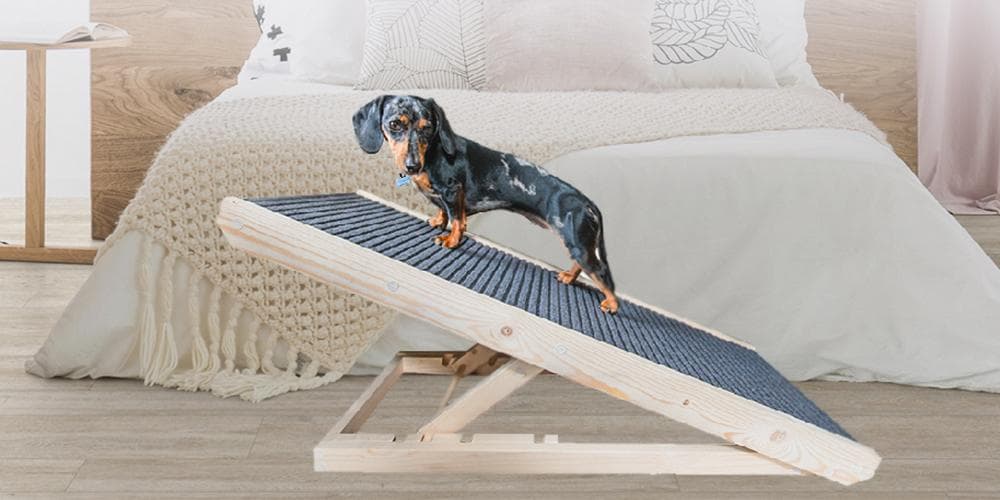 Ramps
Providing your home with ramps is one of the easiest investments you can make toward preventing injury and the surgeries that usually follow. Approximately 25% of Dachshunds are at risk of IVDD. Because of their sensitivity to back injuries, they need to be extra careful when going up and down furniture. Ramps can prevent most accidents associated with jumping. A good quality ramp will range from $120 to $200 and should last you a whole year.
Pet Insurance
The money you spend on vet visits may increase as your dog grows older. For this reason, consider purchasing a pet insurance policy. The cheapest policy may just be around $10 per month. However, the coverage might be limited. If you want to have greater coverage, be ready to increase your monthly premium. $30 to $50 a month for pet insurance should already give you decent coverage.
Doing What's Best For Your Dachshund
These are just some of the expenses that you would most likely spend on your cute dachshund. According to the American Society for the Prevention of Cruelty to Animals (ASPCA), pet owners spend more than a thousand dollars on their pets in just the first year and $500 annually thereafter.
One article estimates that on average, pet ownership could cost you around $42,000 for the whole lifetime of your pet or seven times more than what you expected you will spend. While owning a dachshund comes with a financial commitment, as a loving pet owner, you want to give the best to your dachshund based on what's good for them, no matter how much it will cost you.
Learning these numbers beforehand is a great idea because it is important to be prepared. With proper planning, preparation, and deep love and care, your dachshund should live a long, happy, and fulfilled life.