Can Dogs Eat Watermelon? Our Vet Weighs In
Sep 30, 2021
Watermelon can be a great source of vitamins and fiber for your dog, and it helps them stay well hydrated
The flesh of the watermelon is safe for dogs to eat but avoid the seeds, rind, and outer skin.
If you are concerned that your dog may have a gastrointestinal blockage, then contact your local vet immediately
A Dog's Appetite Is A Voracious One
Dogs will eat anything, but that doesn't mean they should eat everything. There are many human foods that are toxic to dogs and should be avoided, but is watermelon one of these? Can dogs eat watermelon and is watermelon good for dogs?
The short answer is yes, dogs can eat watermelon but there are some very important things to know first before giving your canine friend this juicy treat.
When Is Watermelon Bad for Dogs?
The red flesh of the watermelon is safe for dogs to eat and has a host of benefits that we will cover shortly. However, the seeds and rind (skin) can be hazardous to dogs and so should be avoided.
The watermelon seeds, although not toxic, can cause a gastrointestinal blockage if consumed in large enough quantities, and this could result in stomach pain and discomfort.
In severe cases, surgery may even be needed to remove the seeds responsible for the blockage. Larger dogs can usually get away with eating a few seeds without causing any issues but be more cautious with smaller dogs who are much more prone to blockage. If in doubt, take the time to remove as many seeds as possible before feeding watermelon to your dog.
The rind (skin) of the watermelon is very tough and whilst your dog might happily chew on it there is a danger of swallowing large pieces that are extremely difficult to digest and this could cause similar blockage issues to the seeds.
In addition, if your dog has had dental issues in the past, chewing on the rind may further damage teeth and be extremely painful for your dog. The pale green layer beneath the skin is best avoided also as it is quite hard and not easy to chew. For all of these reasons, don't offer your dog a whole slice of watermelon.
As with any food, your dog may have an allergic reaction to watermelon or it may just not agree with them if they have a sensitive stomach. If you suspect this is the case, I would advise avoiding this food altogether. Don't overdo the quantity, however, as too much can lead to diarrhea due to the watermelon's high water content.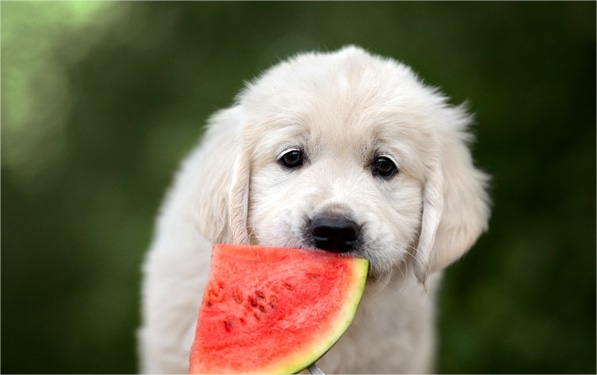 What If My Dog Has Eaten the Rind Or the Seeds?
Wait and observe your dog for 24 hours. If they were chewed sufficiently then they may pass through into the feces with no issue. However, if your dog seems more lethargic than usual, is in pain, and has other symptoms such as vomiting and constipation this could indicate a blockage and you should contact your veterinarian immediately as complications can develop quickly.
Benefits of Watermelon for Dogs
As long as you are careful about how you are feeding watermelon to your dog, it can have a host of great health benefits. Watermelon is made of over 90% water, which means it can be a creative way to ensure your canine friend remains well hydrated, especially on a hot summer day.
It can be made into enticing ice cube treats mixed with or without other healthy ingredients that your dog will be unable to resist while keeping cool. However, be sure your dog's teeth are healthy and won't be damaged by chewing frozen food.
The high water content also ensures that aptly named watermelon is very low in calories and it is also low in sodium and free from fat and cholesterol which can only be good news.
It is also packed full of vitamins such as Vitamin A, B6 and C. Vitamin A is very important in maintaining good vision and supports bone growth in young animals. Vitamin B6 plays a role in many essential chemical reactions within the body and vitamin C aids immunity against infectious diseases. Watermelon also contains potassium which is important for normal nerve function, muscle contraction, and ensuring a normal heart rhythm.
In addition, watermelon is a great source of fiber. Fiber is important in good digestion and maintaining normal bowel movements. Fibre also helps counteract the effects of the sugar found in watermelon by preventing it from being absorbed into the bloodstream too quickly.
As if these benefits weren't enough, watermelon also contains lycopene, which is an antioxidant that has been thought to reduce the risk of developing cancer.
So, as you can see, watermelon can be a great addition to a dog's diet. Cutting the watermelon into small easy-to-chew cubes after removing the seeds is a great way to make a small treat for your dog that is much healthier than any you will buy in a store. But remember, no more than 10% of your dog's daily calorie intake should come from treats and no more than 20% from fruit and vegetables so give watermelon in moderation.
I'd recommend no more than 75g of watermelon per day for an average-sized dog. Too much watermelon will probably cause a tummy upset with gastrointestinal symptoms such as diarrhea ensuing. As always, when introducing new food to your dog's diet, give a small quantity first and be vigilant to any signs of a tummy upset before giving more.
It's extremely important to make sure your dog is getting the micronutrients they need to be healthy. These supplements for dogs contain ALL the nutritional vitamins, minerals, antioxidants, and essential omega-3 fatty acids that will help your puppy or senior dog to stay healthy, happy, and in great tail-wagging condition!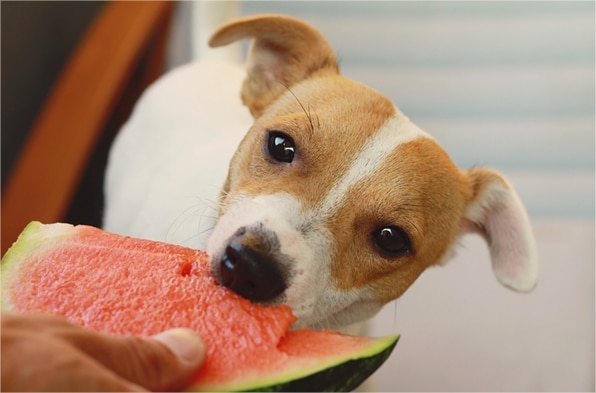 What about other watermelon products?
Watermelon products such as syrups and soft drinks should be avoided as they are usually full of sugar and chemicals that aren't good for your dogs. Too much sugar can make your dog overweight and these products can sometimes contain an artificial sweetener called xylitol which can be extremely toxic to dogs. So if in doubt avoid anything that you haven't prepared yourself.