Table of Contents
1

 Dog Car Ramp Reviews—The Best Guidelines for Dog Parents

1.1

 Dog Ramps for a Car—How We Selected the Best Ones

1.2

 TheDogDigest-Approved Car Dog Ramps

1.2.1

 Best Overall: Pet Gear Tri-Fold Pet Ramp With SupertraX

1.2.2

 Runner-Up: Gen7Pets Natural Step Ramp for Vehicles Reviews

1.2.3

 Best for Large Breeds: Happy Ride™ Telescoping Dog Ramp Reviews

1.2.4

 Best for Small Breeds: The PawRamp

1.2.5

 Best on a Budget: Titan Aluminum Telescoping Collapsible Pet Ramp

1.3

 How to Find the Perfect Dog Car Ramp for Your Pooch?

1.3.1

 The Ramp's Size

1.3.2

 The Ramp's Material

1.3.3

 The Ramp's Surface

1.4

 Let's Wrap up What We Have Learned

1.5

 References
Dog Car Ramp Review—Which One Is The Best?
Our four-legged best friends live in a human-sized world. The task of all dog parents is to provide their canine family members with tools that will help them feel like they are a part of it.
As your dog gets older, they are more susceptible to injuries and bone fractures. Some pooches might have a predisposition to back problems, which is why it's important to protect them from hurting themselves. This is particularly important if your dog has difficulties entering your car.
There is a solution that will help you keep your lovely canine healthy in all life stages. Buy them a car dog ramp and set out on any journey with your best friend.
In this article, Alpha Paw is going to present you with the best car dog ramps on the market, based on our detailed research and reliable sources. Buckle up!
Dog Ramps for a Car—How We Selected the Best Ones
There are several reasons why you should get a dog ramp for your pooch, and one of them is to minimize jumping from elevated surfaces. Getting in and out of the car without a ramp can be dangerous for our pets as one awkward leap can lead to serious injuries.
Before you set out on a quest to find the perfect dog car ramp that will suit your dog's needs, there are several factors you need to think about. You can't just walk into a store and purchase the first ramp you see. If you do so, there's a big chance you are going to end up with the one that will make traveling with your pooch even more challenging.
Dog ramps can vary in quality and practicality. You need to do thorough research before you opt for the one. Our team decided to help you, so we made a little inquiry of our own. With the help of our experts, we rounded up a few of the best car dog ramps on the market. We consulted:
Dog trainers
Online reviews
They gave us an insight into which qualities the dog car ramps should have. If you want to keep your dog's joints healthy, our advice is to consider purchasing some of the ramps we suggest in this article.
The Alpha Paw-Approved Car Dog Ramps
In the table below, you will find the results of our findings. We have divided them into five categories based on your needs. We are confident that these are some of the best car dog ramps on the market. 
 Best for All Breeds: The Car Ramp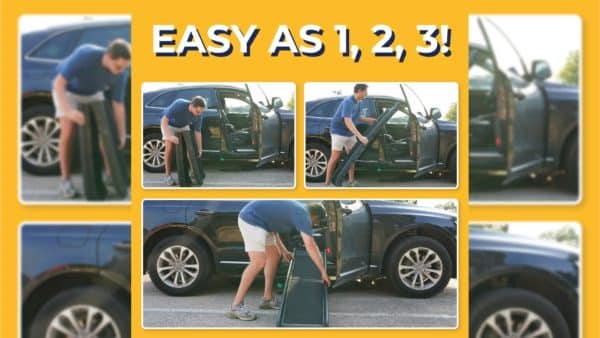 The Car Ramp is one of our favorite picks, and it's easy to see why. It's made for dogs of all sizes and ages. It is compatible with cars, trucks, and SUVs.  Additionally, the Car Ramp has a non-slip surface designed for paw traction, holds up to 200 lbs, and measures 62′ long by 16′ wide. It folds flat to 8 inches thick.
So, what else is amazing about this ramp? It's made of durable material, but it's light to carry at only 10 lbs. It's incredibly easy to clean—use a damp cloth to wipe the dirt off, and you're good to go. These ramps are weather-resistant, which comes in handy in case your dog needs to exit the vehicle quickly in heavy rain.
As another alternative to the car ramp, consider the PawRamp. It comes in two sizes—Full and Lite. PawRamp Lite has only two heights: 12 and 16 inches. We recommend you to opt for the former one for your car, as it can be adjusted to fours heights:
12 inches
16 inches
20 inches
24 inches
These ramps are designed with the dog's safety in mind. The wooden structure provides great stability and supports pooches of up to 80 pounds. The surface is covered with rigid fabric for a firm grip, so your canine will not be in any danger from sliding off of the walkway.
You can store it quickly as it packs flat to a 3.5-inch rectangle. Keep it under the bed or in the back of your car. Best of all, It arrives fully assembled, so your pooch can start using it as soon as you have it delivered.
Runner-Up: Gen7Pets Natural Step Ramp for Vehicles Reviews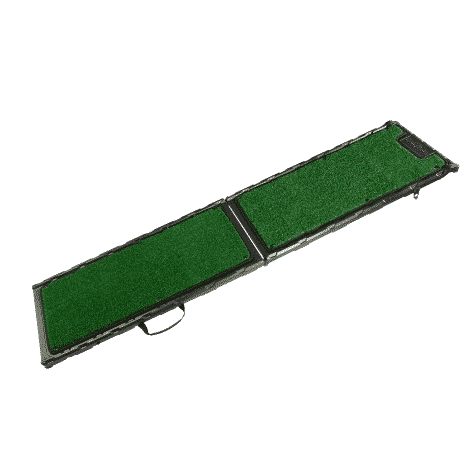 Image source: Petmate
You can find Gen7Pets Natural Step Ramp for Vehicles in two sizes—a mini-sized (42 inches long) and a regular-sized (72 inches long) dog ramp. Only the latter one has the safety tether latch that you can attach to your car for extra safety. While the regular-sized ramp is made for raised vehicles, such as SUVs and trucks, the mini-sized one is designed for cars and minivans.
Storing the ramp is easy. With a foldable design, you can put it in the back of your car and not worry whether it's going to open—the automatic locking clip keeps it shut. The ramp weighs only 17 pounds, and its soft rubber grip handle facilitates the carrying.
Dogs who love natural steps under their paws are in for a treat. The ramp's surface is covered with poly-grass, which provides a firm grip and protects your pooch from sliding off. The grass is soft and car-friendly, and you don't have to worry about scratches inside your vehicle.
You will find durable rubber grippers on both ends of the ramp, which prevent it from sliding on the ground while your canine uses it. This is an excellent addition for our pigeon-hearted dogs who will not go near the ramp again once they feel it tremble under their paws.
This ramp is the right choice for small and large canines. It supports a weight of up to 250 pounds. Both regular and mini-sized ramps are 16 inches wide. When folded, they are 3 inches thick.
Best for Large Breeds: Happy Ride™ Telescoping Dog Ramp Reviews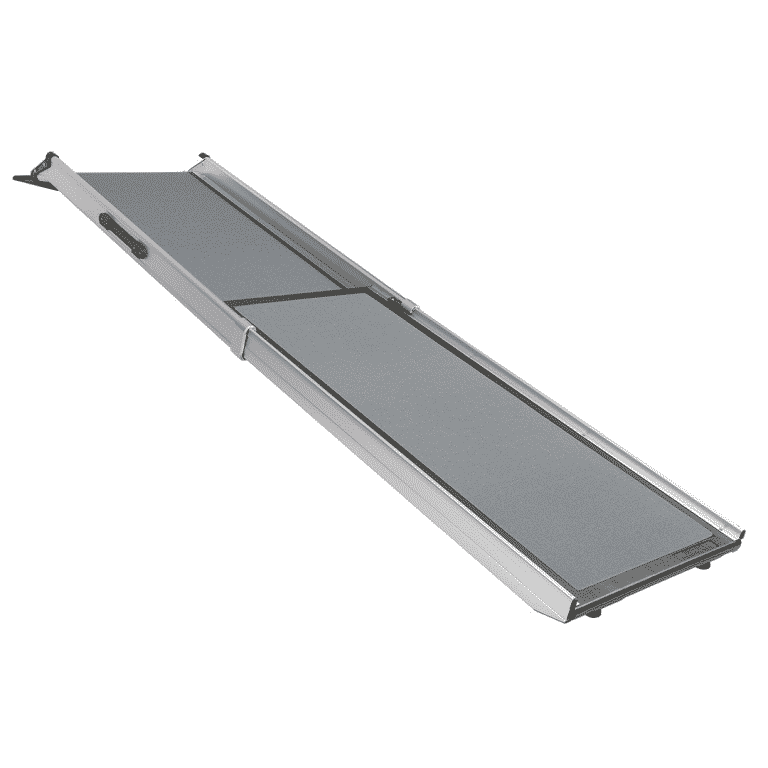 Image source: PetSafe
Happy Ride™ Telescoping Dog Ramp has a surface that provides great traction, so you don't have to worry about seeing your beauty falling off of it.
This ramp enables your pooch to get in and out of your car, SUV, or minivan, all by itself. You can adjust its length from 39 to whopping 72 inches. The ramp weighs only 13 pounds, so it is easy for you to set it up and put it away whenever needed. Traveling with your pooch will not give you headaches anymore.
Even though the ramp is lightweight, it is made of aluminum, which supports dogs who weigh up to 400 pounds. The ramp has a safety latch, which will protect it from opening, while stored in the back of the vehicle.
What we love about this ramp is its great addition—the side rails for extra security. Even the largest stumblebums will be safe on the walkway.
Best For Dogs Are Anxious: Pet Gear Tri-Fold Pet Ramp With SupertraX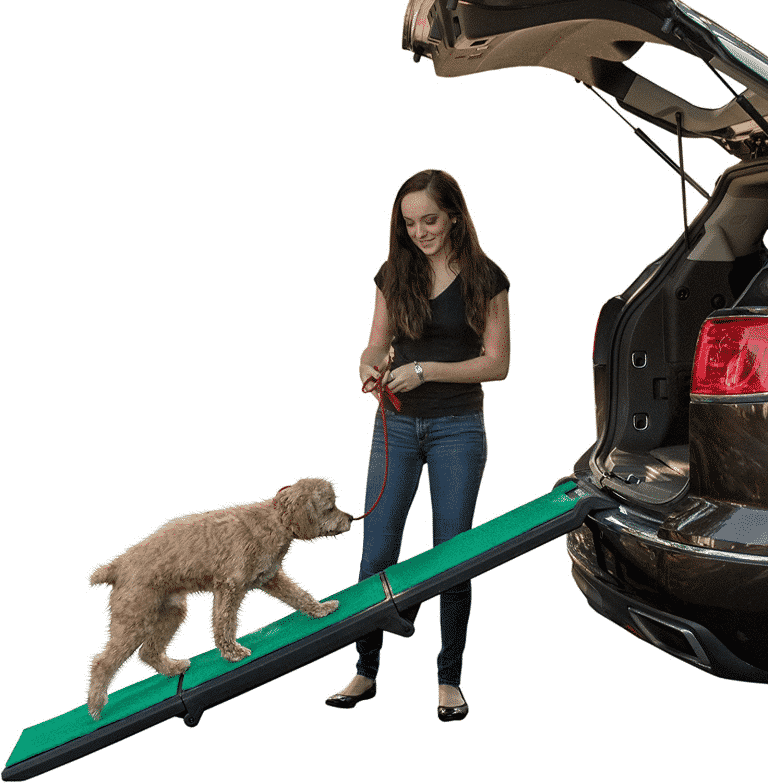 Image source: PetGear
Pet Gear Tri-Fold Pet Ramp with SupertraX is covered with a removable mat that protects your little marshmallow from sliding. For dogs who get anxious walking on an unfamiliar surface, it activates under pressure, so your pooch will get a firm grip the moment they step on it. The mat is soft, and it protects car interiors, meaning you don't need to worry about scratches in your vehicle.
If you are concerned about storing the ramp, there's no need for that—its Tri-Fold design and a carry handle make transportation easier. The ramp weighs only 16 pounds, so it is not heavy for setting up and putting away.
It should be used by canines who weigh up to 200 pounds. The ramp is suitable for puppies, small pooches, and senior dogs, due to its gradual incline.
The ramp has rubberized bottom grippers, which keep it in place. The safety tether should be attached to your car, and it is designed to provide extra stability.
What we adore about this ramp is its raised edges on both sides. This is useful for canines who prefer zigzagging to keeping straight lines and need a little extra support while going up and down the ramp.
Best on a Budget: Titan Aluminum Telescoping Collapsible Pet Ramp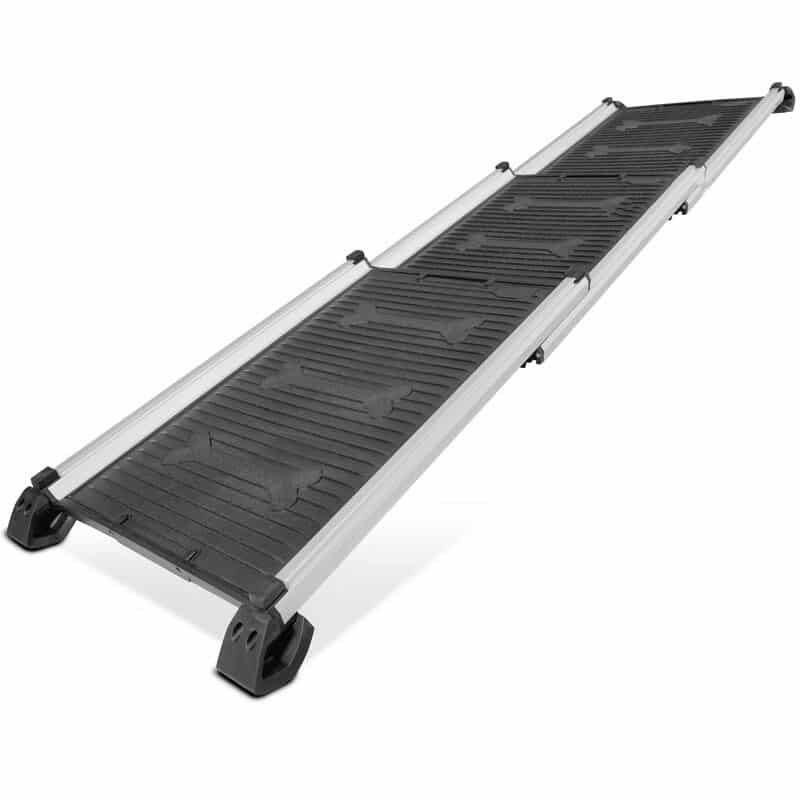 Image source: Titan Ramps
Titan Aluminum Telescoping Collapsible Pet Ramp has a three-section design that you can open and close with minimum effort.
The ramp's large giant rubber feet provide excellent stability during use. The ramp's aluminum frame supports dogs who weigh up to 180 pounds. Despite its construction, the ramp weighs a mere 13 pounds!
The walkway is made of rigid plastic. You will find that the ramp's surface is textured, which is great for a firm grip and stable footing. This is highly important for grandma and grandpa dogs, as well as for canines with injuries.
The ramp is 61 inches long when open and 17 inches wide. Its downside is that it can't support giant breed dogs. You can find it in two colors— silver and black. The ramp is 28 inches long when folded.
Another great advantage of this ramp is that this is a perfect choice for owners on a budget. For a little investment, you will get a sturdy ramp that will keep your pooch safe.
How to Find the Perfect Dog Car Ramp for Your Pooch 
The moment you come to a halt and leave the vehicle, your pooch gets super excited as they know they will soon accompany you into a new adventure. You know how hard it is for them to control the excitement in those moments. They will fly out of your vehicle like a slingshot. Your baby needs a ramp that will be sturdy enough to stand the pressure of jumping out of the car with such joy.
Before you finally decide on which ramp you want to present to your pooch, make sure it suits them perfectly. 
We chose our best picks according to a rigid set of criteria to ensure nothing was left to chance. The ramp's stability depends on a lot of factors, and here's what you need to pay attention to.
The Ramp's Size
The size of the ramp depends mostly on how big or small your beautiful canine is. As for the width, it's simple—the larger your pooch is, the wider the ramp should be. In the table below, you will see our rough estimate.
| | |
| --- | --- |
| Dog's size | Ramp's width |
| Small dog | 7–11 inches |
| Medium dog | 11–15 inches |
| Large dog | 15–19 inches |
Moving to the ramp's length, we advise you to look for the longer ones as they have a more gradual incline. If the slope is too steep, your dog will probably opt for jumping out of the car rather than risking sliding off the ramp.
As our pets get older, their bones become more fragile. The slope must be appropriate for your dog's infirmities. This also refers to canines who sustained some injuries or the ones that have a predisposition to back problems, such as Dachshunds.
Small breed dogs such as Teacup Dachshunds or Chihuahuas also need a more gradual slope, due to their short legs, and the same goes for puppies. Below, you will see our guidelines on how steep the incline should be.
| | |
| --- | --- |
| Dog's size | Ramp's incline |
| Small dogs | 18–25 degrees |
| Medium dogs | 22–25 degrees |
| Large dogs | 25–29 degrees |
Lastly, you will want to find a ramp that can bear your dog's weight. If you don't, you risk seeing your pooch turn over the ramp or even injure themselves.
The Ramp's Material
Your dog's car ramp can be made of:
Wood
Plastic
Metal
Each one of these has its benefits and downsides. You need to bear in mind that you are searching for a high-quality ramp for your vehicle, which means that it should be as light as possible.
Wooden ramps are rarely the right choice for a vehicle ramp. They are usually too heavy to carry around, and not easy to fold and pack. As you could see in our top picks, the only wooden ramp that we found suitable is The PawRamp, which stores like a charm!
​​
These ramps provide good stability, and that is their greatest feature. Bear in mind that the wood is slippery, so you will need to cover them with non-slip material. We wouldn't recommend you to opt for wooden ramps for a car unless they are tailored for small canines.
Plastic ramps are light, which makes them a great choice for dog parents as they are super portable. Their greatest downside is that they usually support only small to medium dog breeds. Dogs like German Shepherds can be too bulky for plastic ramps.
Apart from lightness, their great advantage is rust resistance. In case you have to set it up while it's pouring outside, don't worry—just leave it to dry off.
Metal ramps are both sturdy and light. They are perfect ramps for cars, and both small and large dogs can use them. These ramps are easy to clean but don't leave them outside because they will get rusty in contact with water.
The Ramp's Surface
If your dog feels that the ground beneath their paws is slippery, they will refuse to walk on it. As you could see, every ramp we suggested was covered with a non-slip, rigid material that provides a safe and firm grip. Avoid purchasing a ramp with slick material if you want to protect your pooch from getting injured. It would be beneficial if you looked for the fabric that's resistant to:
Water
Decay
Rot
Mildew
Let's Wrap up What We Have Learned
In this article, we presented you with the best car dog ramps that we picked out based on our detailed research. To opt for the one that suits your canine, you need to remember that:
The ramp needs to support your pooch's weight
The ramp's walkway must be covered with non-slip material
Puppies, small breed dogs, senior canines, and injured pups need to get a ramp with a gradual slope
If you are looking for ramps for your furniture, take a look at our article on the dog ramp for a  bed—you might find some interesting ideas. If you liked our suggestions for dog car ramps, check out:
References
Jensen, V. F., and K. A. Christensen. "Inheritance of Disc Calcification in the Dachshund." Journal of Veterinary Medicine Series A, vol. 47, no. 6, 2000, pp. 331–340., doi:10.1046/j.1439-0442.2000.00297.x.
Beauchesne, Ryan. Crusoe, the Celebrity Dachshund: Adventures of the Wiener Dog Extraordinaire. St. Martins Griffin, 2015.
blogramp