Here are some of the most famous sausage dogs throughout history. Sausage dogs' popularity is hardly new! These little fellas and gals have found a place in the hearts of many throughout the years. However, some have gained fame for one reason or the other, standing above their fellow doxies. This could be due to their famous owners, or because of their own greatness. 
1. Dunker
Poor Dunker. John F. Kennedy purchased him as a puppy for his girlfriend at the time, Olivia. They were traveling about Europe and JFK began to have an allergic reaction. The culprit? Dunker. He never even made it out of Germany.
2. Lump
You may remember Lump from our blog post on famous dachshunds throughout art history. Lump was the pet of a friend of Pablo Picasso. However, when Lump and Picasso met, it was love at first sight, and Lump stayed with Picasso. You can find Lump in some of the artist's work (like in the Picasso sketch tattoo above) and there's even a book on their relationship.
3. Wadl and Hexl
This duo belonged to Kaiser Wilhelm II and was known to be quite bad. When they visited Archduke Franz Ferdinand, they apparently killed one of his priceless pheasants and it was a pretty big international uproar.
4. Moxie
While you might not be familiar with Edgar and Liliane Kaufmann, you're likely familiar with their home. They commissioned Fallingwater from Frank Lloyd Wright in 1935. It just so happened that Liliane was an avid dachshund breeder and so, now, in the bookstore at the famous home, you can purchase a book on the various different dachshunds who ended up living there. They were all long-haired dachshunds and the book is named "Moxie."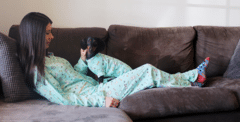 USE THE CODE "SNAPCHAT" – CLICK HERE TO SHOP!
5. Fred
Fred was the much-referenced dachshund of E.B. White. White left us with a very astute statement on dachshund ownership and his relationship with Fred. He said, "Being the owner of dachshunds, to me, a book on dog discipline becomes a volume of inspired humor. Every sentence is a riot. Someday, if I ever get a chance, I shall write a book, or warning, on the character and temperament of the dachshund and why he can't be trained and shouldn't be. I would rather train a striped zebra to balance an Indian club than induce a dachshund to heed my slightest command. When I address Fred I never have to raise either my voice or my hopes. He even disobeys me when I instruct him in something he wants to do."
6. Obie
Obie became famous not because of his owners, but because of his unfortunate weight. Obie the obese dachshund reached a very hefty 77 pounds at his peak, which is well over twice what a dachshund should weigh. Thankfully, he was put on a strict diet and managed to get back down to 28 pounds.
7. Crusoe
In the age of Instagram and social media, it's easier than ever for animals to become celebrities. Such is the case with Crusoe. He's a celebrity dog who's won awards for his social media presence and even published his own book — "Crusoe: Adventures of the Wiener Dog Extraordinaire!"