STEP 1
BECOME A VIP SUBSCRIBER!
STEP 2
ENJOY ALL YOUR NEW TREATS AND TOYS, CONVENIENTLY DELIVERED TO YOUR HOME!
STEP 3
RECEIVE A WHOLE NEW BOX OF SURPRISES EVERY 3 MONTHS!

CONVENIENT
A box filled with healthy treats, fun toys, accessories, and more exciting Dachshund essentials conveniently delivered to your doorstep every 3 months! Shopping for your Doxie has never been more convenient.

HELPING SAUSAGE DOGS IN NEED
10% of each box is donated to the Dachshund Rescue of North America!

A SPOILED DOXIE IS A HAPPY DOXIE
We all know how much our Dachshunds love being catered to and pampered. They deserve it! A big box filled with all new treats, toys, and other fun items will surely make their day. What's better than making our Dachshund's happy? Nothing.

EXCLUSIVE ACCESS TO VIP DISCOUNTS
Included in each DachPack is an exclusive discount for big ticket items like the famous DachRamp! We also love sending our subscribers random discounts to show our appreciation :)

FREE SHIPPING
What's better than not needing to leave the house to go shopping? Getting your items shipped to you for FREE!

NO COMMITMENT
We get it, commitment can be scary. But becoming a DachPack subscriber doesn't have to be! You can cancel at any time.

"Where can I sign up?!" you might be asking...

We are glad you asked.

Become a DachPack VIP subscriber today!

This offer is only available to US customers at this time.


SUBSCRIBE
The Bouncy Fish
The Bouncy Fish Toy has become a very PUPular household item. The ultra realistic looking fish toy is charged with a USB cord (included) and simulates realistic interactive tail movements when your Doxie plays with it!
Dachshund Cookie Cutter

Our Dachshunds are so sweet, and so are cookies! Now you can make cookies in the shape of a Dachshund, making them the sweetest dessert of all time.
You can make them with human ingredients, or you can try making treats for your Doxie as well with doggy safe ingredients!
The Calming Diffuser
This vet recommended diffuser is clinically proven to ease your dog's anxiety and stress! Since anxiety is one of the leading causes of bad behavior, this diffuser can help create a happier and healthier home for you and your Dachshund!
"I'm Kind of a Big Deal" Bandana

It's true. Dachshunds are "Kind of a Big Deal". Our lives revolve around them! That being said, this adorable bandana will be the PAWfect addition to your Dachshund's wardrobe.

These are just a few of the fun items included in your DachPack!


Over 50,000 Dachshunds Served!
Customer Reviews
Write a Review
Ask a Question
Filter Reviews:
order
food
babies
WARNING
toys
fish
Hot dog
parts
items
ice tray
05/15/2020
I recommend this product
My little dachshund loved all
My little dachshund loved all of her toys. They were perfect! I also liked that there were practical items that I can use as well. It's a little of everything.
Nikki T.
United States
05/26/2020
I recommend this product
They loved it.
Awesome. I have pictures and videos of my 7 getting there first package. They loved it. Already had my neighbor ask where I got it and shared.
Maria M.
United States
05/17/2020
I recommend this product
Our Merci says merci!!
Our baby girl, Merci, received her first Dachpack, and it was a huge hit! She somehow knew it was for her (the dachshund nose never fails), and she couldn't wait to open it! As soon as I lifted the flap, she stuck her head under it and pulled out the floppy fish - her new FAVORITE toy! There were so many goodies in the box that we all were giddy going through ALL of them!! As a "hooman," I must admit I totally love the dachshund shaped ice cube tray and cookie cutter!! The seatbelt latch is pretty awesome, too!! We are already so excited to get the next box! We hope it is as jam packed as this one was!! We are so please that we purchased the Dachpack! As an aside and for company informational purposes, I just want the management to know that the box was closed, everything was in it, but there was no seal on the box to keep it closed. We lucked out and everything arrived intact, but it could have easily accidentally or intentionally been opened and items removed. I just thought I'd let the company know this, but we definitely will continue to purchase future Dachpacks!
Donna J.
United States
05/15/2020
I recommend this product
Loved it!
I and my Milly loved everything in our first box and can't wait for our next one! She really loved the rib bone and the fish!
Gladys S.
United States
06/24/2020
I recommend this product
1st Box for my 4 Mini Daschunds
The whole process went pretty smoothly. Received the Box pretty quickly even with the COVID Epidemic happening. My Babies Thoroughly enjoyed their 1st Dasch Box as I did also. I have included a Video of them picking their items. My smallest out of my pack is the only one brave enough to pick the fish up and he has little confidence. I have 1 that loves loves treats. Very food motivated, and one that is very serious about his Toys and one that is a pretty aggressive chewer. I loved watching the excitement from my Furr~Babies. Oh question....we did not have the Hot Dog or Ice Tray. Is that normal? Do you get one or the other with these boxes? Again its a great box, keeps them happy and I would recommend.
Dawne .
United States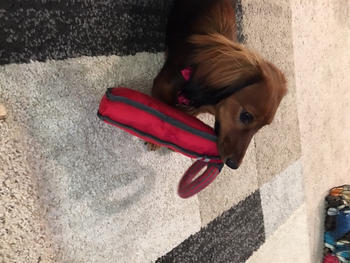 06/24/2020
I recommend this product
Dachs Pack
My dachshunds loved their surprise box and so did their momma. We had fun opening it and pulling out all the toys and treats. The best part was there was a surprise for me too!! We have had so much fun with the toys and the bones. Can't wait for the next one to come!
Tamara B.
United States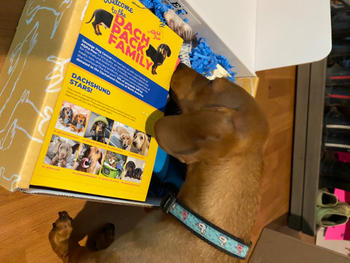 06/23/2020
I recommend this product
Great box
Love the box and all the wonderful goodies my June loved her toys. I was disappointed about the box not sealed when I got it and I did not receive two items stated in advertisement (ice tray and squeaky hot dog) other than this I got everything else and can't wait for the next box I hope all items will be in there this time.
Sheila V.
United States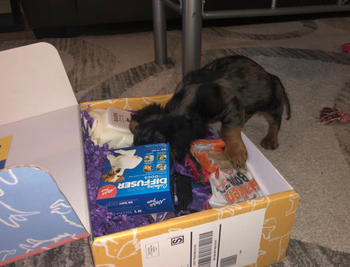 06/14/2020
I recommend this product
Love!!
Our mini doxie Charlie loved it! The toys and all of the other items were perfect. Very happy with our first box!
Jessica
United States