You will select your background AFTER purchase, when your art is ready! 1-2 days. 
Add this product to your cart to get a digital file of your pet delivered straight to your email inbox! Your photo upload will be sent directly to our team of award winning artists upon purchase. 
What you will receive:
Transparent Background Artwork File 
Unlimited revisions on our digital art files. 
50+ backgrounds

Select a background from 50+ choices

during art approval after purchase.


100% Satisfaction Guarantee

Unlimited Free Revisions.

Watch your friends be jealous

900,000+ Pets Drawn

Trusted by pet parents all

over the country.
How It Works
All orders come with a 100% Satisfaction Guarantee. We want you wagging and purring.
Upload photo

Upload a photo of your pet with your order. We accept most of the photos! Our team will always reach out if your photo isn't right.

Approve art

We'll send you your custom art in 1-2 days. Request for edits or approve it so that we can do magic and send it for fulfillment.

100% Satisfaction Guarantee

Wag & Purr excitement!

Once you submit your order, our artists get to work on digitally-illustrating your portrait. Expect to recive your within 1-2 weeks. Watch your friends be jealous.
What the hype is all about!
Our Creativity Begins With You
Alpha Paw understands the passionate bond you share with your pet. Like you, we love our pets more than we love most people. (Who else would wag when we belt out the theme song from "Titanic"?)

We love our community of pet parents who share the quirky, joyful, goofy stories about their pets.

From doggos to kitties, ferrets to chinchillas, and every lovable critter in-between; we love how you love your pets.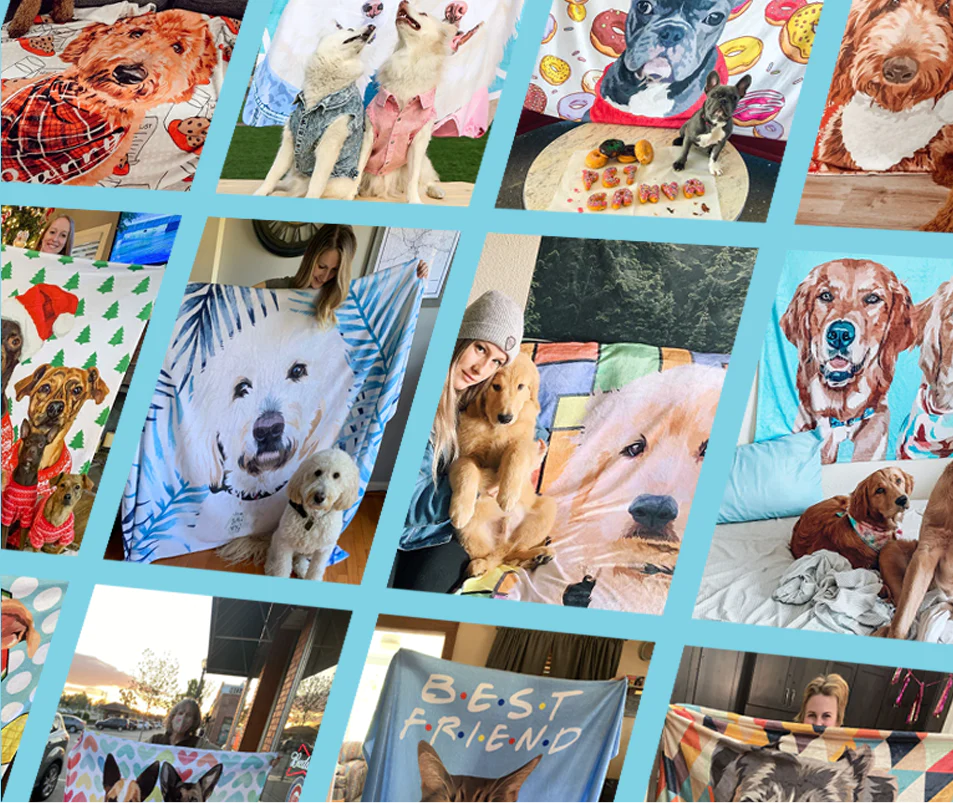 Need Help?
We're in the business of making tails wag – so when you're not happy, we're not happy. That's why we've always seen customer satisfaction as our #1 priority.
Does Alpha Paw Prints just do dogs?

Absolutely not! We can use any animal and turn it into a one of a kind art masterpiece.
How long does shipping take?

Immediately after you place your order, your pet upload is sent to one of our artists. Please allow 6 days for the design to be completed, and another 3-4 for the product to be shipped. You can expect 2-3 weeks delivery time from when you placed your order to the time you receive your Alpha Paw Print product. We promise it's worth the wait!
Can I have more than one pet on my product?

We recommend one, BUT we understand that some pets are inseparable, so please email support@alphapaw.com so we can work this out for you! The additional cost per pet would be $10, and you will pay for that post-purchase.
What if I don't like my artwork?

We want you to be 100% satisfied and love the final render. If you ever have any issues with the design before you send your final approval, you can contact us at support@alphapaw.com and we will make the needed revisions!
Can I edit my order after it was placed?

All changes must be made to an order within 2 hours after the time which it was placed. Keep in mind that we send your pet uploads to our artists directly after you purchase! Any orders cancelled or photo change requests past the 2 hour window will incur a fee of $10 per pet for artwork. ( This will compensate the artist for the time and effort put into the original artwork).
Does Alpha Paw ship internationally?

Yes, absolutely! We believe everyone, regardless of location, should be able to create get a one of a kind Alpha Paw Print product with their pet on it and for that reason we ship to over 90 countries. International shipping will be calculated at checkout.
Will my photo work?

You don't have to be a professional photographer to snap a great picture of your pet, BUT we do have some tips before you make your final purchase. Please see our Ultimate Photo Guide. We recommend photos in sunny or bright light (so we can catch details) and having your pet sit or stand up. If we happen to not be able to use your photo, we will reach out to you via email and request you send us another one.