Watch the latest Alpha Paw episodes with host Bernie Zilio as she tackles your pet parent questions, along with our board of pet experts. You can watch the episode and read the transcript below!
The Transcript
Bernie Zilio
Are you sniffing around for the best Father's Day gifts for your dog father? Here are 5 gifts that are sure to make him feel like a leader of the pack this holiday!
Welcome back to Alpha Paw, your destination for everything dog. I'm Bernie Zilio and I'm on a mission to answer every doggone question you've ever had about your fur babies and today we are talking about the best Father's Day gifts for the dog daddy in your life. I mean.. Your dog's life…you know what I meant! Now as we all know, dads can be hard to buy for and typically are happy with whatever they receive.
Regardless, now is the time to start figuring out the perfect gift to avoid any last-minute anxiety. And of course, Alpha Paw has the perfect surprises to put a smile on his face. So when I think about Father's Day, I think about my dad packing the entire car to the brim, to take the whole family, dogs included obviously, to a park or beach for the perfect BBQ.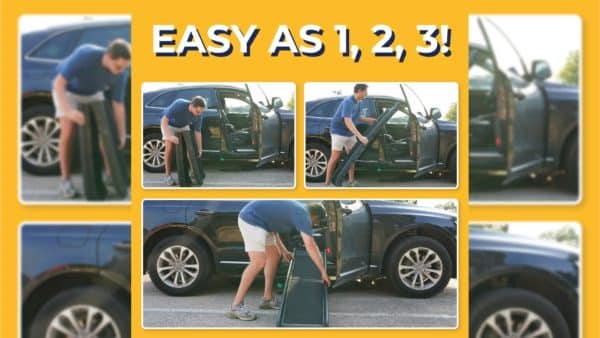 Now while my dad loves packing up the car, I don't necessarily love watching him trying to load our Maltipoo…and my giant golden retriever…so that's why the car paw ramp is the perfect gift for any dog dad. It's great to help your dog access cars, trucks and SUVs.
Additionally, the car ramp holds up to 200 lbs! So whether your dad or dog dad is unable to lift your dog into your car, or you simply don't want them risking injuring themselves…or your pup, this is the perfect product for any pet parent who drives with four-legged passengers on board.

Now if your dad also drives a lot, like mine, and his furry buddy is right there with him, this is the best gift you can give him: the car safety seat belt.
Now I know that doesn't sound all that exciting, but stick with me here. More than 80% of pet parents drive with their pets unrestrained and that is dangerous for the pets, and the pet parent. The Alpha Paw Care Safety Seat Belt is designed to keep his four-legged friend safely restrained, comfortable, and secure for unexpected bumps on the road or worse.
The seat belt can clip into any seat belt outlet, has a tangle-free swivel attachment, adjustable length for comfort and safety, and is identical to a human car seat buckle.

Ok, so now my dad has the car safely loaded, the dogs are buckled in, we're ready to go! Well…not so fast. He doesn't know where his keys are…AGAIN.
Are all dads like this? I'm convinced that the second you become a father, to humans or dogs, you gain the ability to love and care for a creature…but lose the ability to love and care for your car keys. It's a tradeoff. That's why I also got by dad the Alpha Paw American Flag Lanyard– keeps everything in one place…while he goes from place to place.
Made with silky polyester fabric, it has a standard clasp for the easy keeping of keys, IDs, and badges. The American flag lanyard is a practical way to tell your dad you love him, despite his key misplacement problemo, while also helping him get festive for the upcoming holiday, 4th of July! Look at that.

Who's his favorite now? Plus, do you know what will make that lanyard look even better? A personalized photo keychain. Yup– you're going to win Father's Day for sure this year.
It's a simple gift, but one that is sure to bring a smile each and every time he sees it. Simply upload a photo of his favorite pup and choose which name you wish to include on the back, and that's it. Once the custom keychain is complete, have it mailed directly to your doggone best dad!
Ok, so now that the car is packed, the keys are secured, his style is fresh to death, what happens once you get to the BBQ?? Well, you raise the ruff for your Father's Day party with a twist.

Keep drinks cool and your dad even cooler with the Dachshund ice tray! The Dachshund ice tray is made from one-of-a-kind silicone and makes a total of nine Weiner dog ice cubes. Trays are available as singles, 2-packs, and 3-packs to ensure there will be enough doggone ice cubes to chill all the drinks!
Not to mention, they make for great conversation starters at Bark-B-Qs, and pawties…and apparently they make for prime dad joke content. Ready to get shopping? Get an extra 20% off with the promo code DAD20 on AlphaPaw.com. Which of these are you getting for the dog daddy or zaddy in your life? Leave it in the comments section down below.