Doxie Lovers This Might Just Be A Dream Come True!
It's definitely safe to say that this year has been filled with unexpected events. This includes doxies becoming FedEx delivery interns. 
As the world was placed under house arrest for the global pandemic, many online businesses experienced a sudden spike in sales, all leading to shipping companies growing busier by the day.
One particular FedEx employee grew tired of leaving his pups home and finally decided it was time to take them on as interns!
Hiring Process
It all started when the doggy daycare was forced to close to ensure the safety of both, humans, and furry friends when COVID-19 broke out. After being notified of this news, Daniel Nava, a FedEx employee was faced with the devastating thought of having to leave his two little dachshunds home all day long while he was out delivering packages to his community. 
Luckily, his two little furballs already had a little delivering experience under their paws from the previous holiday season when they tagged along with him to help be Santa's Elf, and deliver at a few stops. In all honesty, their cutest was all it too to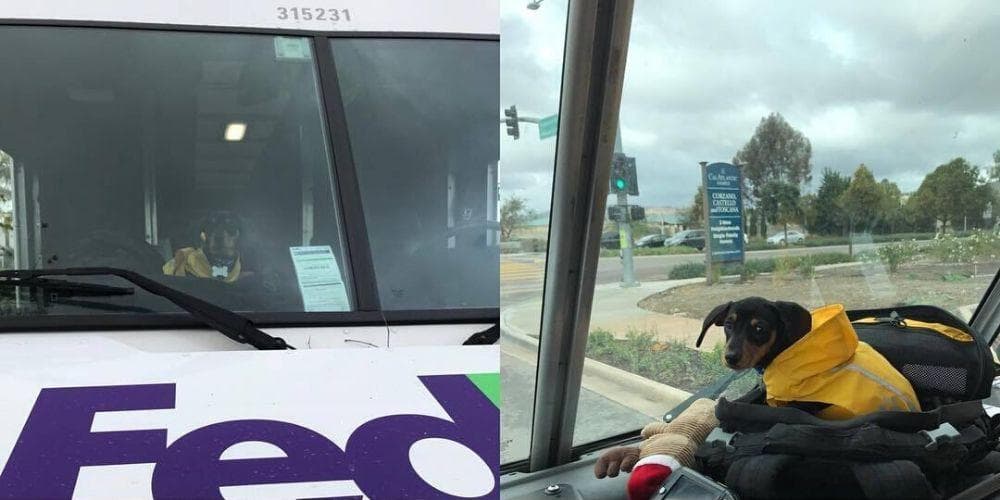 get them the job! 
Lend A Paw
When the opportunity arose, Chorizo and Cocoa jumped at the opportunity to help their Dad, plus that also meant they got to celebrate "Take Your Kid To Work Day" all the time! If that wasn't enough, their new job started making them famous. I mean who wouldn't love not only one, but TWO, adorable little doxies delivering our long awaited packages?
Dress To Impress
Naturally, Chorizo and Cocoa had to suit up for their new position. I don't think I've ever seen anyone rock the uniform as well as they did. They truly have the whole package (*wink *wink), the look, the experience, and the cuteness. 
Customer Reaction
Due to increased delivery demands, shipping times were experiencing quite a bit of delays all over the world, which in turn, made customers grow more and more impatient. Luckily, Chorizo and Cocoa turned it all around and provided a little extra sweetness at each stop in hopes to gain forgiveness for the delays. 
With that in mind we encourage everyone to show some love to their essential workers!
How To Apply
Unfortunately, unless you're a 20 to 25 inches long doxie named Chorizo or Cocoa, you don't qualify for the job. You shouldn't give up though, who knows, maybe the next delivery you receive from AlphaPaw will be paw delivered by Chorizo and Cocoa themselves! So hurry, place an order now to try your luck!
CREDIT: All picture credit to instagram page @chorizo_cocoa