A Blind Dachshund's Heartbreaking situation at an animal shelter in California led to an extraordinary ending. A blind, 18-year-old Dachshund name Muneca, was abandoned at the Baldwin Park Animal Care Center in Los Angeles. Abused and left to die, she was in bad shape.
No one knew for sure the trauma she'd been through, or how much she had suffered. Fortunately, a brave volunteer changed everything when she decided to get up close and personal with the dog.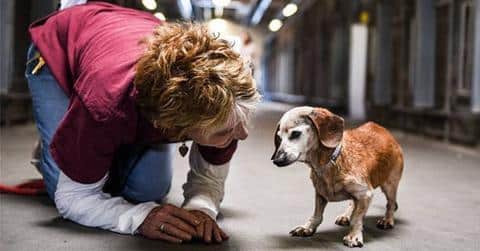 Elaine Seamans approached Muneca with caution, not knowing what to expect. When Mucena jumped into her arms and wouldn't leave, Seamans knew the sausage dog wasn't a threat. The doxie was alone, in despair and needed love.
Amazingly, a photography student passed by at just the right time and snapped up an amazing set of images revealing the moments between Muceca and Seamans.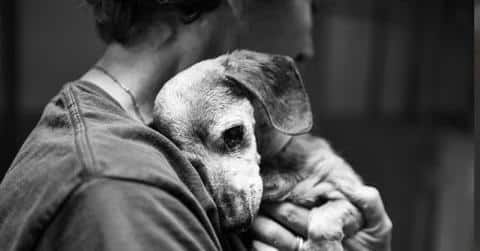 John Hwang wanted to capture the essence of the connection between the doxie and the human. His photographs of them went viral, and the word was out: Mucena needed a home.
Thankfully, a rescue group saw the photos and rushed into action. Frosted Faces Foundation immediately went and took the Dachshund. Eventually, Mucena was placed in a home!
Protect your Dachshund's back with our Dach Ramp.
This week only with 15% OFF! 
CLICK HERE