Who Doesn't Get Excited When A Trip Is Coming? 
You have been fantasizing of effortlessly flying with your Dachshund for quite some time now. In an ideal world, both of you would be flying through the friendly skies, all smiles, and nothing to worry about. However, we know that isn't always the case.
You probably have heard of fellow pet owners who have had a terrible experience taking their pooch along with them. If you think about it, even the most experienced travelers even feel a lot of hiccups along the way. What more could it be for an ordinary passenger who is flying with a doxie?
Thankfully, you don't have to agonize to the thought that something bad would happen.  There are things we do at home to keep our pets safe, and the same goes for travel.  Here are a few tips you need to remember to safely fly with your dachshund.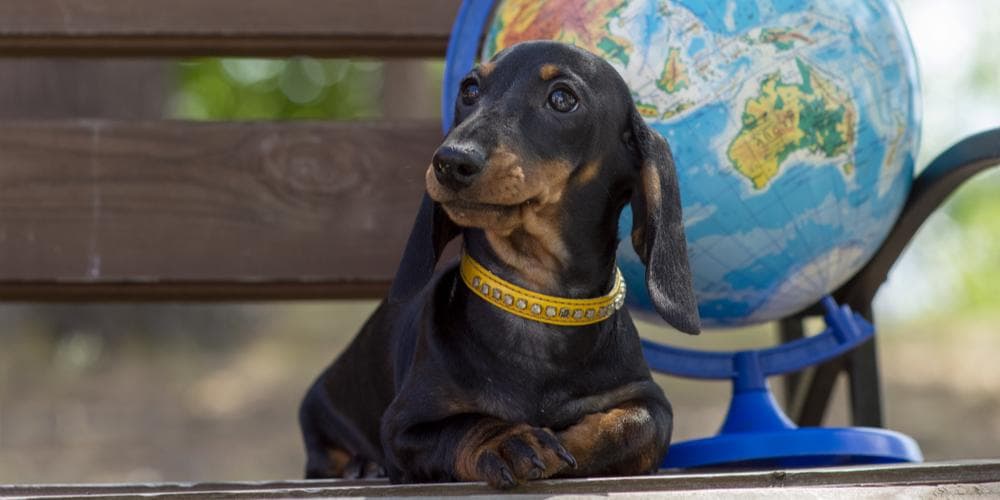 Talk To Your Airline
Your chosen airline has a set of rules and regulations applicable to passengers who will be bringing pets with them. You need to get familiar with these rules to ensure you board and leave the airplane smoothly. It would be a huge disappointment when you finally reached the airport and your doxie isn't allowed to go with you.
Call your airline's customer support, read the terms and conditions, or better yet, talk to them in person. Ask as many questions as possible. If you still have doubts, don't be afraid to clear up the confusion.
Some of the vital things you need to ask are the following:
Is your dog allowed in the cabin?

What is the maximum weight and length of my pet to be allowed in the cabin?

What is the dimension of the carrier allowed in the cabin?

What are the necessary documents you need me to present?

Can I reserve a spot for my dachshund?

What are the other things I need to know when flying with my dog?
The key here is that you want to comply with every needed requirement of the airline. Do this so there would be no unpleasant surprises in the future.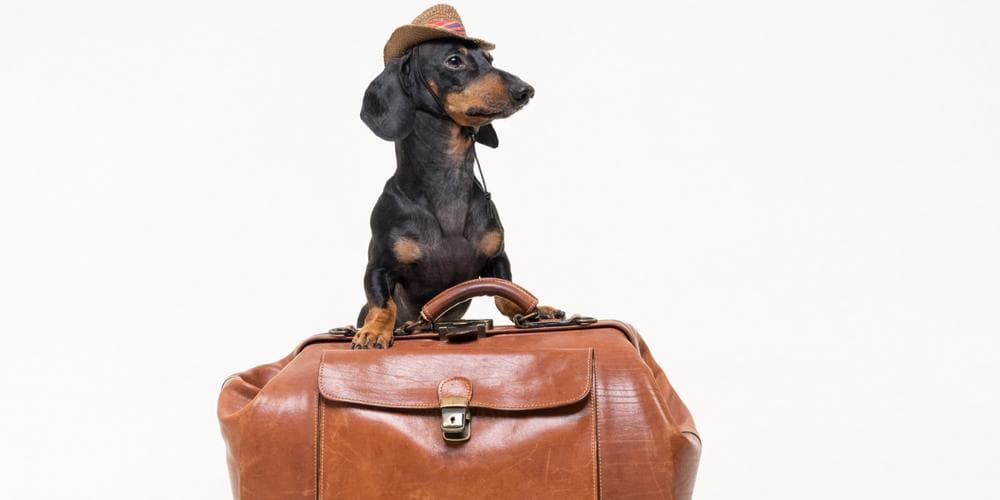 Talk To Your Vet
Your vet can issue a signed vaccination record, which can become handy in case you are asked to present one. You can also discuss with your vet whether your dog is fit to travel or not. In case your dog suffers from a certain medical condition, your vet can advise what else you can do to ensure your dog safely flies.
You may also want to discuss with your vet the use of sedatives. It's a good way to keep your dog relaxed during the trip. Discuss with him the pros and cons of this option.
Get The Right Carrier
Thankfully, your doxie is small enough to be carried around. However, you would need to use a carrier not just for the safety of your pooch, but also for other passengers.
Remember that the space beneath your airplane seat may vary from one airplane to another. For this reason, you need to pay special attention to what your airline's specifications might say about the type and size of the carrier you can use.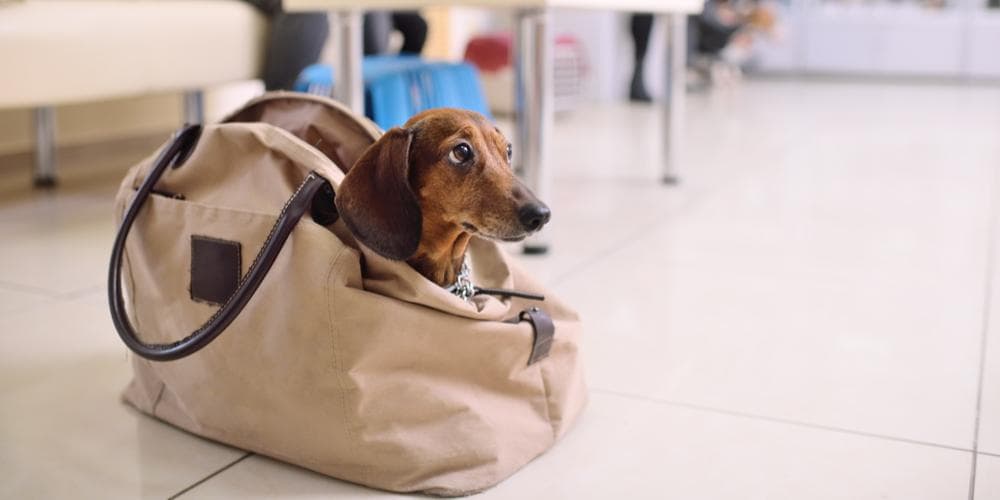 Have A Pee And Potty Plan
Make sure you know the location of potty stations at the airport. There are also pet-friendly comfort rooms you can use. Be sure to take advantage of them.
A pro tip would be to line your dog's carrier with a pee pad. This way, you won't have too much trouble if in case your doxie has an accident.
Before you board the plane, it would be a good idea to let your dog use the potty area. This way, your dog would be more comfortable throughout the flight.
Pack For Your Pooch Too
Be sure to have a separate pouch or bag for your doxie. Bring with you his medication, non-spill water container, snacks, and other personal stuff. If possible, bring dog food as well. You never know if your flight will be delayed.
Be Familiar With The Airport Security
Since you'll be bringing a dog with you, you may undergo a special procedure when going through airport security. One of the most interesting things that will happen is that you will be pulled aside and get swabbed. Don't worry; it's just a quick and painless check. Security does this because some terrorists and criminals hide explosives inside their pet.
Do Your Research
The more knowledge you have about flying with a dog, the better. This gives you a picture of what to expect during your flight especially when this is your first time.
Do your own research. Read related articles and be sure to take note of them. Ask for advice from your fellow pet owners who have experienced flying with their pooch before.
By doing all the tips mentioned in this post, I'm sure that you and your pooch will have a safe and wonderful trip together.