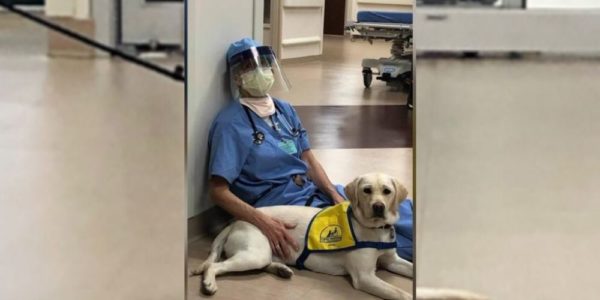 Meet Wynn, A Comfort Dog
In times of stress, our furry companions can offer an immense amount of comfort. The coronavirus has caused an upheaval in many of our lives and if you are a frontline worker, it's likely that you are dealing with high-stress levels every day. One hospital in Denver has found a way to help workers stay calm. They are enlisting a service dog in training to provide calming relief in the middle of their hectic days.
A Four-Legged Front Line Worker
Wynn is a one-year old Labrador who is being trained by Susan Ryan an emergency physician at Rose Medical Center. Ryan has been training Wynn since she was eight weeks old and frequently takes the dog in for hospital visits to brighten the day for providers and patients. The dog is currently set up in the social worker's office and is on call for workers who need stress-relieving breaks. They can enjoy an atmosphere with dimmed lights and soothing music while spending time with Wynn. It's a great way for them to take a mental time out before returning to their busy workday. Of course, everyone must wash their hands before and after visiting with the animal to keep the spread of the virus under control.
Animals For Emotional Support
"Seeing stuff and hearing stuff that you can't unsee has an impact on you," Ryan explains. That's where the dogs come in. When you are in the presence of the dog and petting them you are taking a moment to ground yourself at that present time." Once Wynn is trained, she will become an assistance dog for Canine Companions for Independence, a nonprofit that provides assistance dogs free of charge to adults, children and veterans with disabilities. Animals are often used to provide emotional support to those in need. Wynn's efforts are helping the doctors fighting the pandemic by giving them much-needed soothing relief. With everyone doing their part, we can beat this thing.