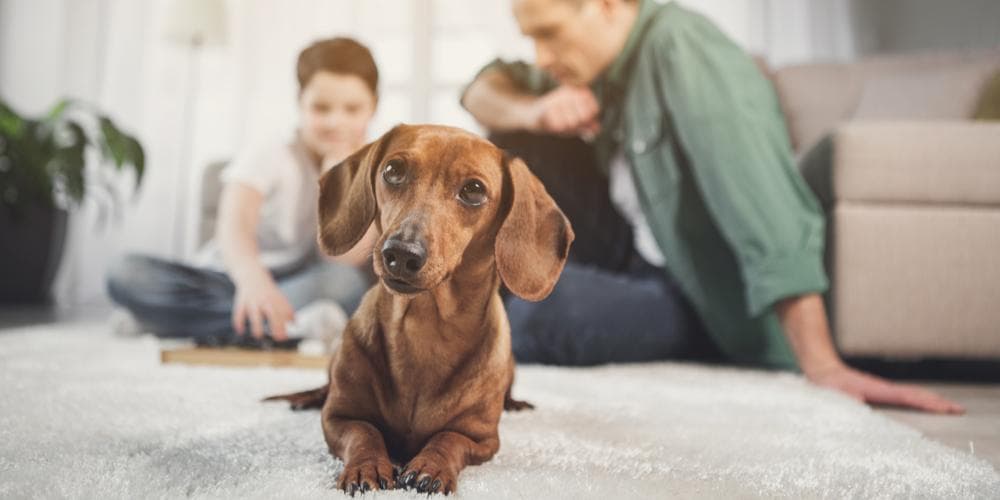 Disclaimer: We are not veterinarians and the views and opinions expressed on this website are those of the original authors and other contributors and do not necessarily represent those of DOG CENTRAL and their affiliates. Ultimately, we hope that with this article and further research, you are able to learn more about your fur baby and always do what is best for you, your human family and fur family!
Can Dachshunds be apartment dogs or do they need space?
Living in an apartment means that you might have limited space. Perhaps, this is the main reason that you are thinking of whether having a dachshund in your apartment is a good idea or not.
This is a valid concern. After all, as a loving and caring pet owner, we want the best for our doxie. We want to make sure that the place where we live is also a place where your four-legged friend could thrive.
So, today, we want to know, can dachshunds be a good apartment dog or do they need more space? Let's find out.
Are Dachshunds Good Apartment Dogs?
The answer is absolutely, yes. One of the best reasons is their size. Even if you get the biggest dachshund, they are still small enough to fit your apartment.
Even though dachshunds are known to be an energetic dog breed, it won't be a big problem as they are small. They can still run around within your apartment without causing much trouble.
If you are starting a family or you already have children, doxies are also perfect companions. They are playful and great being around small kids.
Do Dachshunds Need More Space?
Now, as you bring your dachshund to your apartment, you might be concerned about whether they would need more living space.
Thankfully, dachshunds adapt well to different apartment sizes. They can be as comfortable in a house with a big yard and an apartment with limited space.
However, you would still need to dedicate a compact area, which your doxie can call his own. This area can be his hiding place and a sanctuary. It is a great place as well where he can eat, sleep, and play. So, be sure that your doxie's personal space is located in a low-traffic area.
Some Important Considerations
Living in an apartment with your dachshund could lead to potential problems, though. Thus, you need to take the necessary steps to ensure you, your family, and dog would live in your apartment with the least hassle as possible.
The first thing you need to do is check with your landlord or apartment management group if they allow pets within the vicinity. Thankfully, at the very least, some apartments accept small dogs such as a dachshund.
If your landlord allows you to have pets with you, make sure you discuss the terms and conditions that could affect your dog's welfare.
Dachshunds are generally known for their loud bark. This can be a huge problem if you are living in an apartment where only a few inches thick wall and floor are separating you from your neighbors.
Not only that, but you also need to consider the noise coming outside of your unit. The noise from your neighborhood could trigger your doxie to have behavioral problems.
Because dachshunds are short and small, they are at a greater risk of becoming obese. Happily, dachshunds are mostly active and playful. This allows them to burn calories and stay fit.
However, as you may already know since living in an apartment could restrict your dog's movement and activities, it is crucial that you regularly take your pooch for a walk. Bring him outside and let him get a healthy dose of exercise.
Final Words
Dachshunds, because of their small size, are among the most popular choices of people living in apartments. They are low maintenance and could easily fit in your daily routine.
However, remember some important considerations when having a doxie in your apartment. Talk to your landlord and neighbors to ensure your pet does not bother anyone. Most importantly, don't forget to bring out your dachshund to give him the exercise he needs.
With all these being said, I do hope you and your doxie will have a great time living your apartment.