5 Worst Wet Dog Food Brands You Should Avoid
Most of our fur babies would eat just about anything. They'll devour anything in their way, but as responsible parents, we need to make sure that only the best food comes under our babies' noses. As a community of loyal canine companions, we assembled a list of the biggest canned food no-nos you can find on the market.
How We Evaluated the Worst Canned Dog Food
We went to great lengths to make sure we bring you only the worst of the worst—the stuff a vet's nightmares are made of! We visited two local vet clinics to ask the experts about the dietary needs of our furry companions and what to look out for when buying canned food. 
The next thing we did was hit our favorite pet stores to find out our trusted shop clerks' honest opinions. We wanted to know what they'd never feed their pooches, what wet food sells best, and how to read a can label for telltale signs of poor quality.
The last step we took was to reach out to our vast community of dog parents. They told us what canned foods make their pups bark and what makes them barf. Our collective experience as canine mums and dads coupled with expert advice helped us make a selection of wet foods that no one should ever feed their pets.
How We Chose Our Nastiest Food Picks
By asking around and reading tons of online reviews, we first compiled an extensive list of potential candidates.  We then took out our magnifying glass and scanned all the labels word for word and number for the number to determine what foods meet the dietary requirements of our beloved pooches (or rather, in what ways they don't meet these criteria). 
To prove there was some method to our madness, here are some of the best indicators that a wet dog food brand is adequate (we checked our candidates against these):
The food is marked as

"complete and balanced"

by the

Association of American Feed Control Officials (AAFCO)

The first ingredient on the list is a

specified meat source

(not a generic "meat" or another ingredient)

The food contains only

whole grains and vegetables

The food contains limited to no meat, grain, or vegetable

by-products

The food doesn't contain

artificial and highly processed substances
If a food brand doesn't meet any of these criteria, you shouldn't feed it to your dog. You don't want your pup eating colored and processed slaughterhouse rejects roadkills, and other "meat meals" held together by suspicious or outright toxic cohesives. You also shouldn't avoid carbs, but having your pooch eat a corn stew with a protein found in traces is not good for their tummy.
Identifying all the ingredients on a canned food label is almost a herculean task, with all the code words that are just euphemisms for trash. We did the dreary job so that you wouldn't have to, and we present you with some of the most deplorable wet dog foods on the market.
Worst Overall: Purina Mighty Dog Chicken, Egg & Bacon Country Platter Wet Dog Food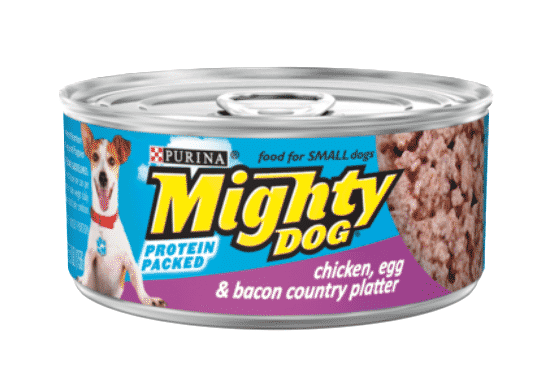 Image source: Purina
Purina Mighty Dog is the worst canned dog food on the market—there is absolutely nothing mighty about it. The label says it's protein-packed—we say it's packed with dubious ingredients. The first ingredient is chicken, which is legit, but it's followed by by-products (which could be anything from chicken legs to pig teeth) and unidentified animal parts. Don't get us started on the infamous guar gum, which is linked to the upset doggy stomach and diarrhea.
Guaranteed Analysis
Crude Protein (Min.)

10%

Crude Fat (Min.)

7%

Crude Fiber (Max.)

1.5%

Moisture (Max.)

78%
Ingredients
Chicken, water sufficient for processing, meat by-products, liver, egg product, smoked bacon, ground rice, added color, guar gum, MINERALS [potassium chloride, zinc sulfate, ferrous sulfate, copper sulfate, manganese sulfate, potassium iodide, sodium selenite], tricalcium phosphate, calcium carbonate, carrageenan, choline chloride, VITAMINS [Vitamin E supplement, niacin (Vitamin B-3), thiamine mononitrate (Vitamin B-1), calcium pantothenate (Vitamin B-5), pyridoxine hydrochloride (Vitamin B-6), Vitamin B-12 supplement, riboflavin supplement (Vitamin B-2), Vitamin A supplement, folic acid (Vitamin B-9), Vitamin D-3 supplement, biotin (Vitamin B-7)].
Runner-up: Pedigree Wet Dog Food Chopped Ground Dinner With Chicken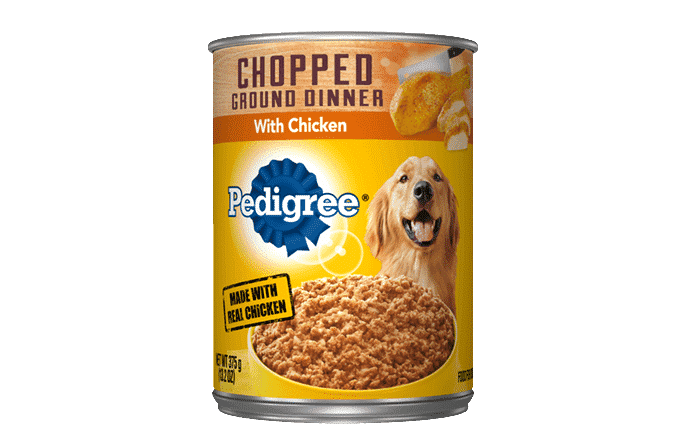 Image source: Pedigree
Pedigree has become one of the most hated dog food brands due to their low-quality products, so it's no wonder they are on our list. Pedigree Chopped Ground Dinner is brimming with animal by-products—the very first ingredient on the list is "chicken by-products," which means your dog could be eating beaks and feathers mushed together by brewers rice. By the way, this "brewers" rice is not even white rice (which should be avoided anyhow)—it's what's left of it after it's processed. 
Guaranteed Analysis
Crude Protein (Min.)

8%

Crude Fat (Min.)

6%

Crude Fiber (Max.)

1%

Moisture (Max.)

78%
Ingredients
Chicken By-Products, Sufficient Water For Processing, Chicken, Meat By-Products, Animal Liver, Brewers Rice, Minerals (Potassium Chloride, Magnesium Proteinate, Zinc Sulfate, Copper Proteinate, Manganese Sulfate, Copper Sulfate, Potassium Iodide), Sodium Tripolyphosphate, Carrageenan, Dried Yam, Guar Gum, Vitamins (Choline Chloride, Vitamin E Supplement, D-Calcium Pantothenate, Biotin, Thiamine Mononitrate [Vitamin B1], Vitamin A Supplement, Vitamin D3 Supplement), Xanthan Gum, Natural Flavor, Yellow #6, Yellow #5.
Worst Wet Food for Puppies: Royal Canin Puppy Canned Dog Food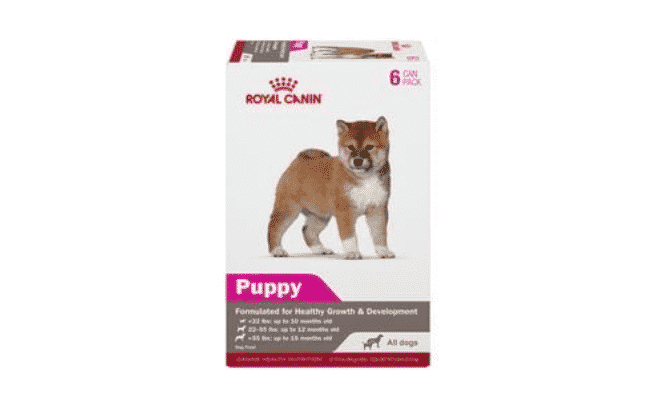 Image source: Royal Canin
Your puppy is a voracious little food machine that will chew on your fingers and toes, furniture, and any food you put in front of them. That's because they're developing, and their tiny bodies need a lot of energy and nutrients to grow up into happy and healthy pooches. This is why they need proper food, and Royal Canin Puppy Canned Dog Food is not a great choice. If you want to stuff your pup with dried maize and animal by-products—sure, but we're certain you want what's best for them, and this is not it.
Guaranteed Analysis
Crude Protein (Min.)

7.5%

Crude Fat (Min.)

4%

Crude Fiber (Max.)

2%

Moisture (Max.)

76%
Ingredients
Water sufficient for processing, chicken by-products, chicken, pork by-products, chicken liver, salmon, cornmeal, brewers rice flour, powdered cellulose, brewers rice, dried plain beet pulp, pork plasma, guar gum, vegetable oil, potassium chloride, sodium tripolyphosphate, carrageenan, natural flavors, taurine, tricalcium phosphate, vitamins [L-ascorbyl-2-polyphosphate (source of vitamin C), DL-alpha tocopherol acetate (source of vitamin E), thiamine mononitrate (vitamin B1), biotin, niacin supplement, D-calcium pantothenate, riboflavin supplement, pyridoxine hydrochloride (vitamin B6), vitamin B12 supplement, folic acid, vitamin D3 supplement], DL-methionine, fish oil, cysteine, glycine, sodium silico aluminate, trace minerals [zinc oxide, ferrous sulfate, zinc proteinate, copper sulfate, manganous oxide, sodium selenite, calcium iodate], choline chloride, marigold extract (Tagetes erecta L.).
Just Generally Bad: Ol' Roy Meaty Loaf Wet Dog Food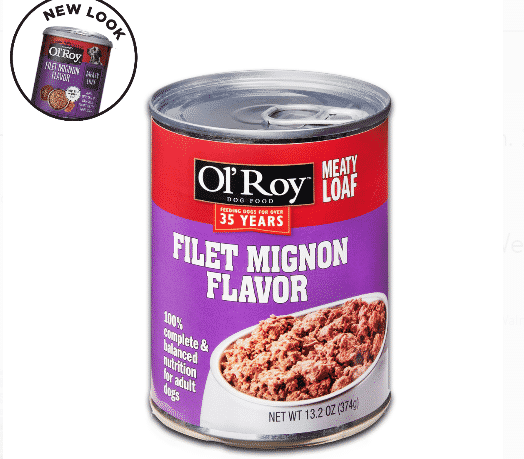 Image source: Walmart
Ol' Roy had a farm… Oh, wait, that's not it! If Ol' Roy had a farm, he'd produce a much more nutritious dog chow with natural ingredients.
Ol' Roy is a Walmart brand, and it's exactly what you would expect from such a product—low-quality and cheap. Ol' Roy Meaty Loaf Wet Dog Food comes in many flavors, and they're all equally tragic. The food is stuffed with fillers, such as soy flour and guar gum, and full of salt.
Guaranteed Analysis
Crude Protein (Min.)

9%

Crude Fat (Min.)

5.5%

Crude Fiber (Max.)

1.5%

Moisture (Max.)

78%
Ingredients
Water sufficient for processing, chicken, meat by-products, soy flour, beef, salt, carrageenan, guar gum, cassia gum, potassium chloride, natural and artificial flavor, vitamins (vitamin E supplement, thiamine mononitrate, niacin supplement, D-calcium pantothenate, vitamin A supplement, riboflavin supplement, biotin, vitamin B-12 supplement, pyridoxine hydrochloride, vitamin D-3 supplement, folic acid), natural flavor, minerals (ferrous sulfate, zinc oxide, copper proteinate, sodium selenite, manganese sulfate, potassium iodide, choline chloride, sodium tripolyphosphate, added color.
What Are the Ideal Macros for My Dog?
Depending on their age, your dog needs all macronutrients—carbs, protein, fat, minerals, and vitamins—in a specific ratio. It's not just about the quality of the ingredients in your pooch's bowl, but also quantity. 
The best canned dog food (as well as the best dry dog food, for that matter) will contain a sufficient amount of all these nutrients. This is what makes a dog food brand eligible for the AAFCO label "complete and balanced."
In general, this is what a balanced diet should be made of for an adult dog:
Nutrient
Percentage in balanced dog diet
Carbs

30–70%

Protein

18–25%

Fat

10–15%

Minerals

Calcium

Phosphor

Magnesium

Sulfur

Sodium

Chloride

Vitamins

Vitamin A

Vitamin E

Vitamin K

Vitamin C

Water

Plenty of water
All these nutrients have a purpose in your pup's body:
Carbs

are a great energy source, and those less digestible ones (fiber) are responsible for a normal stool

Proteins

are the building blocks of your dog's muscles and other tissue

Fats

are another energy source, and they aid the absorption of vitamins

Vitamins and minerals

help the body perform certain functions and keep the immune system up and running
Protein is usually praised as the most important macronutrient for pooches, and sometimes, even the worst dog food sells because it's "protein-packed" (like one of the mentions on this list). Remember that dogs are not gym bunnies—they don't need protein-packed meals but balanced ones.
What Are the Differences Between Wet and Dry Dog Food?
As you have seen, wet food has a high level of moisture—78% on average. This is its main distinction from dry food, which normally contains around 10% of moisture. Both these food options have their ups and downs, and what you pick for your dog is completely up to you and your pooch. You just have to be careful and pick a quality brand with nutritious ingredients and a proper ratio of macronutrients.
Wet Dog Food Pros and Cons
Don't be discouraged by our list of terrible canned food brands. Wet food can be excellent for your pup, and here are some of the reasons why:
It's tastier than dry food.

Let's face it—if you have a picky eater, they are much more likely to find wet food appetizing.

It's great for senior dogs.

If your old fur ball has trouble chewing those crunchy munchies, they'll love them some soft chunks in gravy.

It's a source of hydration.

Thanks to its high level of moisture, wet food can help keep your pooch hydrated.
These advantages can't beat the fact that dry food is still a more popular choice among dog parents. Here's what's wrong with wet food:
It spoils easily.

Wet food goes bad super fast. You can't leave it sitting in the bowl if your pup decides they'd rather eat later.

It's more expensive than dry food.

About 80% of wet food is water—you'll need a lot of it to keep your pup's tummy full.

It's bad for your dog's teeth.

That gravy that your pooch enjoys so much loves their teeth and sticks to them. You can check out some of the

top 10 best dog dental chews

.
Kibble Pros and Cons
If our despicable list of the worst canned food brands has convinced you to switch to dry dog food, here's why that might be a good idea:
Kibble can last longer.

Dry food has a longer shelf life, and even when opened, it can stay good for days.

Kibble can help with dental hygiene.

Crunchy food staves off the creation of plaque and tartar.

Kibble is more practical.

Your pup won't make a mess eating it, and you can take it on a trip with you.
Before you decide to transition to dry dog food fully, take a look at these downsides to kibble:
It can be hard to chew.

For an old doggo, you might want to consider the

best senior dry dog food

brands.

A picky eater may not be impressed with it.

The manufacturing process involves dehydration, which kills the natural flavors almost completely.

Your tiny furball might choke on it.

You should check out the

best dry dog food for small dogs

. It usually consists of smaller chunks.
Can I Mix Canned Food and Kibble?
You can mix these two types of dog food, but make sure that they are both high-quality brands. Pouring a can of one of the foods presented in this article over the finest kibble will make your baby barf. If not, they'll have an upset stomach later on.
When mixing wet food with kibble, you need to consider how calorie-dense both foods are. If you keep pouring cans of wet food over dry food without worrying about calories, you'll have an overweight pooch in no time. Dry food is much denser than wet food. If this is the only way to make your pup eat that kibble, make sure not to overfeed them or transition to wet food completely.
Some parents feed this mix to their dogs because they are malnourished and show a lack of appetite. If this is the case with your pooch, then spicing up those chunks with some gravy will probably do the trick.
Another thing to have in mind is that if your dog has a sensitive tummy, you should avoid mixing different foods. This could lead to diarrhea and vomiting, and your doggy might end up in the ER. 
Choose Your Canned Food Wisely
We hope we cleared up what you should look for in a wet dog food brand. We understand that you're still not an expert on everything that's going on on that label, but now you know what to avoid (start with the brands listed in this article).
References
Brunetto, Marcio A., et al. "Phosphorus and Sodium Contents in Commercial Wet Foods for Dogs and Cats."

Veterinary Medicine and Science

, vol. 5, no. 4, May 2019, pp. 494–499., doi:10.1002/vms3.183.

Morgan, Judy, and Hue Grant.

Yin & Yang Nutrition for Dogs: Maximizing Health with Whole Foods, Not Drugs

. Thirty Six Paws Press, 2017.