January 22, 2021
Pet Product Reviews
Top 10 Best Dog Dental Chews for 2021

Have a hard time with brushing your dog's teeth? Try dental chews! Dog dental chews can be a great alternative to brushing. Dog dental chews are designed to help with tartar and plaque build-up in your dog's teeth. There's a ton of dental chews, so what are the best? Here is some of the best dog dental chews available online for 2019.
Blue Buffalo Dental Chews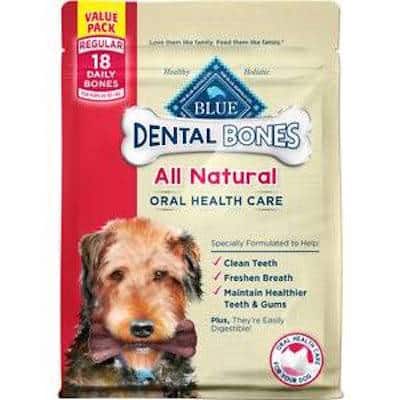 Blue Buffalo Blue Bones Natural Dog Dental Chews are easily digestible dental chews that will help to freshen your dog's breath. Glucosamine and chondroitin help support joint health, taurine helps heart health, and Vitamins A, C, and E help support the immune system. Blue Bones are made with the finest natural ingredients, have no chicken or poultry by-product meals, and are corn, wheat, and soy-free.
Dingo Dental Sticks
Dingo Dental Sticks work to help your pup fight stubborn plaque and tartar buildup, through the abrasive action of chewing, while also freshening breath! Having great benefits doesn't mean sacrificing flavor. Each stick is made with real chicken and is a great source of protein.
Greenies Dental Chews
A top-rated dog dental chew GREENIES Dog Dental Chews controls tartar buildup, plaque, and bad breath. These dental treats are easy to digest and taste great for dogs. These dental chews come in multiple sizes.
Purina Dog Dental Chews
Each treat features eight distinct ridges that help to clean your dog's teeth right down to the gumline. The porous texture contains thousands of air pockets, and the chewable design keeps him busy while he works to get his teeth clean while nibbling on these training treats.
Herbsmith Dog Breath Dental Treats
Herb smith dog breath dental chews are made with spearmint, parsley, and sea algae to promote healthy teeth and fresh, minty breath in a fun-to-eat treat. Fresh breath and clean teeth for your dog just got easier no brushing. No spraying. No struggle. Just a fun-to-eat treat dog breath coats the teeth with active ingredients sea algae to soften and break down tartar and plaque buildup, and spearmint and parsley to freshen breath.
Nootie Bamboo Shoots Dog Chews
These are great, grain-free dental treats for your dogs that are made in the United States. They are made with all-natural mouth scrubbing ingredients that your dog will absolutely love every time. From meat and potatoes to bamboo, there is nothing in these treats that will do not so funny things to your dog.
Dentastix by Pedigree Dental Chews
Pedigree Dentastix's are clinically proven to reduce plaque and tartar buildup. The patented, X-shaped chews freshen breath while treating your dog to better oral health. PEDIGREE Oral Care Dog Treats are dental treats you can trust, and your dog will love.
Milk Bone Brushing Dental Chews
Milk Bone Brushing Dog Chews tastes like a treat, cleans like a toothbrush; easy solution for daily oral care, clinically proven as effective as brushing. 
16 essential vitamins and minerals, including calcium for strong bones and teeth. 
Veterinary oral health council seal of acceptance for tartar control.
Zuke's Z-Bones Dental Chews
The chewy texture of Zuke's Z-Bones creates a long-lasting treat to keep him occupied and engaged. Made with whole food ingredients, including cherries, cranberries and peas, these dental chews combine deliciousness with meaningful maintenance. The grain-free recipe doesn't include wheat gluten, cornstarch or synthetic chlorophyll, and the addition of alfalfa, parsley and fennel helps freshen his breath for sweeter puppy kisses.
OraVet Dog Dental Sticks
OraVet is a 5 star dog dental stick and the #1 dental stick for 2018. This brand combat s bacterial attachment, the starting point of plaque, calculus and halitosis. Each chew releases delmopinol HIC, an ingredient that coats the teeth, tongue and gingiva to create a protective barrier against the bacteria that cause bad breath and are the basis for plaque. They are designed to be great for their teeth, while not affecting their weight or food consumption in general.