The Cutest Cats On Instagram!
Aaah… social media.
It could mean different things to different people. But if you want to get a boost of good vibes, why not fill your feed with adorable and hilarious cats? Of course, you want to but the question now is, which ones to follow??
Thankfully, you don't have to look far and wide just to get your fill of cat cuteness. In this blog, let me share with you six amazing cats you should follow on social media!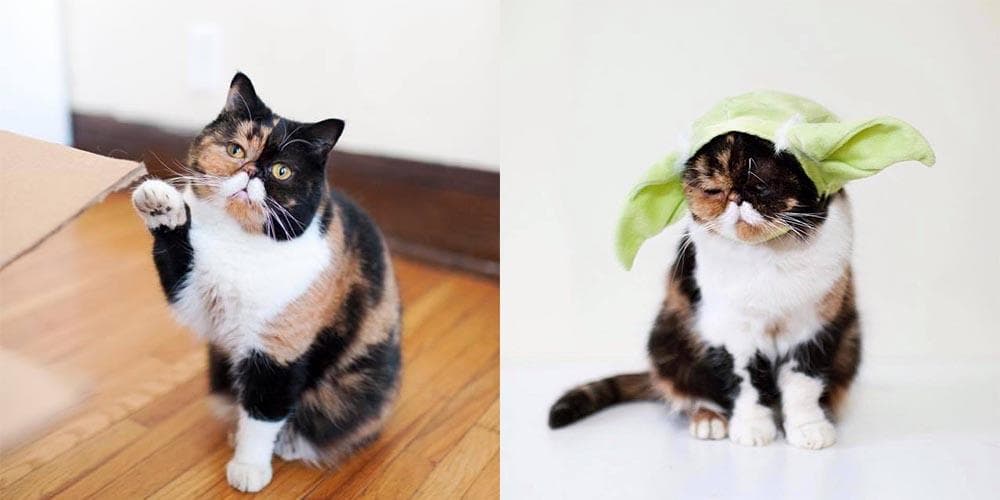 1. Pudge the Cat
"I'm a girl and my mustache is more fabulous than yours."
That's Pudge's funny introduction on her Instagram account. She is best known for her white "mustache," which is actually a white stripe above her mouth. With big yellow eyes, a face that is somewhat painted with brown on the left and black on the right, she is just too cute to behold!
Follow her on these links:
– Website
– Facebook
– Twitter
– YouTube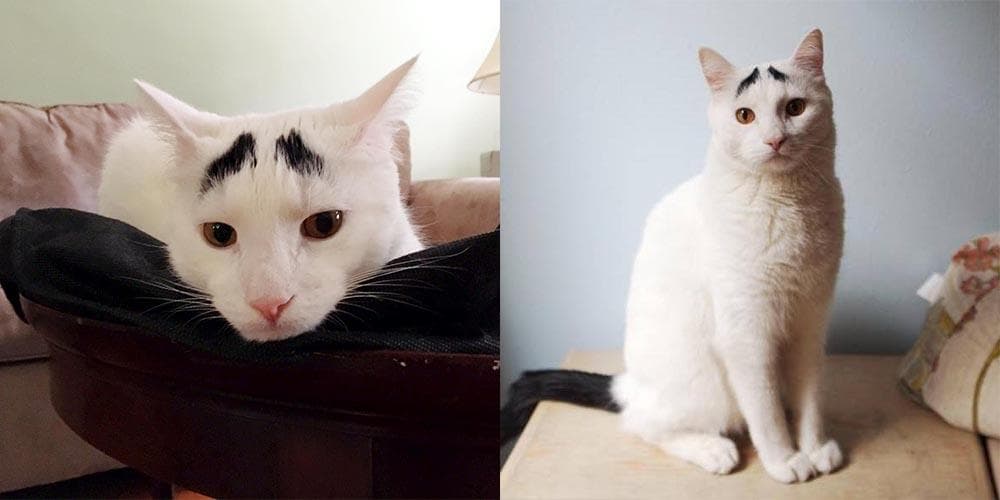 2. Sam
Oh, Sam! The name itself commands a certain level of cuteness. His full social media name is "Sam Has Eyebrows." Visit one of these links to find out more about this unique cat:
– Facebook
– Twitter
As his social media bio says, "This is Sam. He has eyebrows."
Those are real black stripes above his eyes. They naturally blended on his face so it looks like he has eyebrows! Sam is a one of a kind cat. He is among the popular social media cats that use their fame to help charities gather more money to help animals.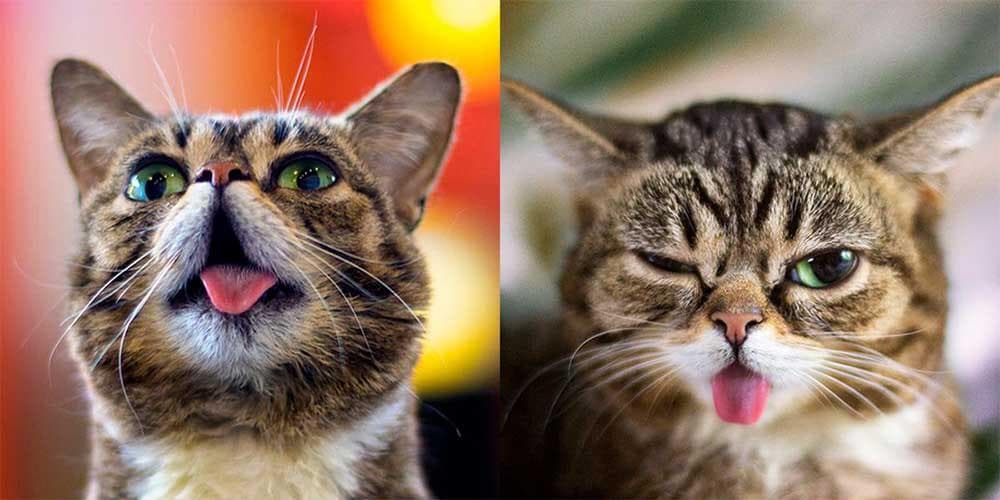 3. Lil BUB
Perhaps, the best introduction I can give to this cat is the number of her followers…
– Over 3 million Facebook followers
– Over 2.3 million Instagram followers
– Over 800 thousand Twitter followers
Lil BUB no doubt enjoys a superstar status. With her cute big eyes and tongue that naturally sticks out, she is a critter to adore. She uses her stardom to raise thousands of dollars for homeless pets. In fact, she has helped animal charities raise more than $500,000. Check out her website to learn more!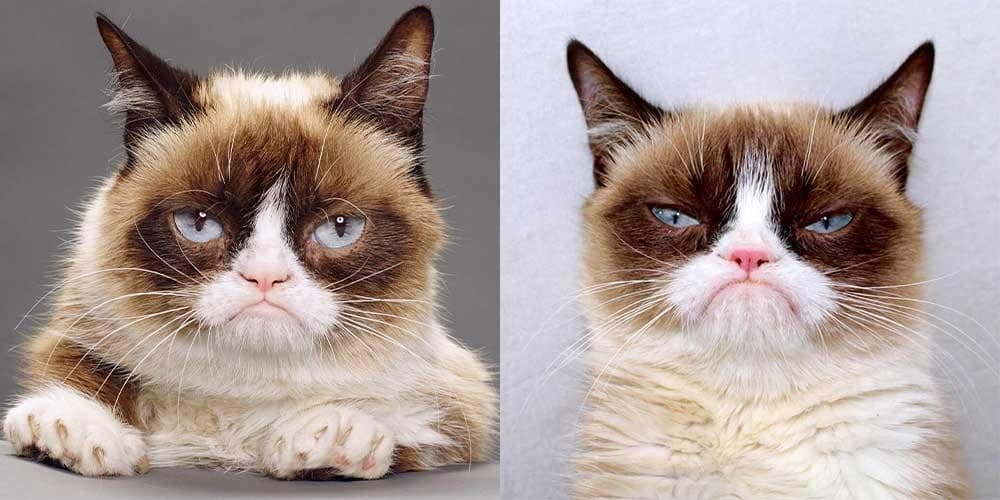 4. Tardar Sauce
If you don't recognize that name, you probably recognize her stage name: Grumpy Cat. Yep, she is the cat behind the famous grumpy cat memes! Although the beloved grumpy cat has now passed on to cat heaven, her spirit lives on and her fans remain loyal! So, how famous is Tardar Sauce? She has more than 8.4 million Facebook followers and 2.7 million Instagram followers! Do you know what makes her more famous? She starred in a blockbuster movie, Grumpy Cat's Worst Christmas Ever.
You get all that with just looking grumpy. Of course, that works for cats, but you might not want to try it out as a human!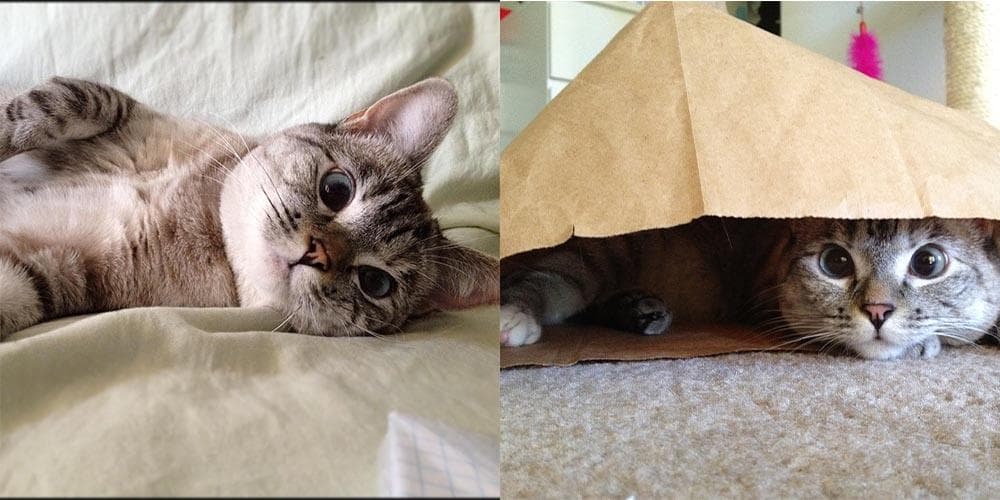 5. Nala
Her name brings cuteness with it. Who can argue with those big eyes and a face that begs for attention! Nala is actually a Siamese mix with tabby. Sadly, she was an orphan. Her first owner left her in an animal shelter when she was only five months. Thankfully, she now has a loving home and now she's seven years old!
Get updates by liking her Facebook page together with more than 2.5 million awesome followers or on Instagram with her 4.2 million admirers!
6. Venus the Cat
This unique looking cat has a face with symmetrically two different colors. One side is black while the other is orange. She also has two different eye colors too – green and blue.That's why she gained the moniker, Venus, the two face cat.
I love the quote on her Instagram account, which by the way has 1.9 followers: "Why fit in when you were born to stand out?" That's a quote by Dr. Seuss. Such a fitting message for such a rare cat.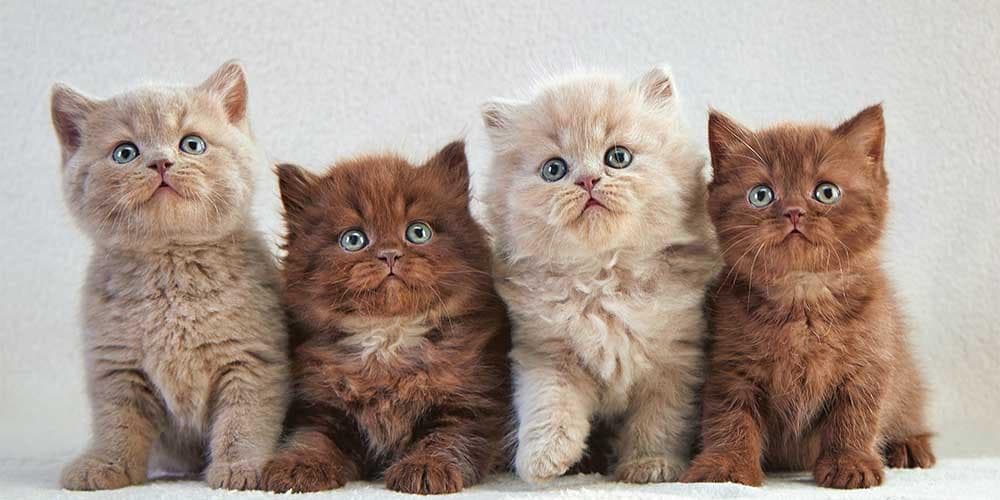 Cats Of Instagram
This gives you a good place to start your search for cats who would paint a smile on your face. There are more cats on the Internet that I'm sure you will love. Search them on Facebook, Instagram, and the web. I'm sure you will love what you see!
With all this being said, we hope you have a great social media experience with the most adorable cats in the world!