Watch the latest Alpha Paw episodes with host Bernie Zilio as she tackles your pet parent questions, along with our board of pet experts. You can watch the video and read the transcript below!
The Transcript
Bernie Zilio
Think your pup is ok jumping on and off the furniture? Think again! Here are 5 reasons that your dog needs a paw ramp ASAP to keep their joints healthy and live a long and happy life!
Don't miss the sale happening NOW for Alpha Paw's #1 Vet-Recommended, patented dog ramp – CLICK HERE!
Welcome back to Alpha Paw, your destination for everything dog. I'm Bernie Zilio and I'm on a mission to answer every doggone question you've ever had about your fur babies and today we are talking about the paw ramp and why it is important, nay, imperative that you get one of these ramps for your dog, big or small.
Watch Dr. Ross's Review on Dog Ramps
Dog Ramps have become the must-have item for dog owners, these ramps offer a convenient way to help your pooch onto the bed or couch for easier cuddles, and best of all, they actually help to prevent painful injuries and joint strain that can occur from trying to reach these areas. Jumping on and off of furniture can actually cause your dog a lot of harm.
They can suffer from sprains, broken toenails, broken teeth, footpad injuries, slipped kneecaps, and even serious injuries. Now as you may have guessed, ramps are really popular with small dog owners. Small dogs love jumping on and off the furniture and will do this many time throughout the day.
But just because your dog looks like it's doing this with ease, it doesn't mean he should. Months and years of this jumping up and down puts enormous stress on your pups back and joints, risking injuries and arthritis.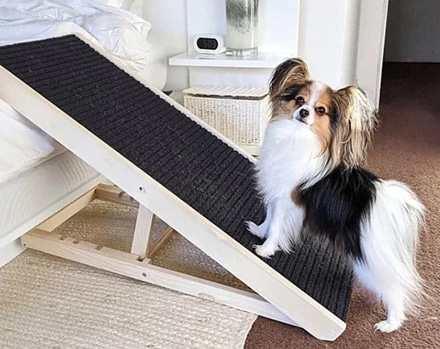 Dog Ramps Prevent Serious Injuries
A dog ramp will protect a small dog's joints by reducing the number of times he jumps each day. If your pup is too small to reach the bed or couch, owning a ramp is a great way to avoid needing to lift them up and down throughout the day. So you're also kind of helping your own health too!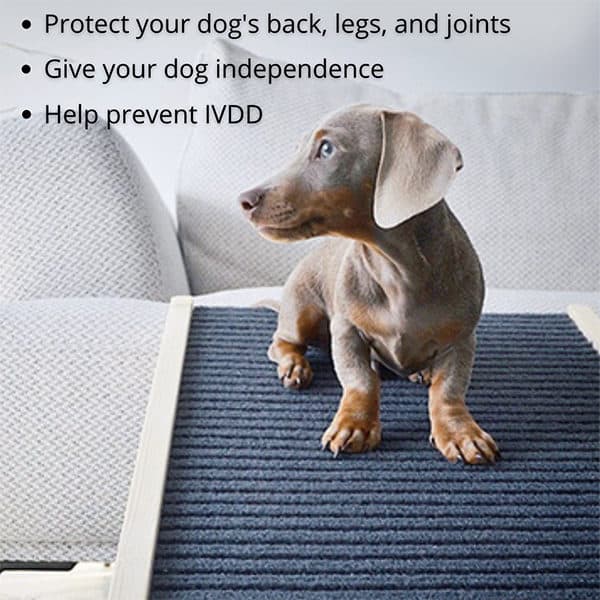 Seriously! We don't often recognize the amount of extra wear and tear we put our bodies through in the name of our pets, the occasions where they need those extra bits of help. Dog ramps allow owners to avoid that physical burden while also saving their dogs the same type of potential physical strain.
But small doggos and us humans aren't the only ones who can benefit from the Paw Ramp. Senior or arthritic dogs (and well I guess humans too) can also reap the benefits. Older dog's joints just like our own have suffered a lot of wear and tear over the years, helping them to reach high areas with ease is a must to keeping them comfortable as they age.
If your dog suffers from arthritis, jumping up and down will cause a lot of pain and will put unwanted strain on the back and joints, an arthritic dog's quality of life will improve drastically with a dog ramp–and isn't that the point of being a dog parent afterall?! Now I know what you're thinking, "ok maybe this would help my dog, but not my feng shui."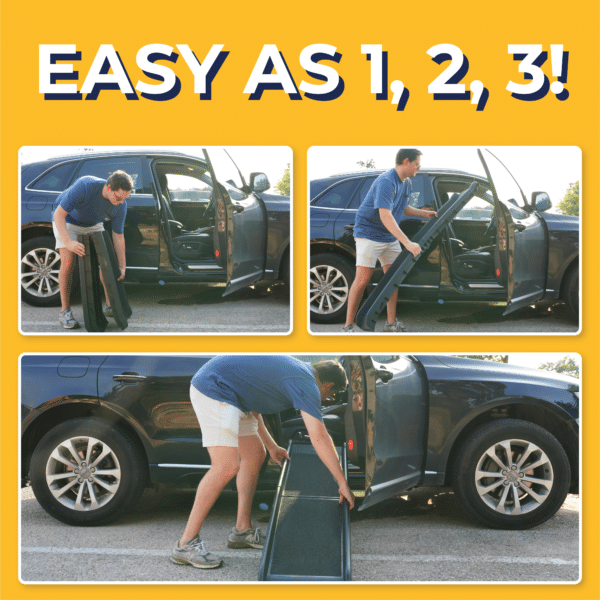 Foldable Travel Ramps
If you're that person, do you boo, but we have you covered too. Dog ramps are foldable and portable with a minimal storage footprint. Plus Alpha Paw carries all different sizes and colors to meet your decor needs. And lastly, the 5th reason you need a paw ramp in your life is that it's better to invest in this tool for your pup, sooner rather than later.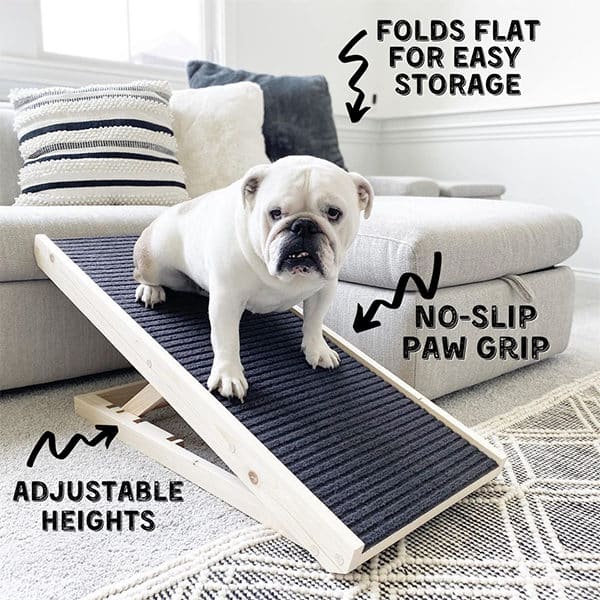 Instead of waiting until your doggo develops a mobility issue from jumping on and off furniture, prevent any health issues by saving their adorable little bodies now! You'll thank me later. I'll put a link to our favorite dog ramp, the Paw Ramp in the description box. But do you have more questions on how to use a ramp or how to train your doggo to grow accustomed to this helpful house necessity?
Don't miss the sale happening NOW for Alpha Paw's #1 Vet-Recommended, patented dog ramp – CLICK HERE!
Leave them in the comments below and we'll be sure to answer it! Again I'm Bernie Zilio and this is Alpha Paw, be sure to subscribe so that you don't miss a single doggone episode and we'll see you next time!