How to Find the Best Adjustable Dog Ramp: Owner-Friendly Guide and Reviews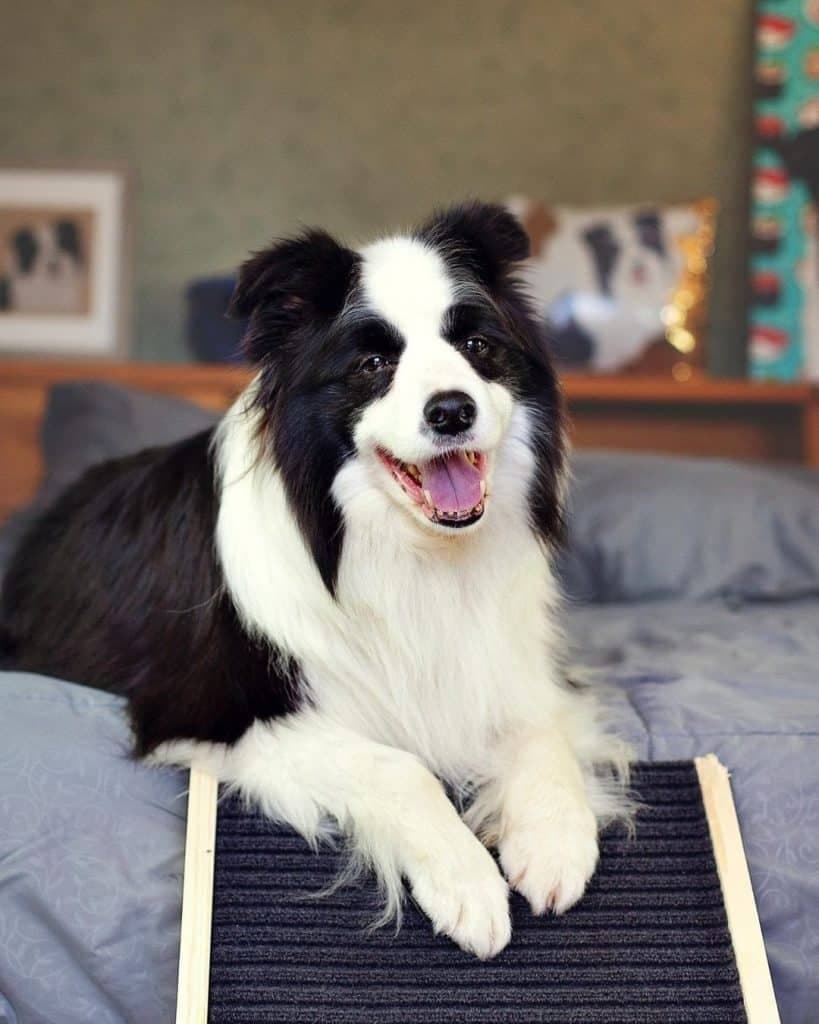 Credit: thepawramp
Choosing the right dog ramp for your pooch is not an easy feat. You probably already know that there are many things to consider before deciding on the ideal ramp for your doggo — the material, the incline, the width, the lining… and the list goes on.
Luckily, there's a simple way out of all that. You can find an adjustable dog ramp and save yourself the trouble of figuring out the exact ramp dimensions that would suit your fluffer. These ramps come in a variety of materials, shapes, and sizes, and you can choose the incline that is the most comfortable for your pup to negotiate. They are also excellent multipurpose pieces and can be used for low sofas and tall beds alike, as well as for cars, decks, and other outdoor areas.
TheDogDigest is here to lend you a helping hand in choosing the best adjustable dog ramp for your four-legged buddy. We asked around and got the intel about the best products on the market. Then, we called in expert help to single out the best ones for review. Let's dig in!
How We Did Our Adjustable Dog Ramp Reviews
To get to the bottom of what makes a reliable adjustable dog ramp, we sought advice from:
Dog owners

Pet store workers

Veterinarians

Dog trainers
The first thing on our agenda was to seek first-hand tips from our community of dog owners. We wanted to know which adjustable dog ramps they tried and what they thought about them. That left us with a lengthy list of products that received favorable reviews from owners.
Next, we consulted pet shop employees to see which items from our list they would recommend and why. They were able to give us the ups and downs of the products we picked their brains about, which helped us narrow the list down substantially. We were striving for the best of the best and nothing less than that.
Vets explained how a dog ramp could preserve the health of our fluffers. Although the ramp's primary purpose is to help sick, old, or recovering dogs get around, it is also an excellent preventive measure for goggies who have a predisposition to skeletal conditions and can sustain injuries with a single wrong step. After consulting with experts, we knew exactly which features to look for in each category for review.
We also took a stroll to a local dog training center to ask for tips on how to persuade our woofers to use a new ramp. Trainers teach canines to use dog agility ramps every day, and they are also often hired to instruct doggos to use other kinds of slopes. We were particularly interested in getting a senior dog dry food to accept a new ramp because this climbing aid can help in keeping the dog's joints healthy well into their senior years.
The Best Adjustable Dog Ramps
We came up with a list of five products that stood out from the bunch for their versatility, reliability, and functionality. We were impressed by how well they fared while we were testing them out with our own furry companions, so we warmly recommend every single product we talk about below.
Best Adjustable Dog Ramp for Small Breeds: DachRamp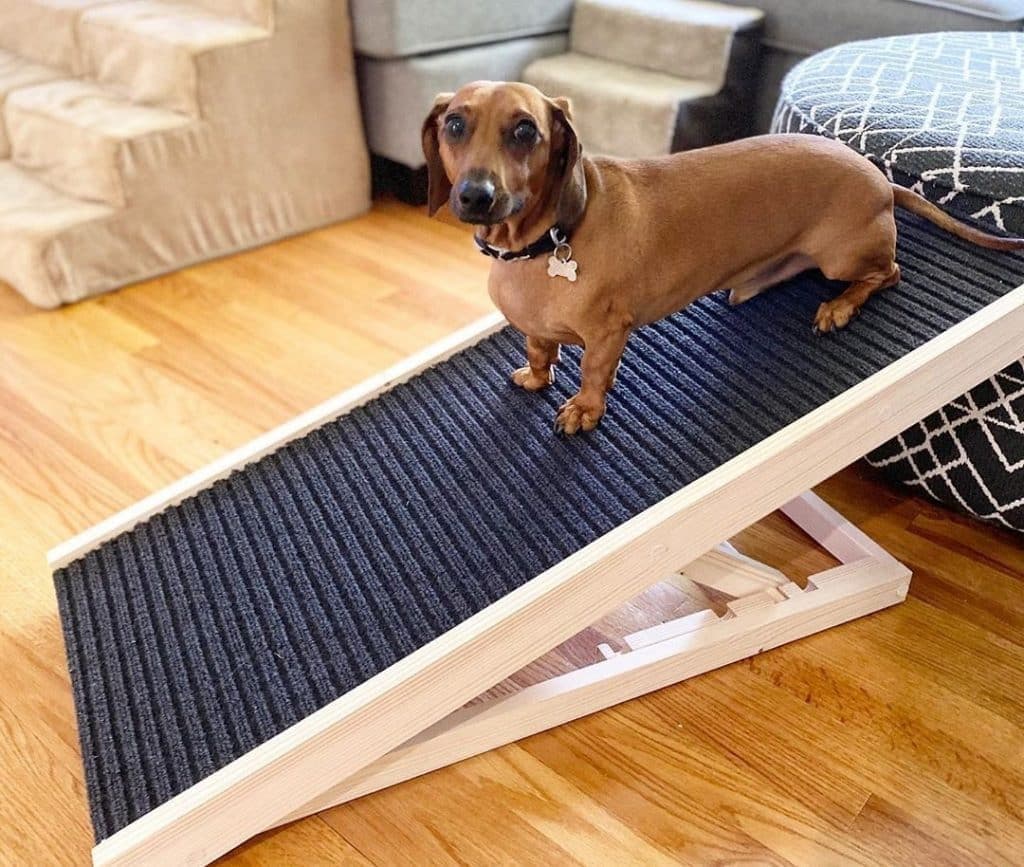 Credit: braxthedox
DachRamp is our top choice for tiny doggos because this product was designed for one of the most famous small breeds in the world — the Dachshund.
For a ramp to earn the right to be dedicated to a Doxie or other miniature fluffs, it has to meet rigorous criteria that vouchsafe it is perfectly safe for these petite and frail canines. Every fourth Dachs in the world suffers from intervertebral disc disease, a nasty back condition that can cause walking difficulties, severe pain, and in extreme cases, even paralysis.
Other small dogs are also susceptible to skeletal conditions that can be triggered or exacerbated by jumping to and from high surfaces, such as hip or elbow dysplasia. Those risks can be successfully curbed with a dog ramp that is tailored specifically for a small breed pup.
The DachRamp is ideal for a small breed dog because it is:
Adjustable

— a small breed dog is a broad term, so you need to choose the incline depending on the actual size of your pup and the slope that they can negotiate with ease

Carpeted

— this feature prevents the dog from slipping off of the ramp and injuring themselves

Wooden

— wood and plywood are considered to be the best materials for dog ramps because they are durable, sturdy, easy to clean, and weather-resistant

Wide

— 16 inches is enough room even for a larger canine than the Wiener dog to feel safe walking up and down
This ramp is available in two sizes, which allows you to match it to the size of your pooch even further. It stores like a dream, too — it will fit under any item of furniture without an issue.
In case you want to check out more options for your Sausage pooch or another teeny pupper, take a look at our Dachshund ramp reviews.
Best Adjustable Dog Ramp for a Tall Bed: DoggoRamps Bed Ramp
Credit: doggoramps
If you are looking for a dog ramp that won't compromise the stylistic appeal of your modern, tall bed, then the DoggoRamps Bed Ramp is for you. It is made from sturdy and durable furniture-grade hardwood and comes in five chic, neutral shades that will match most bed frames and any bedroom decor.
This product has seven height settings, which means it can go from 12 to the whopping 37 inches up! We dare say you won't find a bed that is too tall for this ramp!
The walkway is coated with an anti-slip material that provides a secure grip for your doggo. As an extra precaution, the ramp comes with three reversible and detachable safety railings. There's practically no way your pooch could tumble down this nifty runway.
The ramp's design is fantastic too. While most ramps face the bed at a 90-degree angle, this one is a bedside model, which is much more practical and easier on the eyes. It also means that this ramp takes up much less space than most other ramps of this caliber.
The DoggoRamp is not without flaws, though. Despite its fantastic design and solid build, the maximum weight capacity of this product is only 40 pounds. The walkway is only 12 inches wide, which makes it appropriate only for smaller dogs. Despite all that, the ramp itself is rather bulky, weighing slightly over 23 pounds.
If that doesn't quite work for you, browse our other articles on the dog ramp for a tall bed and bedside dog ramps.
Best Adjustable Dog Ramp for a Car: The PawRamp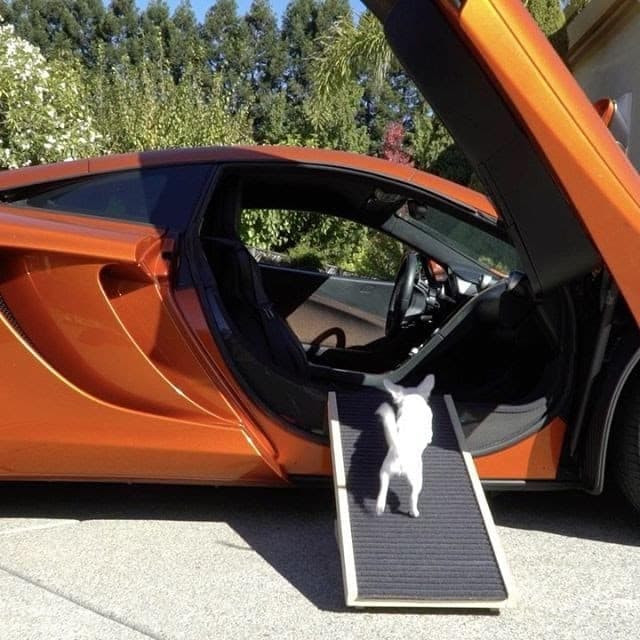 Credit: thepawramp
The PawRamp is by far our top choice for a car ramp. Although it is undeniably ideal for couches and sofas, we loved using it outdoors, especially to let our goggies into our rides.
This ramp has several incline options, which are suitable for various vehicles. It is sturdy and stable, and it opens in a single move. It packs flat, and it can fit under the car seat without a problem. All of that makes it exceptionally handy to be used as a car ramp.
This adjustable dog ramp comes in two sizes:
The PawRamp Full

— adjustable to four different heights

The PawRamp Lite

— with two height settings
| | | | |
| --- | --- | --- | --- |
| Product | Dimensions | Weight Limit | Height Settings |
| PawRamp Full | 40″ x 16″ | Tested to hold up to 80 lb | |
| PawRamp Lite | 32.5″ x 14″ | Tested to hold up to 70 lb | |
This ramp is made of hardwood, which makes it stable for both indoor and outdoor use. It is an adjustable freestanding dog ramp that can be placed against any elevated surface within its reach, and you don't need to worry about it collapsing. It is designed to support pups of up to 80 pounds (70 pounds for the Lite version), which makes it suitable for any small or medium breed doggo. 
The walkway is lined with a rigid carpet that ensures a firm grip of your fellow's paws and an effortless climb up the ramp. This material could soak up rainwater, so the ramp is best kept indoors or inside the car (never in an open truck bed or a convertible). The wooden frame wipes clean easily, and it is durable enough for outdoor use.
Check out our other dog car ramp reviews.
Best Adjustable Dog Ramp for a Truck: PetSafe Happy Ride Extra Long Telescoping Dog Ramp
Credit: PetSafe
If the previous item was too short for your high-rise vehicle, we've got you covered with our next pick! PetSafe Happy Ride Extra Long Telescoping Dog Ramp is a staggering 87 inches long when fully extended, which is more than enough for most truck models out there. We'd even recommend it for side entrances of semis and big rigs!
This ramp allows you to extend it anywhere from 47 to 87 inches, and it boasts plenty of other exceptional features, too:
Lightweight and portable

— despite its massive size, it weighs only 18 pounds

Aluminum frame

— light, sturdy, and corrosion-resistant material

The 300-pound weight capacity

— enough to support all dog sizes, especially large and giant breeds

20 inches wide

— dogs respond well to ramps they feel safe on, and width is a key factor for that
The downside to such an impressive dog ramp is precisely its size — even though its telescopic design cuts its length in half, it is somewhat cumbersome to store. This won't be an issue if you have a trailer or a free truck bed, but you may face hurdles if you have to store it in the vehicle cabin.
For more ideas, refer to our dog ramps for trucks reviews.
Best Adjustable Stairs: Pet Loader Light 16″ Platform
Credit: Pet Loader
Pet Loader Light 16″ Platform is our top pick for a dog ramp/stairs! Although we would recommend a ramp over stairs any time of day, this product wowed us with its simplicity, versatility, and ease of use!
To start with, this platform, as the manufacturer calls it, packs like a charm — you won't have a problem carrying an 11″x17″ rectangle case around or fitting it in your car. The steps are wide and stable, which your dog will appreciate and feel secure walking on. The frame is made from heavy-duty ABS plastic and lined with a non-slip material, which makes the product both reliable and sturdy. 
The product comes in four sizes, containing 3–6 steps. We recommend going for all six and removing any extra steps yourself — all you need to do that are some basic tools. The number of steps you go for will determine the height of this aid — this product can be 16″–50″ high.
You can use this platform wherever you go with your pooch — cars, trucks, RVs, furniture, pools, tubs — you name it, it will fit there! It assembles with next to no effort, and it can withhold doggos of up to 150 pounds (in a nutshell, any canine but the giant breeds).
What To Look For in an Adjustable Dog Ramp
If you are in the market for a dog ramp, you should consider the following factors: 
Material

Weight capacity 

Width

Design

Price 
Materials
The materials used to make a dog ramp speak volumes about it. Plastic is low-maintenance but is also much less durable than wood, for instance. It is also best for smaller dogs as plastic can give in under a big dog's weight and break. Metallic frames are heavy yet stable, but aluminum frames are rust-free and lightweight.
The material used to line the walkway is also essential — ramps can have rather steep inclines, and your pooch needs all the help they can get to climb the slope safely, without slipping or falling overboard. Look for rigid but soft carpets, rubber, or parallel ladder boards, but avoid rough sandpapery finishes that may harm your pup's paws.
Weight Capacity
This is essential, regardless of your dog's size. If you have a large canine, you want to make sure that the ramp can support their weight even when they are running over it or jumping on it. The material plays a hand in this too, but the tested capacity is the primary factor to consider.
You may think that it makes no difference which ramp you get for your small fluffer, but think again. Big dog ramps are typically more expensive, so if you have a five-pound Chihuahua and no other pets, there's no need to invest in a ramp with a 300-pound capacity.
Width 
Owners tend to pay more attention to the length of the ramp and disregard its width, which often causes doggos to refuse to walk on it. If your dog estimates that the slope is too narrow for them, they'll feel unsafe on it and avoid approaching it. 
It might be a good idea to get a ramp with raised edges or railings to help your pooch feel more comfortable on their new aid if it is under 16 inches wide. In case the ramp is wider than that, those add-ons are merely a matter of preference or aesthetics. 
Design
Adjustable ramps are the safest way to go if you aren't sure about the incline that your dog would feel the most comfortable using. They also allow you to lean them against furniture of varying heights, and they can be adjusted to fit dogs of different sizes in households with more than one canine.
Adjustable ramps are also super easy to pack and store, and all you need to choose is the most suitable design for you. The ones we usually come across are telescopic, foldable, or collapsible.
Price
The price tag on the ramp has to be realistic, especially since most of them aren't multipurpose items. You should consider the above criteria first and then select the ramp that gives the best value for your money.
We recommend against going for the cheapest kind as the chances are they aren't going to last long or be safe for your pup. An unbelievably low price points to some seriously cut corners: either the material will bend and make the ramp unstable, or it will be slippery and dangerous. It may even be fashioned from suspicious artificial materials that contain harmful substances.
If you want the most affordable option, try building a dog ramp yourself. We have guides on that, too:
How to Train Your Dog to Use the Ramp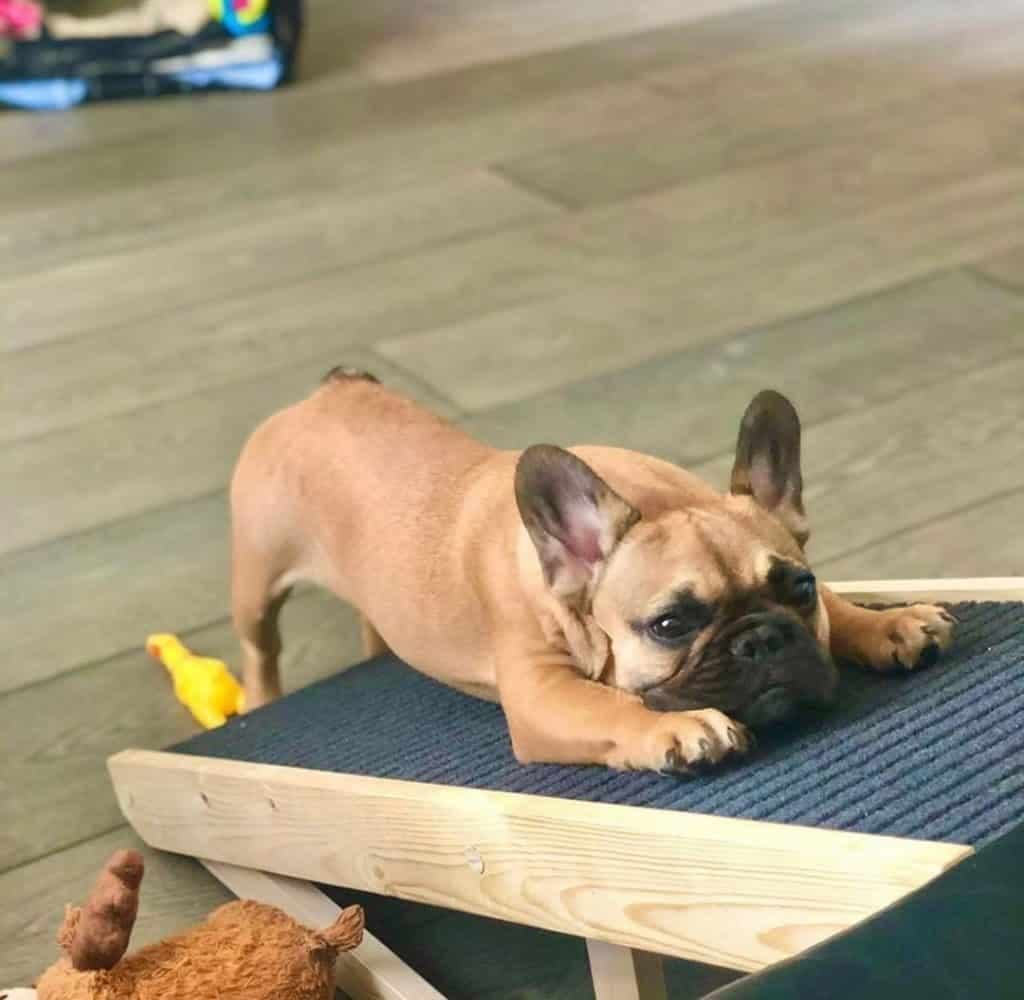 Credit: thepawramp
Your pooch will likely need some help warming up to their new ramp, especially if they've never used anything remotely similar before. Some doggos may start using it instinctively, but most pooches will be wary of it at first and will need a nudge in the right direction from their human. Training a puppy to use the ramp is particularly important, as they can't figure out on their own what the ramp is for. 
What you need to do is go slowly and patiently. Make sure not to commit these dog training mistakes as the dog may make negative associations to the ramp and avoid it altogether. Instead, lay the ramp on the floor and use a lot of praise and treats to encourage your pup to approach the ramp and walk on it. Once they feel comfortable on it, you can start training your doggo to walk on an inclined ramp by luring them with treats.
You Can't Teach an Old Dog New Tricks — Or Can You?
Old doggos are generally harder to train and need more repetition — you could say that they are a bit set in their ways, not unlike their humans. But that is not to say they aren't eager to learn new tricks, which goes for ramps, too.
Your grandpaw-dog may be reluctant to use their ramp at first, but they have an advantage over inexperienced yappers — their seasoned brains. Senior dogs may learn new commands at a slower rate than puppies, but they are much more skilled at reaching logical conclusions. Once you have them climb their ramp for the first time, they will discern that it is easier to reach places with it than without it and will get used to it much faster than a pupperino.
References 
Brevitz, Betsy.

The Complete Healthy Dog Handbook: The Definitive Guide to Keeping Your Pet Happy, Healthy & Active

. Workman Publishing Co., Inc., 2016.

Weitzman, Gary.

National Geographic Complete Guide to Pet Health, Behavior, and Happiness: the Veterinarian's Approach to at-Home Animal Care

. National Geographic, 2019.