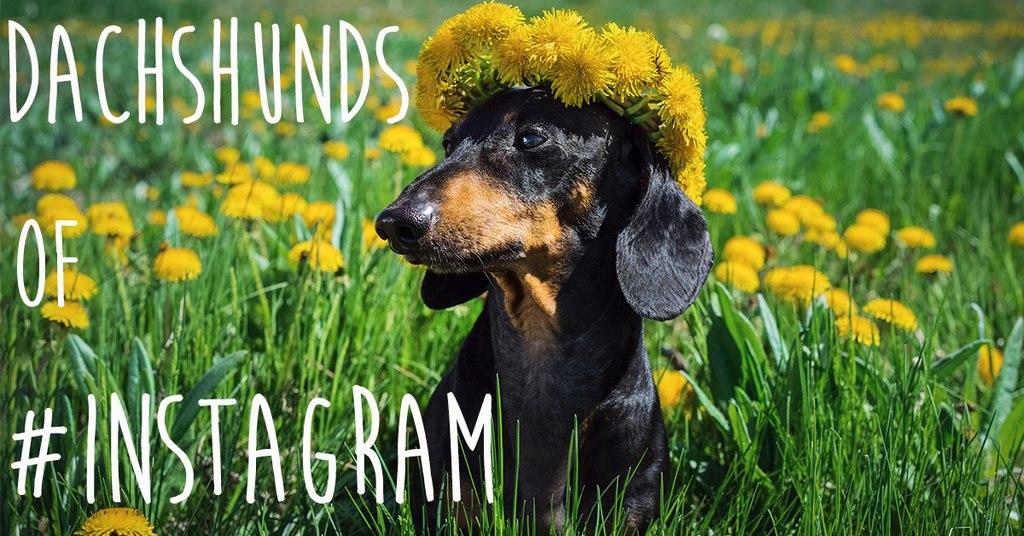 The Best Community on Instagram
Did you know there's an entire dog community on Instagram that draws millions of follows, likes, and comments every single day? For Dachshund lovers, it's even more exciting when you find out within that dog community is an even more specific Weiner dog community.
They have the world wrapped around their paws. It was SO difficult to narrow it down, but here are seven trending Dachshund accounts you should definitely be following:
First up is our very own sausage dog central! Instead of featuring one adorable hot dog, we scour the net on a daily basis to bring you the very best photos, videos, and news about Dachshunds. It's a wonderful account to follow because every day holds a new surprise. However, no matter how big the surprise is, you know it'll be about doxies!
Welcome to one of the cutest accounts spotlighting Dachshunds of Instagram. Adorable videos and pictures featuring seven miniature Dachshunds (with a rotating litter of baby doxies) will make you say "awww" every time. They live in Canada, and currently have over 75,000 followers!
Lilo, aka Princess Lilo, is a sweet-as-can-be Dachshund living in Southern California. Something extra special about Lilo is that she uses a wheelchair to move around since becoming paralyzed in 2012 due to IVDD. Intervertebral Disc Disease is a debilitating condition that is painful and very expensive to treat.
Because sausage dogs have an elongate spine, they have the highest risk of developing IVDD. One in four doxies will get IVDD in their lifetime. A dog ramp will dramatically decrease their chances of getting IVDD.
Thankfully for Lilo, she shows that even with IVDD, dogs can live a long and happy life. Her mission is to raise awareness for IVDD and show the world that a disability doesn't have to slow you down! Princess Lilo currently has over 94,000 followers!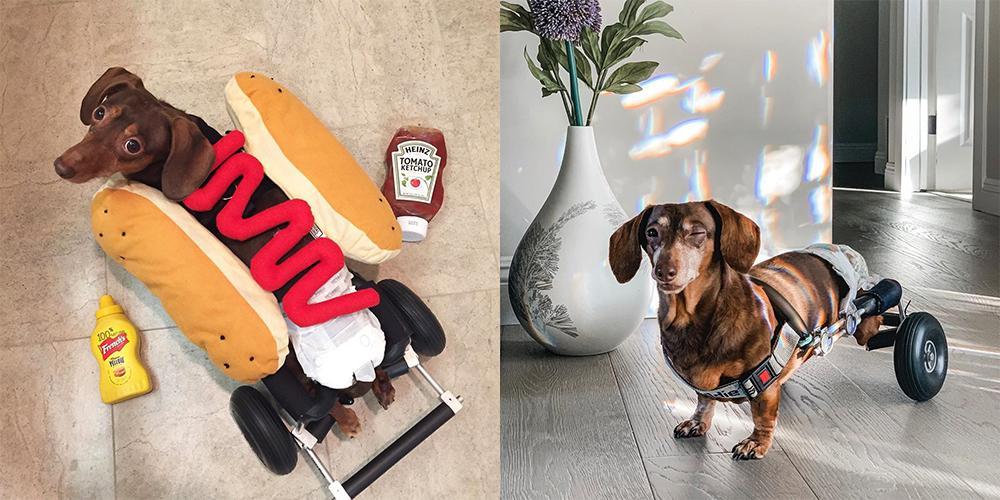 Rowdy is a female miniature Dachshund living in Hollywood, CA! She just might be the coolest pup on the block. This is because she has a very special skill: skateboarding! Move over Tony Hawk, Tony PAWk is coming through. Rowdy currently has over 14,000 followers and her skateboarding fandom is growing by the day!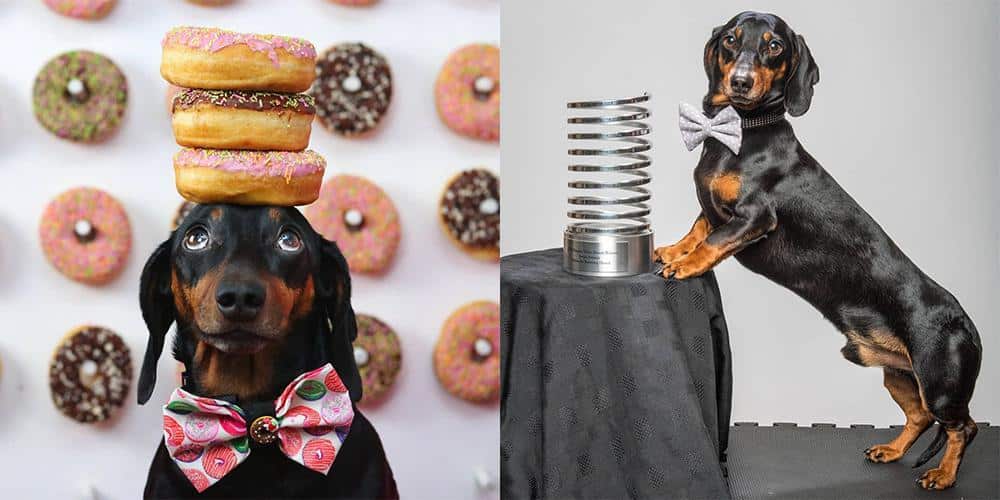 If you're already aware of the Dachshund community on Instagram, chances are, you've seen a video of Harlso balancing something fun on his head! He has this special skill of holding VERY still and balancing all sorts of different objects on his adorable sausage dog head. Harlso has also won awards including the 2019 Webby People's Voice Award – Social Animal!  He currently has over 81,000 followers.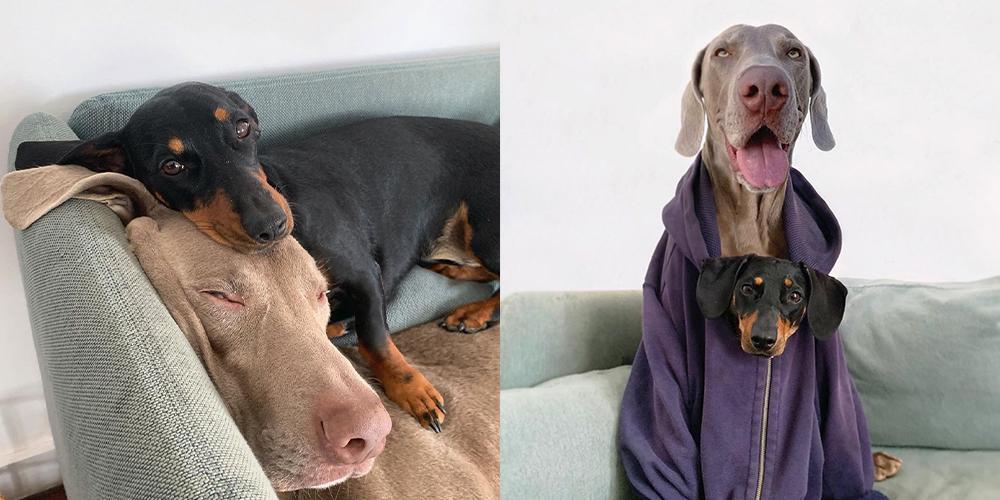 Pó D'Arroz & Broa de Mel are the cutest Dachshund/Weimaraner duo you'll ever see! They live in Lisbon! They are best fur friends and always post the cutest pictures and videos of themselves cuddling, hanging out in their dad's sweatshirt, or simply playing and being hilarious. They currently have over 133,000 followers!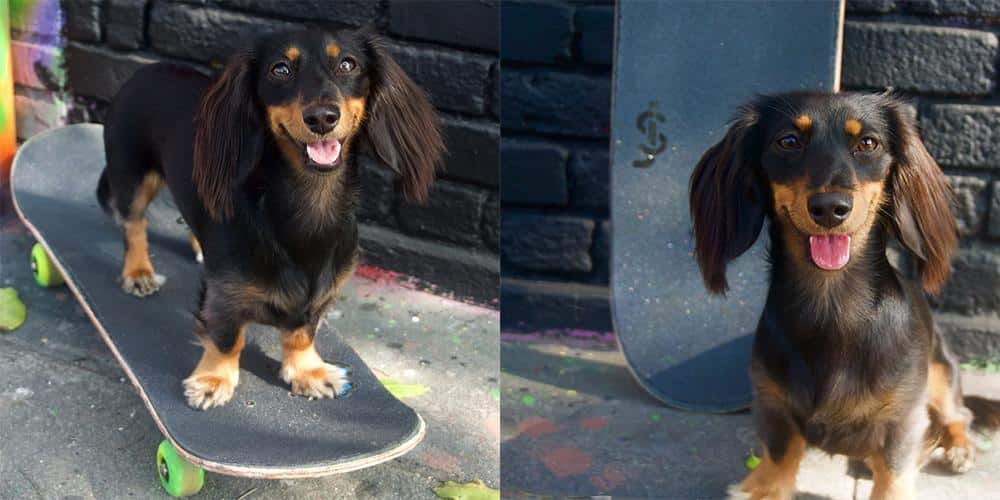 Holly and Hazelnut are two long-haired miniature Dachshunds living in Los Angeles!  Not only do they have a following of over 151,000 on Instagram, but they also have over 1.3 Million followers on another social app called TikTok! They are the founders of @laweenies and they have a flower crown boutique called @calicrownsboutique. These girls can do it all!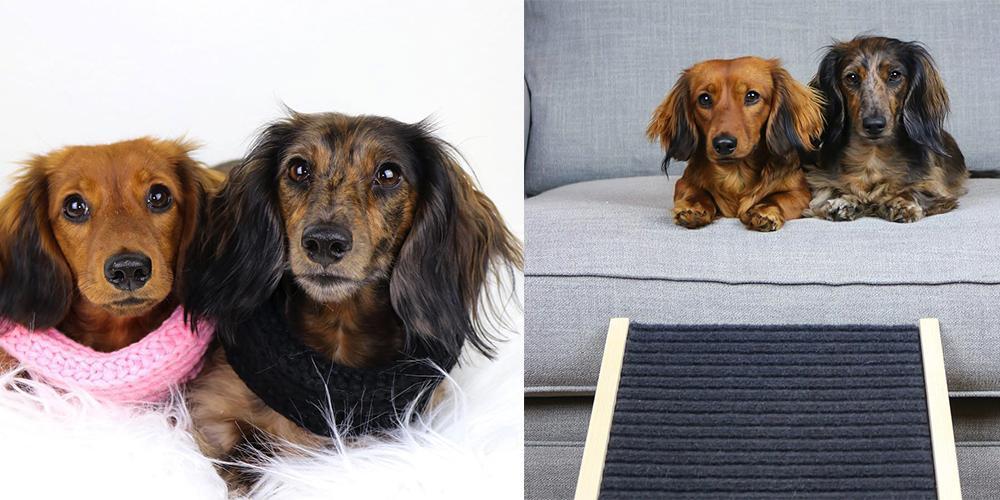 Enjoy the cuteness!
We hope you loved learning about these adorable accounts! Following Dachshunds on Instagram is a guaranteed way to smile throughout the day. Let us know some of your favorite Dachshund accounts in the comments below.