If you're a fan of Britain's Got Talent, then you'll love Diana Vedyashinka's Hot Doggie Show. Vedyashinka is a self-taught contortionist who puts on a spectacular show with her dachshunds. Her dogs can do some pretty amazing tricks, like jumping through hoops and walking on their hind legs.
Don't miss the sale happening NOW for Alpha Paw's #1 Vet-Recommended, patented dog ramp – CLICK HERE!
Talented Dachshunds Steal Britain's Got Talent Show
Some people might think that dachshunds are just small, cute dogs with big ears. But these little guys can do some amazing things. Vedyashinka took to the stage in 2020 and wowed the judges on Britain's Got Talent with her impressive doggie show.
As usual Simmon Cowell didn't seem convinced at her segment when she appeared on stage to talk about her act. However, when the wiener dogs came prancing on stage, everyone melted, even Cowell.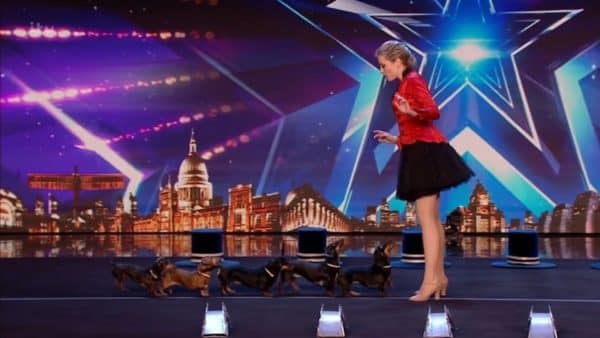 Dachshunds Can Be Trained
Needless to say, the Dachshunds and Vedyashinka wowed the judges and the audience with an absolutely adorable performance. Watch the video and give the Dachshunds a big applause! Does your Dachshund do tricks? Share your thoughts in the comments!