Are you sniffing around for the best Father's Day gifts for your dog father? Make him feel like a leader of the pack this holiday!
Dads can be hard to buy for and typically are happy with whatever they receive. Regardless, now is the time to start figuring out the perfect gift to avoid any last-minute anxiety. Alpha Paw has the perfect surprises to put a smile on his face. From helpful ramps to a custom doormat, here are the top gifts to help dad feel like the leader of the pack this Father's Day!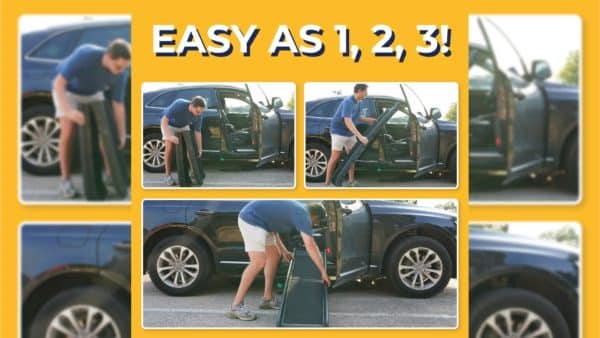 Father's Day holidays usually mean road trips for many families, and Alpha Paw has the best father's day gift to make traveling safer for fur family members and dads!
If he's the one lifting the dog into the car, give him Alpha Paw's portable car ramp for dogs. It's great to help your dog access cars, trucks and SUVs. Additionally, the car ramp holds up to 200 lbs!
Whether you're unable to lift your dog into your car, or you simply don't want to risk injuring yourself or your pup, this is the perfect product for any pet parent who drives with four-legged passengers on board.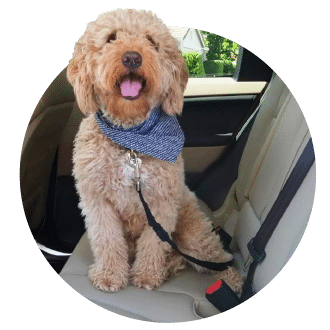 If your dad drives a lot and his furry buddy is right there with him, this is the best gift you can give him. More than 80% of pet parents drive with their pets unrestrained and that is dangerous for the pets and the pet parent.
The Alpha Paw Care Safety Seat Belt is designed to keep his four-legged friend safely restrained, comfortable, and secure for unexpected bumps on the road or worse.
The seat belt can clip into any seat belt outlet, has a tangle-free swivel attachment, adjustable length for comfort and safety, and is identical to a human car seat buckle.

If your dad is always on the go, we've got the pawfect gift for him. With so much to do, sometimes pet parents can misplace keys and other items. Not anymore!
Alpha Paw has the answer. It's a gift that he will love fur-ever! Our American Flag Lanyard will keep everything in one place, and that's one less thing he has to worry about!
Made with silky polyester fabric, it has a standard clasp for the easy keeping of keys, IDs, and badges. The American flag lanyard is a stylish way to tell your dad you love him while also helping him get festive for the upcoming holidays, including 4th of July!

Keep dad's best furry friend with him wherever he goes with a personalized photo keychain. It's a simple gift, but one that is sure to bring a smile each and every time he sees it.
Simply upload a photo of his favorite pup and choose which name you wish to include on the back, and that's it. Once the custom keychain is complete, have it mailed directly to the doggone best dad!

Raise the ruff for your Father's Day party with a twist. Keep his Old Fashioned chilled with an eye-catching dog cube! Not only will they keep drinks cool, but they make for great conversation starters at Bark-B-Qs, and pawties!
The Dachshund ice tray is made from one-of-a-kind silicone and makes a total of nine Weiner dog ice cubes. Trays are available as singles, 2-packs, and 3-packs to ensure there will be enough doggone ice cubes to chill all the drinks!

Keep dad relaxed and happy on Father's day by helping his fur buddy stay happy and distracted!  Pets love The Bouncy Fish Toy because it wiggles and moves around like a real fish. Needless to say, four-legged family members can't make heads or tails of the distraction and love investigating it.
Dad can sit back, relax and know his fur buddy is having just as much enjoyment as he is. Best of all, there are no batteries! Dog dad only has to plug the hilarious toy into a USB cable (included), and the fish will wiggle and move with motion.